Today I'm sharing some packing tips and tricks to stay organized while traveling and maximize the space in your suitcase.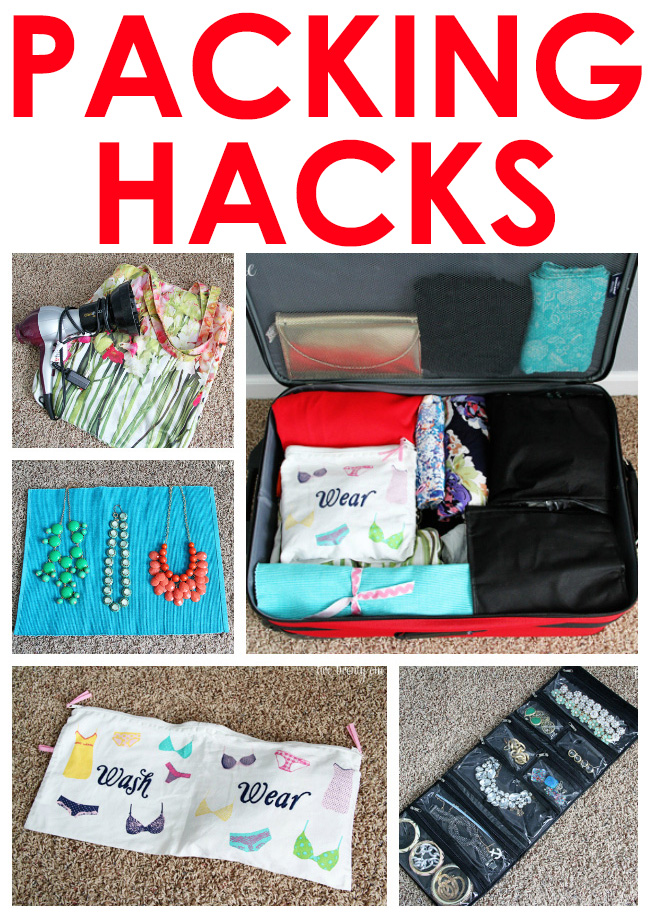 Let's start with toiletries. I use two different travel toiletry bags my in-laws gave me a few years ago. One bag is for my morning and evening products– contact solution, contact case, eyeglasses, face wash, moisturizer, eye makeup remove towelettes, floss, etc. The other bag is for my hair, shower, and miscellaneous items– wrinkle release, lint roller, antacids, static remover spray, shampoo, conditioner, razor, hair gel, hairspray, etc. Similar travel toiletry bags can be found here.
Tip: I use empty prescription bottles for my shampoo and conditioner. Why waste money on the little travel size bottles? If needed, label the bottles with a permanent marker.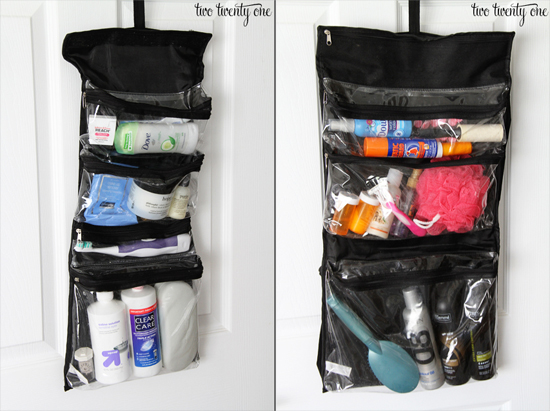 I also have a jewelry organizer (similar organizers found here). Because let's face it, it's always hard to decide which accessories to bring on a trip. A girl needs options.
Tip: Keep your necklaces with thin chains from tangling with a drinking straw. You can kind of see how I did this with my anchor necklace near the bottom of the photo.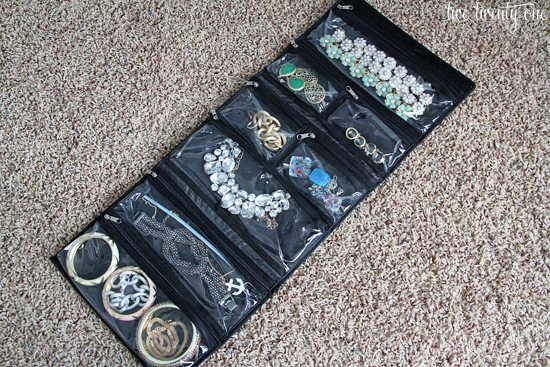 I keep my longer, more intricate necklaces protected and organized in a rolled up placemat, tied with a piece of ribbon.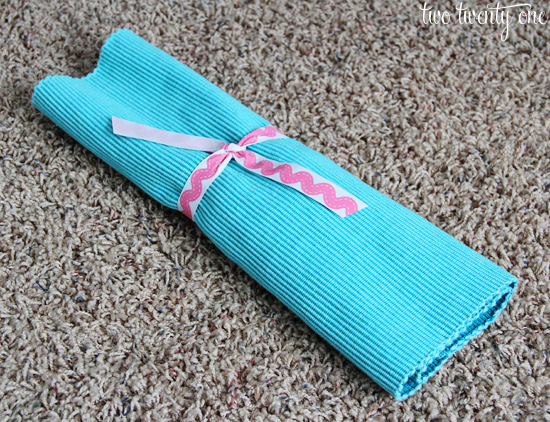 Read more about my DIY roll up necklace organizer here.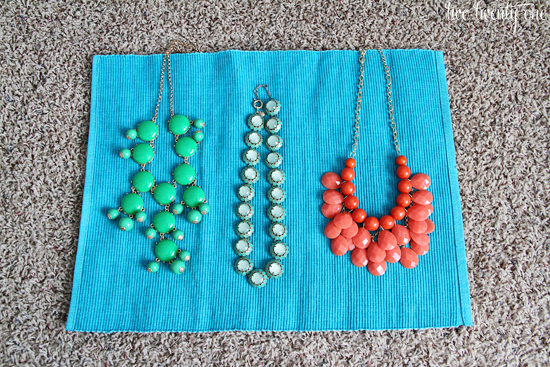 I love this little undergarment pouch I picked up at Gap Outlet last summer. It has two zippered compartments– one for clean clothes and one for dirty clothes. If you're good with a sewing machine you could make one for yourself. I've seen these on Etsy in case you want to buy one. A similar wear and wash bag can be found here, here, and here.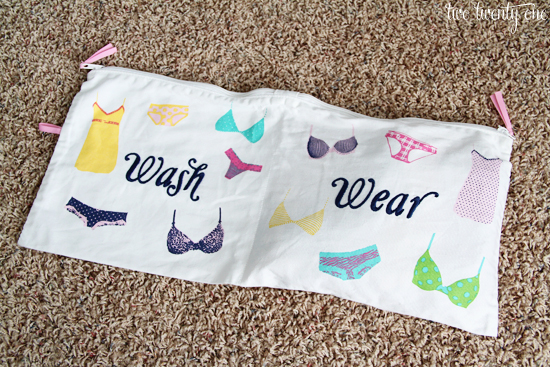 My curly hair is high maintenance, thus the hair brush, hair gel, two kinds of hair spray, and hair dryer with a diffuser attachment. Whew. Did I mention I'm not a light packer?
I like to keep my hair dryer in a tote bag while traveling to keep any hair styling product residue off my clothes.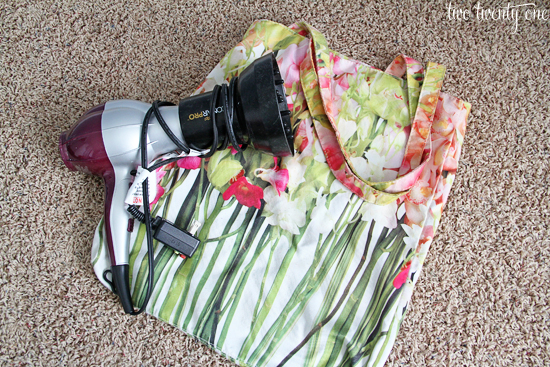 In order to keep dirt off my clothes, I put my shoes in grocery bags. Not fancy but still effective. To save space, I put my shoes together how most shoes come in the box you buy them in– putting opposite ends of the shoes together.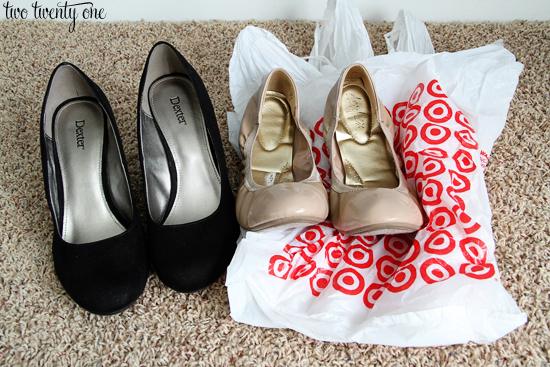 I'm a big fan of the rolling technique when it comes to clothes. It saves space and helps minimize wrinkles.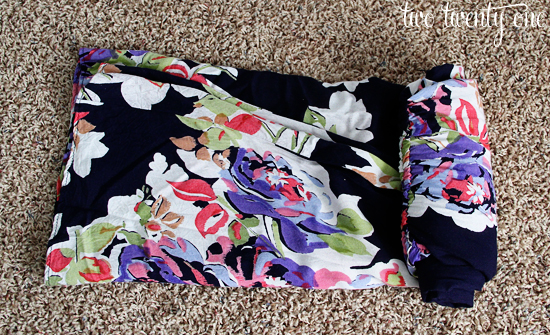 Packing a suitcase is like Tetris to me. I typically start my putting my largest item in first, which is always my biggest toiletry bag. Then I put in my clothes, followed by my shoes, hair dryer, other toiletry bag, roll up jewelry organizer, and undergarment pouch. I store any additional accessories, like my clutch, pashmina, and scarf in the zippered top portion of the suitcase.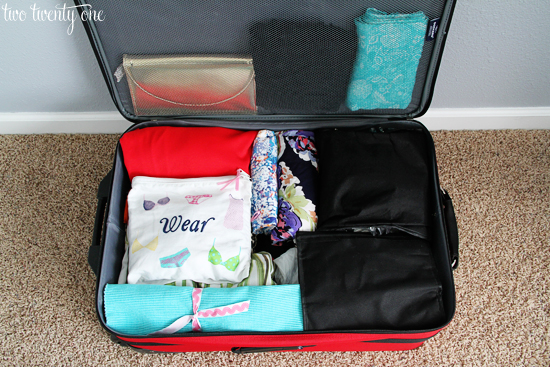 Since it's kind of hard to tell from the photos, I thought I'd take everything out to show you how much I fit inside my 26″ x 17″ x 8″ suitcase. I ended up with enough clothes for at least 5 days: 3 dresses, 2 tops, 3 bottoms, 1 blazer, 1 sweater, 1 pair of pajamas, undergarments, 2 pairs of shoes, 1 clutch, 2 pashminas/scarves, and all of my toiletries and jewelry.
Some of you may ask where my makeup bag is. I completely forgot to throw it in the suitcase for these photos because I tend to put my makeup bag in my carry-on, but it could have fit in my suitcase.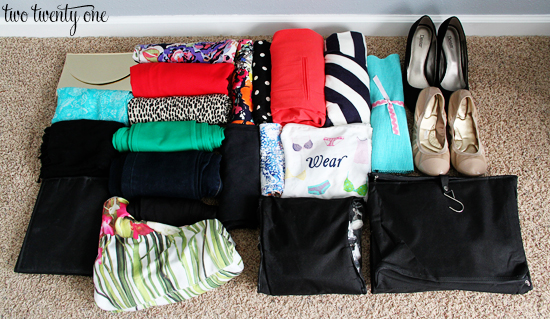 I hope you found some of these tips and tricks to be helpful when packing your suitcase. Happy travels!
Be sure to check out my other popular organization and cleaning posts below! There's tons of great stuff to pin to read later!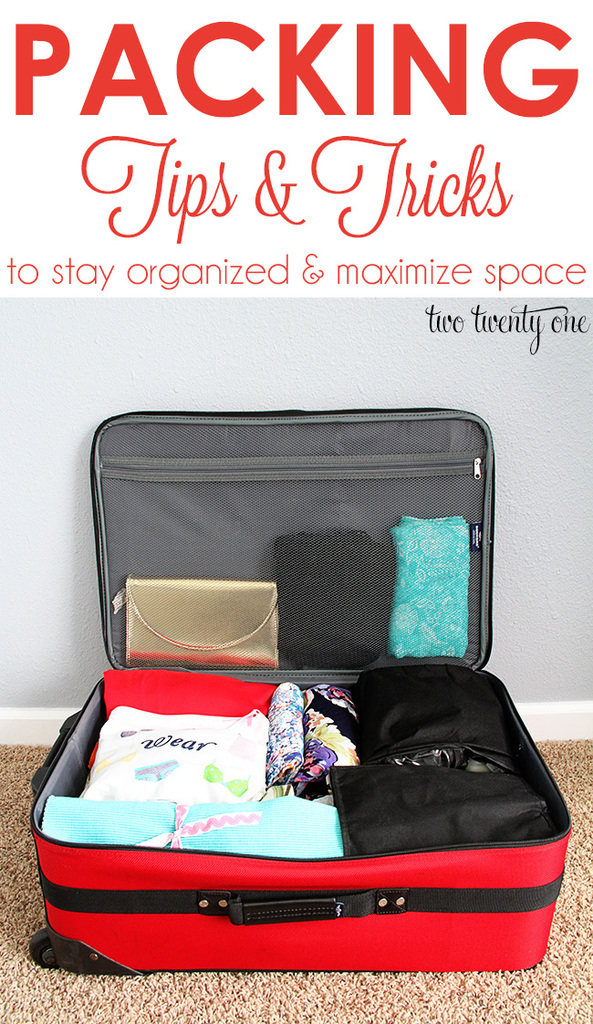 Looking for more organization inspiration? I have you covered!