Home Office – Gift Wrap & Ribbon Storage
It's been a while since I shared my home office / craft room so I thought I'd pop in to show you a couple updates.
As a refresher, here's what my office looks like when it's clean and my peonies are in bloom.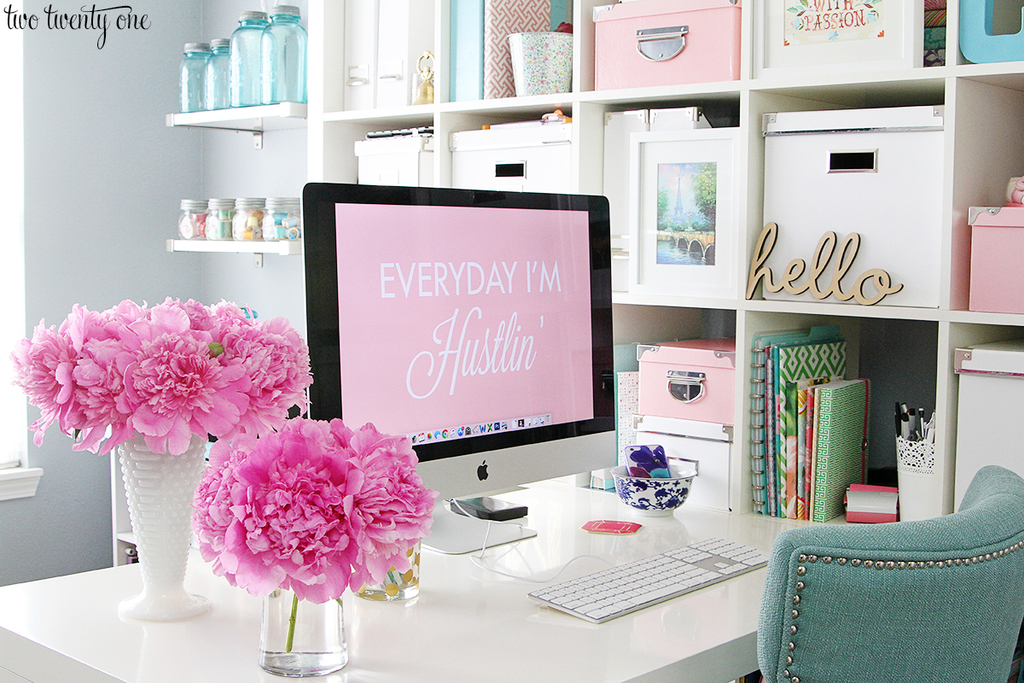 And, if I'm being totally honest, here's how it usually looks.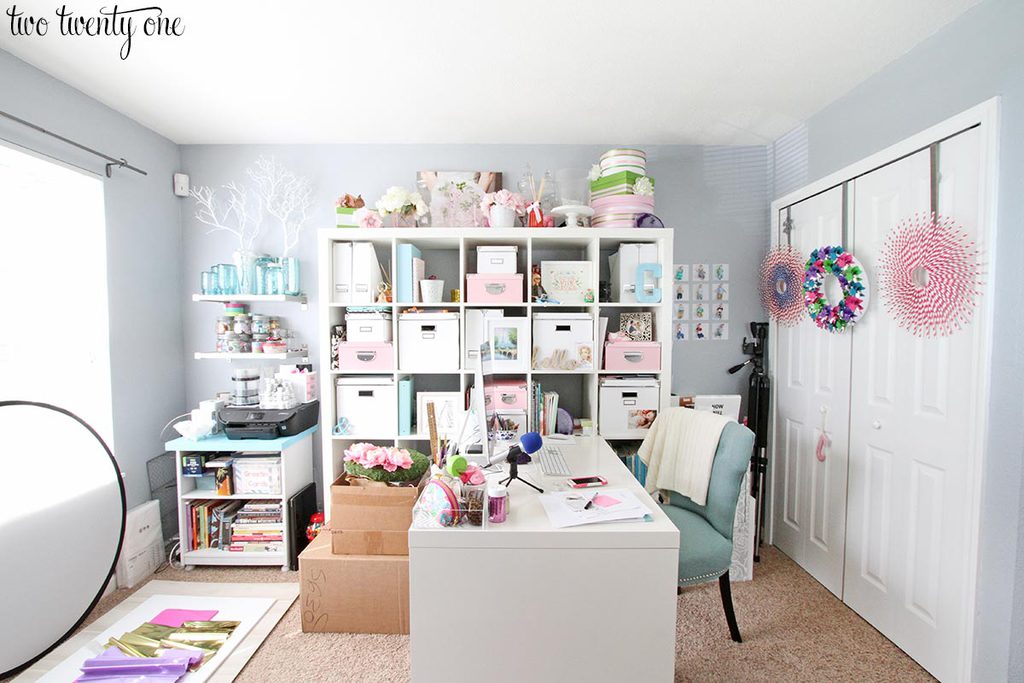 A couple weeks ago, I updated my ribbon storage. I was storing all the ribbon in one of the large pink boxes in my work station shelving. But after buying the same spool of ribbon over and over again because I could never remember if I had any or not because the ribbon wasn't in plain sight, I decided I need I new ribbon storage method.
Enter the wall mounted mug rack. (Here's a round rack.)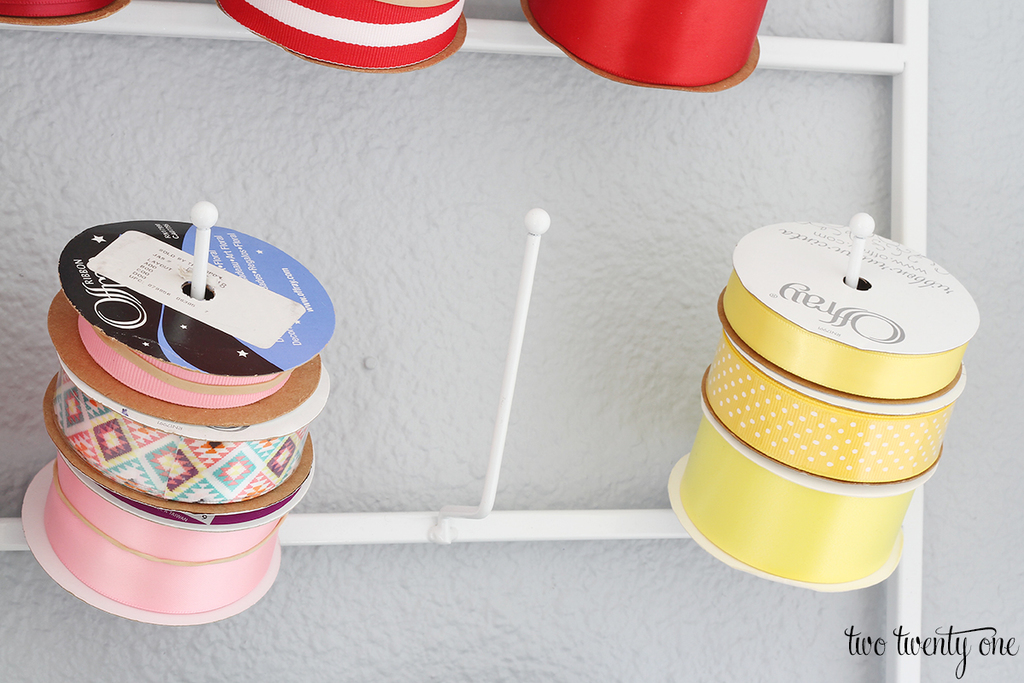 All I have to do is slide the ribbon onto the hooks. Mind numbingly easy.
Did you know I used to moonlight as a hand model?
JK. That never happened.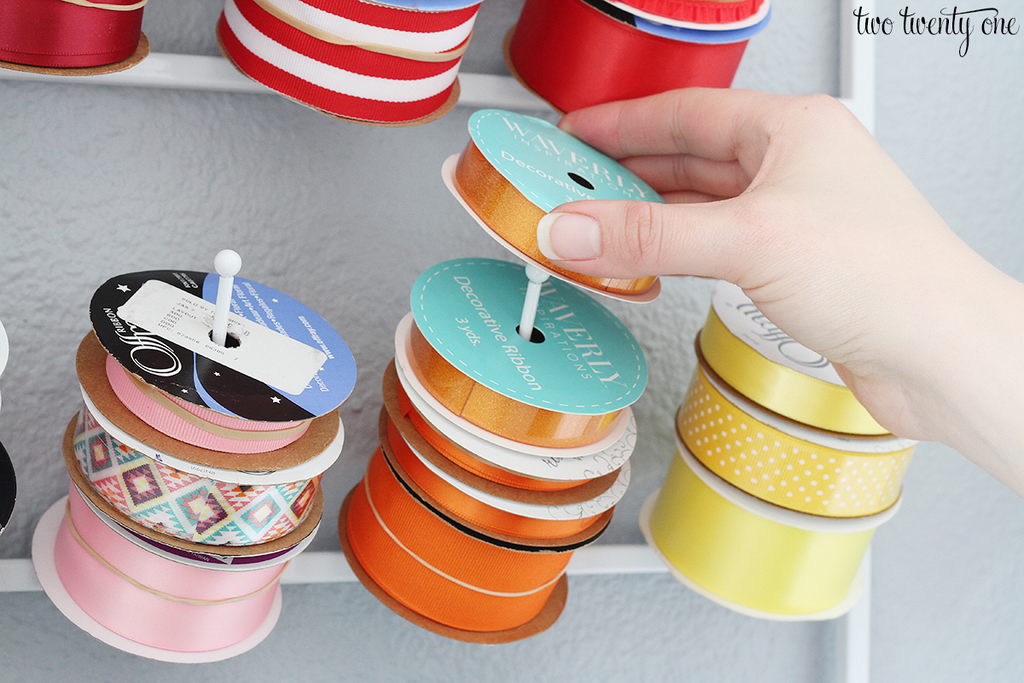 Now all of my ribbon is right in front of my face.
As you can see, I use rubber bands to keep the ribbon from unraveling. And to keep the two-year-old from pulling on the ribbons.
Note: I make sure the rubber band fits loosely so I don't crease the ribbon. I'm pretty sure Martha Stewart frowns upon that.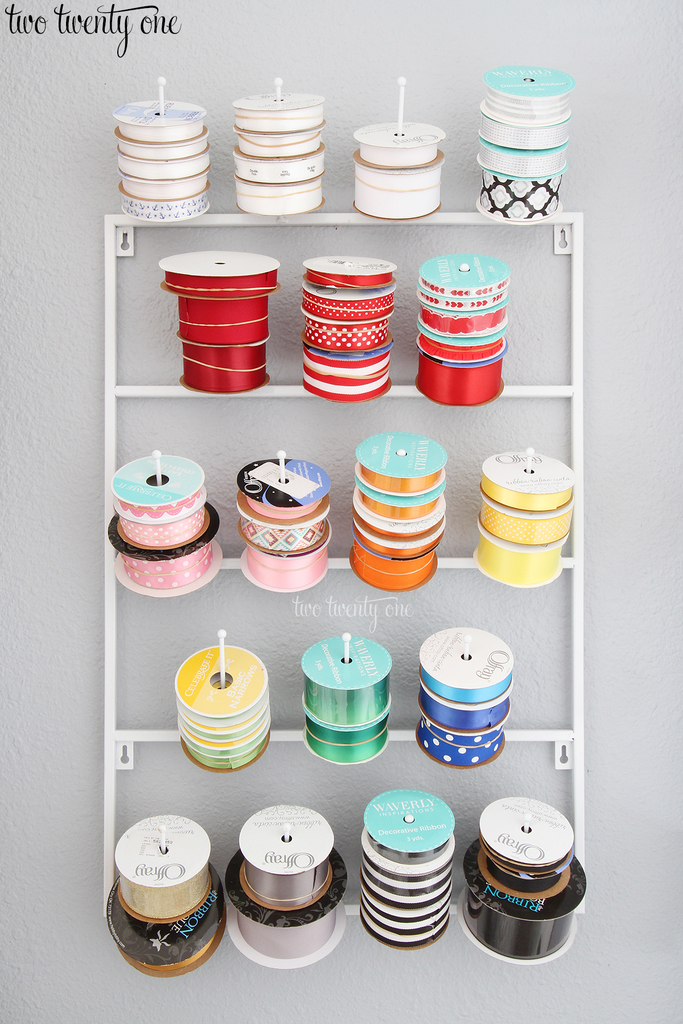 It's such a happy little corner now.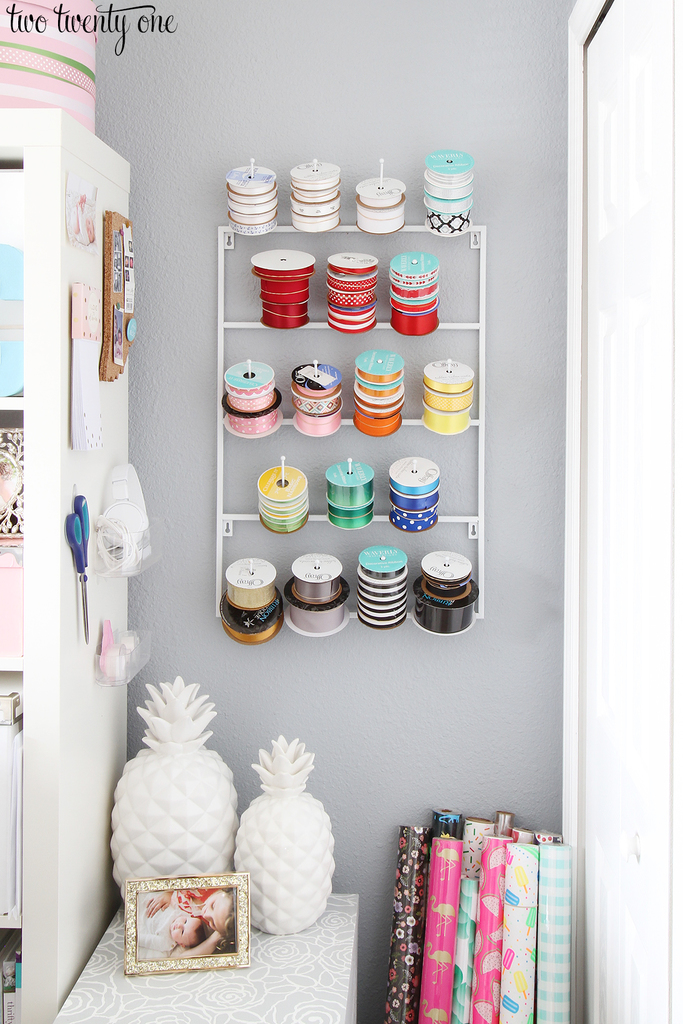 If you follow me on Instagram, you've probably seen me share all the pineapples I've spotted in HomeGoods the past few months in InstaStories. Some have made their way home with me.
That's one of my favorite photos of Owen and me when he was 6 months old. I had it taped to the white storage box next to my chair but it dawned on me that I'm a 32 year old, and I should probably act like one and put it in a picture frame.
Thanks for the frame, mom!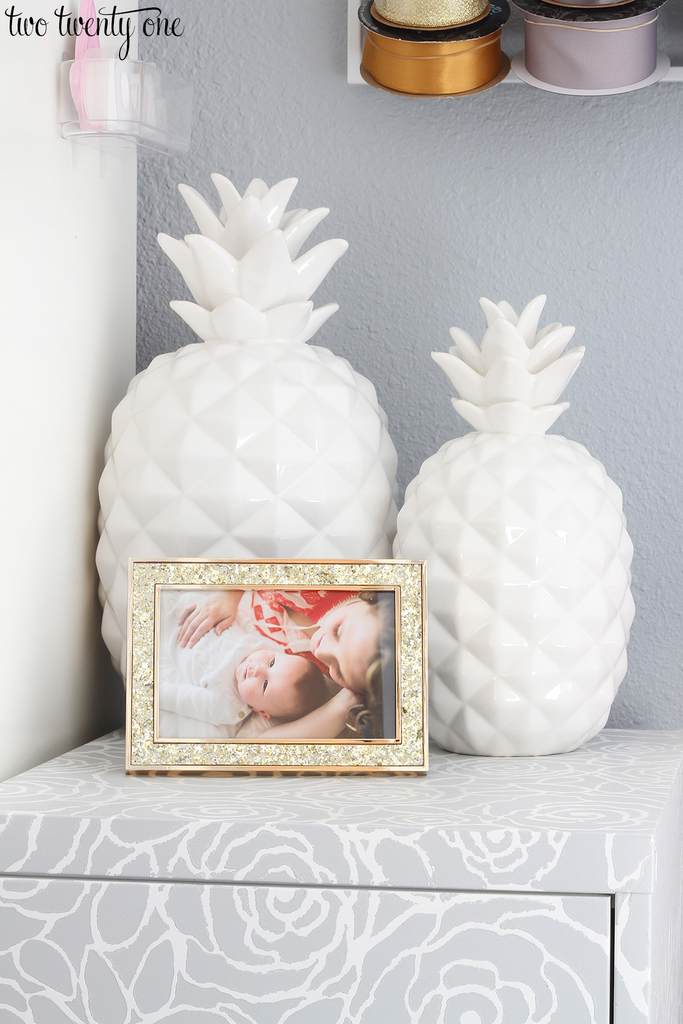 My gift wrap hoarding was getting slightly out of hand, so I invested in this gold wire bin (similar) to contain all of my pretties.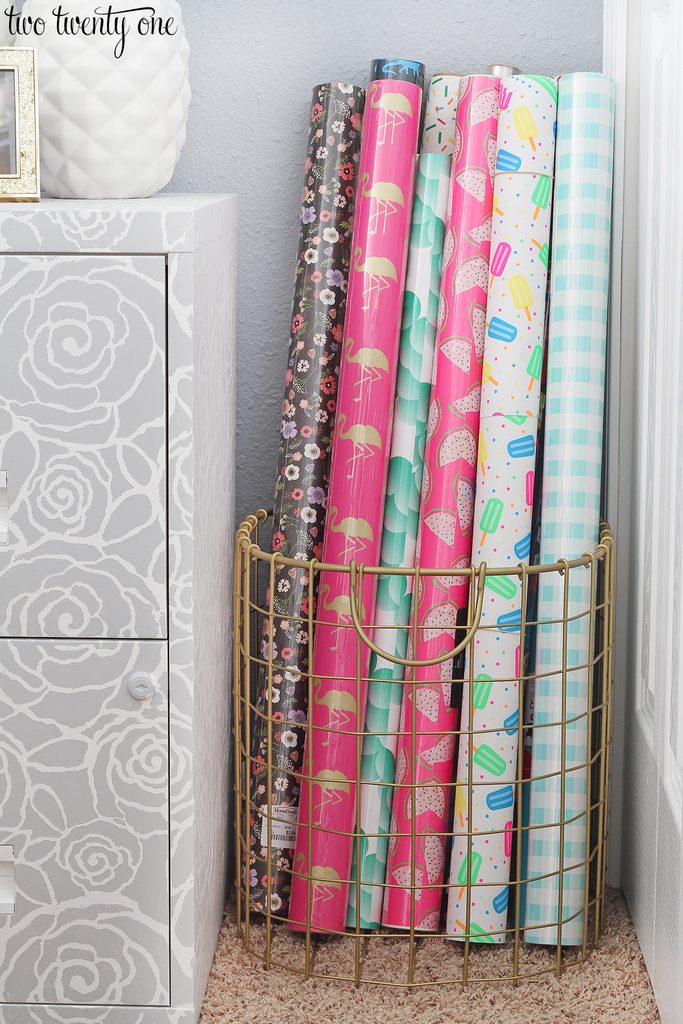 I score the majority of my wrapping paper at HomeGoods. It's great quality for the price. And sometimes you can find some real winners in the clearance section. That flamingo paper was a clearance section rescue– $2.50.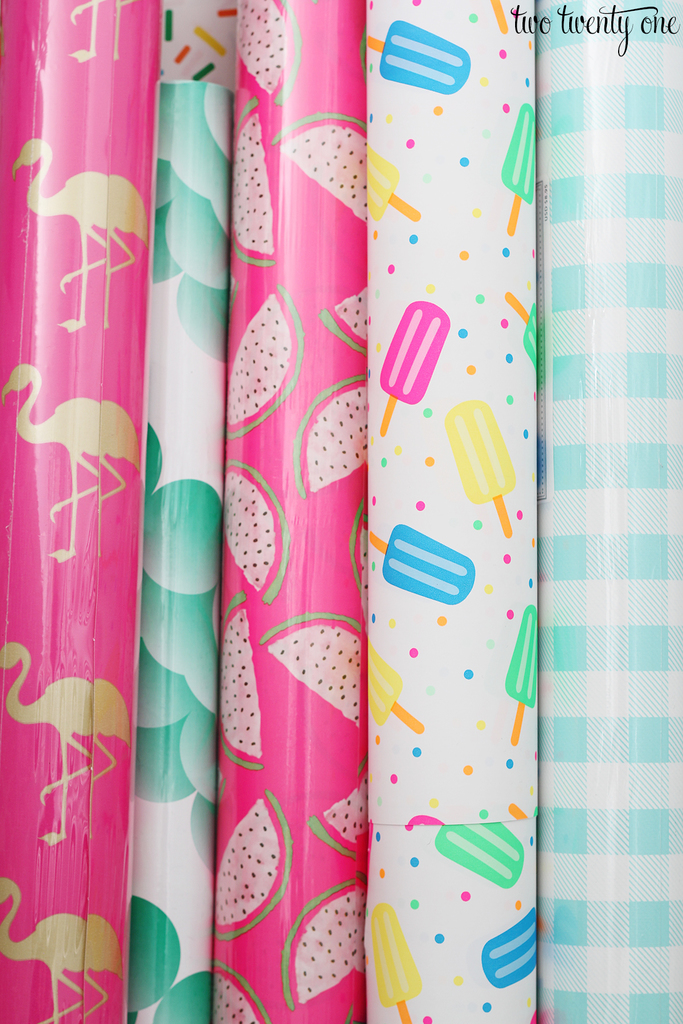 The stenciled file cabinet is still kicking.
Can you believe I did that project 4.5 years ago? Nuts.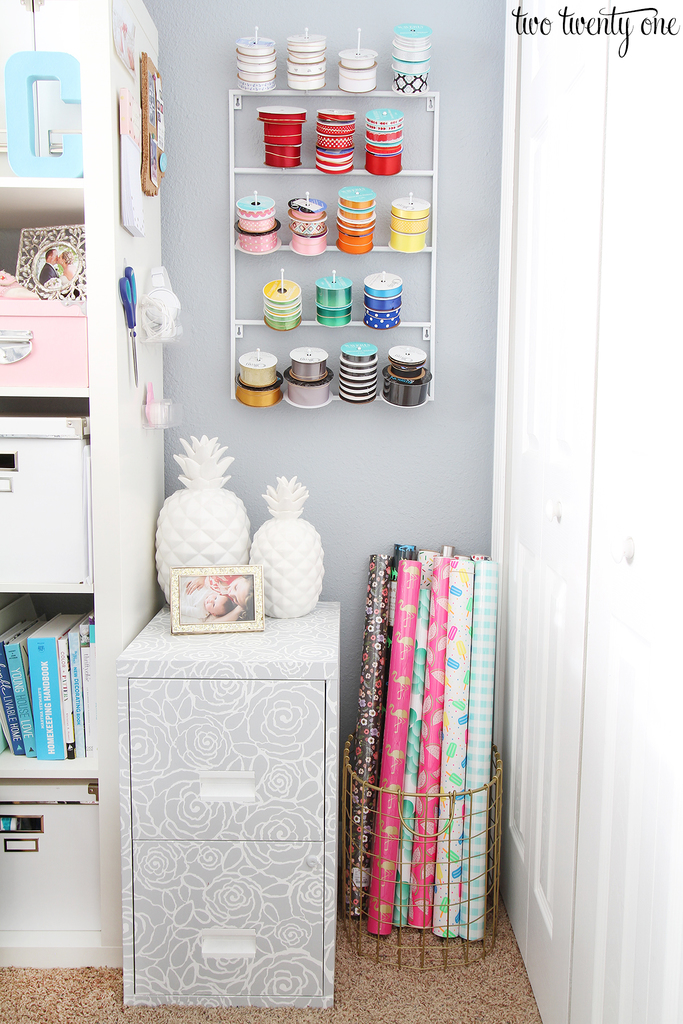 Keep in mind that you can always spray paint any mug rack you find to match your decor.