Hidden Kitchen Command Center
You may remember a couple years ago when I made my hidden kitchen command center. Well, I had to say goodbye to that organizer when we had our kitchen cabinets refaced. I really missed having a kitchen command center, so I decided to make another one.
The awesome thing about this command center is that it's not permanent because I used damage-free adhesives. So it's perfect for homeowners or renters.
Here's what I started with– the boring inside of a kitchen cabinet door.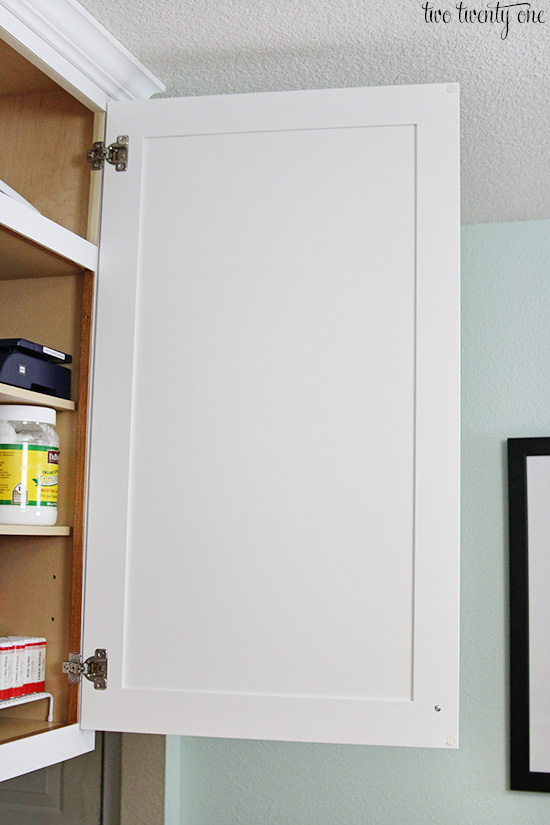 Materials Needed:
 Two cork board squares (I hot glued two together)
One dry-erase board and marker
Washi tape
Push pins (I used my DIY push pins)
Items to organize, such as keys, photos, notes, gift cards, etc.
Command™ Quartz Key Rail
Command™ Medium Picture Hanging Strips – this project used four sets
Note: Follow all Command™ Brand package instructions for proper surface cleaning and prep, adhesive strip placement and recommended weight claims.
Step-by-Step Instructions:
1. Grab your cork board square, dry-erase board, Command™ Medium Picture Hanging Strips and Command™ Quartz Key Rail. Determine where you want to create your hidden kitchen command center and follow all surface prep instructions on the back of the packaging.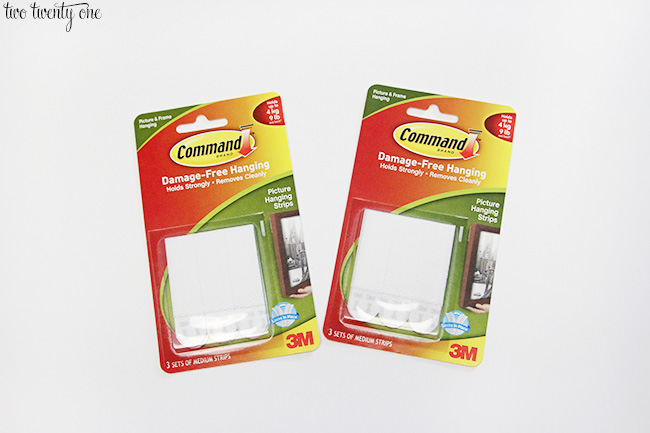 2. Following package instructions, apply the Command™ Medium Picture Hanging Strips to the back of your cork board square. This project used one set on top and one set on the bottom of the square.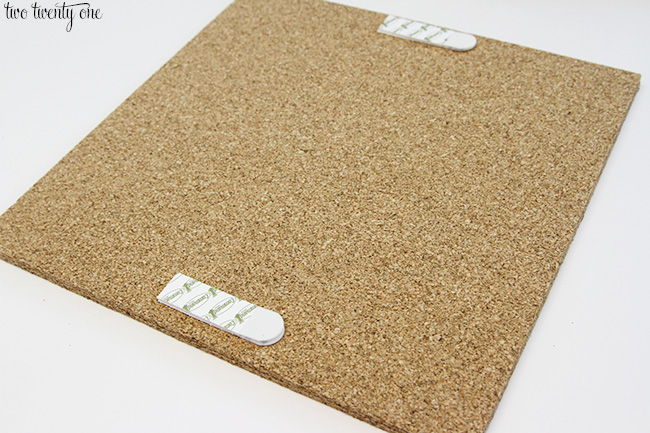 3. Repeat step 2 to attach additional picture hanging strips to the back of the dry-erase board.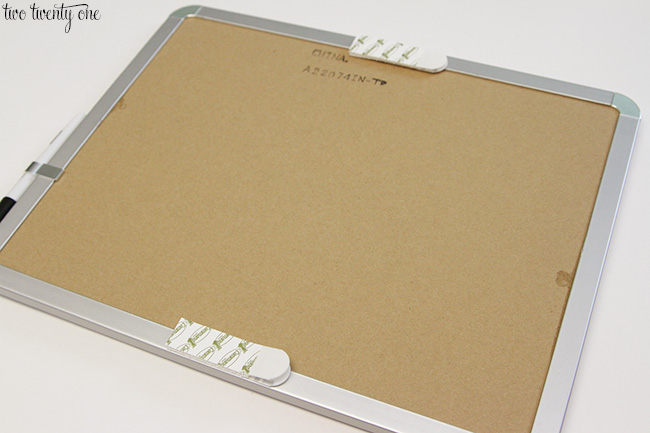 4. Mount the dry-erase board and cork board square on the inside of the kitchen cabinet door.
5. Following package instructions, adhere the Command™ Quartz Key Rail above the cork board square and dry-erase board.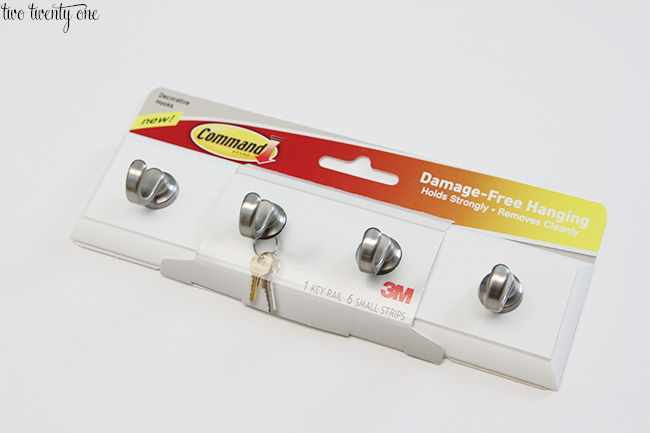 6. Now get your organization on! Use push pins to hang important notes, receipts and more on the cork board, and write reminders on the dry-erase board. Use washi tape to add photos, invitations, and other mementos.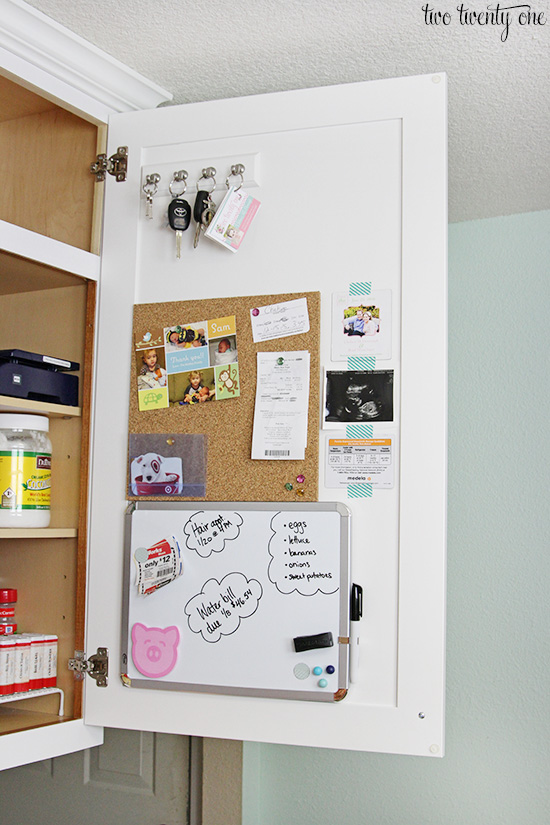 I use the dry erase board to write random appointment and bill reminders. We also jot down shopping list items we need. Before I leave for the store, I take a photo of the list with the camera on my phone.
The dry erase board I purchased is magnetic, so I stuck some car wash coupons to the board too.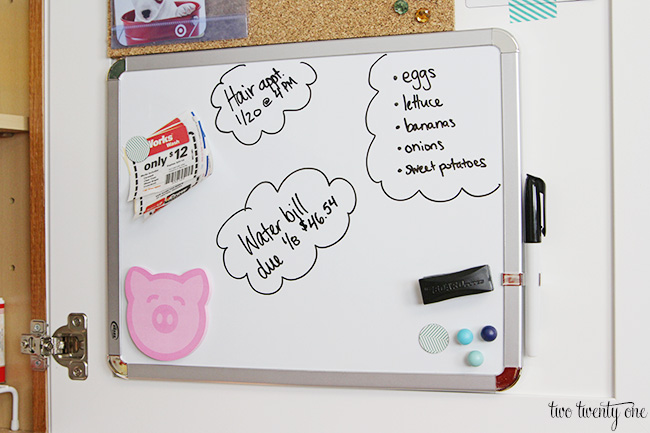 I use the cork board to hang up announcements from friends and family members (wedding invitations, shower invites, birth announcements, etc.), appointment cards, important receipts, and gift cards.
I'm trying to keep our fridge free from clutter, so I used washi tape to hang our save the date magnets from our wedding, an ultrasound photo of Owen, and my breastmilk storage guidelines magnet. Washi tape is awesome because it's easy to remove– perfect for renters.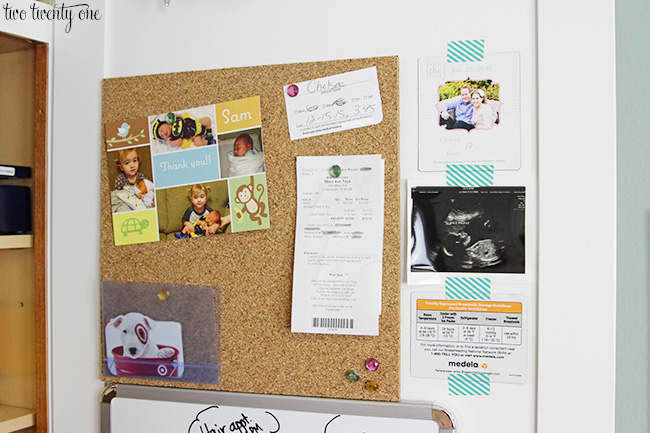 My wallet was stolen out of my purse when I was in high school. The ordeal scarred me for life. Don't worry– the assailant (a classmate of mine) was later turned in (by her father) and was hauled off to juvenile hall in handcuffs from my high school. When I got my wallet back, the chick took everything out of it but the pennies. Super classy.
Anyway, I had about $100 in gift certificates (back when there were gift certificates instead of gift cards) from Christmas and $40 in cash in my wallet. I felt terrible because my parents had gifted me those, and they were gone forever. Due to this incident, I only carry gift cards in my purse if I'm going to the store(s) the gift cards pertain to. So I keep our gift cards in a pocket I created from the corner of a folder. If I'm heading to Target, for example, I'll grab my Target gift card and put it in my purse.
So the moral of my story is to not carry hundreds of dollars of gift cards around in your wallet or purse.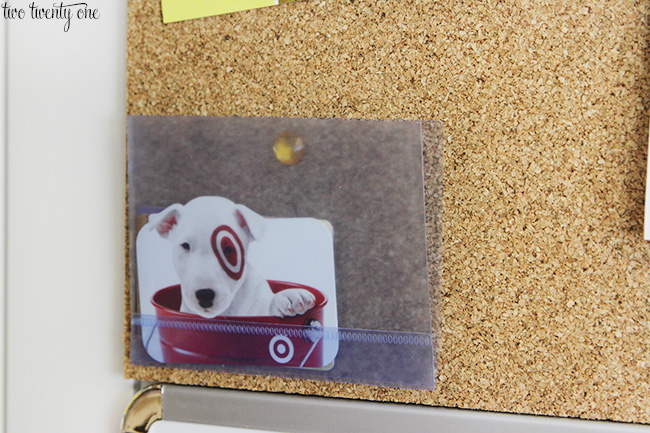 I love this key rail. It's where we hang our spare keys and business cards.
Whenever we get a business card from someone important, like our HVAC guy, I hole punch the card and put it on a binder ring. I didn't want to broadcast our appliance repairman's info all over the Internet so I used my blogger business card.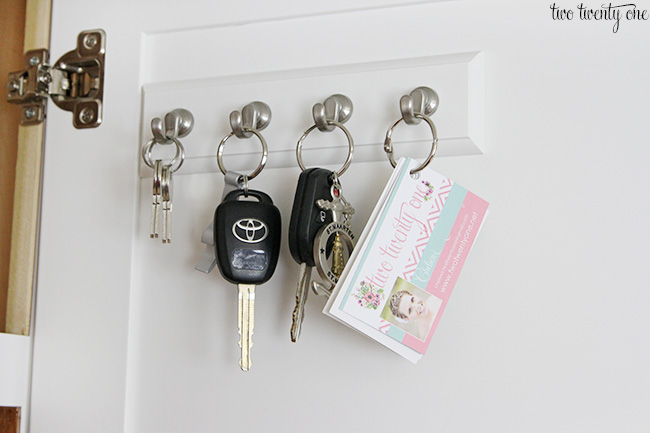 Another thing I loved about this project was that it took less than 30 minutes to complete.

This post is brought to your by Command™ Brand. As always, opinions are 100% my own.
This post contains affiliate links.