How to Paint a Metal Door
This is a sponsored conversation written by me on behalf of Dutch Boy. The opinions and text are all mine.
I recently helped my friend add a little color to her mudroom by painting the metal door to their garage. A couple years ago, she and her husband created this beautiful and functional mudroom space by the entrance to their garage. She's been talking about painting the door to the garage for a while, because let's be honest, with two little ones and two dogs, a high-traffic, white door can get quite dirty and scuffed up.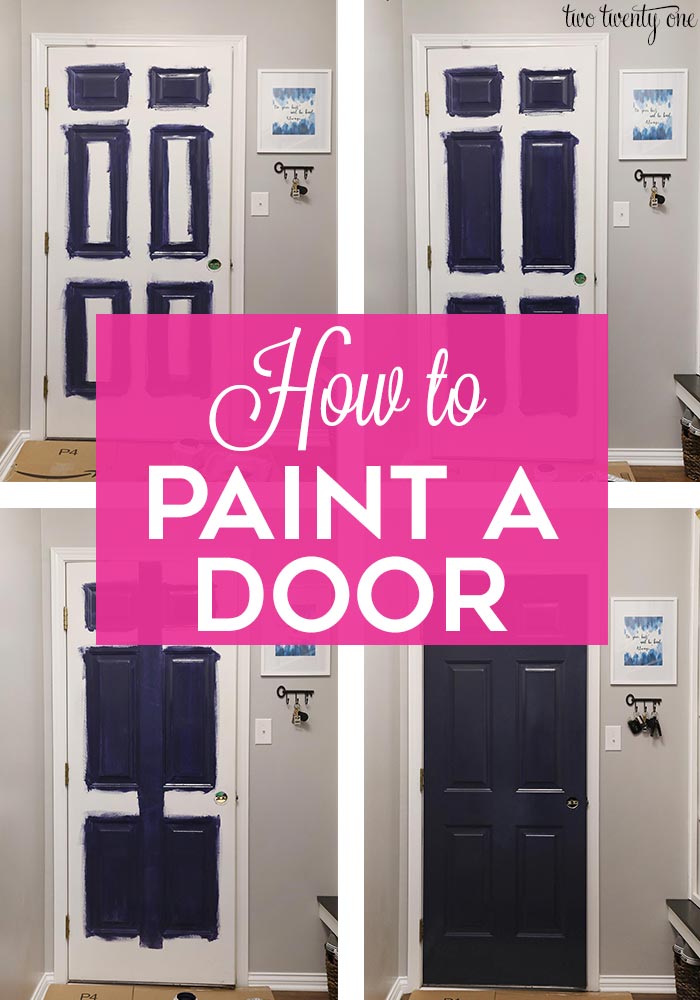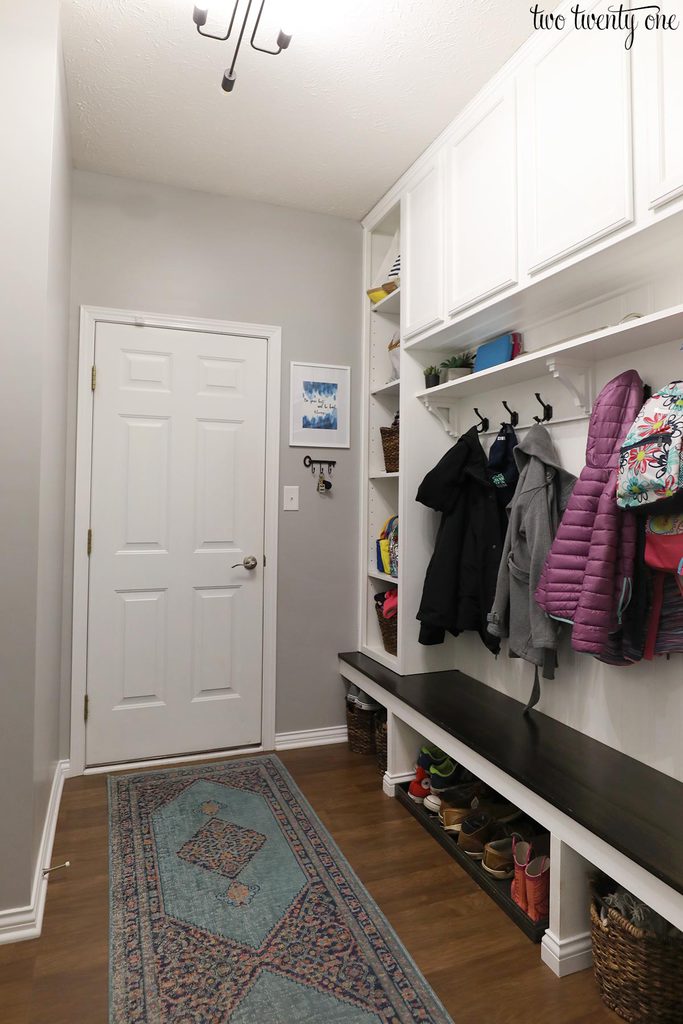 We decided to go with Dutch Boy Plume Purple because it's a great deep purply blue and nearly the same color that's in the runner in the mudroom. Plume Purple is part of the Dutch Boy 2019 Color Trend palette, Sanctuary. If you're looking for color inspiration, I highly recommend checking our their 2019 Color Trend palettes and their 2019 Color of the Year, Garden Patch, a nostalgic, botanical green hue.

Since I was painting a door, I went with Dutch Boy Dura Clean Cabinet, Door & Trim paint + primer in a high gloss finish from Menards. It's an acrylic enamel paint so it's very durable. And the high gloss finish means it will clean easily. I love the twist-and-pour container. When painting with the brush, I'd hold the container and dip my brush into it instead of having to pour the paint into another container.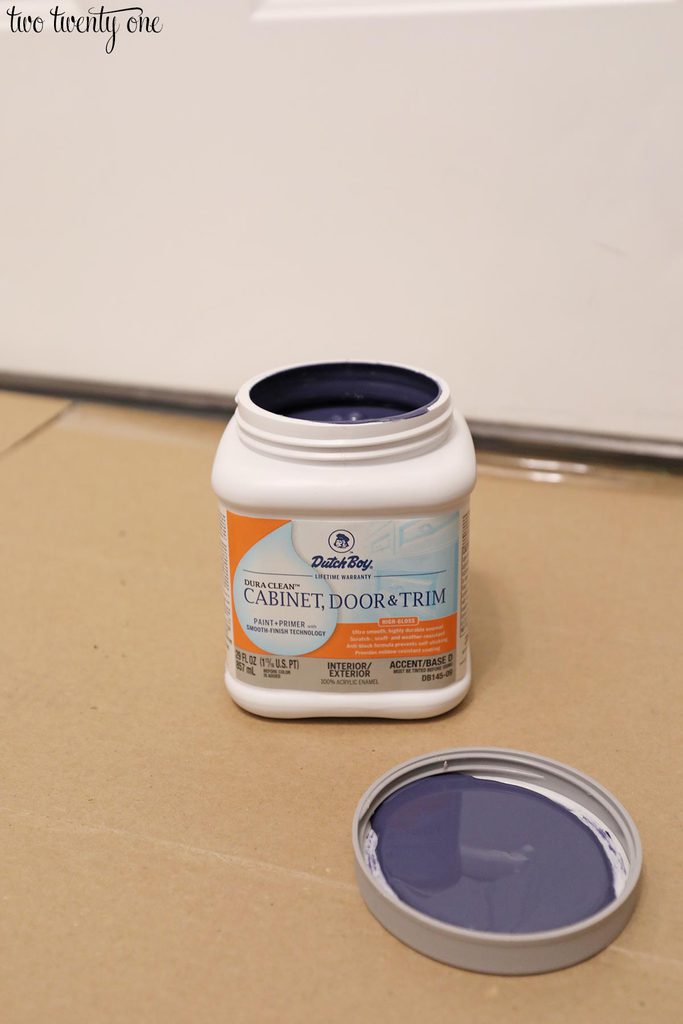 When you're painting a door, you're going want to start by removing the door knob and then cleaning the surface of the door. If you're not a seasoned painter or tend to be a messy painter, I'd suggest taping off the trim surrounding the door.
Once the door is ready to paint, grab your brush and paint the bevels first. Since the top panels are so small, I went ahead and painted those too.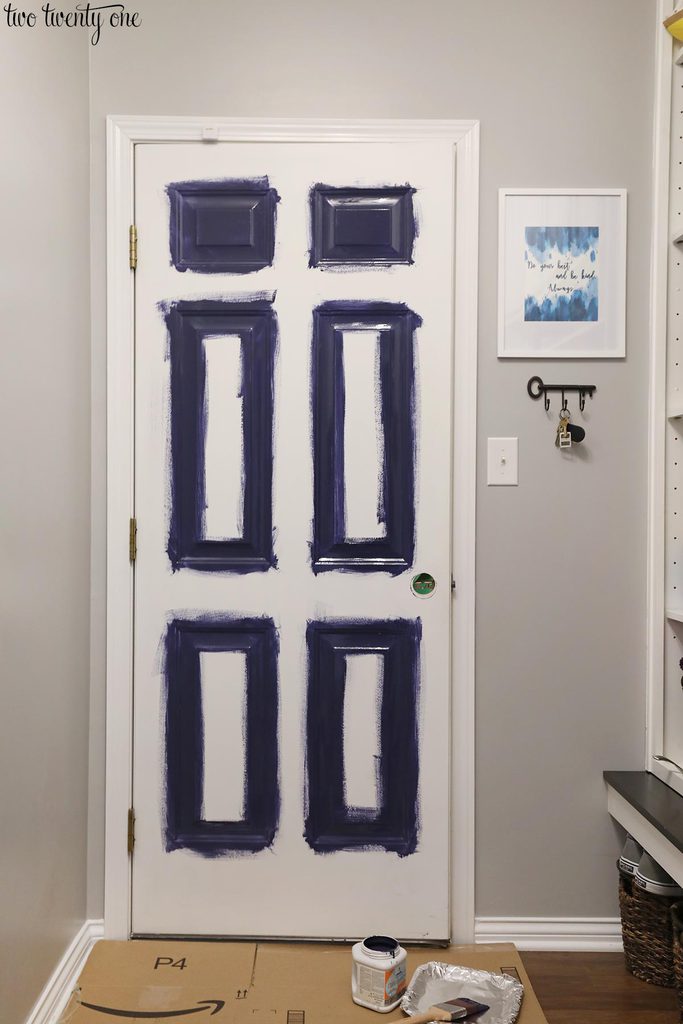 Next, paint the panels. You can use the paintbrush or a small 1/4″ nap paint roller or a foam roller to paint the smooth areas of the door.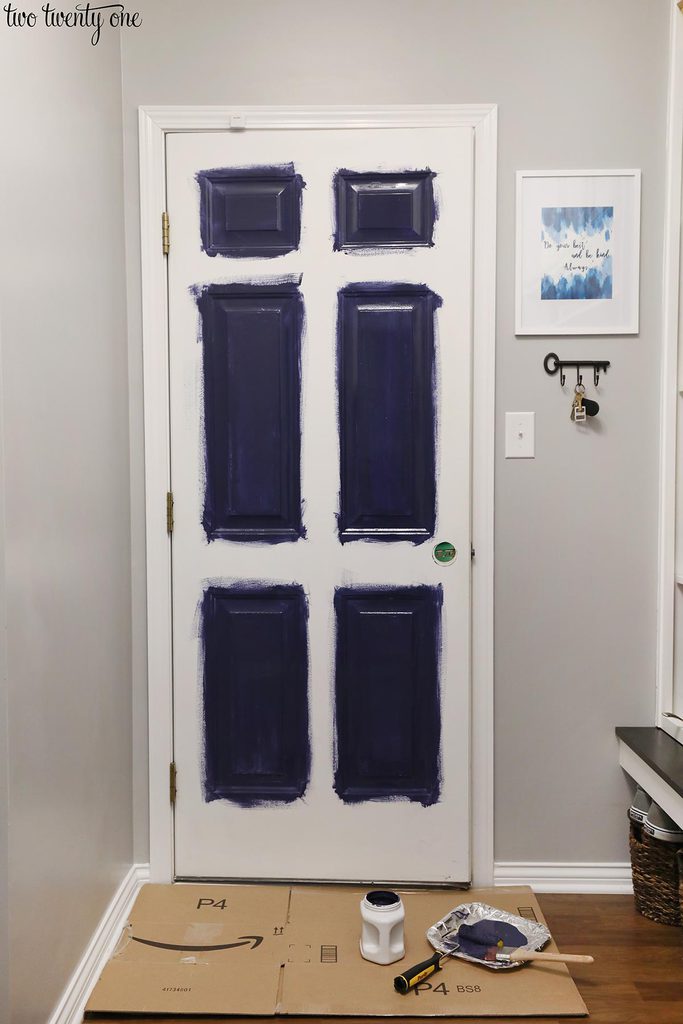 Then, paint the center stile.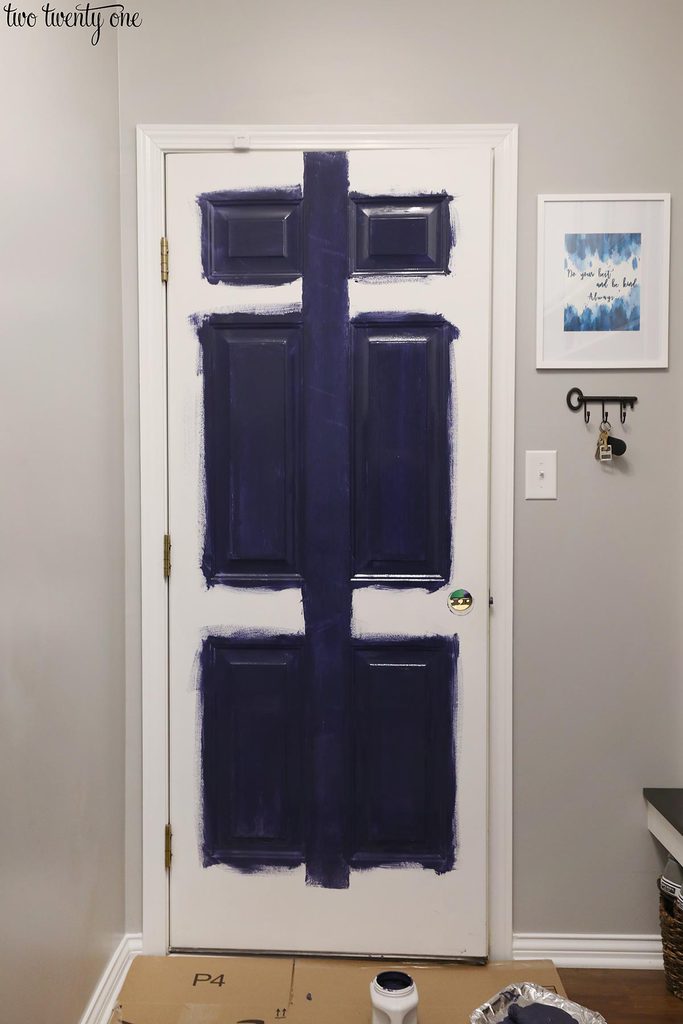 Finally, paint the rails and the outer stiles.
The drying time between coats is 2-4 hours.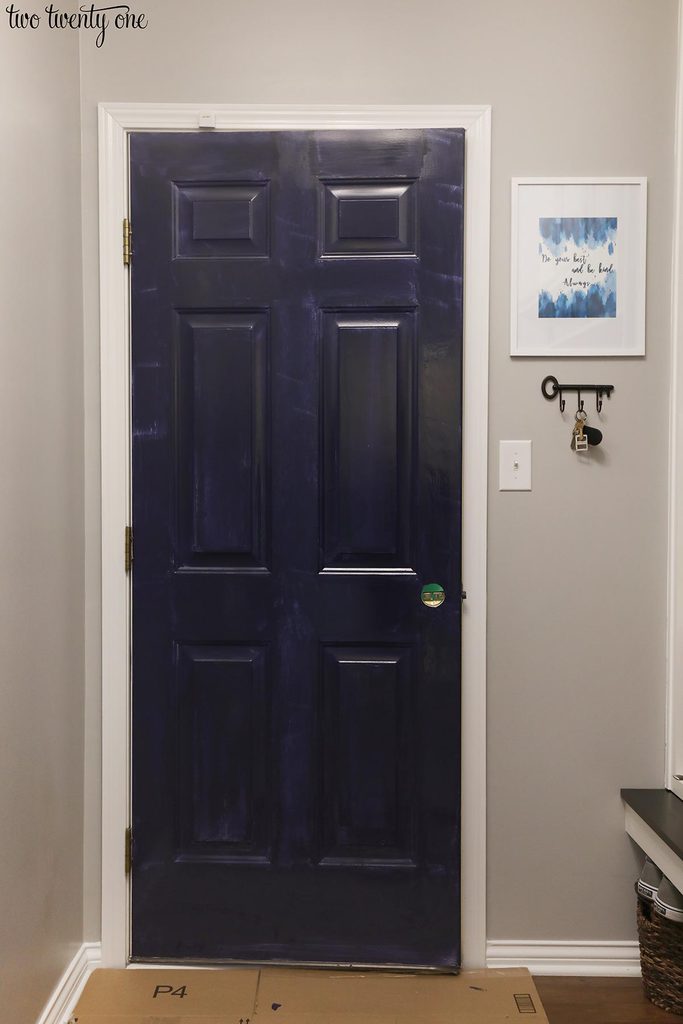 When going from white to a deep/dark color, you will likely want multiple coats to achieve your desired effect. We went with three coats.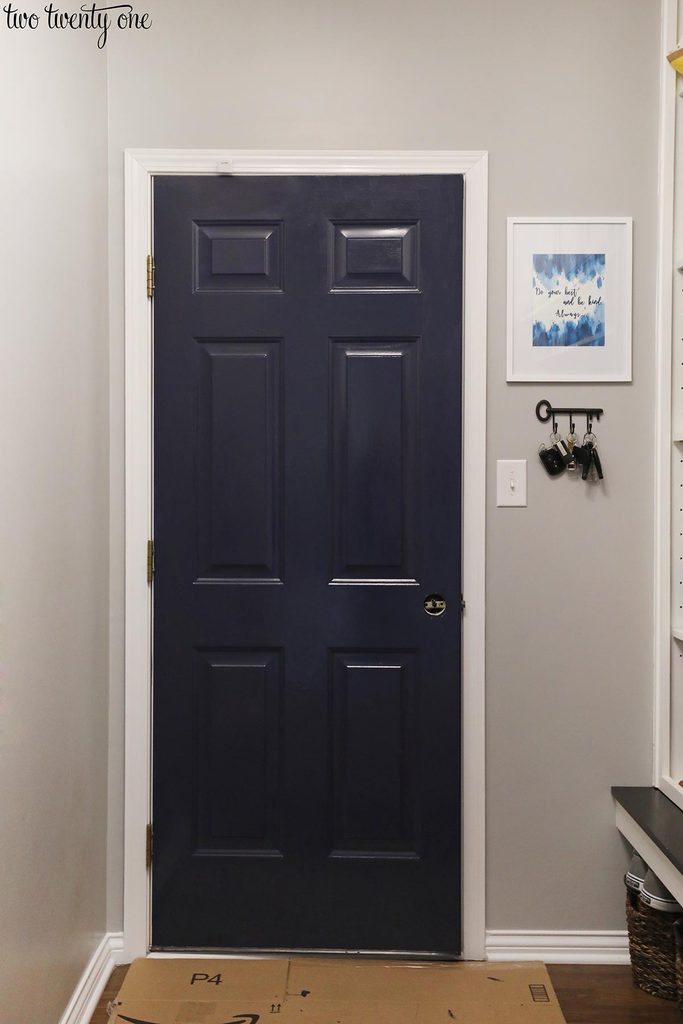 The Plume Purple color is beautiful and richly saturated. Depending on where you're standing, it can look like a deep purple or navy.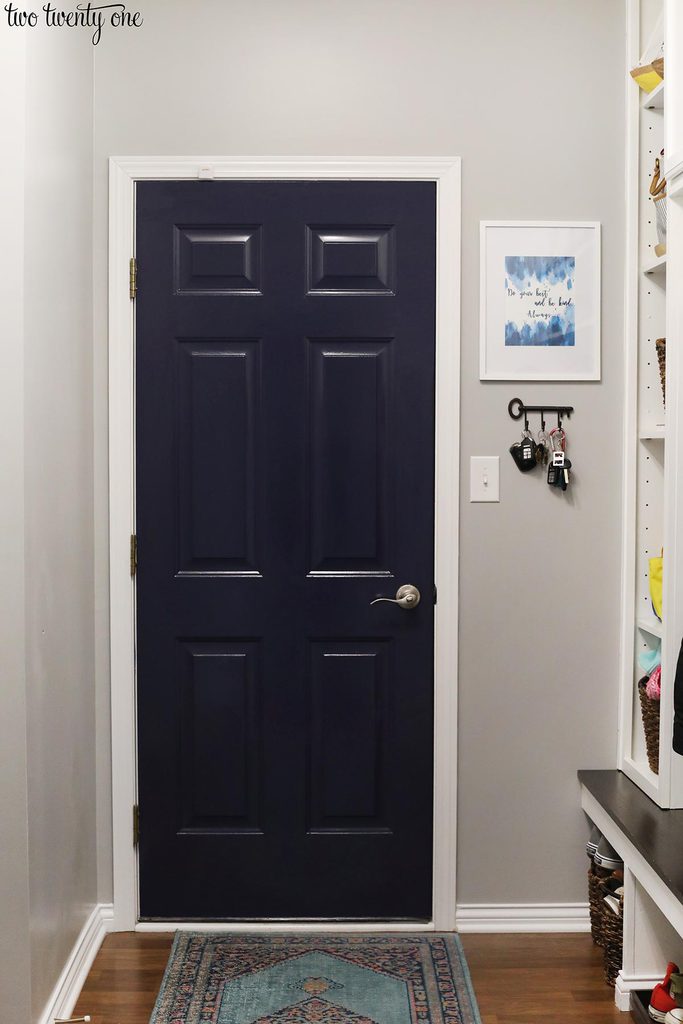 I love how painting the door gave the mudroom a big pop of color. The space feels more custom and less builder-grade than it did with the standard white door. And now my friend won't have to worry about always having to wipe down the door because the darker door should mask scuffs better than white.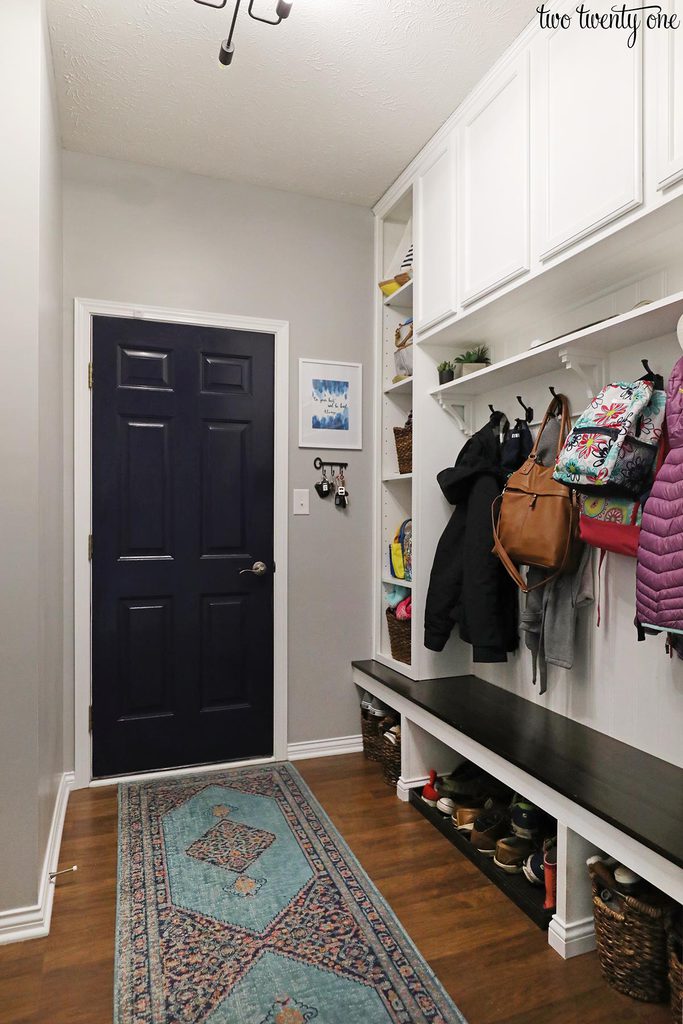 What's great about painting a door is that it's a pretty simple weekend project that packs a big punch. And if you have little ones around, I suggest painting at the start of nap time or after they go to bed. This will give the paint time to dry before they're up and running.