Emmett's Nursery: Neutral Baby Boy Nursery
Last month, I shared how I made this wall hanging for Emmett's nursery. In that post, I debated what his room should be called– a nursery or bedroom. Well, I've opted to go with nursery. I know you've been wondering. Well, today I'm sharing Emmett's nursery!
I was trying to be a good blogger and come up with a way to describe the nursery in the title for SEO purposes, but like with Owen's nursery, there really isn't a theme so "Emmett's Nursery" it is.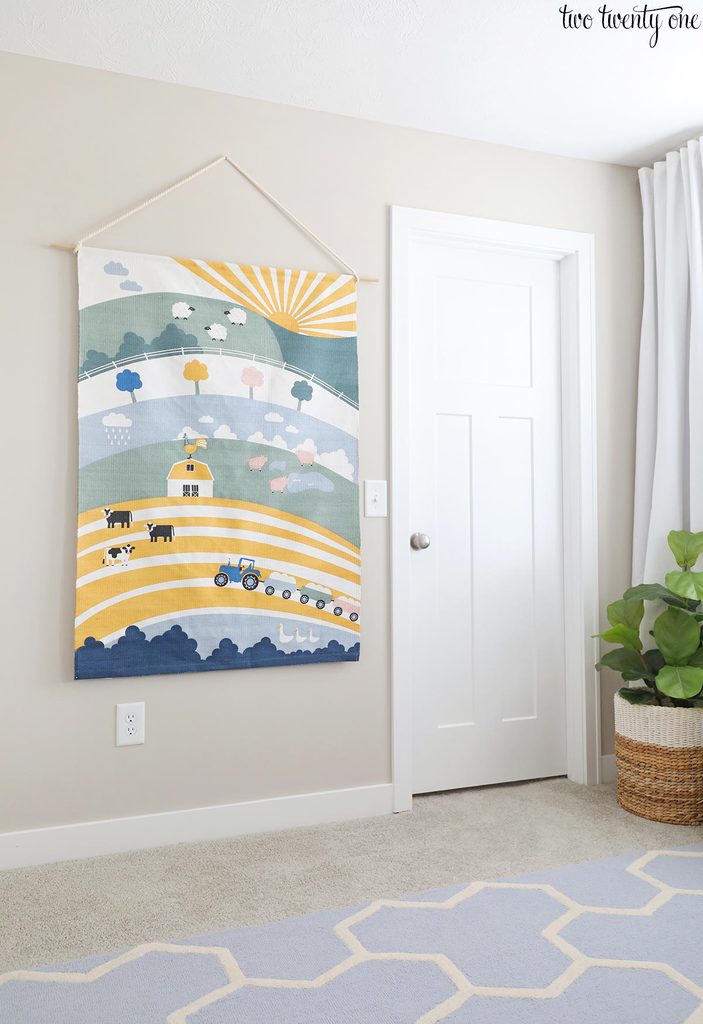 Emmett actually slept in his nursery for the first time on Friday night. I was shocked when he only woke once around 5AM but easily went back to sleep with a little comforting. And I had to go in and wake him up at 9:30AM. Cue the confetti cannons.
I talked in depth about this faux fiddle leaf fig on Instagram Stories when I bought it. Check it out by heading to my profile and click on my "Plants" highlight. To give it some more height, I put a box inside the basket and set the FLF on top of the box.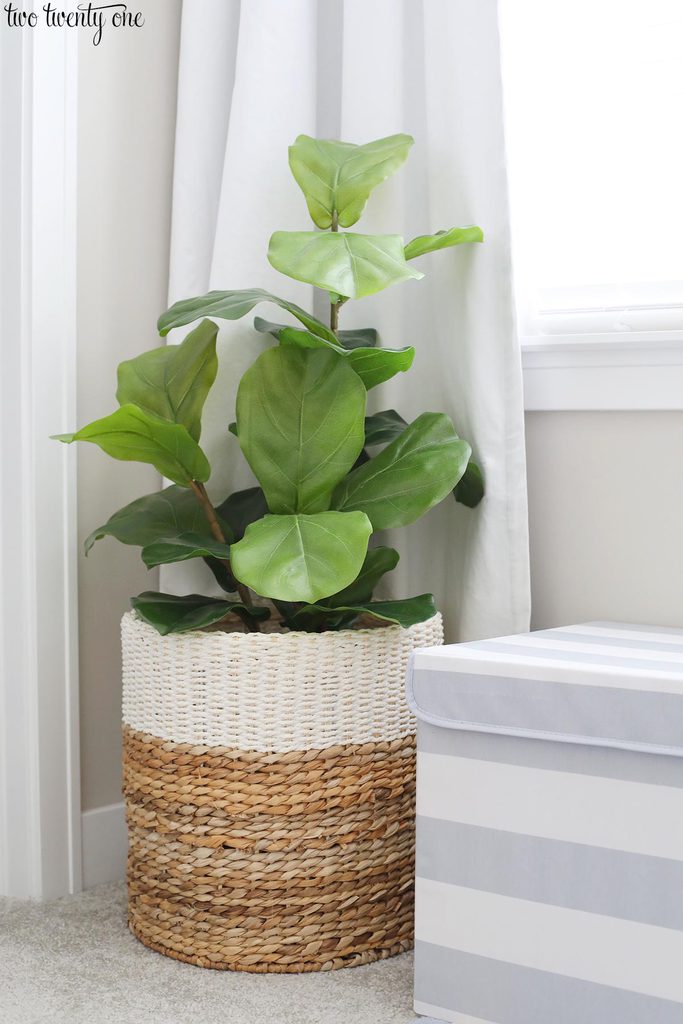 I reused three pieces of furniture from Owen's nursery— the glider/recliner, IKEA Hemnes dresser, and crib mattress. But everything else is new.
We did buy a new crib. I wanted something different, and when I came across this crib I was all "Yep, gotta get that one." I loved the color of the wood and the brass details. I'm slightly nervous though because this crib isn't as tall as Owen's. Owen never climbed out of his crib the nearly four years he slept in said crib, and Emmett is showing signs that he'll be the crib-climber-outter in the family. So just in case, we're holding on to Owen's old crib.
The crib is sold out in this wood color. But it's still available in white and graphite blue.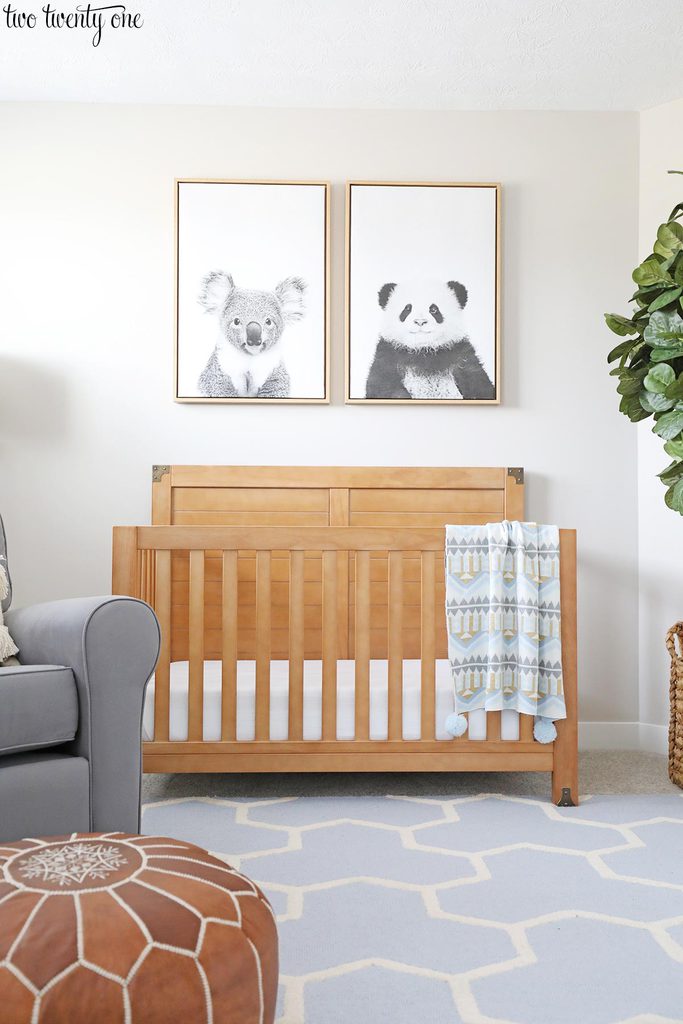 Emmett loves these guys. He often waves to them. Which is a relief, because I was afraid they'd scare him, and then I'd be SOL when it came to art above his crib. They still need names.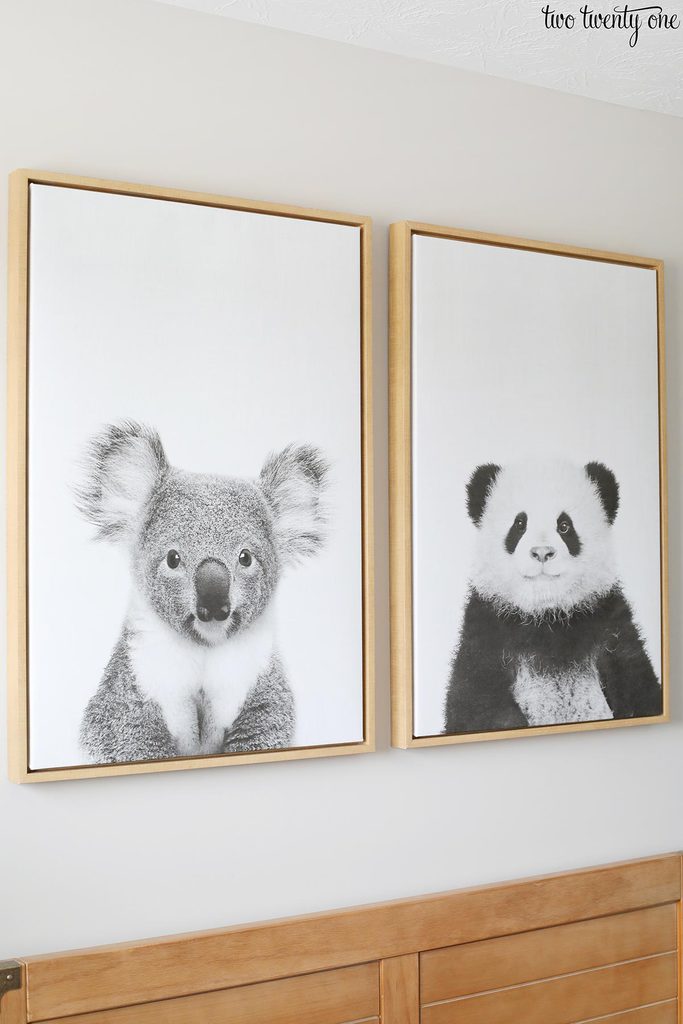 My color inspiration for the room came from this baby blanket. Lighter blues, gray, white, gold/tan.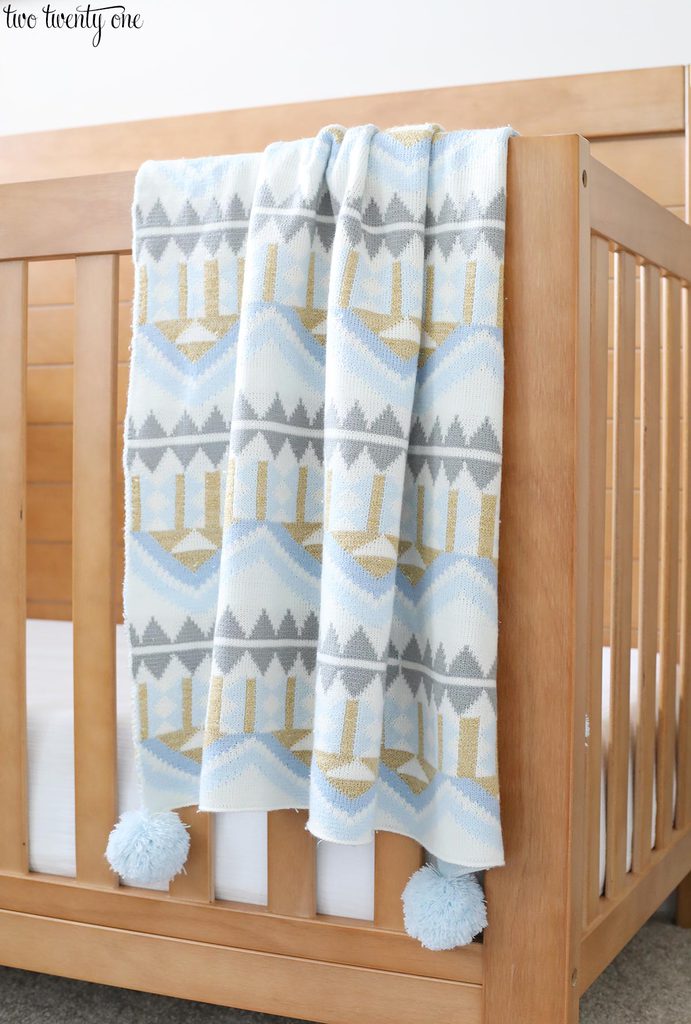 There's this little part of angled wall in Emmett's nursery. It's not my favorite, but I understand why the layout of upstairs needs it. In an attempt to minimize the appearance of the wall, I put a faux fiddle leaf fig in front of it. I don't know if that rationale is actually working, but I'm happy with it. The fiddle leaf fig isn't the best faux out there but it's 6 feet tall, and it was less than $100.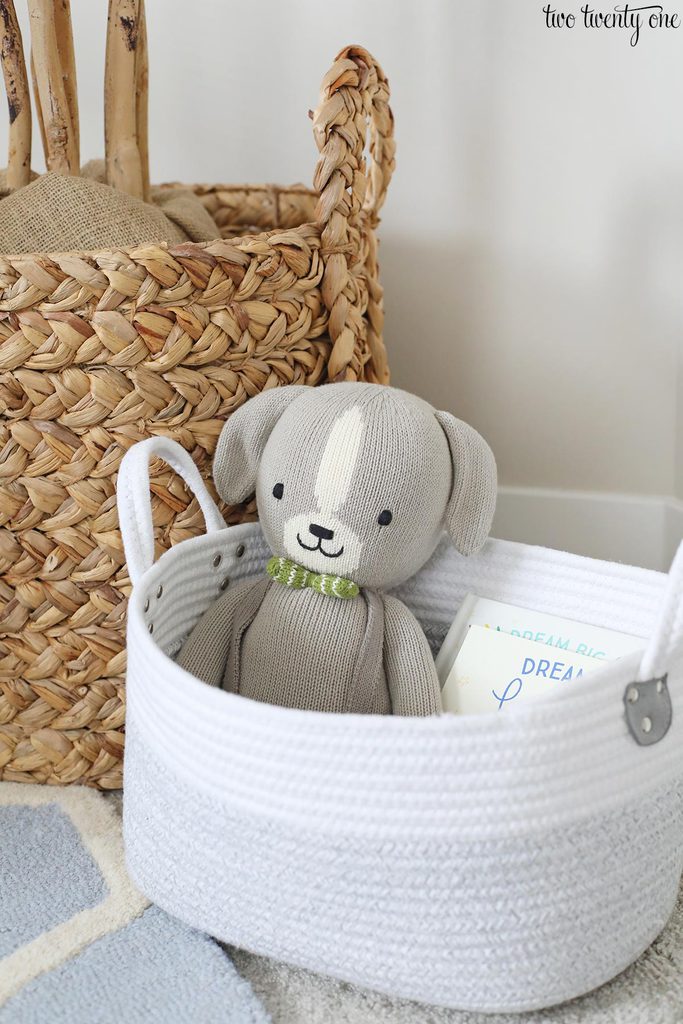 The Hemnes dresser has held up considerably well over the past 4.5 years. I did touch up the paint on the top edge by the changing pad. This thing holds so much stuff it's crazy. We keep all of Emmett's diaper changing stuff in two of the top drawers so we don't have to have them cluttering up the top.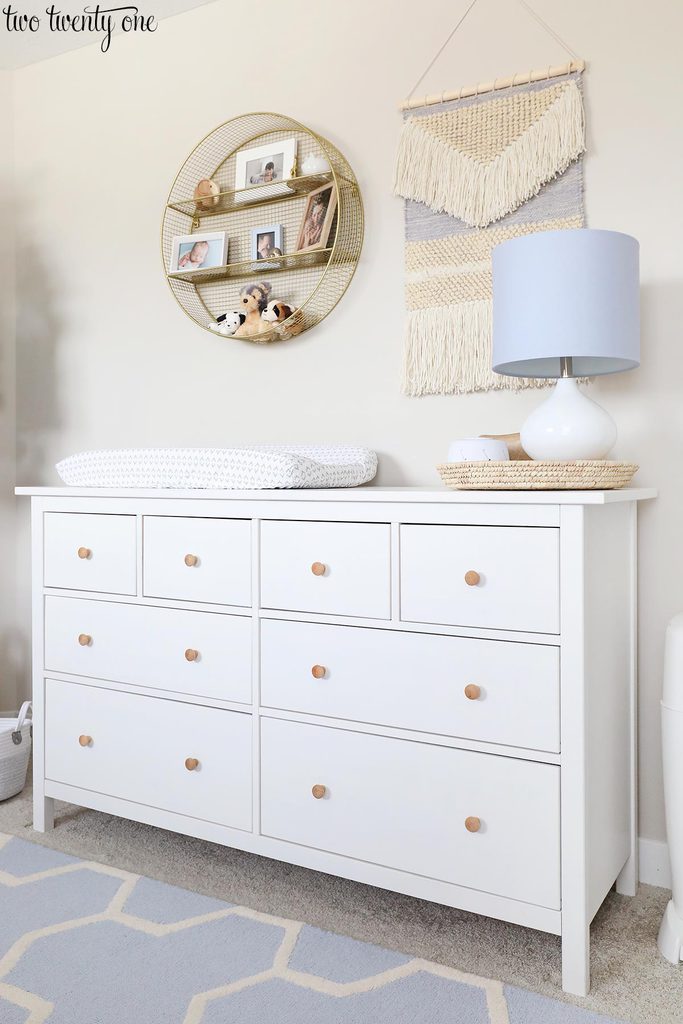 I also swapped out the black knobs that come with the dresser for these wooden ones. They come unfinished so I just used some poly to seal them.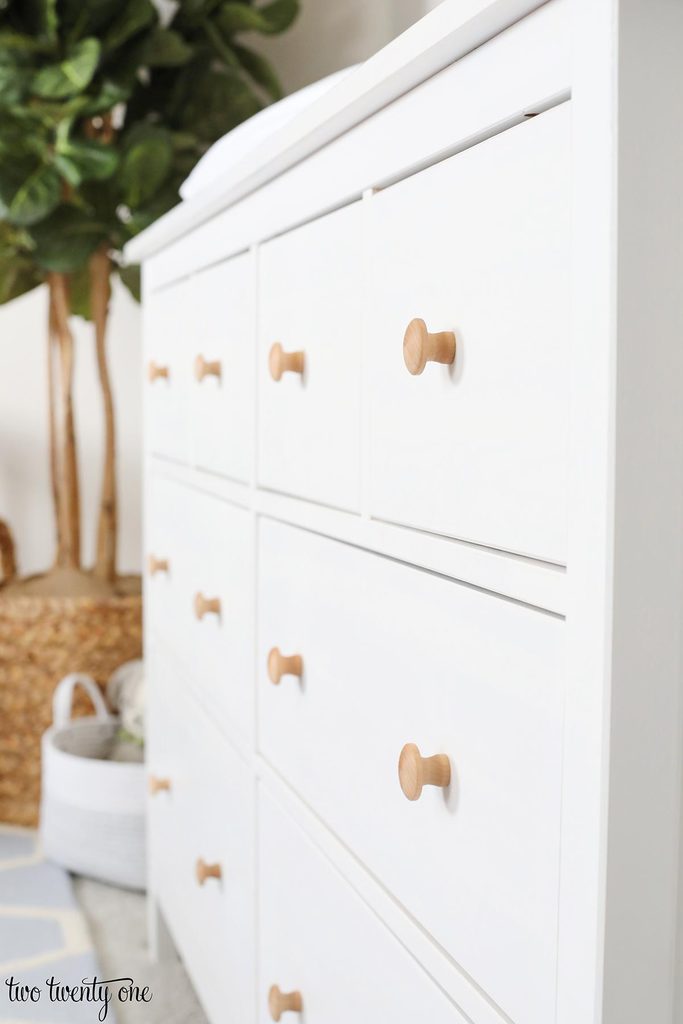 Our house is exploding with toys, but I've realized that we don't have a ton of babyish tchotchkes. So I decided to fill up this wire shelf with newborn photos.
I also had to include some puppies because Emmett's nickname is Puppy. The two Beanie Babies are actually mine from the 90s. And yes, the tags are still attached because I'm sure they're worth $500 each on eBay.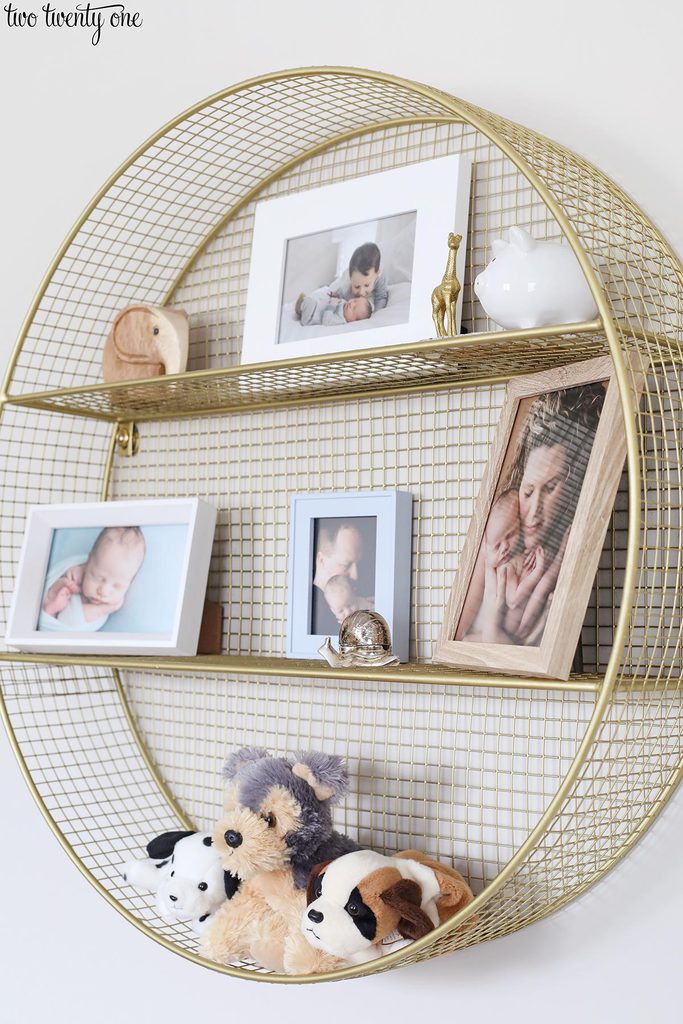 I'm eating my words because a few years ago I spoke out against woven wall hangings on my short-lived and now-defunct podcast. I may or may not have said that they were pointless dust collectors. But when I spotted this one, I was all "That would look great in the nursery!" and here we are.
I actually don't like that bear wood carving behind Emmett's sound machine. It was a clearance impulse buy, but once I got it home, its eyes have increasingly creeped me out. Its days are numbered.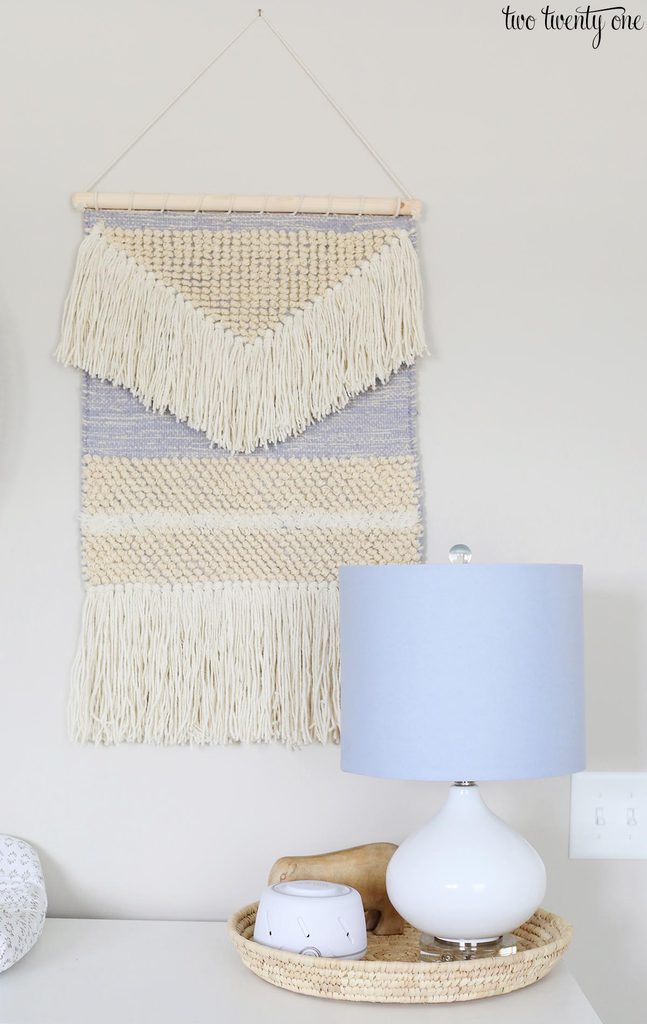 From this view, the wall looks really sparse, but it doesn't in person. Plus, I couldn't really put anything by the changing pad because Emmett would rip it off the wall. Seriously, why can't babies keep their hands to themselves?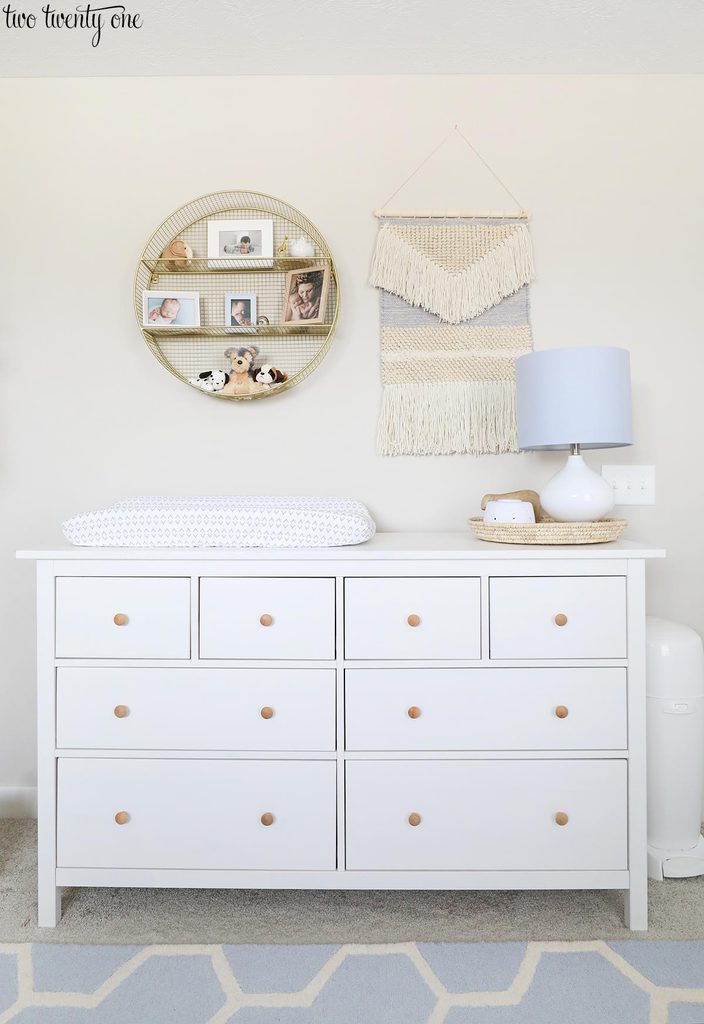 The nursery doesn't have a ton of stuff in it because my kids only use their rooms for sleeping. I'll have to share some nighttime photos of the room soon. It's so cozy and calming.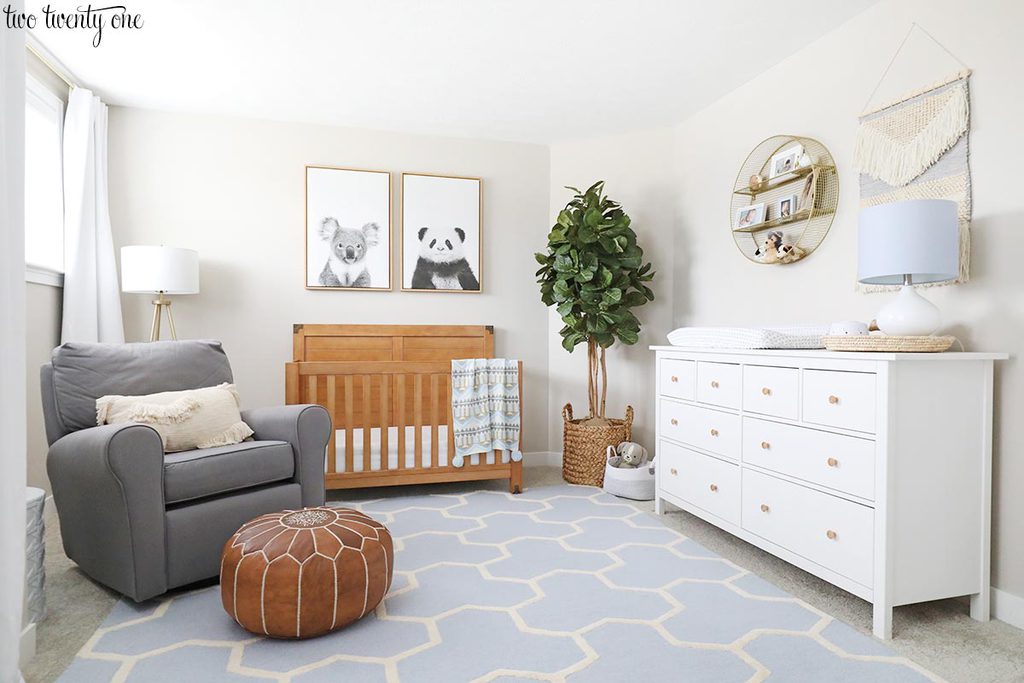 Sources
crib … Target
crib mattress … Amazon
crib sheet … Target
baby blanket … Pottery Barn Kids
koala wall art … HomeGoods but available here
panda wall art … HomeGoods
crib sheet … Target
glider/recliner … Buy Buy Baby // similar
pillow … HomeGoods
pouf … Wayfair
rug … Target // keep an eye on it because I only paid $150
garden stool … HomeGoods
floor lamp … Target
curtains … West Elm
curtain rods … Amazon
6-foot faux fiddle leaf fig … eBay
basket … HomeGoods
stuffed dog … Cuddle + Kind
white and gray basket … HomeGoods
dresser … IKEA Hemnes in white stain
wooden knobs … Lowe's
wire shelf … Target
changing pad … Amazon
changing pad cover … Amazon
woven wall hanging … HomeGoods
lamp … HomeGoods
tray … H&M but it's out of stock
sound machine … Amazon
creepy wooden bear … Target
farm wall hanging … DIY project
33″ fiddle leaf fig … Target
two-tone basket … Target
gray and white striped storage bin … Target