How to Replace Electrical Outlets
Last week I shared how we installed USB wall outlets in our kitchen and bedroom. Well, the bigger project behind adding the USB outlets was replacing all of the electrical outlets and light switches in our kitchen. As you know, our kitchen is getting quite the face lift soon, so we're trying to get a few projects done beforehand.
Let's start with what we were working with. While the outlets and light switches worked fine I've never loved the cream/beige/almond/whatever-you-want-to-call-it. Maybe it's just me, but I think they look dirty. So I decided to swap them out with white outlets and switches. Nice, crisp white.
If you read my post on how to install a USB wall outlet you'll notice that replacing a regular wall outlet is very similar.
Before you do any electrical work in your house TURN THE POWER OFF to the receptacle you intend to replace. (Read about my nightlight trick to make sure the power is off here.)
Remove the outlet cover and take the receptacle out of the wall box (take out screw on top and bottom).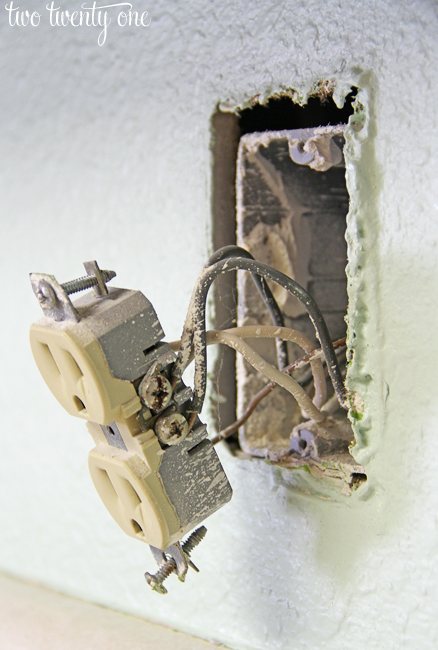 Use a screwdriver to remove the wires from the old receptacle.
Hook the wires onto the new receptacle. Tighten with a screwdriver.
Make sure you attach the correct wires to the correct screws. On this particular receptacle box, the black wires go with the gold screws.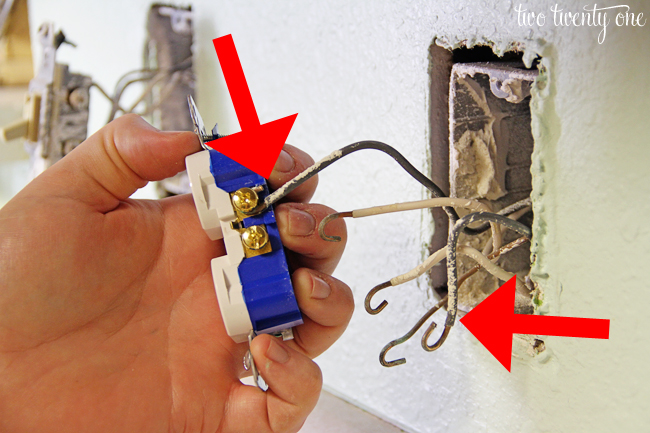 Attach the white wires to the silver screws. Tighten with a screwdriver.
Attach the ground wire to the green screw. Tighten with a screwdriver.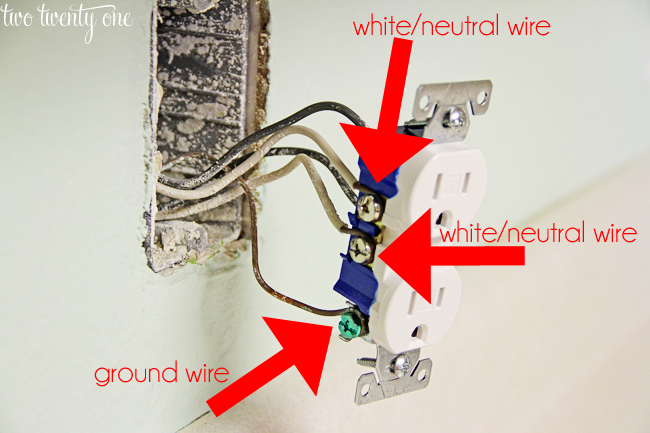 Carefully put the wires back in the wall box. Attach the receptacle to the wall with the two screws (top and bottom). Attach the wall plate. Turn the power back on.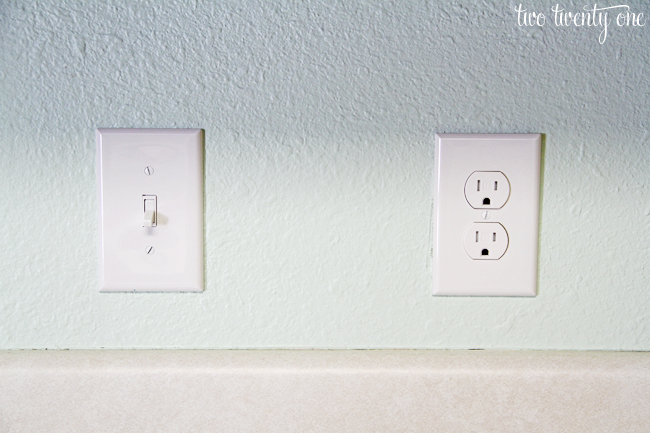 Looks better, no?
To give you an idea of price, the standard two plug receptacle was $1.47 and the plate was $.35 for a total of $1.82 (+tax). We have two GFI outlets and two three-way switches in the kitchen so those were more expensive to replace.
The almond/beige outlets and switches are throughout our entire house. Hopefully we'll be able to tackle replacing all of those suckers one day.
Disclaimer: Complete this DIY project at your own risk. I won't be held responsible if you don't read this tutorial carefully or have wonky electric in your house and electrocute yourself or burn your house down.