New Living Room Sofas – Radley Sofas from Macy's
We recently took our living room from "Oh, these folks just moved in" to "Wow, established adults actually live here". And let's not focus on that fact that we've lived here for nearly 2 years. You know the saying– Rome wasn't built in a day.
As you can see in the photo below, our living room lacked any sort of window coverings. They did have temporary blinds on them for a while, but I removed them a few days before taking this photo. I had a difficult time finding blinds I liked that didn't cost a mortgage payment. But my internet searching paid off, and I finally found some.
We were also rocking our brown leather sofas. Very comfortable, very kid-friendly, very unattractive.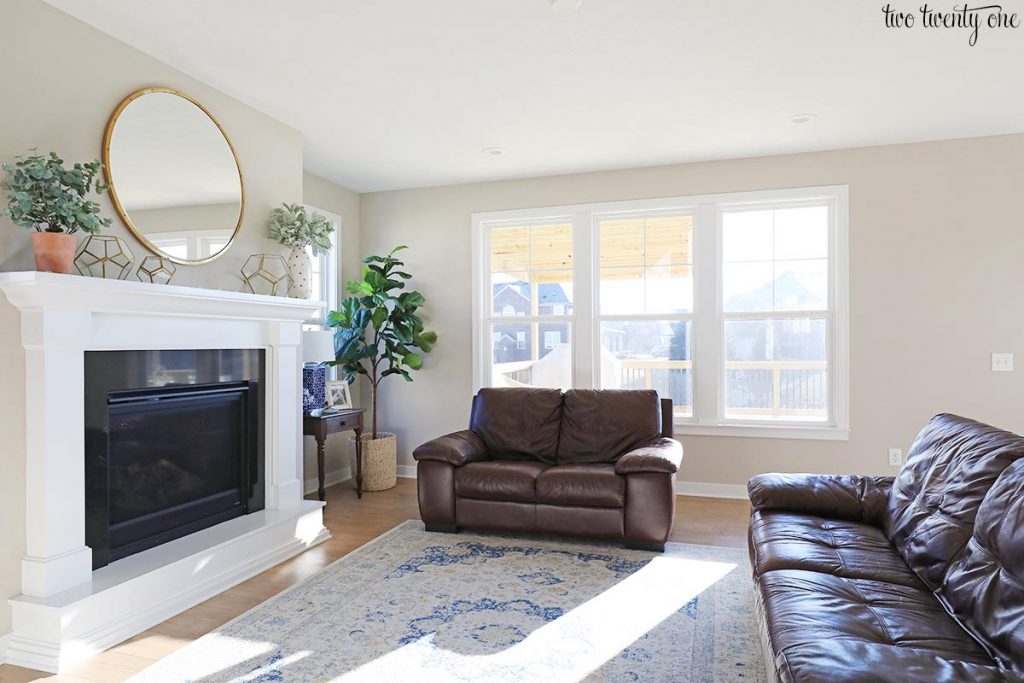 We bought the leather sofas 4.5 years ago when Owen was a few months old. Originally, we purchased gray upholstered sofas while I was still pregnant with Owen, but they squeaked when anyone sat on them. The furniture store's solution was to take the couch to their workshop, fix it, return it, take the love seat, fix it, and then return it. But even then, the squeaks were still present. And by this point, I was tired of our furniture disappearing for 2 weeks at a time. So we went to the store to pick out new ones. Again, I was mentally spent on this whole sofa thing, so I gave in and let Brad call the shots. And while the leathers sofas were comfortable and kid-friendly, I'd give them a 4 out of 10 in regards to aesthetics.
But I was getting tired of looking at them. And there was a couch sale. So onto FB Marketplace they went one Saturday morning and by Saturday night a nice guy with a Uhaul trailer pulled up and whisked them away to their new home.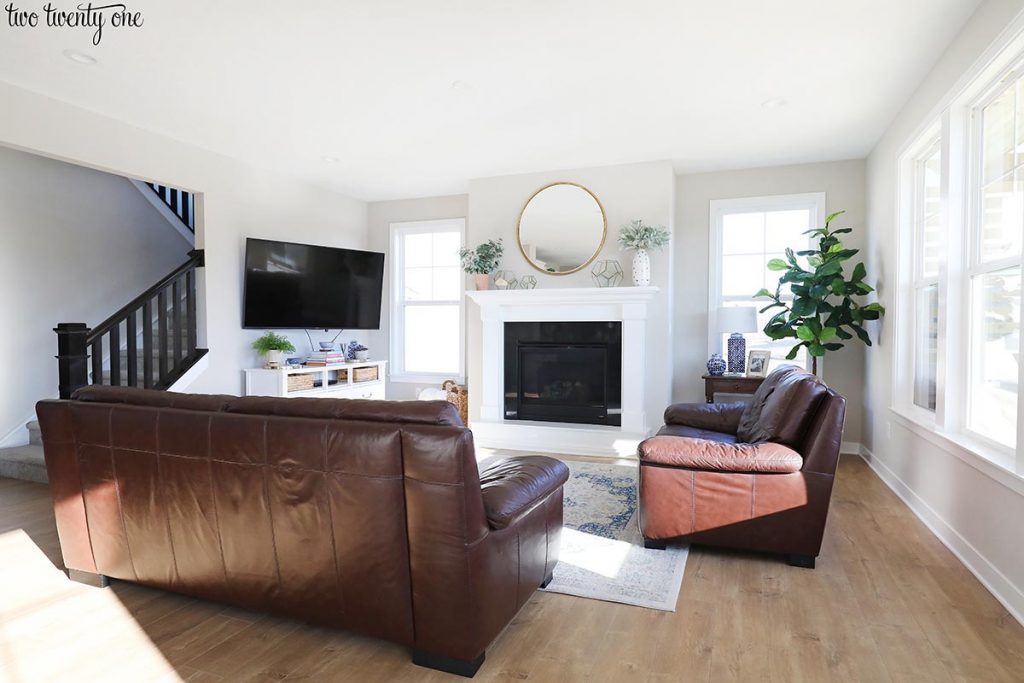 Say hello to our new couches and window treatments.
It looks like adults actually live here now, no?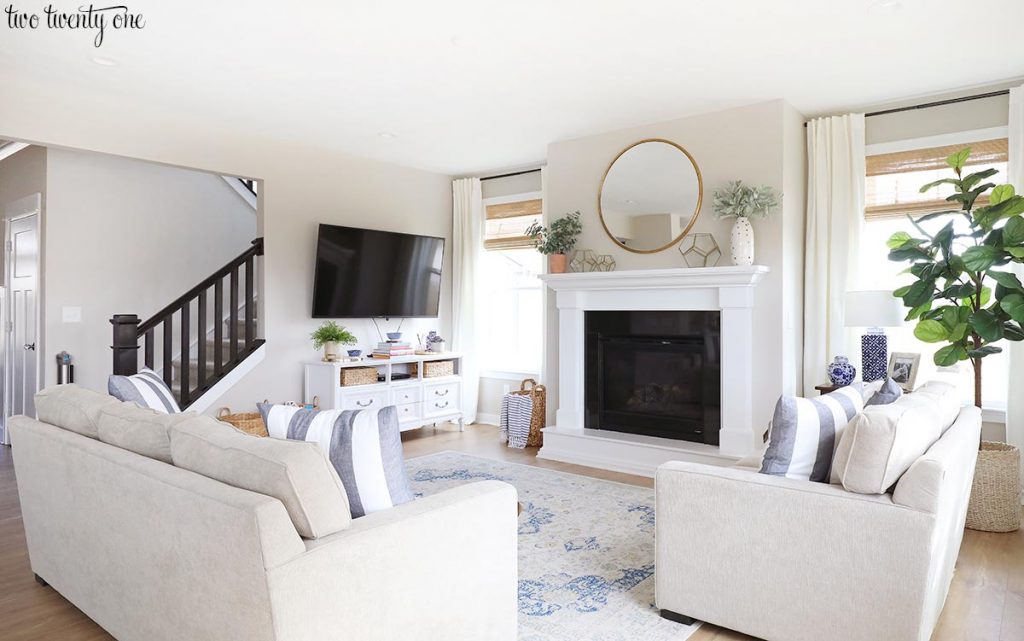 I decided to go with neutral-colored sofas and window treatments since those are the most permanent things in the living room. And I figure I can inject color with accessories. Or I could always get different curtains down the road.
Due to the layout of the living room, we had to go with a sofa and love seat versus two sofas. Which kind of stinks because the love seat is only $10 less than the sofa. And the sofas are actually on sale right now. I'm not just saying that. Granted, they were $60 cheaper when we got them, but they're still on sale.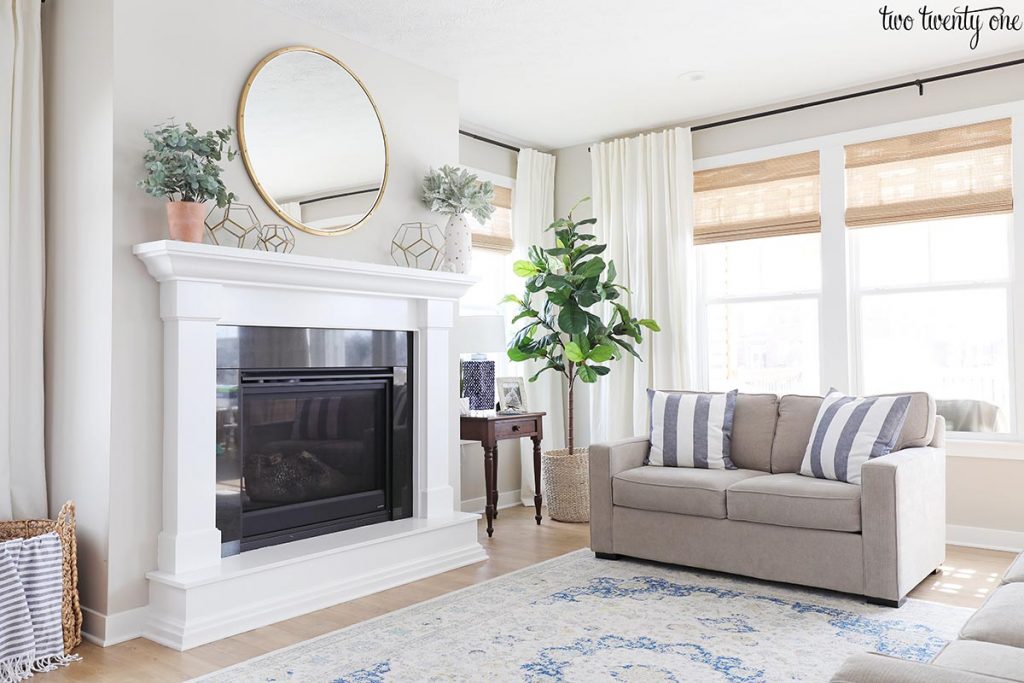 We decided on these sofas because we actually have the same model in our basement, only it's a sectional. Our thought process was pretty simple– the sectional is comfortable, it's held up well, the price is pretty good when the sofas are on sale.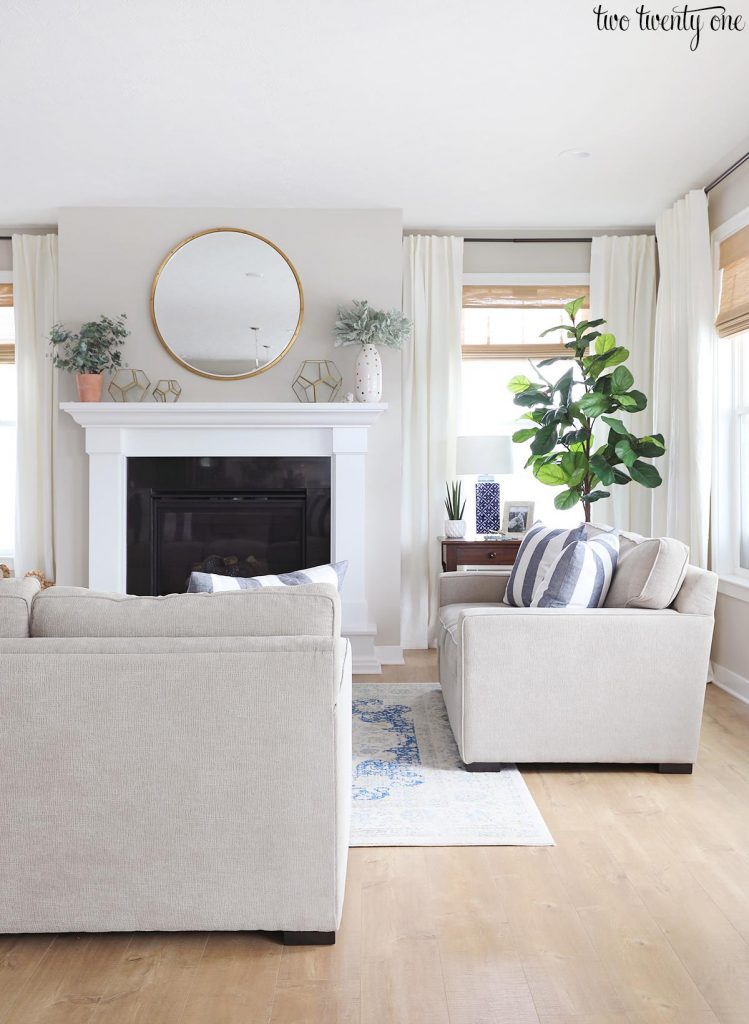 Like with the former gray couches, these sofas didn't come without drama. Something happened with the delivery service so the couches were a few days late being delivered, which left us without any furniture to sit on. But the store credited me the white glove delivery fee of $140 for our troubles. And I'll gladly take $140 for being couch-less for 3 days.
But wait, there's more! The couch had to be replaced because the cushions didn't fit. Seriously, I could've lost a child in that gap (see photo below). The furniture tech who came out to investigate the couch crevice said he'd never seen anything like it before. I replied, "Welcome to our home."
The tech ordered us new cushions but the store was all, "Nah, we'll just deliver a new couch and take back the Grand Canyon couch." So that's what they did. And I'm happy to report that the new couch cushions fit much better.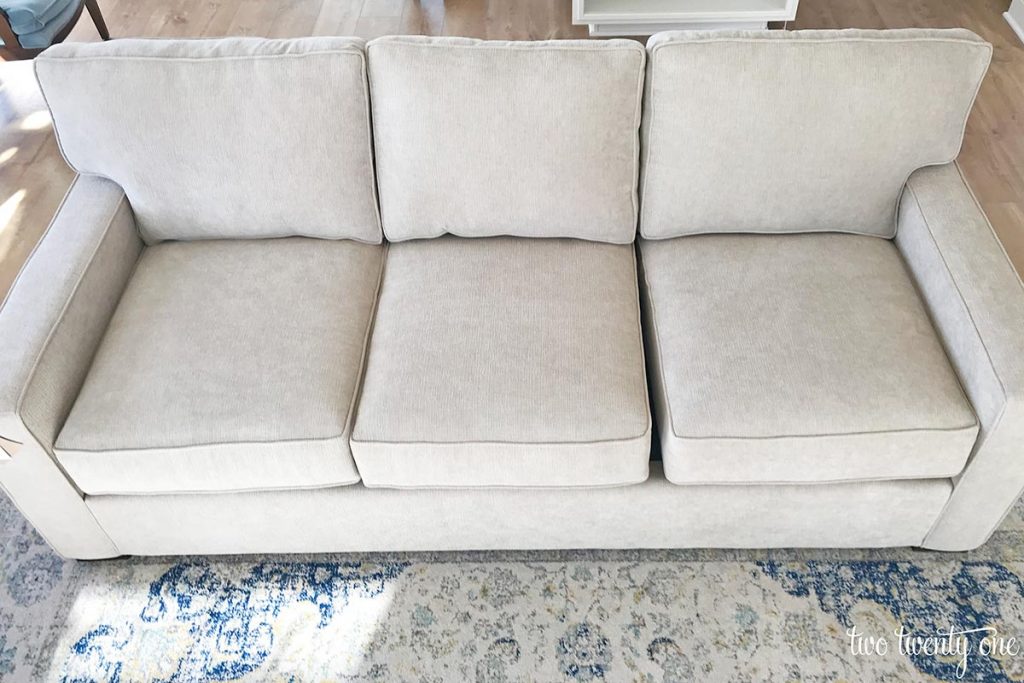 I'm working on a post all about the window treatments, especially the budget-friendly woven shades. And by budget-friendly, I mean I was able to get five woven shades that I really like for less than the price of one woven shade that I was pining for. It was a lesson in compromise… and common sense.
Be on the look out for the window treatment post next week!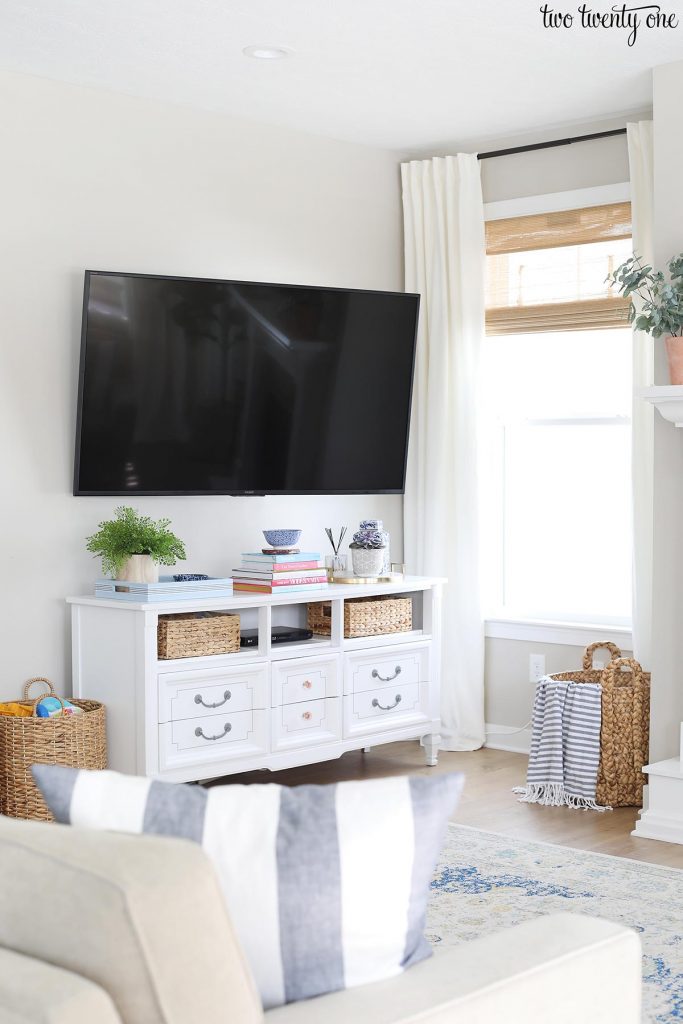 The living room is still a work in progress. There's more things on my to-do list– like adding in some different throw pillows so they're not so matchy-matchy. The pillows that came with the couches match the couches so those had to go. I already had the blue and white striped pillow covers, so I put my favorite pillow inserts in those for now. And I'd like to play around with the mantel some more.
A real fiddle leaf fig for that corner of the room is on my wish list. I've managed to keep my other two alive for a year, so I feel I've passed the FLF ownership test. Now I just have to find a decent sized fiddle leaf fig that doesn't come with a $200 price tag.
An end table between the sofas and a coffee table would be ideal, but the kids love to play on the living room floor (ahem, even though they have a playroom), so we're just going to hold off on those. I know this stage of life doesn't last forever, so I'm just rolling with it.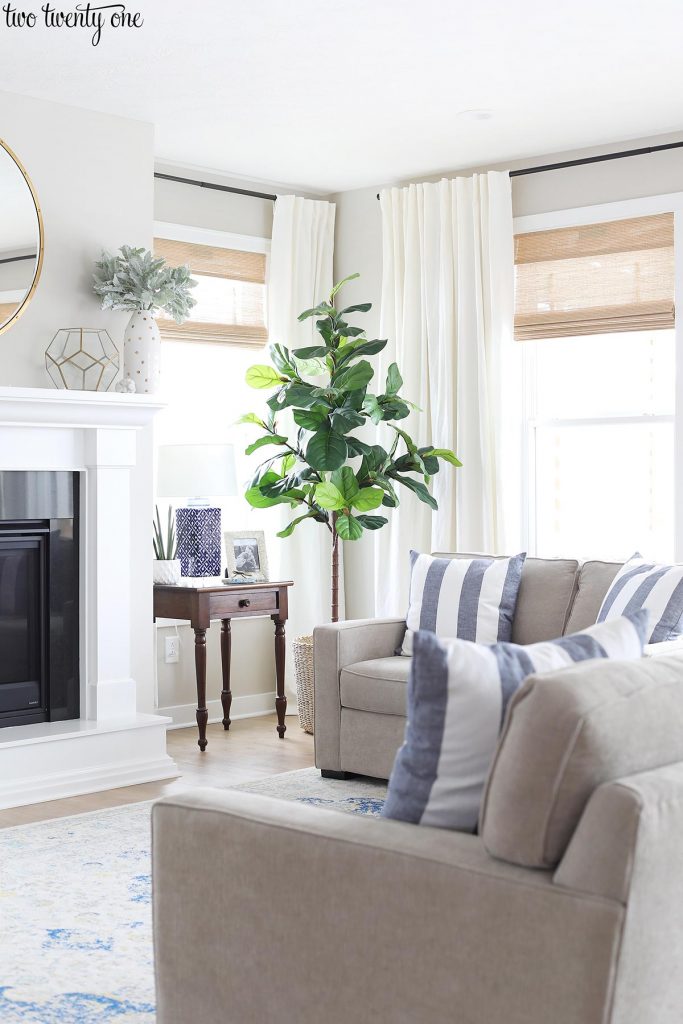 In the spirit of transparency, I thought it was only fair to throw in a real life photo of the living room so you can see how it looks on an average day.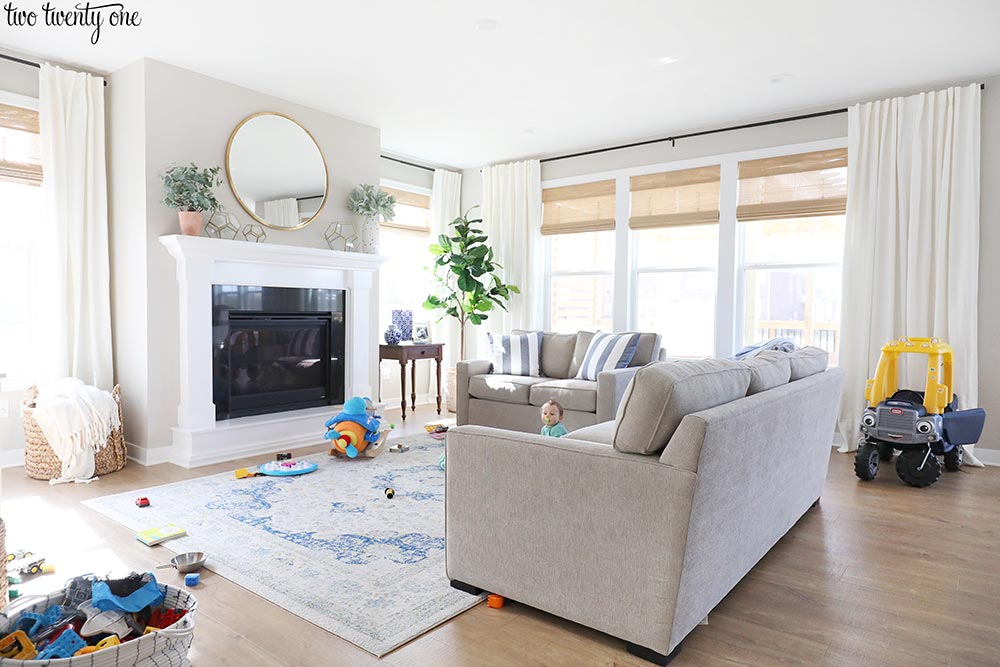 And because the sofas were on sale, the delivery fee was credited back to us, and we sold the leather couches, we ended up spending $688 for both.
FAQ
Who Makes the Radley Sofa for Macy's?
Johnathan Louis is the manufacturer of the Radley sofa.
Where is the Radley Sofa Made?
All Johnathan Louis furniture is the made in California and Mexico.
How Do You Clean A Radley Couch?
It's recommended to clean the Radley sofa upholstery with water-based shampoo or foam upholstery cleaner. I've used Folex with great results.
Sources
wall color … SW Worldly Gray, flat
trim color … SW Extra White, semi-gloss
86″ sofa in chrome beige
62″ love seat in chrome beige
dresser tv stand … DIY project
end table … family heirloom
36″ brass mirror … similar
round marble tray … similar
basket … similar
blue and white lamp … similar
blue and white striped throw … similar
TV stand baskets … similar
Want to save this post for later? Pin it here: