Decorated Flocked Christmas Tree
Get excited. Today I'm sharing our flocked Christmas tree decorated!
Before I get to the Christmas tree, I wanted to show you how I decorated the board and batten wall across from our built-in coat lockers. You see this wall when you're coming from the front door to the living room and kitchen so I figured it needed a little Christmas cheer.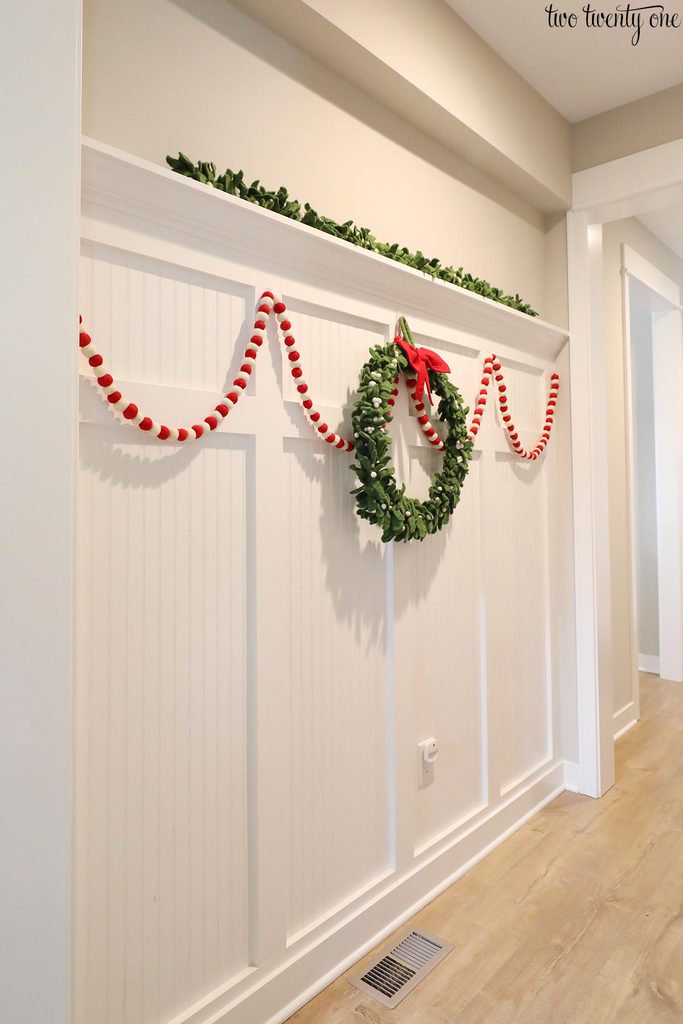 I got the felted wool mistletoe garland and wreath last year during a sale. The red and white felt ball garland was also a sale purchase– I want to say I scored each strand (there's two in this photo) for $10 each. Perfect little pops of red in this holiday decor!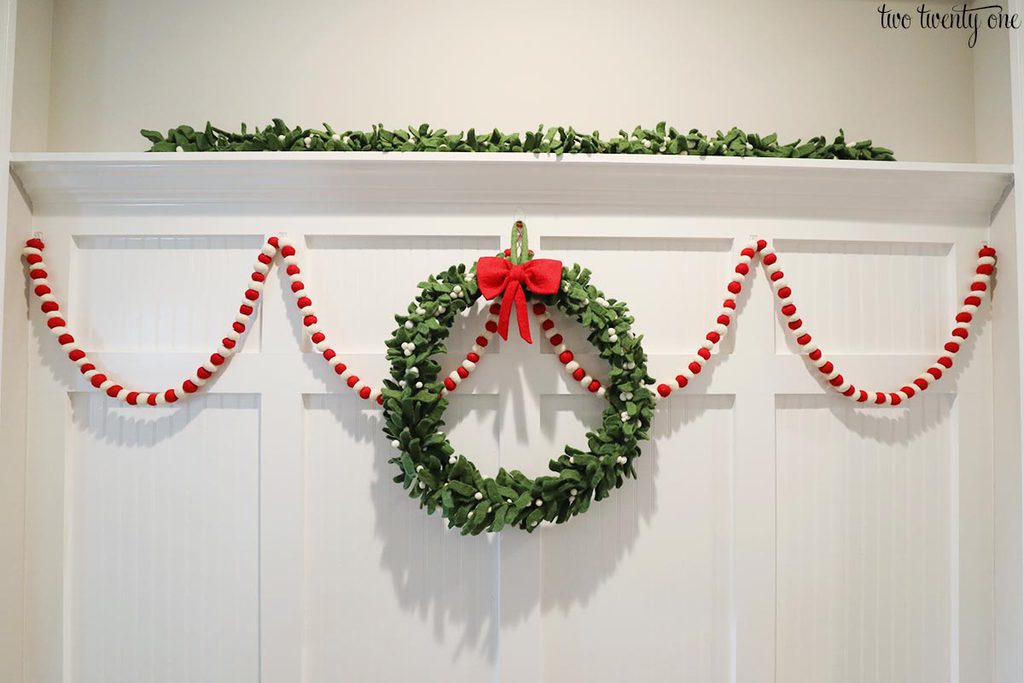 I love the felted wool because it's so classic and timeless– I can't see it ever going out of style. Much like myself.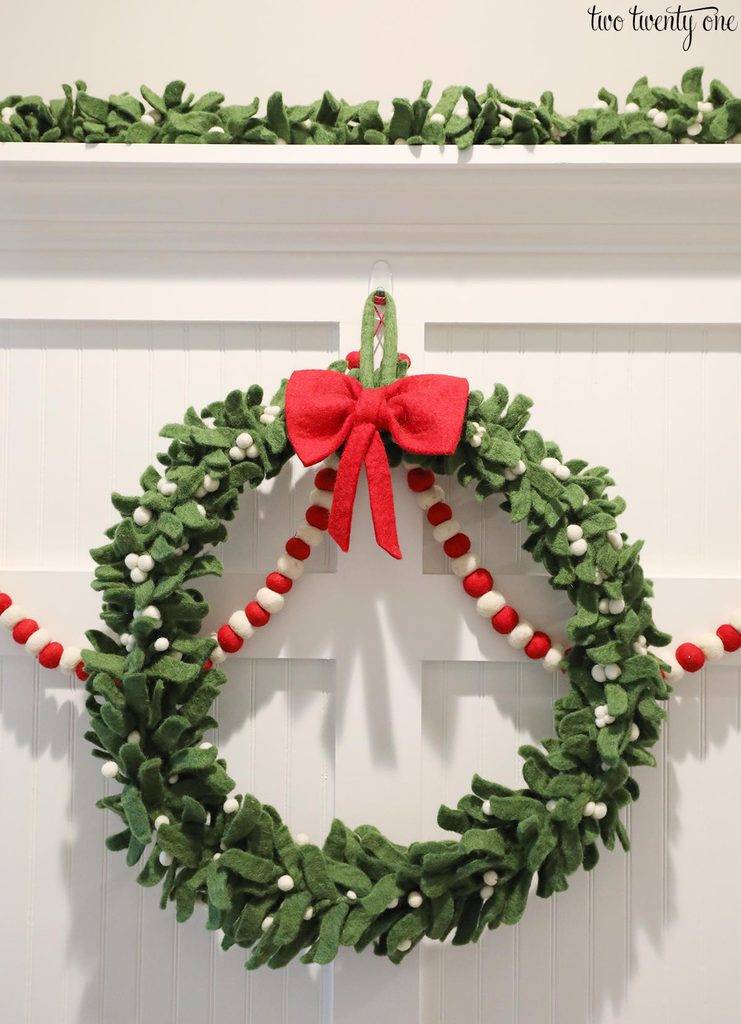 Now onto the tree!
Last year was my first year with this flocked artificial Christmas tree. I was so awestruck by its warm white beauty that I added some picks in it and called it a day. But this year I thought I should up my game a little, so I added some silver and red mercury glass ornaments.
Click HERE to buy the Christmas tree!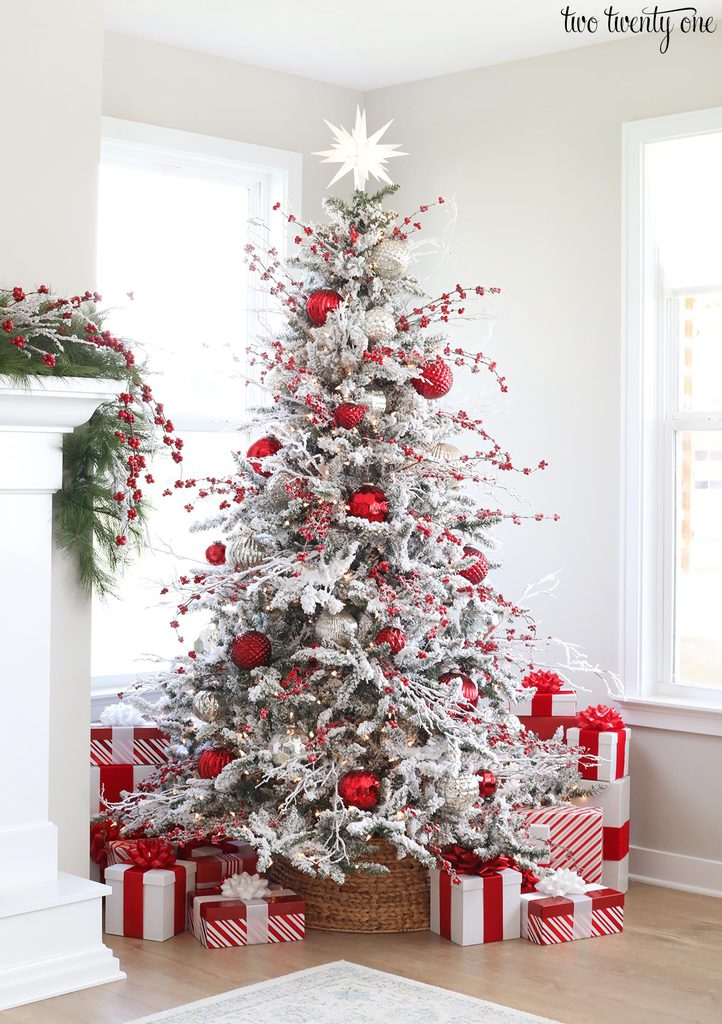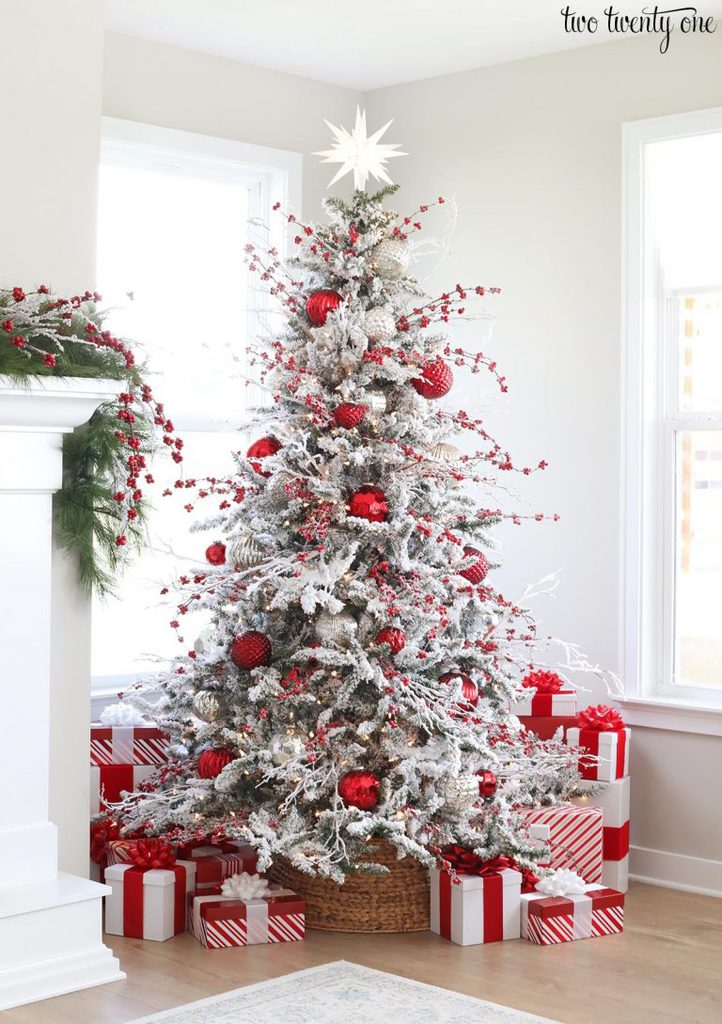 Click HERE to buy the Christmas tree!
I got the ornaments from HomeGoods. I'm sure the cashier wanted to strangle me when I waltzed up with that many breakables to wrap. But I think I surprised her by wrapping the ornaments while she rang them up. And seriously, they're gorgeous, substantial glass ornaments for the price. I'd believe it if I saw the same ornaments priced at $15 each at Pottery Barn. Oh, and I dropped one from at least 4 feet up, and nothing happened to it. Merry Christmas to me I guess?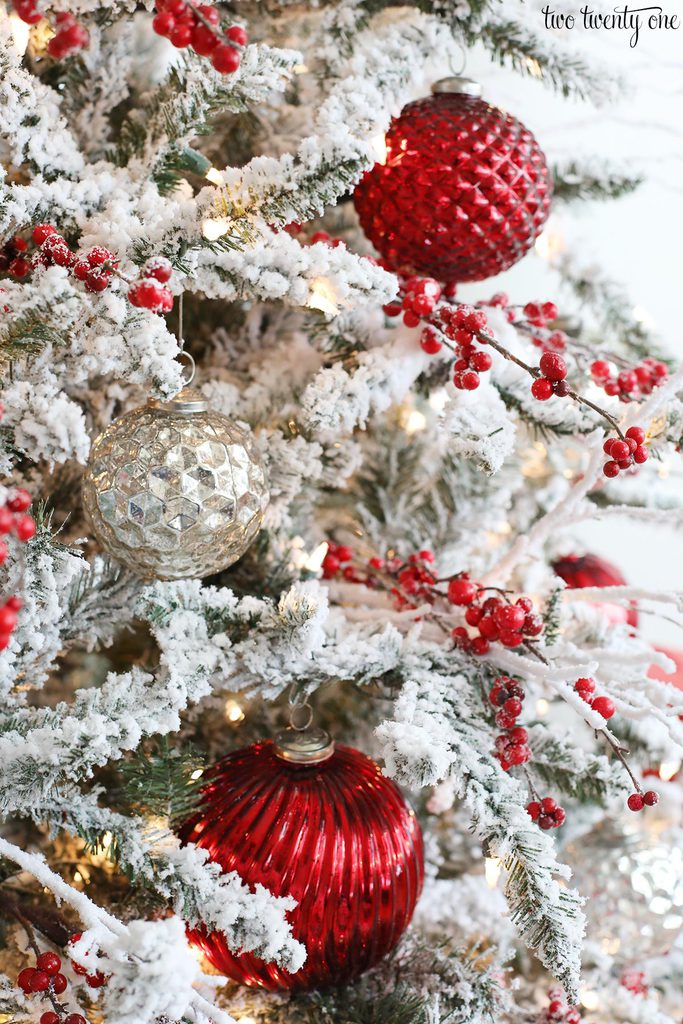 Some of you may be thinking, "Wow, glass ornaments with a 9 month old baby. Ballsy, Chelsea." BUT Emmett hasn't shown much interest in the tree. And I figure next year he'll be way more into it so I need to seize this moment and do glass ornaments this year and any other decoration ideas I may not be able to pull off in the next couple of years.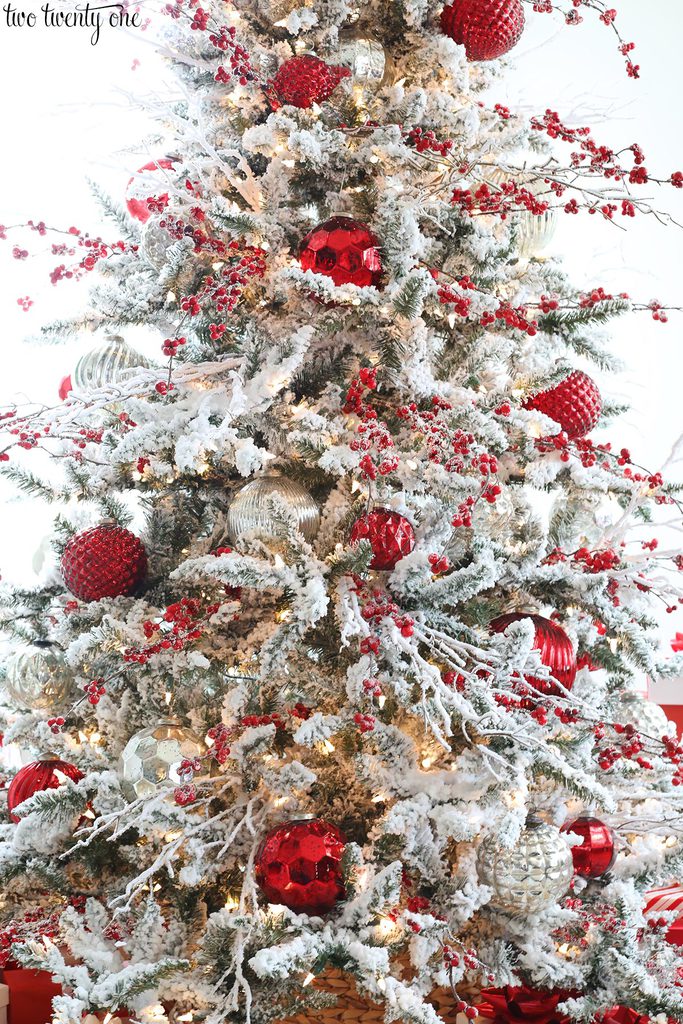 I have to be honest, all the white boxes with red ribbons and bows aren't even wrapped. They're just white boxes that I put red ribbons and bows on. Easiest. Gift. Wrapping. Ever. But they make for a perfect Christmas decor under this beautiful flocked tree o' mine.
Click HERE to buy the Christmas tree!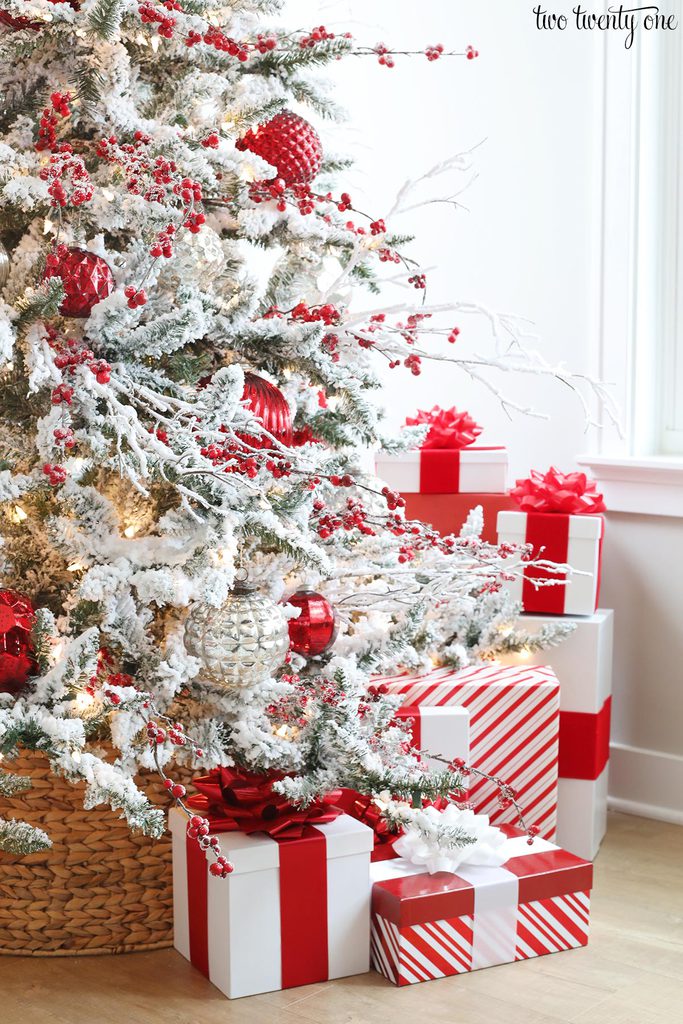 I had to share this photo of Emmett taking his short morning nap in front of the tree the other day. Cutest addition to this winter wonderland home decor, am I right?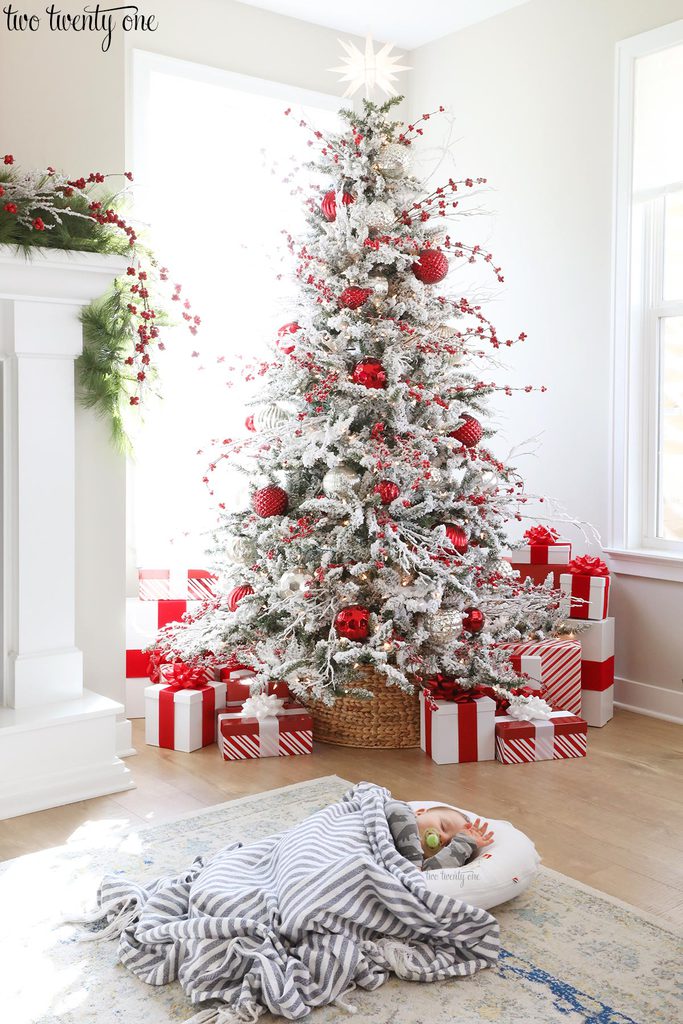 Here's how it looks at night. Dreamy, right?
Click HERE to buy the Christmas tree!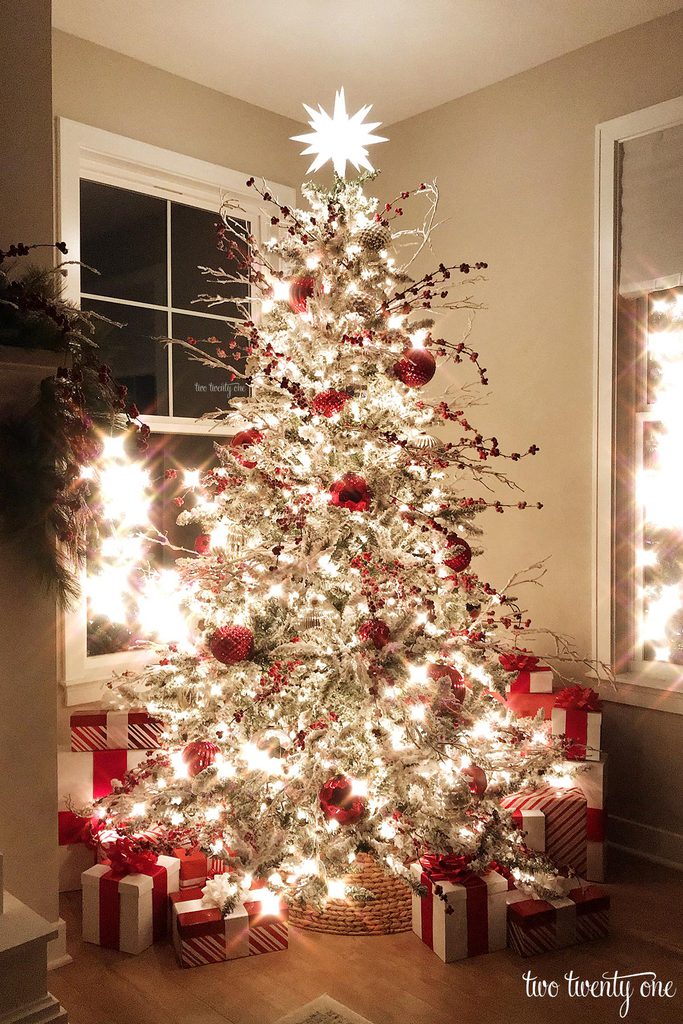 SOURCES
flocked Christmas tree … buy it HERE
woven tree collar … buy it HERE
star tree topper … buy it HERE
red ornaments … HomeGoods
silver ornaments … HomeGoods
berry picks … Michael's
flocked branch picks … Michael's
white gift boxes … buy them HERE

You can always decorate your flocked Christmas tree however you want. I've seen some gorgeous ones that are all white – white Christmas tree with white ornaments and all the other white Christmas tree decorations you can think of and they're stunning. But you know me – I love anything that resembles peppermint and I have no shame in it.
But if you're not like me, that's fine! Throw on your plaid ribbons or make yours more shabby chic or do all black or whatever. The possibilities are endless and it's YOUR tree! If you use my tree as inspiration, I'd love to see it so you can tag me on Instagram @twotwentyone!