Sausage, Cranberry, and Apple Dressing
This past weekend we headed over to a friend's house for a Friendsgiving celebration. Each couple is responsible for bringing a dish. Or in my case, I was in charge of bringing a side dish AND my peanut butter balls because I'm pretty certain they wouldn't allow me in the door if I were to show up without those bad boys.
I wanted to bring something new instead of relying on one of my usual recipes. I remembers that last Thanksgiving my aunt made this really good sausage, apple, and cranberry dressing so I called her up and asked for the recipe.
Hey, it's better than showing up with a bunch with a few boxes of Stove Top.
Now, this isn't your usual dressing, which I'm sure you figured out from the name. Another different aspect of this dressing is that I used mild Italian sausage, specifically Johnsonville. The Italian sausage gives the dish a lot more flavor, in my opinion.
If you try out this recipe, keep in mind that it isn't like the mushy dressing a lot of us are used to dining on on Thanksgiving.
Although, if mushiness is your jam, you can always up the turkey stock. More liquid = more mushiness.
Be honest, who's wearing their stretchy pants on Thursday?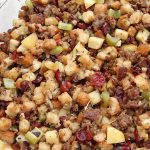 Sausage, Cranberry, and Apple Dressing
Ingredients
4

cups

unseasoned dry bread cubes

1

pound

mild Italian sausage

1

cup

onion

chopped

1

cup

celery

chopped

2

teaspoons

dried sage

1

teaspoon

dried rosemary

1/4

teaspoon

dried thyme

1

Golden Delicious apple

cored & chopped

3/4

cup

dried cranberries

1 1/2

tablespoon

dried parsley

1 1/2

cup

turkey stock

4

tablespoons

butter

melted
Instructions
Preheat oven to 350 degrees. Put bread cubes in large mixing bowl. In a large skillet, cook sausage and onions over medium heat. Break lumps and stir often. Add celery, sage, rosemary, and thyme to the skillet. Cook for 2-3 minutes. Pour sausage mixture over bread cubes in bowl. Mix in chopped apple, dried cranberries, and parsley. Mix in turkey stock and butter. Pour mixture into a lightly greased 9x13" pan. Cover with foil. Bake for 25 minutes covered. Remove pan from oven, take off foil, stir, replace foil, put back in oven for 25 minutes. Remove pan from oven, take off foil, stir, and put back in oven without foil for 10 minutes.