A delicious recipe for chocolate covered peanut butter balls! This recipe includes only 5 ingredients and is so easy to make.
Every Christmas growing up, my mom and I would make the same Christmas goodies– peanut butter balls and cut-out cookies. I loved helping my mom make and bake these special cookies at Christmastime. I always look forward to traveling home and making this chocolate peanut butter balls recipe with my mom. They're the best peanut butter and chocolate treat in my opinion.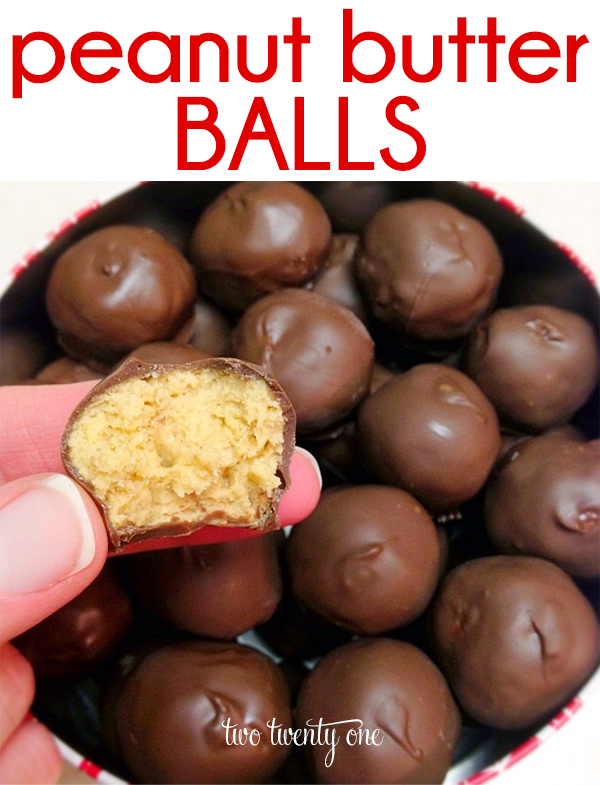 Peanut Butter Balls Vs Buckeyes
Now, I realize that some of you call these "Buckeyes" or "Buckeye Balls" even though my version involves completely covering them in chocolate and true Buckeyes are bare on top, but I grew up calling them peanut butter balls, so peanut butter balls they are.
I made these bad boys for our annual Christmas party this past weekend. I also made spinach dip with Hawaiian bread and peppermint chocolate cookies. And while it isn't seasonal, I had a request from our friend who was visiting from out-of-state to make my famous peach cobbler, so I dug out some of the peaches I froze this summer.
Funny story, when one of our guy friends bit into one he started to giggle. Yes, imagine a grown man giggling with delight while eating a peanut butter ball. Success. (He may have had a few drinks in him, but I still consider it a success.)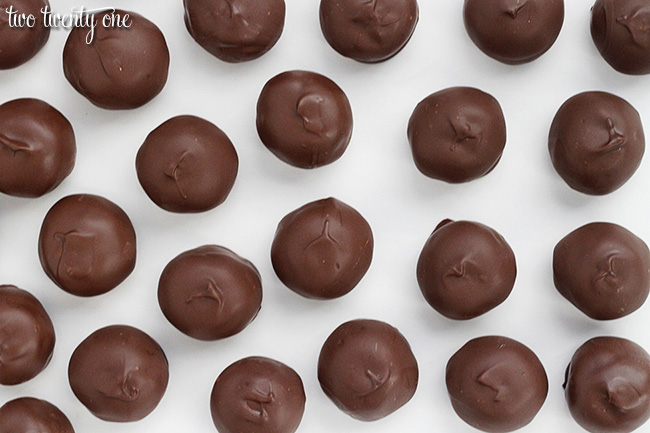 Some Notes:
I highly suggest using Peter Pan creamy peanut butter for this recipe. I've used other brands of peanut butter with this recipe, but PP is my favorite. I also suggest using this chocolate coating. I've never had any issues with it.
Keep in mind that because you're using rice krispies, the one inch balls will be more like crispy peanut butter balls. But trust me, these are so much better than dense peanut butters that are almost like fudge. These are lighter because of the crispiness.
After hand mixing this recipe for years, I'll never go back after using this amazing piece of machinery. And I LOVE this accessory. Seriously, put them on your Christmas or birthday wish list.
I recommend putting the peanut butter mixture in the fridge for 1-2 hours before rolling. If you find that the balls aren't rolling very well and seem to be sticky, add a little more confectioners sugar and crushed cereal. Also, I've found it's easier to dip the balls if they're refrigerated for an hour before dipping them in the melted chocolate. Simply roll them, place them on a baking sheet lined with wax paper or foil, and set them in the fridge. I also recommend using one of these to make the balls uniform in size. Best kitchen tool ever!

Peanut Butter Balls
These peanut butter balls are a huge hit! They're no bake, easy to make, and require only 5 ingredients!
Keyword:
buckeyes, chocolate covered peanut butter balls, chocolate peanut butter balls, chocolate peanut butter truffles, peanut butter balls, peanut butter buckeyes
Ingredients
3

c.

crisped rice cereal

measure out 3 c. then crush

2

c.

smooth peanut butter

3/4

c.

butter

softened

3 3/4

c.

powdered sugar

1

pound

melting chocolate OR almond bark
Instructions
Mix together: 2 c. smooth peanut butter and 3/4 c. butter

Add: 3 3/4 c. powdered sugar 3 c. crushed crisped rice cereal

Chill mixture for 1-2 hours. Use cookie scoop to make uniform balls. Roll into balls. Melt 1 lb. of chocolate. Dip balls into chocolate. Remove with a toothpick. Place on foil or wax paper until cool.

Yields 3-4 dozen peanut butter balls, dependent on size. Store in airtight container at room temperature. Best when eaten fresh or within 2-3 days.

NOTES: If you're having a hard time getting the balls out of the chocolate with a toothpick, try a fork. Or refrigerate the balls for an hour before dipping. Do not substitute margarine for butter.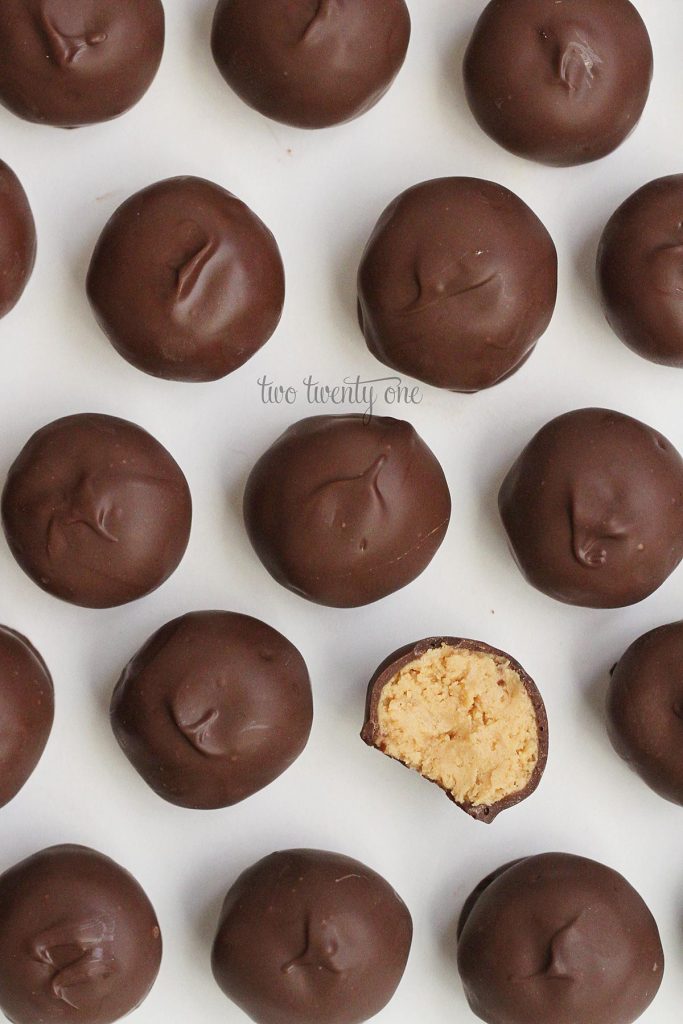 Here's a quick video on how to make the peanut butter balls!