My Galactocele Experience
Sharing the story of my galactocele (milk cyst) that was brought on by breastfeeding, twice. I explain how I was diagnosed, the prognosis, and more.
I get emails and messages about my galactocele (milk cyst) from time to time, so I decided it was best for me to dedicate a post to direct to people toward instead of emailing them a novel. So if you don't care at all about this topic, I don't blame you for skipping this post. Carry on, and have a great day!
I'll start out with the blanket statement that I'm not a doctor, this is just my experience and what I've been told by my healthcare providers. If you find a lump in your breast, whether nursing or not, please see your doctor.
A Galactocele is Born
My galactocele, which I typically call a milk cyst, developed in my right breast when my milk came in with our first son, Owen, back in August, 2014. I noticed it when I felt my breast. (You get rather familiar with your body during pregnancy, birth, postpartum, and nursing.) This sucker was large, at least the size of two ping pong balls. It wasn't painful when I was just sitting there minding my own business. It really only hurt when pressure was applied to my breast, like when people hugged me.
A Pea? A Marble?
After noticing the mass and being kinda freaked out, I called up my OBGYN, and was like "Yo, I gotta see you about this." When I saw her she was all, "How big would you say it is? A pea? A marble?" I laughed and said, "Feel for yourself." She examined my breast and said, "Wow." She then sent me to the lactation consultant at the hospital right away. There was hope it was just a clogged milk duct that needed some help. The LC couldn't get it to budge by using warm compress and the hospital grade breast pump. She instructed me to go home, do warm compress (take a diaper, fill it with some water, throw it in the microwave for a little bit), massage, nurse, pump, yada yada yada. I tried that for a few days, but it didn't work. So I called my OBGYN and she told me to schedule an ultrasound at the women's center in the hospital.
"We Won't Know What It is Until We Empty It"
I was 3 weeks postpartum when I had the ultrasound. It was in the middle of a weekday, and my husband, Brad, didn't have any more days left so he couldn't take off work to stay with Owen. So I ended up leaving Owen with the nice ladies at the front desk of the women's center. I mean, they worked at a hospital– they clearly could be trusted. I went back for the ultrasound, and what I saw on the screen was a giant black oval. They kept calling it a mass. The radiologist didn't know what it was filled with, so they suggested that I have it aspirated with a syringe. And let me say that this was a very traumatizing experience for me. I was 3 weeks postpartum, after a 24 hour failed induction and c-section, a week earlier I had to have a separate postpartum-related procedure done in the ER, and I was at the appointment by myself. So I did what any new mom would do– I started crying.
They were really nice and had a nurse come in, talk me down, and hold my hand. I decided to let them aspirate the mass. They numbed the area of my breast the syringe would need to travel through. Then, they inserted a giant needle into my breast, guided by ultrasound, and withdrew 50 mL of breast milk from the mass. (I couldn't take the milk home with me. It was tainted by the numbing meds they injected into my breast and the galactocele.) There was hope it wouldn't fill back up. But within 24 hours, it was a raging galactocele once more.
To give you an idea of the size, this bottle holds 60mL (~2 oz) of fluid.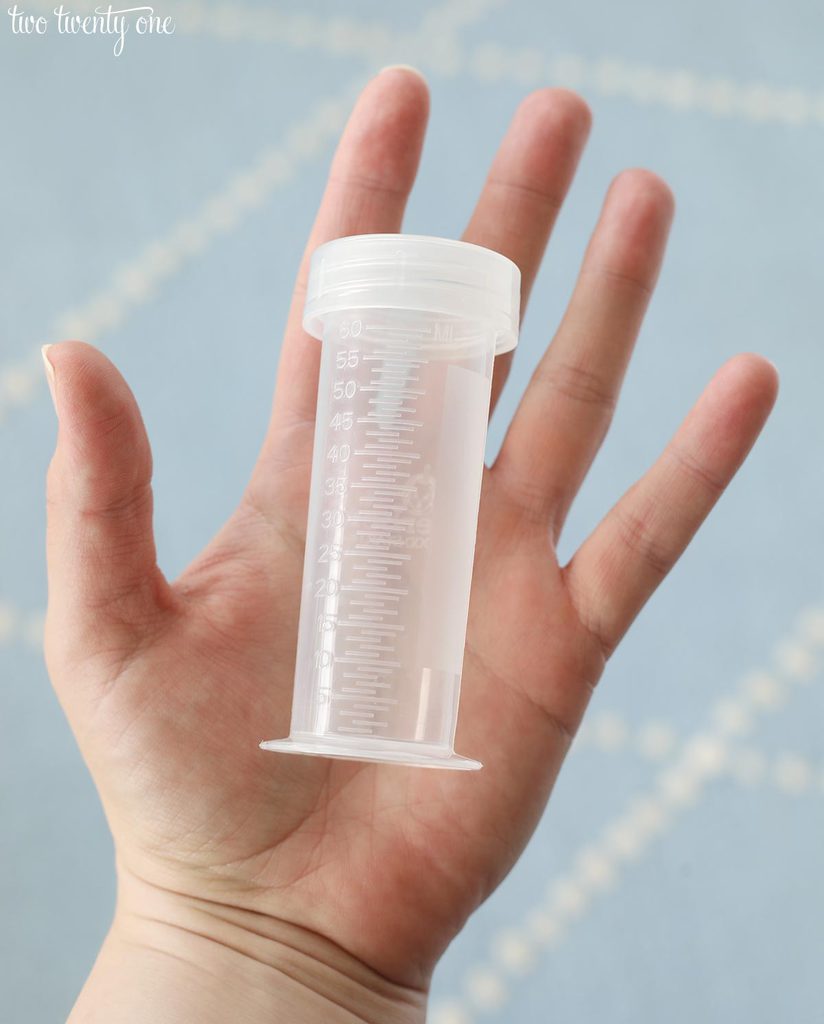 Questionable Tissue
I had a follow up ultrasound 5 weeks later. This time they spotted some "questionable tissue" inside the filled cyst, so they suggested another aspiration and a needle biopsy to check for cancer. The needle biopsy was not the most pleasurable procedure– it's a large gauge needle that goes in and suctions out the tissue. They aspirated 45 mL of breast milk that time. When they did the biopsy it caused a hematoma inside the galactocele. So every time I expressed breast milk, for the next week, blood would also come out– some call it 'strawberry milk'. While this wasn't painful, it was slightly unsettling. Mentally, I had a hard time nursing Owen and allowing him to drink my blood so I would pump and dump. But my supply started to dip so I said, "Screw it, I made this kid inside my body" and started nursing him again on that breast. Him drinking a little of my blood was totally harmless, according to his pediatrician. And I could tell when the bleeding had stopped because his stools became lighter in color. I KNOW this sounds so weird and creepy, but I'm sharing this in case someone else is going through this and is freaked out about feeding their baby breast milk with a dash of blood.
Thankfully, the biopsy came back as benign. But so did the galactocele.
You Should See a Breast Surgeon
A week later my 6 week postpartum visit, my OBGYN recommended that I see a breast surgeon about the galactocele. I saw my breast surgeon a couple times throughout the 11 months I nursed Owen. During my initial visit, she explained the galactocele like this: when your milk comes in, it's like blowing air into a surgical glove, but one of the fingers kinks, and the galactocele is the kinked off end of a finger.
She didn't see an issue with the galactocele. There's no increased chance of cancer or anything like that with a galactocele. She did not recommend surgically removing it, because she doesn't like to operate on lactating women. My surgeon explained that scarring is terrible after operating on a lactating breast, which is understandable. Her prognosis was that the milk cyst would dry up when I stopped nursing.
Nursing with a Galactocele
I was able to nurse our son for 11 months with the 50 mL galactocele with no issues. I was just uncomfortable when someone hugged me. When I stopped nursing him in July, 2015, my galactocele dried up for the most part. However, I had to go back to my breast surgeon in the summer of 2016 because there was still some milk in the galactocele. She aspirated what she could. And within 6 months or so, the galactocele had softened so much that I could barely tell it was there. I continued to see my surgeon every 6 months for ultrasounds, and I even got a mammogram once.
When I asked if it would come back with a second baby, she said it could or it couldn't– there really wasn't anyway of knowing. She didn't recommend surgically removing it once I was done nursing because there would be scarring. I agreed because I still have a small scar from the needle biopsy, and I didn't want a Frankenboob if it wasn't absolutely necessary.
It's Baaaaaaack
Our second son, Emmett, was born around 8AM on February 21, 2018 and by that evening, I felt the galactocele filling back up. I had kind of mentally prepared myself for it. But it came back in a slightly different location. It's closer to the surface of my breast, and closer to my nipple, which has caused some latching issues for Emmett, but we're working with it.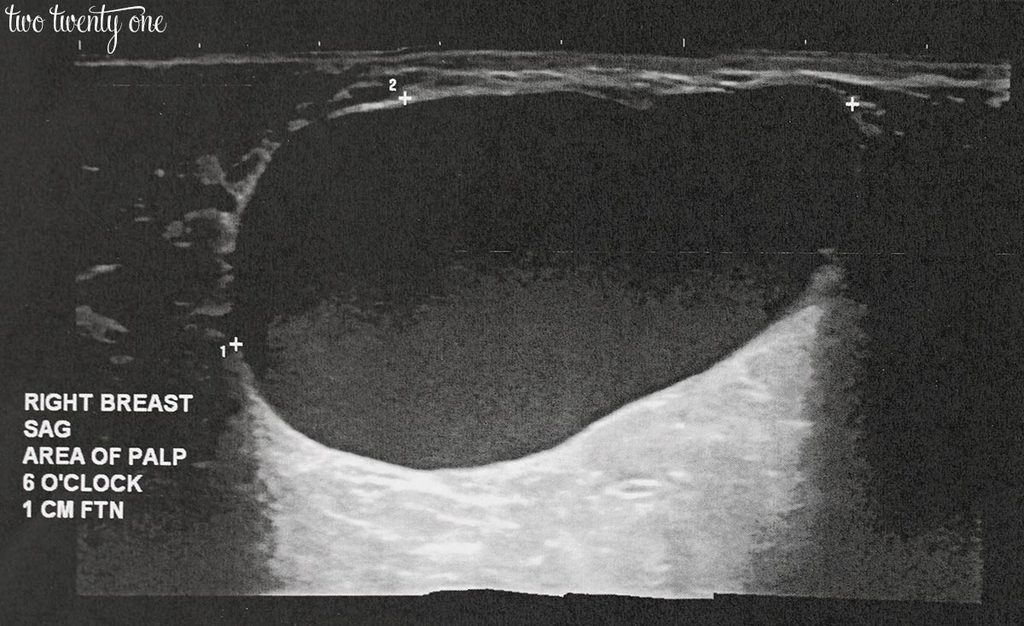 Back to the Breast Surgeon
After I got home from the hospital, I waited a couple days and decided to call my breast surgeon. When I called to make the appointment and the scheduler said, "Have you tried warm compress? Massage?" Hahahahahahaaaaa. I was all, "Thank you, but this isn't my first rodeo."
Since Emmett was only 2 weeks old and hadn't taken a bottle yet, I had to take him with me because these appointments take at least 2 hours. I had the ultrasound first. And then I went back to consult with my surgeon. She recommended aspirating the galactocele (she had never aspirated while it was at maximum capacity), in an attempt to get it to collapse and go away. If she couldn't get it to go away, she hoped she could make it smaller by collapsing a section of it. I agreed to try it, even after a woman from the front desk came back and said it'd cost $2300 out-of-pocket. Cue the postpartum-hormonal-holy-crap-that's-a-lot-of-money tears.
Back and Bigger Than Ever
So while a nurse held Emmett, my surgeon numbed my breast, and then aspirated 60 mL of breast milk from the galactocele. Back and bigger than ever, folks!
My surgeon instructed me not to nurse or pump on my right breast for 24-48 hours. She also said we may have to do this a few times in order for it to work. I set my goal to 48 hours because I didn't want to do this again.
I have to say that the engorgement was painful AF. Seriously– not enough frozen peas in the world. And at around the 30 hour mark, I reached down and felt the galactocele was back. I defeatedly told Brad I'd be upstairs pumping.
Going Forward
After the aspiration, I talked (well, it was mostly an emotional talk while crying kind of thing) to Brad about how I see things going from here on out. I said I think I'll have to wean Emmett sooner rather than later– my goal with both boys has always been one year. The goal would be to wean him in November (when he's roughly 9 months old), let my milk dry up, and have the rest of the galactocele aspirated in December before our deductible rolls over in January. Because is nursing our son for an extra 3-4 months (into 2019) worth $2,300+ to have the galactocele aspirated again? It's sad contemplating this decision based off of money but it's our reality. So there's that.
Update
This post was originally published in early May, 2018. We ended up switching our son to formula in mid-May due to his cow's milk protein allergy diagnosis and other factors. I gave it about a month for my breast milk to dry up, but I ended up going back to see my breast surgeon to have her aspirate the rest of the breast milk from my galactocele. Since then, I haven't had any issues.
My Advice
Speaking from experience, my completely non-medical advice, is to see a breast specialist/surgeon if you have a galactocele or suspected galactocele. A breast surgeon will have the most experience because, from what I've learned, galactoceles aren't that common. I got the most answers when I went to see my breast surgeon. And if your surgeon is saying they should operate on a lactating breast or you should stop nursing because of the galactocele, and you don't feel comfortable with that, get a second opinion from a different breast surgeon. I know it's annoying and exhausting going to doctor appointments, especially with a newborn. But if breastfeeding is important to you, I suggest seeking out all your options before weaning and/or surgery. Because you can't really go back once those things are done.
Feel Free to Reach Out
Feel free to reach out to me via email if you have any questions you don't feel comfortable posting in the comments. And also feel free to share your story in the comments!