I don't think I've ever introduced you to our guest bedroom outside of the house tour, so welcome. The guest bedroom has needed some attention for a long time. It became a catch-all room for decor I didn't want to put in the basement. There was enough room for our guests, mainly my parents, but it wasn't the coziest room-away-from-home. So I decided to spruce it up, but only use what I already had.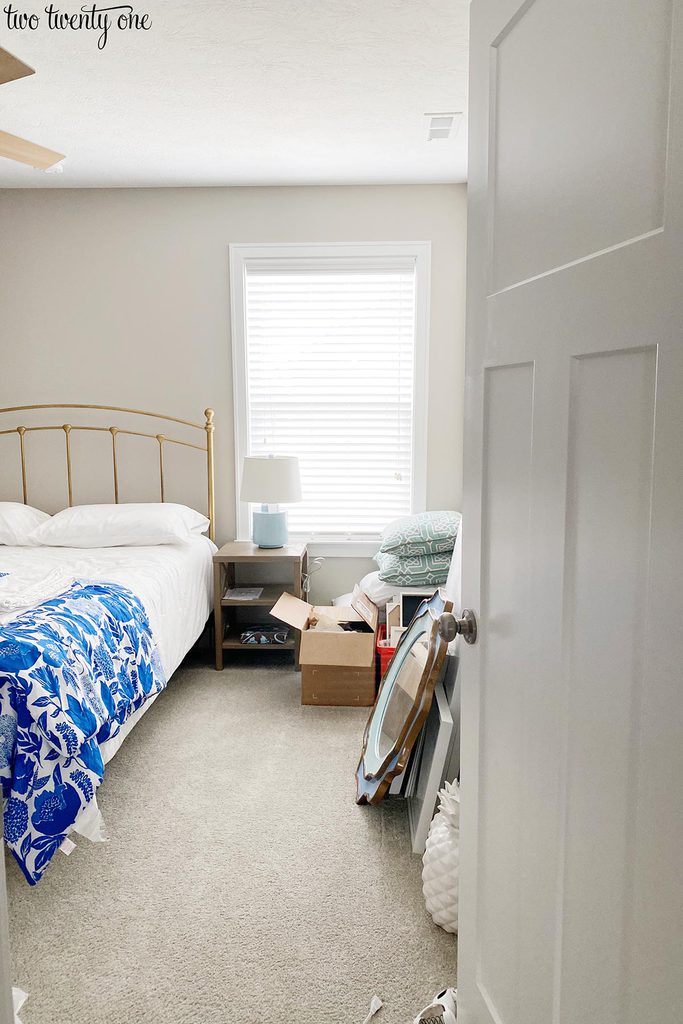 Since I'm not 100% decided on the look for the room, I didn't want to spend money on new stuff. So I left the walls Sherwin Williams Worldly Gray and shopped the guest room to decorate the guest room. Naturally.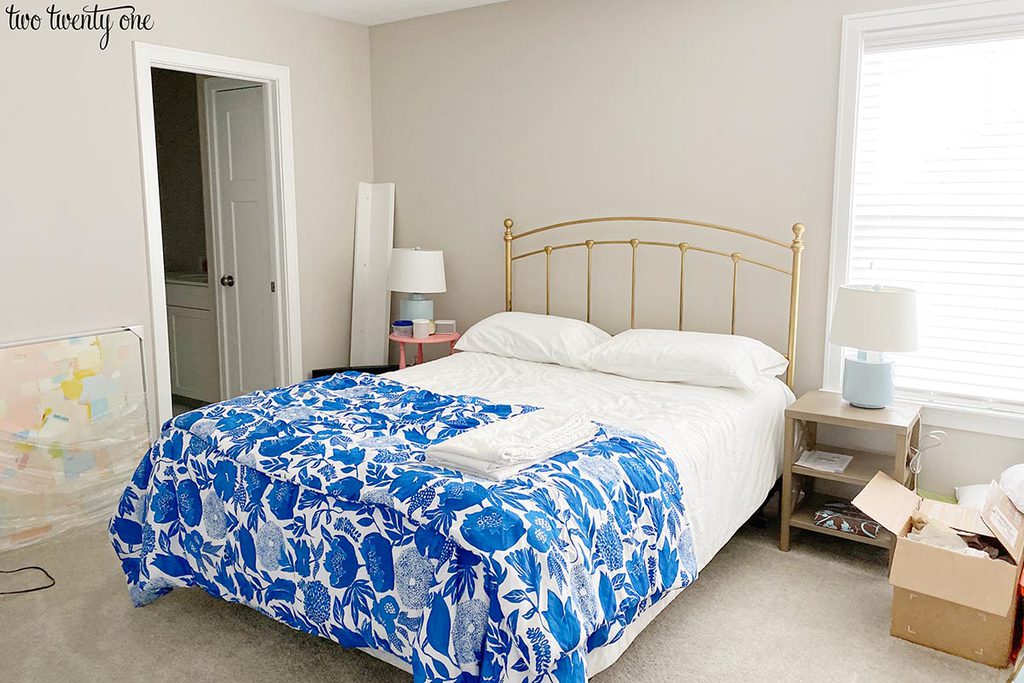 As you can see, I had plenty to choose from.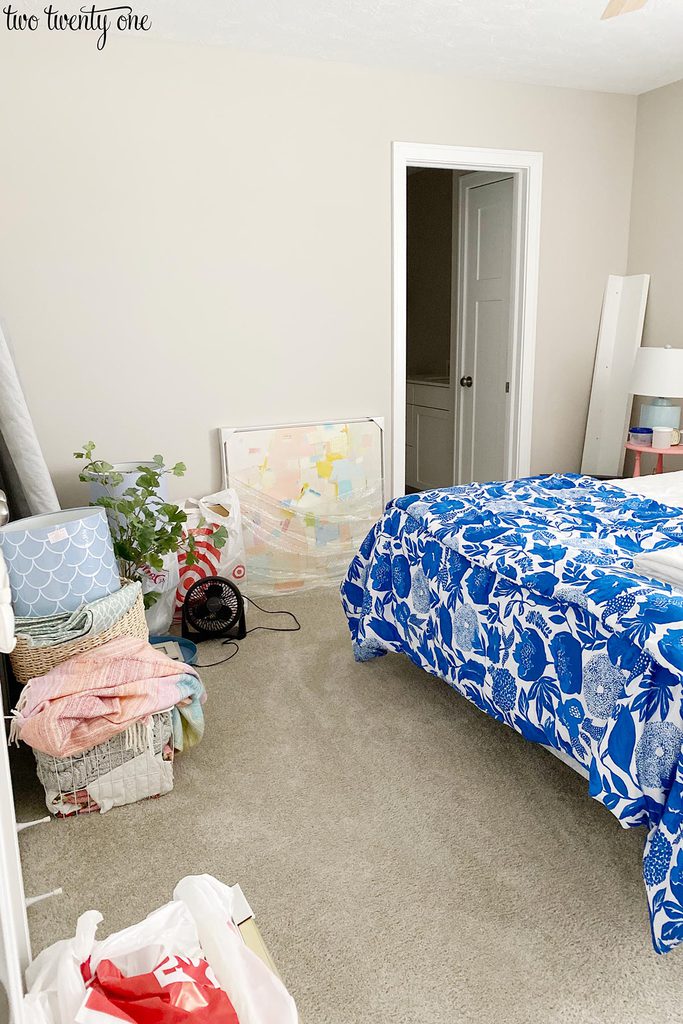 If you tell me you don't have a room that looks like this in your house, we can't be friends.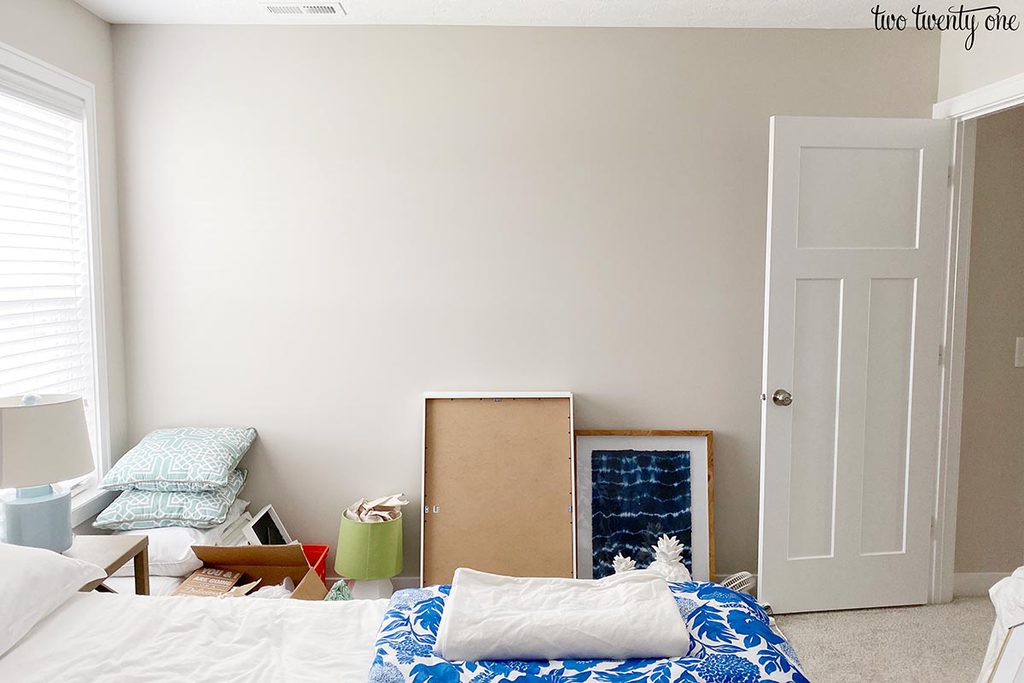 I started by hanging these three floral art prints on the wall. I eyeballed those bad boys too– it's a hidden talent that's not so hidden now that I told you. If you're a Two Twenty One OG, you probably remember those $4 art prints from our old house. If not, click here for the scoop on them.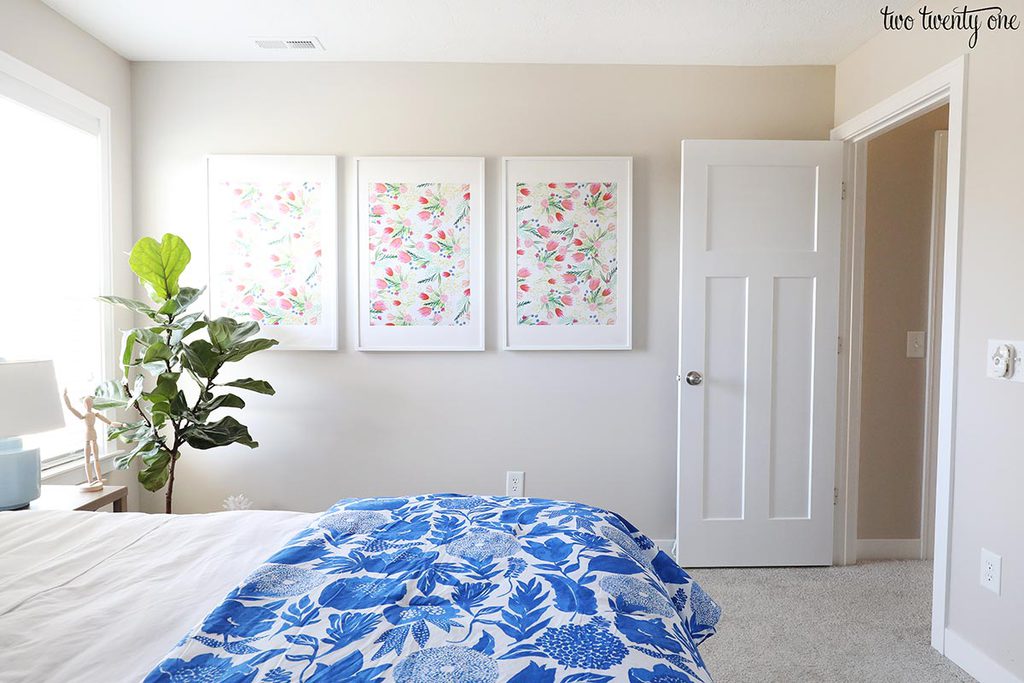 The blue chair was in our loft/bonus room at the top of our stairs, but I decided to bring it into the room. You know, give the old gal a change a of scenery. The pillow was one I've been hoarding in the guest room closet for a few years. Same with the blanket.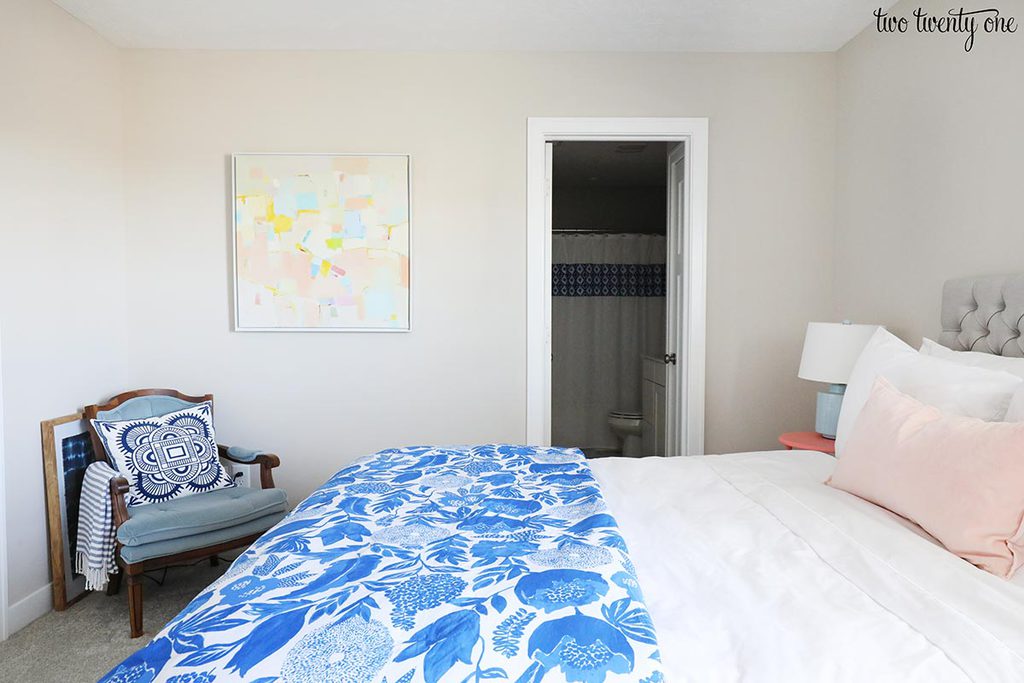 One of my live fiddle leaf figs was whisked into the room. I bought two at Lowe's last summer because I'm a plant addict. It had been living in our master bedroom with its sibling. I really need to start naming my FLFs to keep them straight.
You may recall that white ceramics were all the rage in 2016-2017, and I'm not ready to let go yet, so next to the FLF they went. My kids had snapped a couple of the top pieces off but that's not something a little super glue can't fix.
I've read almost all of the books on the nightstand. Thanks, I'm proud of myself too. I found the posable wooden individual in a box that I had in the guest bedroom. He most definitely was not forgotten about.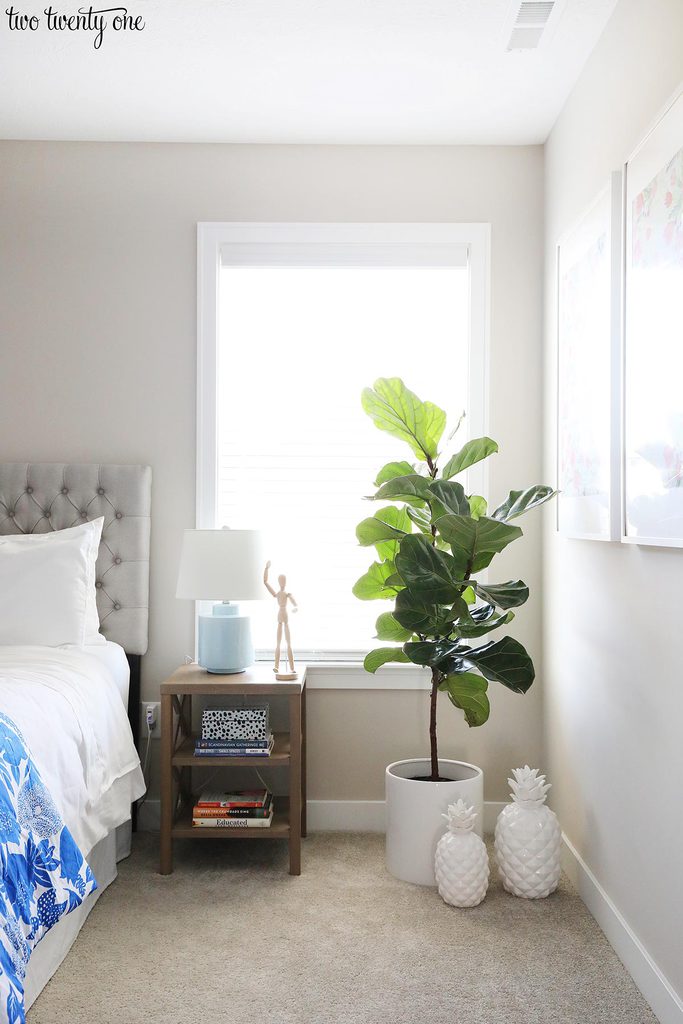 The queen size tufted headboard was a 2018 Black Friday sale purchase. Don't judge me. The headboard is currently on sale for $110– click here!
My most favorite sheets ever are on the bed, along with a blue and white floral Target clearance comforter I scored in like 2017. The pink pillow is from my pillow stash.
I still need to find something to put above the headboard. Or I'll just wait until I decide what to do with this room.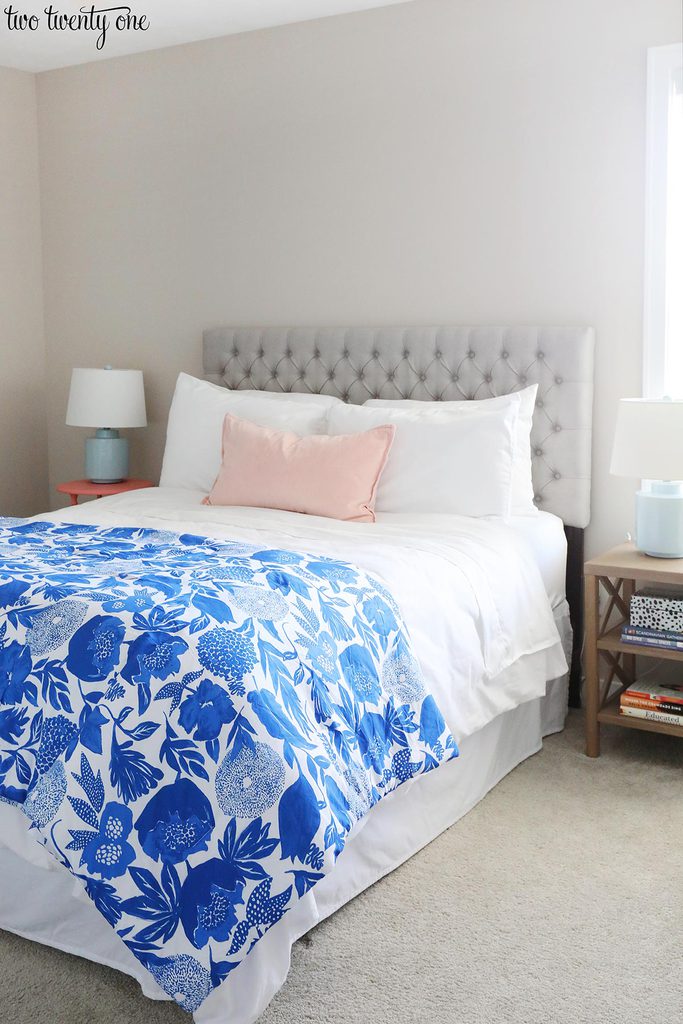 Now the room is less "Chelsea stores random crap in here" and more "Welcome, enjoy your private suite, and here's some more space for your bags".
You might be wondering, "Uh, Chelsea, what did you do with all of that other stuff?" Well, some items went into the closet because I'm not perfect. Some went down onto my 'home decor' table in the basement. (Don't tell me you don't have one of those.) And the rest of the stuff was dispersed around the house.