Yesterday I shared my favorite personal products, so today I thought I'd share my household favorites. These are great if you're looking for practical things to add to your Christmas list.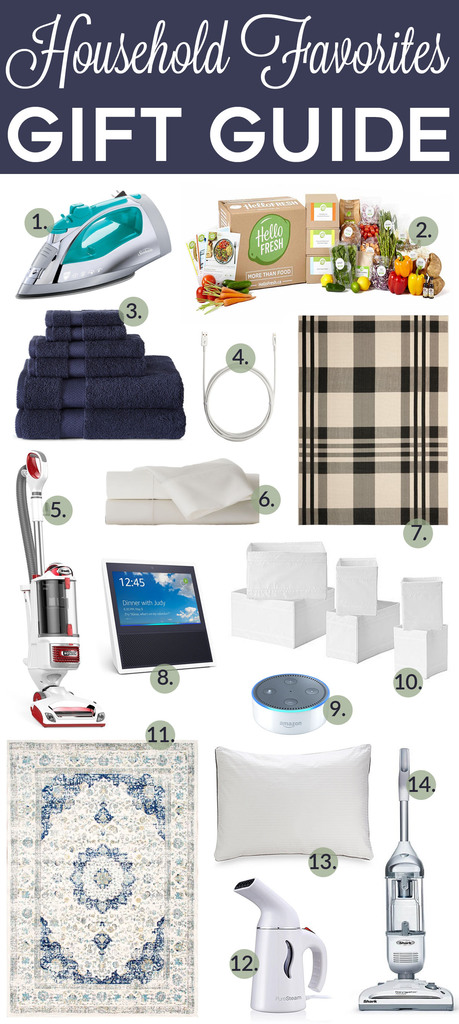 1 / 2 / 3 / 4 / 5 / 6 / 7 / 8 / 9 / 10 / 11 / 12 / 13 / 14

1. Iron
I asked for this iron two years ago for Christmas, and I love it. I don't have much else to say other than it heats up quickly and irons well.
2. Hello Fresh
We started getting three meals a week from Hello Fresh back in March because we're awful at meal planning and deciding what to make for dinner. While we still have to prepare the meals, it's nice having all the ingredients in the bags. My trips to the grocery store are a lot quicker because I don't a crazy list with a bunch of items on it. Plus, food isn't wasted because we typically receive the exact amount needed. You get to choose which meals you want each week. And so far, we've liked most of the meals we've gotten. If you use the code CHELSE115, you get $40 off your first box.
3. Towels
These are my favorite bath towels. They're soft, absorbent, and they hold up really well. And call me weird, but these are the towels for our guest bathroom. I just like having different towels for our guests to use. They're just as good as the towels we use. I buy all of our towels in bright white because I like to bleach them.
4. Lightning Cable
I'm a big fan of these 6-foot lightning cables for charging my phone. The wimpy 3-foot cords that come with iPhones just don't cut it for me.
5. Main Vacuum
This is my favorite all-purpose, whole-house vacuum. I didn't see the use in shelling out big bucks for a fancy Dyson, when this vacuum is just as good, if not better. When we got the vacuum, we used our old vacuum first and then followed up with the new one. We were amazed by how much the new vacuum was able to pull out of the carpet. It's also great at fluffing carpet up. I know that sounds silly, but who doesn't like fluffy carpet? Plus, our cleaning lady said out of the 30 houses she cleans, this vacuum is her favorite. Keep scrolling down to #14 for the cordless vacuum.
6. Sheets
If you follow me on FB or IG, you know I'm always sharing my favorite sheets when they're on sale. Hands down, they're the best sheets I've ever tried. They're soft and hold up really well. Our first set lasted 3-4 years with daily use because we didn't have a lot of money and only had one set of sheets. They also fit thicker mattresses– ours is 14.5″.
7. Indoor/Outdoor Rug
I love our indoor/outdoor rug on our front porch. It's great because it's basic enough that I can layer an actual doormat on top of it. Plus, it's really pretty.
8. Echo Show
Brad is really into all of this smart home stuff, and one of his first purchases for the new house was two Echo Shows. We have one in our kitchen and one in our bedroom. The one in the kitchen is the handiest, especially if I want to see our grocery shopping list. It can do other cool stuff, like sometimes Brad watches football or basketball games on it while he's cleaning up in the kitchen.
9. Echo Dot
The Dot is the most inexpensive Amazon Alexa product. I have one in my office (it used to be in our bedroom). It's handy when I need to add something to the grocery list, find out the forecast, or listen to pandora without having to connect my phone to my bluetooth speaker. We also sometimes use our Alexa devices as intercoms.
10. Organizers
One of my favorite organization products– the IKEA Skubb drawer organizers. I've used these in Owen's dresser since he was a newborn. I use them in my dresser, and for organizing other random things. I really like how they can collapse when not in use.
11. Area Rug
Any time I post a pic or video that includes our living room area rug, I'm always asked where it's from. We really love this rug. Not only is it pretty, but I've been able to get all of Owen's food stains out of it. Plus, it doesn't shed. We do have a pad under it to make it a little more cushiony and to keep it from sliding around.
12. Steamer
When I can't iron something, I steam it with this little guy. It's small enough that I can travel with it too, if needed. And bonus– right now it's on sale for $20 when you clip the coupon on the info page!
13. Pillow
I'm one of those people who loves sleeping under a down comforter in a cold room. I'm also big on having a cool pillow. I can't stand waking up in the middle of the night because my pillow feels like it's on fire. I've been using these pillows for years, and I love them. If they're out of stock, check here, here, here, and here.
14. Cordless Vacuum
I got this cordless vacuum last year for Christmas, and after a year of use, I highly recommend it. But I wouldn't use it as a whole-house vacuum. This one stays on our main floor, and we use it for quick sweeps around the kitchen and other main solid surface areas. It can be used on carpet and sometimes we do use it on the living room rug. But to get the rug really clean, we bring the big Shark vacuum down from upstairs. If the other linked vacuum isn't in stock, try here and here.
Edited – 15. Air Fryer
A sweet friend surprised me with an air fryer, and we've loved using it! And it's not limited to only air frying. You can also roast and bake food in it. If you already have an Instant Pot, you can buy this air fryer attachment so you don't have to store another appliance.