Yep, it's another installment of I'm Lovin', where I share things I'm currently -you guessed it- loving.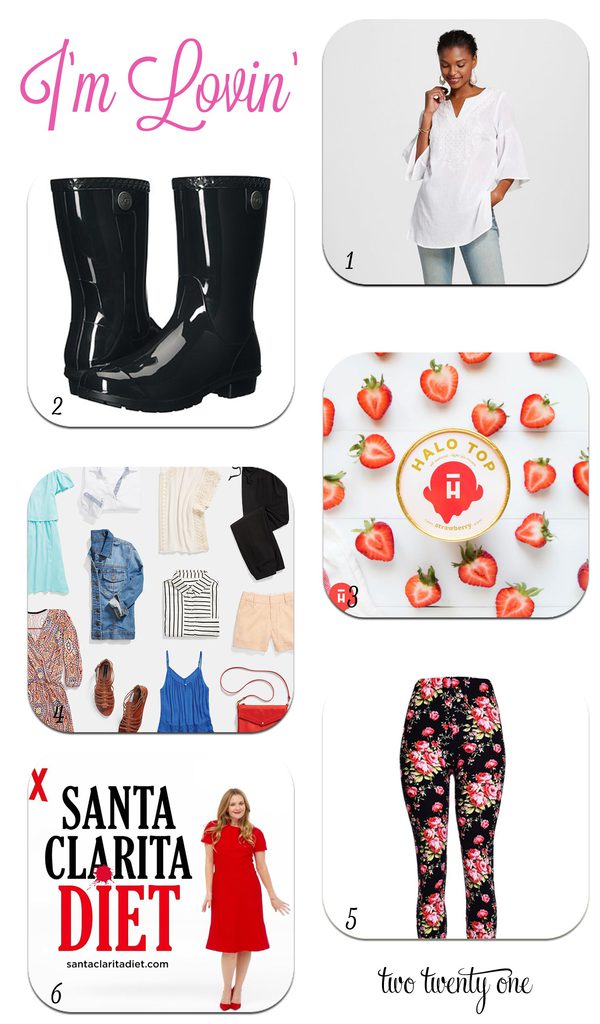 1. embroidered tunic
It's technically a tunic, but on me it's a shirt because I'm tall. This tunic/shirt is really cute AND hip because it has those bell sleeves that are all the rage right now. I liked it so much that I bought it in white and chambray (not to be confused with blue). The white is pretty see-through so I wear a white tank top underneath. Bonus: it's 100% cotton so it's perfect for spring/summer.
2. rain boots
OMG. I finally found some fah-reaking rain boots that fit my gigantic feet. Hallelujah. If you're unfamiliar with my feet, which I'm offended if you are, I wear a size 11/12W– leaning more toward 12 now (thanks, Owen).
Here's the story: a few weeks ago, my friend Amy, who also has wide feet, gave the rain boots a shout out on Instagram, and I instantly commented asking her about said boots. I didn't end up getting Amy's exact boots because they have a taller shaft, and I didn't want to have to deal with tucking my pants in every time I wore them. Plus, I didn't see myself wading through 6+ inches of water, so I went with the shorter shaft version. And I love them. They're super comfy, cute, and come in an array of colors. And the best part– they aren't even wide width! My feet are actually getting a skinny complex because they can fit into medium width boots.
3. halo top
I stumbled upon Halo Top ice cream a couple weeks ago at my local Kroger. It's this crazy expensive ice cream ($5+ per pint), but there's only 260 to 380 calories PER pint. Yes, pint, not serving. That means you can eat entire pint of ice cream and not feel completely disgusted by your actions. But let's not stop there. No, no, no. There's 24 grams of protein in each pint. And you know what that means, right? You can eat an entire pint of ice cream for a meal. I surely wouldn't judge you. In fact, I'd give you a high five. I've yet to do this, but then again I haven't had a really bad day in the past two weeks. So check back with me in a month or so.
Here's the flavors I've taste tested for you because I love you. I'll also include my feedback:
strawberry … delicious– there's no chunks of strawberries but the flavor is amazing
oatmeal cookie … delicious– there's little pieces of oatmeal throughout
sea salt caramel … delicious– add cashews
mint chip … eh, not my favorite– it has kind of a chalky aftertaste and it's very low in the chip department
I have s'mores and chocolate almond crunch in my fridge. After I bust those open, I'll report back. And a note about the price, it makes me savor the ice cream and take my time. It took me 3-4 days to eat one pint.
4. stitch fix
Stitch Fix expanded their sizes to include 14-24 & 1X-3X! I always wanted to try Stitch Fix because a bunch of my friends use it and love it, but they previously only styled up to a size 14. I'm a size 16, sometimes 18 on the bottom and L/XL/XXL on top, depending on the brand (can clothing brands please meet at a summit or something and get on the same page?!) so I'm really excited about this development. I figure I'll give it a shot for a few months. If I'm not happy, I'll give it a break for a few months and maybe try again.
In case you aren't familiar with Stitch Fix, you fill out a bunch of questions and get assigned a stylist. Your stylist chooses 5 pieces of clothing and accessories for you (based on your price points), puts them in a box, and ships the box to you. You're charged $20 for a styling fee, but that $20 will be applied as a credit toward anything you keep from your shipment. You can select to get a box every 2-3 weeks, once a month, every other month, or every three months. Shipping and return shipping is free. You can also tell your stylist if you have a special event coming up or if you'd like to receive more of a certain piece of clothing, like more casual tops. I'll check back and let you guys know about my first shipment. Here's my referral link if you'd like to try it out (no one is paying me to say this).
 5. leggings
Looking for budget-friendly knock off leggings of a certain brand? I got you, boo. The nice thing about these leggings (in solid colors and crazy patterns) is that most are around $13 each. And there's plus size leggings (in solid colors or patterned) for around $14 each. Another nice feature? But if you're looking for a long-lasting pair of leggings that will hold everything in and smooth things out– I stand by my favorite black leggings (available in XXS-XL and 1X-3X). Yes, they're on the pricey side but they've lasted me for years.
6. santa clarita diet
I know some people can't stand this show because the first episode was pretty gross. But Brad and I really liked season one. I've always been a Drew Barrymore fan, and I love me some U.S. Marshal Raylan Givens, I mean Timothy Olyphant. (If you've never watched Justified I'm going to need you to get on that.) Santa Clarita Diet also has the guy who played Carlos in Desperate Housewives. Who remembers Desperate Housewives?! Loved that show. Anyway, if you can get over the grossness, which I was able to do, it's a good show.
Now go get all of these things. Then put on the tunic, rain boots, and leggings, sit down on your couch and sign up for Stitch Fix while watching Santa Clarita Diet and eating Halo Top ice cream.
See what I did there?
Have a great weekend!
This post contains affiliate links.
Funds from affiliates help pay for web hosting, domain registration, email delivery, the occasional bottle of wine, and other fees to keep twotwentyone.net up and running. Thanks for your support! I appreciate it!