I don't do my I'm Lovin' posts very often because I tend to wait a few months, compile things that I like, and then purge on you guys. And today is you're lucky day! I'm sharing a lovely array of items that I'm currently digging.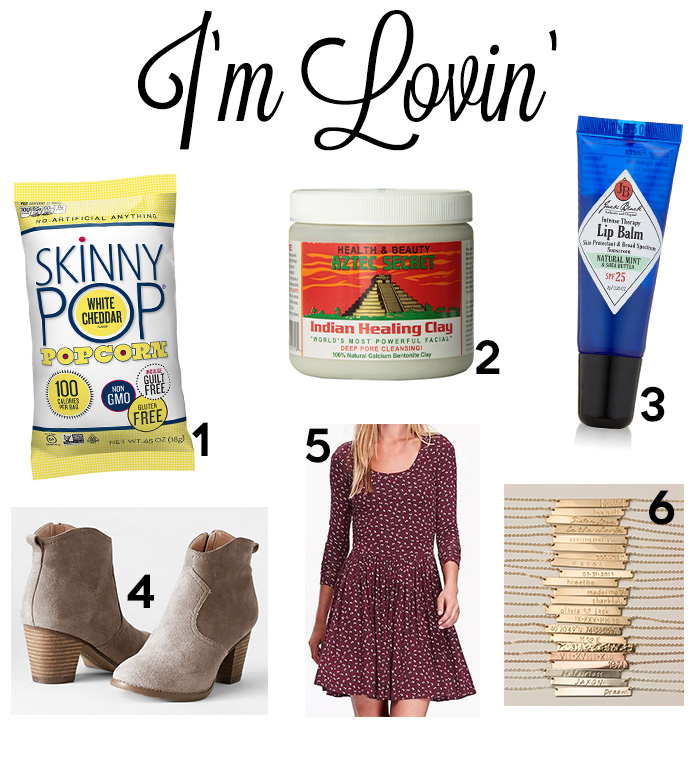 1. Skinny Pop
Have you guys tried Skinny Pop popcorn? If not, you need to because it's so good. White Cheddar is my favorite. Plus, it's only 43 calories per one cup of popcorn. But just because the word 'skinny' is in the name doesn't mean that you should eat the entire bag in one sitting.
2. Aztec Secret
I finally tried this face mask last week after the container sat in my bathroom for 7 months. Procrastinate much? You mix the powder with apple cider vinegar, slather it on your face, and wait about 15-20 minutes. The hardest part it getting it off your face. But HOLY SMOKES I wish I took before and after photos because the pores on my nose and cheeks were almost nonexistent. Not to mention, my face felt like butter. Seriously, you have to try this stuff out. It's less than $8 for a one-pound container, plus throw in a couple more bucks for apple cider vinegar, so it's very economical.
3. Jack Black lip balm
I'm kind of a lip balm snob. Mostly because that's the only thing I wear on my kisser. I came across this lip balm, and after reading some reviews online, I bought a tube of the mint and shea butter, and I love it. The feeling of it is perfect– not too sticky, not too slimy. And I feel like the mint plumps up my lips a bit.
4. booties
Specifically, these ankle boots. I don't hide the fact that I have man feet. I mean, they're kind of hard to hide based on their size because I wear a woman's 11 wide. As you can imagine, finding fashionable shoes that also fit is hard to do. When I came across these boots and saw that they came in regular AND wide width I figured why not, I have nothing to lose. So I bought them (with a 40% off coupon + free shipping) and to my amazement they fit and they're cute. If you have wide feet and have had a hard time finding boots that fit, definitely check them out.
5. fall dresses
I bought this dress for $16 a couple weeks ago, and I love it. I also got this dress. It's no lie that I'm a big fan of shorter dresses with leggings. I tend to buy a couple inexpensive dresses each season and wear them with my all time favorite leggings, which are also available in sizes 1X-3X.
6. personalized bar necklace
Last month, I bought myself this personalized bar necklace with Owen's name stamped on it. I love how it goes with everything. But I will warn you that it's on the smaller size, and you can't see the name unless you get really close. Which is fine by me because I don't necessarily need a giant billboard necklace with my kid's name on it.
Have you tried any of the things that I'm currently loving? If there's something that you're currently obsessed with, let me know!
This post contains affiliate links.
Funds from affiliates help pay for web hosting, domain registration, email delivery, the occasional bottle of wine, and other fees to keep twotwentyone.net up and running. Thanks for your support!