Our good friends recently had their kitchen, full bath, half bath, and dining room built-ins renovated. It's quite the transformation so I figured I'd share it with you guys.
Perhaps I should start a series called The House Swan by Two Twenty One. It'll be like the 2004 reality show The Swan, where contestants get oodles of plastic surgery, only substitute the "ugly duckling" ladies with houses. I'll think about it.
Anyway, our friends Andrew and Kristin live in a 1956 ranch here in Indianapolis. When Andrew bought the house, it was mostly carpeted and the interior design style was, well, dated and kitschy. Kristin moved in a couple years after Andrew purchased the house and has whipped it into shape.
They've been wanting to have the kitchen and bathrooms renovated since 2010, and this year they finally pulled the trigger.
The photo below is the best before photo I have of the kitchen. When I asked Andrew and Kristin for before photos they couldn't find any. This baffled me, but maybe it's because I take thousands of photos a year. So the blurry before photo is from the listing when Andrew bought the house in 2010. It's pretty accurate because Andrew and Kristin didn't do much to the kitchen until they had it professionally renovated this summer.
Want to know another thing that baffled me? They lived without a dishwasher for 5 years. 5. Years. I thought I was roughing it when I lived without one for two years. Oh, and their old sink was tiny. Like recreational vehicle sink tiny.
One thing that was annoying about the layout of their old kitchen was that the fridge was right by the doorway. So when someone would open the fridge, and you were trying to come through the doorway, you'd either have to wait or squeeze by. Terrible planning.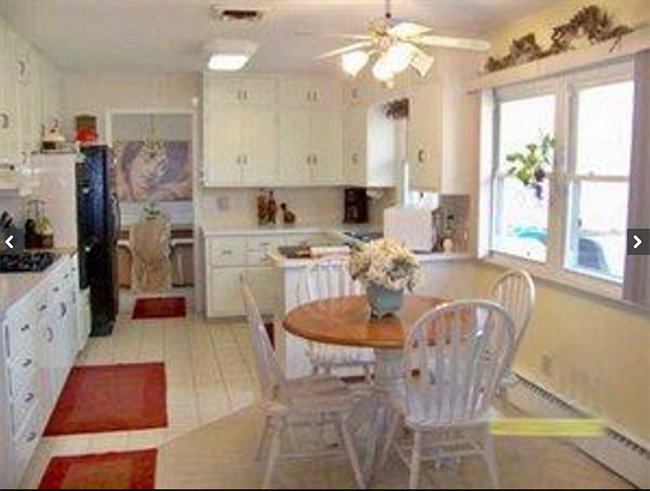 Here's a mid-demo photo Kristin gave me. Check out that sweet tile. Who would want to get rid of that?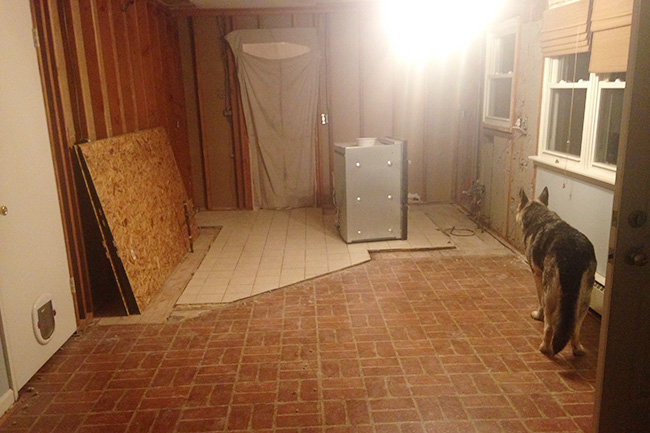 You'll see, after I stop teasing you, in the after photos that these two windows were removed and the wall was sealed.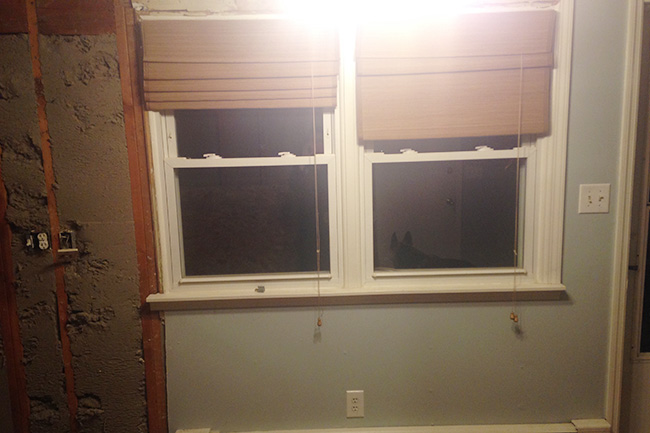 Are you ready for this?
Here's how their kitchen looks now.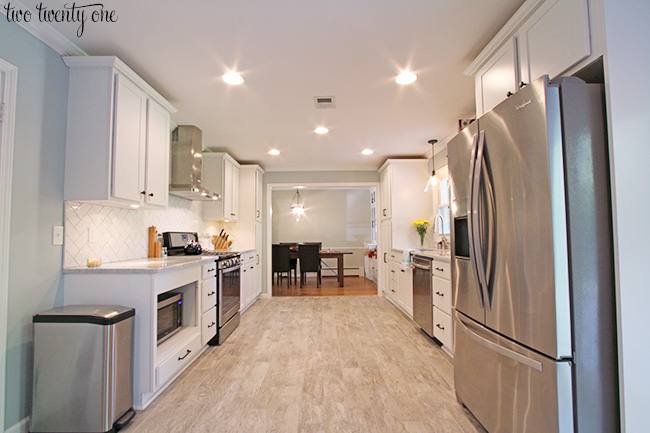 So good, right?
As you can see, they had the doorway widened which makes a huge difference.
No, that's not a toddler ghost. It's my kid, running toward me while I attempt to take photos of the kitchen.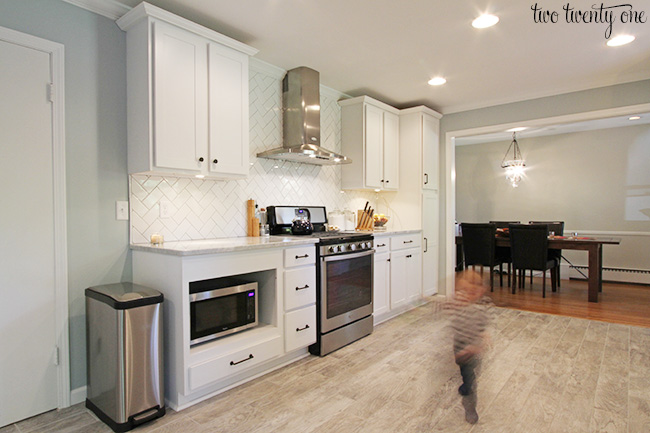 Kristin wanted white kitchen cabinets with dark accents. So she went with black hardware and dark gray grout on the backsplash. I think it works well with the black in the stainless appliances. Plus, it accentuates the herringbone pattern of the tile.
Since they went with a hood over the range, they had a microwave nook installed in the lower cabinets.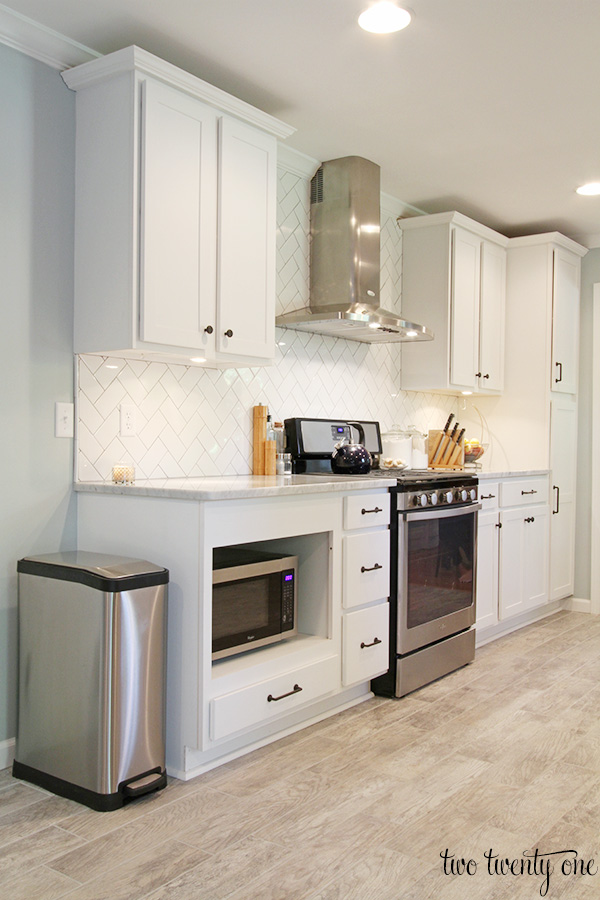 The old cooktop was replaced with a new range. It's hard to see in the first before photo, but there were double ovens directly next to the old fridge.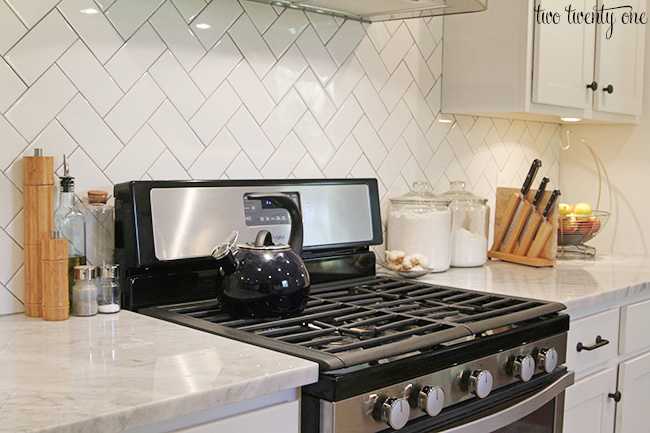 They also had under cabinet lighting installed.
PSA:  No matter what kind of kitchen you have, I whole-heartedly believe that every kitchen needs under cabinet lighting. The difference is night and day. It's a low-cost way to make any kitchen look more expensive. Trust me. Plus, you can see better when slicing and dicing, which I'm sure leads to less kitchen-related injuries.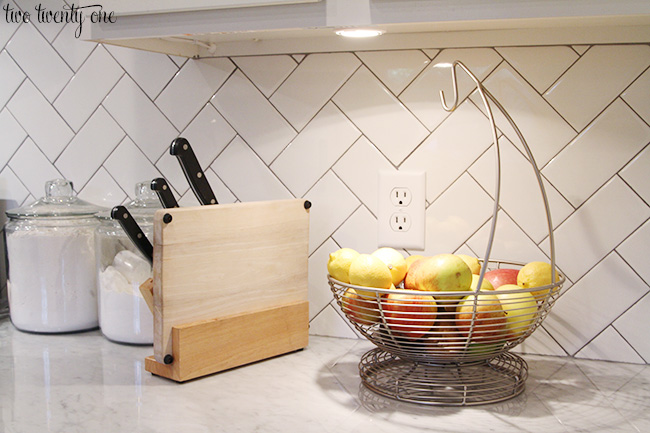 Their fluorescent light and ceiling fan were ripped out and five recessed lights were installed.
And look! A dishwasher!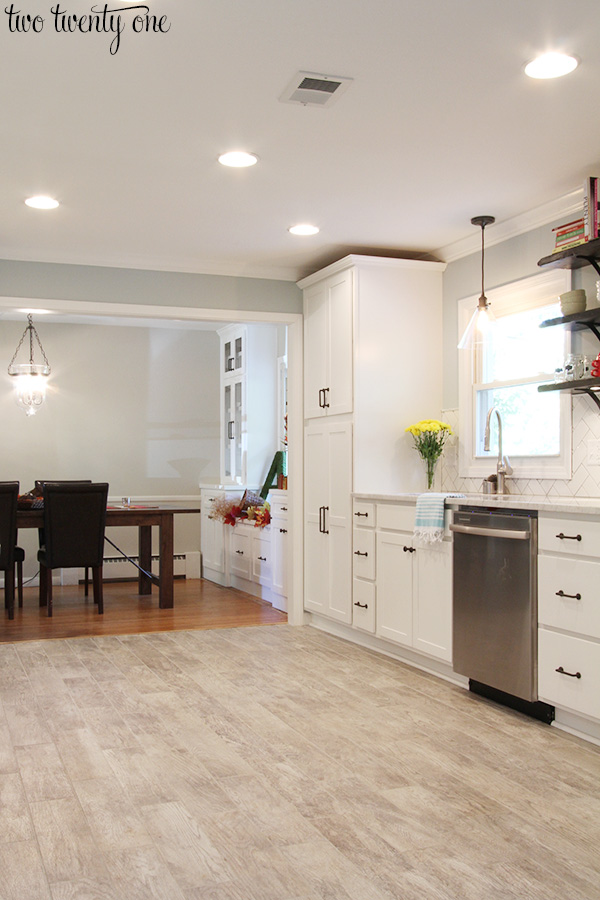 Before: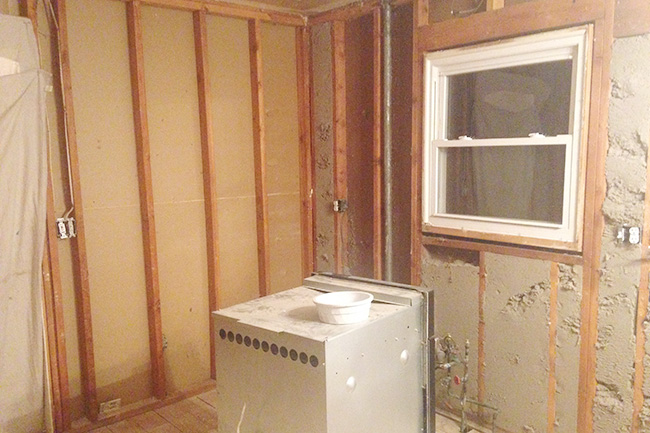 After: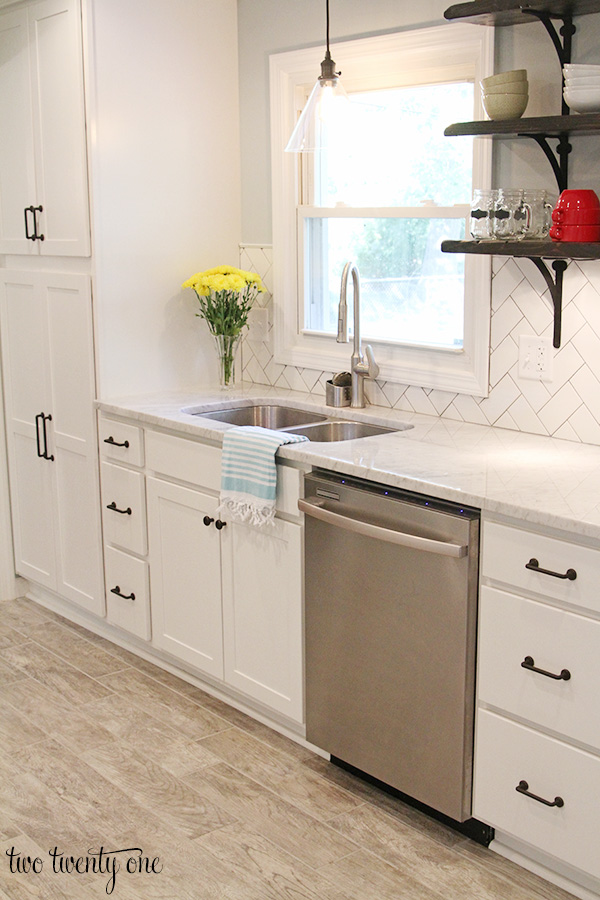 They also had a light installed above their new kitchen sink.
Kristin really wanted Carrara marble countertops. I attempted to talk her out of it because marble isn't necessarily the best in kitchens, but she was really passionate about her choice. I don't think she's entirely happy with that decision because there's already scratches and and other blemishes on the tops.
So I told her I'll get them a nice set of trivets for Christmas.
I love the white subway tile set in a herringbone pattern.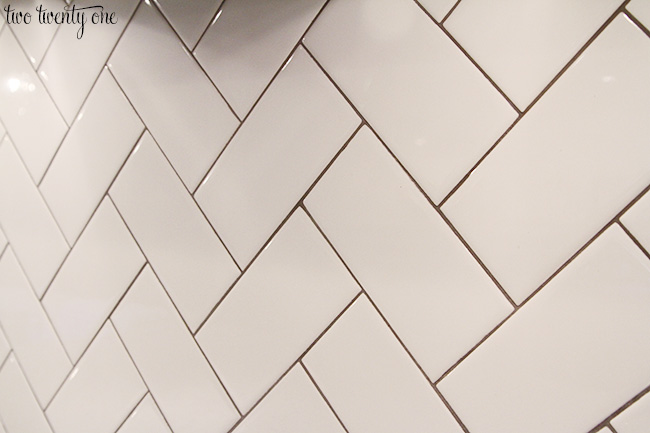 Here's the view into the kitchen from their dining room area.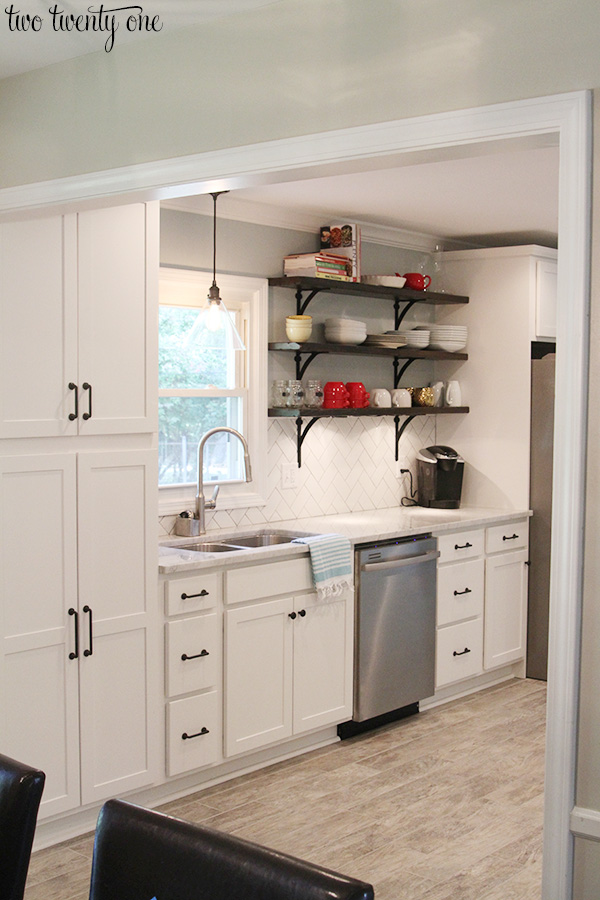 I LOVE these pull-out cabinet organizers in the cabinet to the left of their kitchen sink.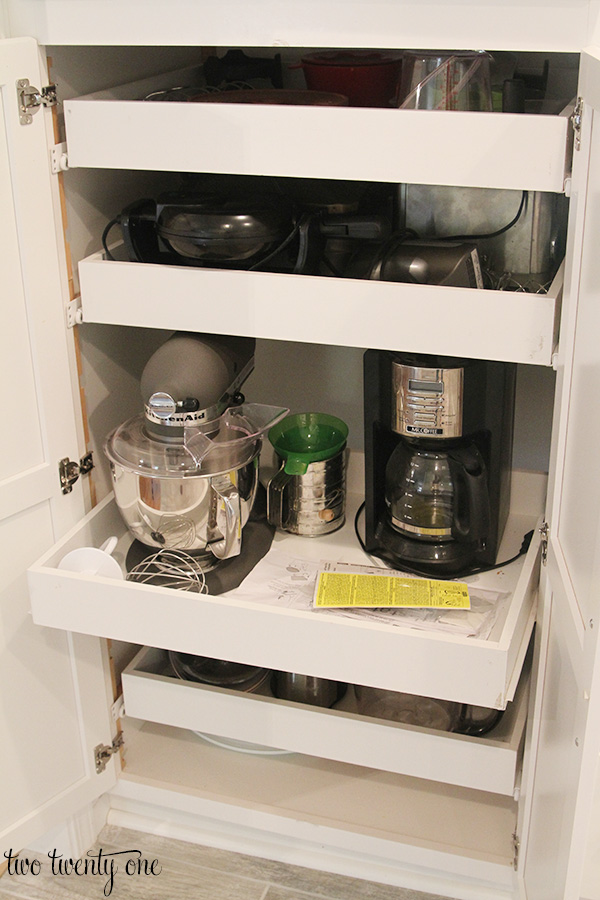 Kristin also really wanted open shelving. I'm not the biggest fan of open shelving because I see it as more stuff to dust but I'm okay with theirs because it's just the right amount of open shelving.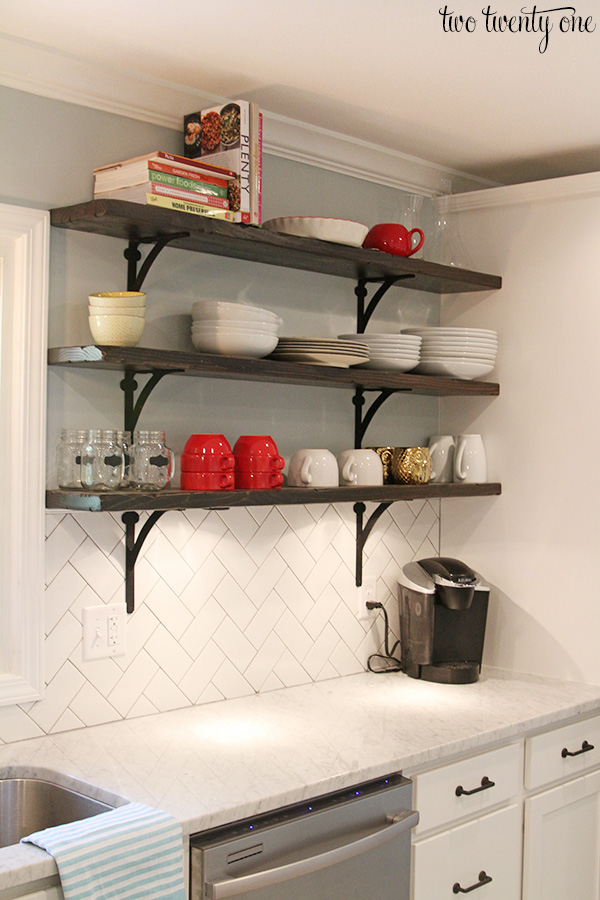 Here's the view of their kitchen and sitting area from the entryway. Kristin is still working on the sitting area, but once she gets it done, I'll share it with you guys.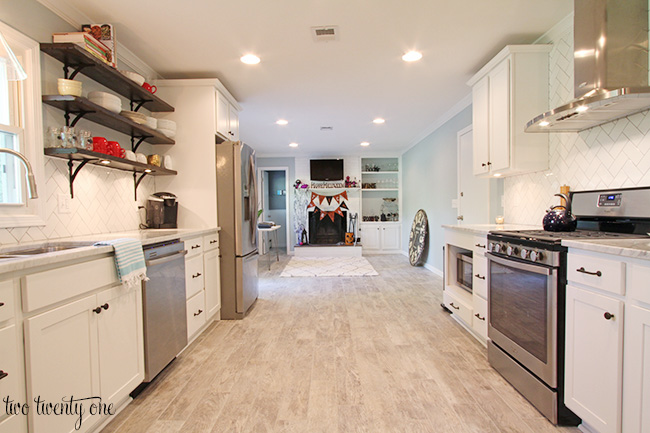 Another thing I love about their kitchen is the wood grain porcelain tile. It really looks like real hardwood, but it will hold up so much better, especially with their two, giant German Shepherds.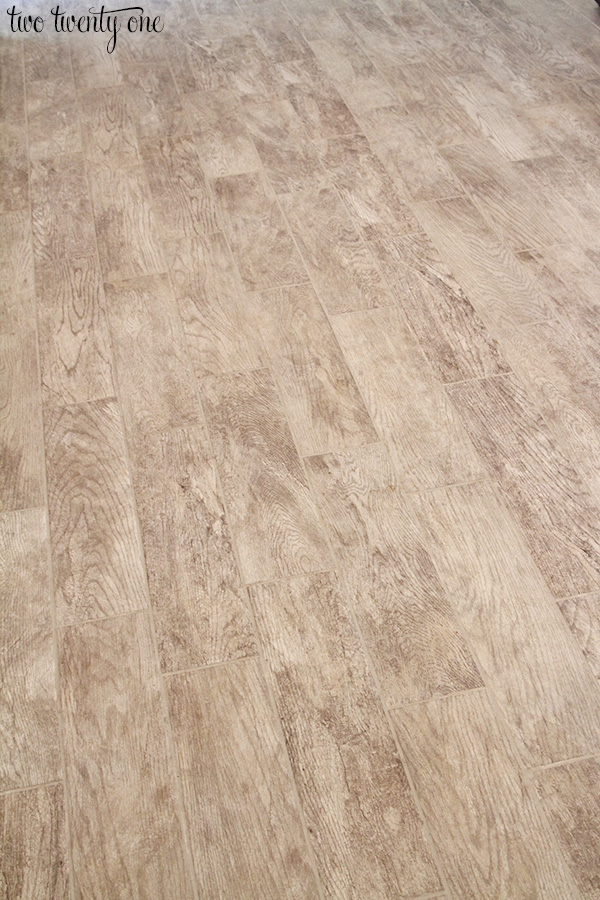 I didn't ask, but I'm guessing it hides crumbs really well, too.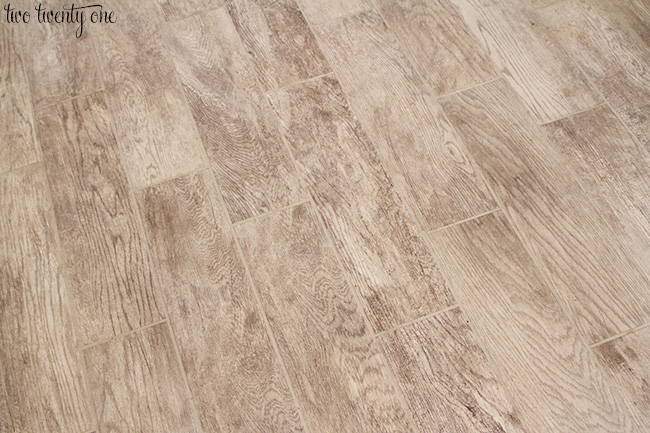 How about one more before and after for good measure?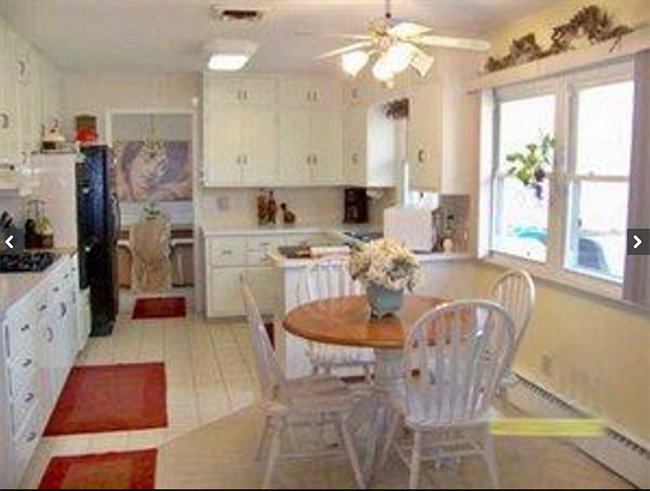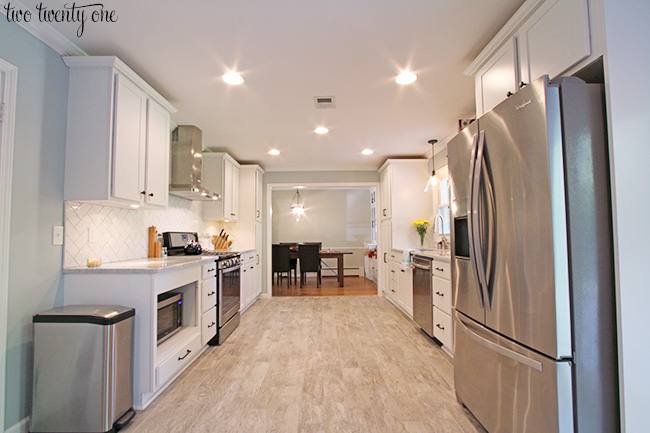 I'm guessing some of you will have specific questions, so I'm going to try to list as much as possible.
wall color: Cold Steel by Olympic Paints
floor tile: Marazzi Piazza Montagna Dapple Gray 6×24 porcelain tile
cabinets: Aristokraft | Benton birch white paint
sink: Solera stainless steel undermount double SA8123
backsplash tile: Rittenhouse 3×6 ceramic tile
backsplash grout: #165 Delorean Gray
appliances: Whirlpool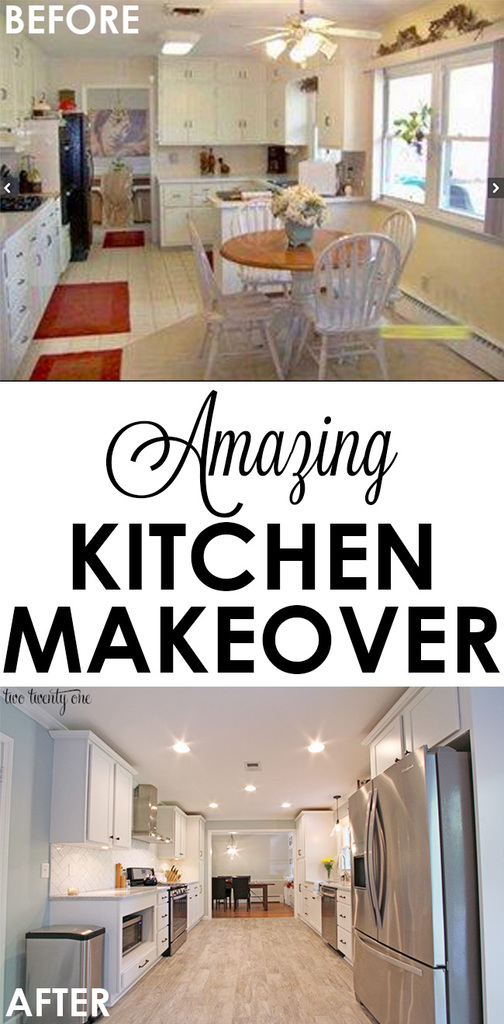 What do you think about the kitchen renovation?