Holiday Front Porch with Lowe's & Habitat for Humanity
Last week, I had the honor of partnering with Lowe's to help Brittney, a mom of four boys and recent Habitat for Humanity homeowner, decorate her new front porch for Christmas.
Back in May, Lowe's and Habitat framed Brittney's home during National Women Build Week as part of a nationwide home for the holidays initiative between the two organizations to build or repair 1,000 homes alongside families by the holidays. Brittney was able to move into her new five bedroom home in late November.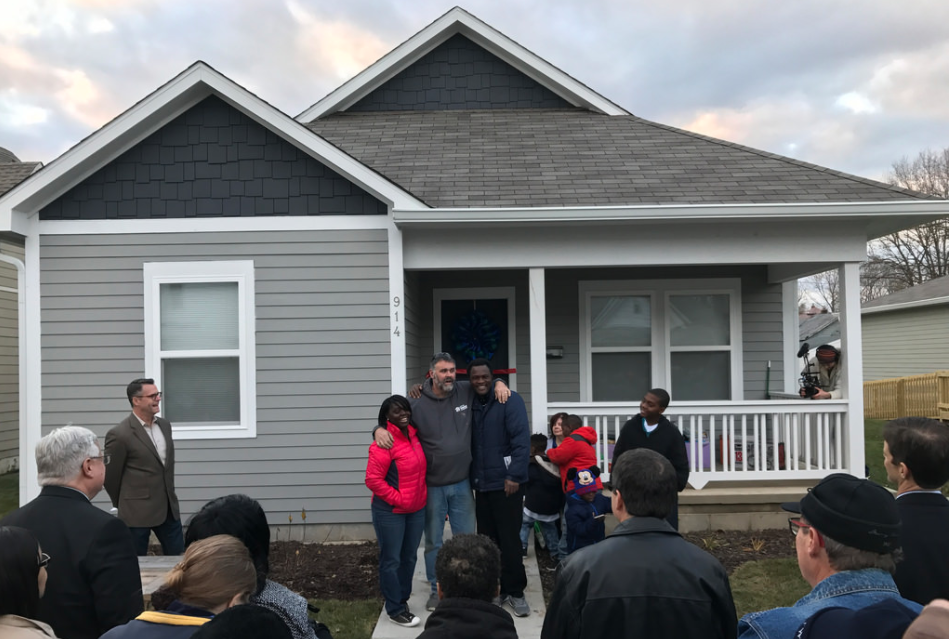 photos courtesy of Greater Indy Habitat for Humanity
I think we all can agree that the holidays are a special time of year in our homes. And with this being Brittney's first Christmas in her new home with her boys, I was more than happy to help her personalize the exterior of her house for the holidays.
Here's the front of her beautiful, new home.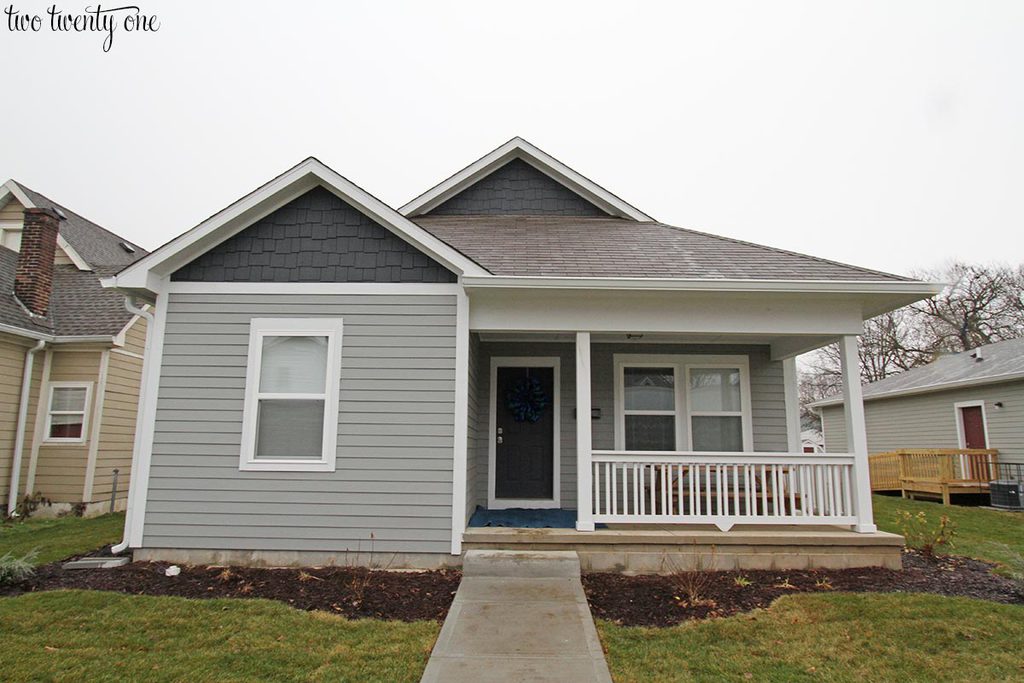 When I arrived we got to work unboxing and fluffing the front porch trees. Then, it was time to move onto the pre-lit garland.
I told Brittney I was jealous of her new porch and that was going to vicariously live through her on this project because I have a tiny front porch.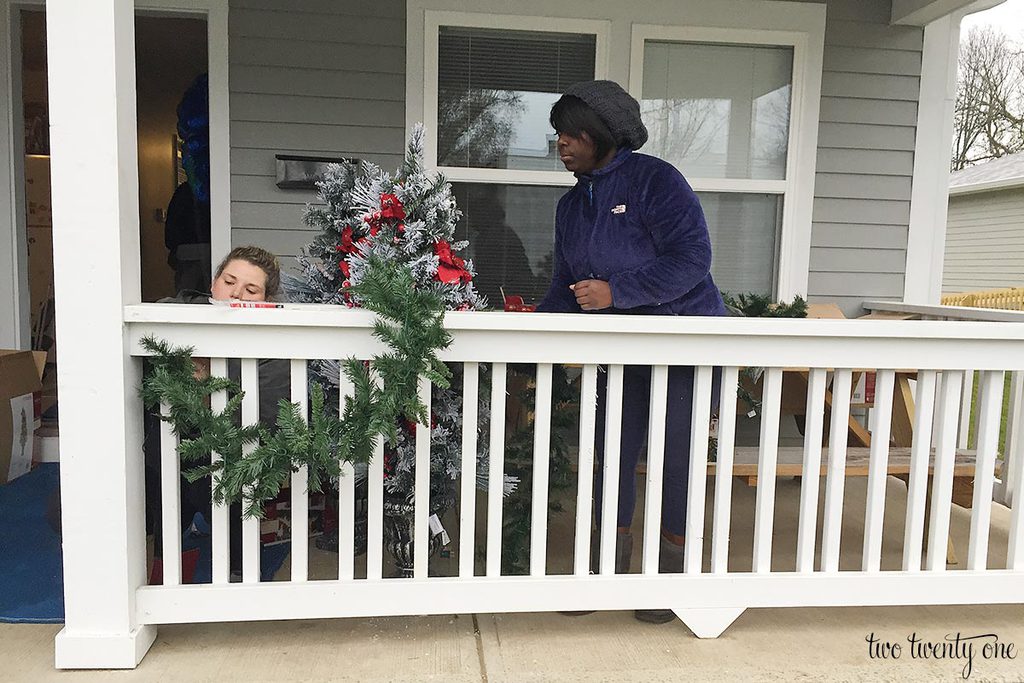 We used Command Brand light clips to secure the white lights around the two front windows. Then, we flanked the windows with two gorgeous, pre-lit front porch trees. Brittany was excited about the trees because she can bring them out every holiday season, but store them in her shed the rest of the year.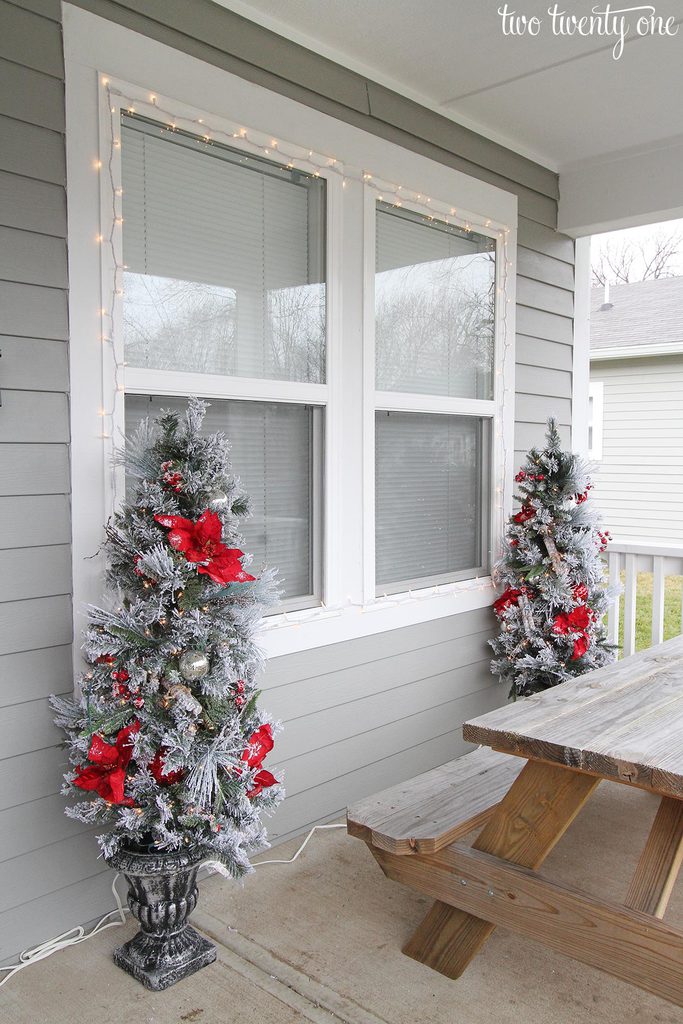 Or, if she wants to mix it, she can always display them inside her house for the holidays.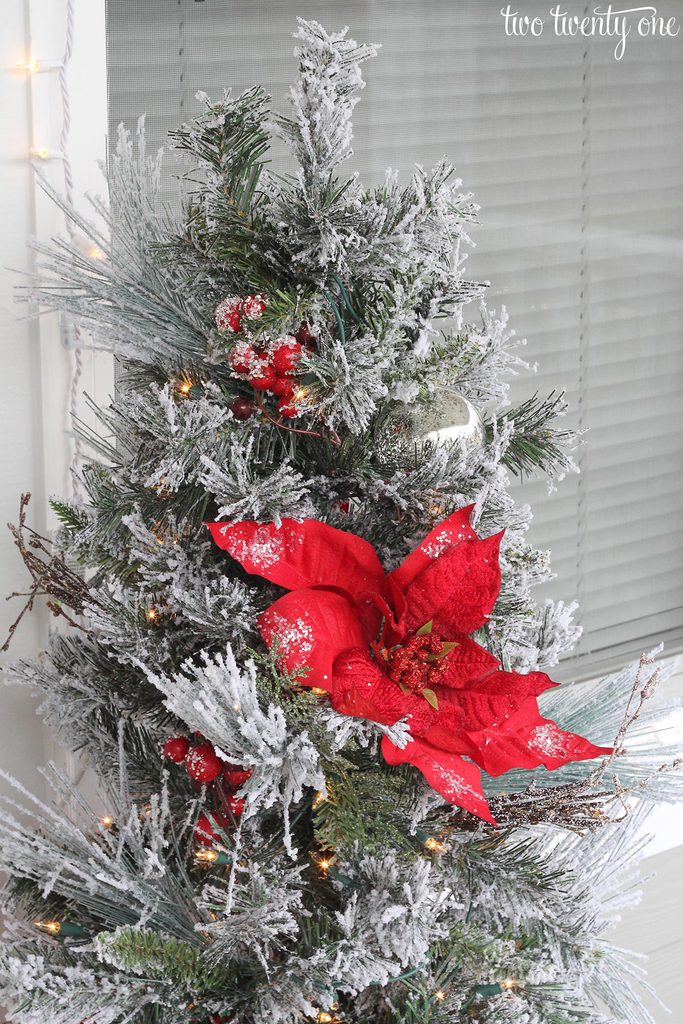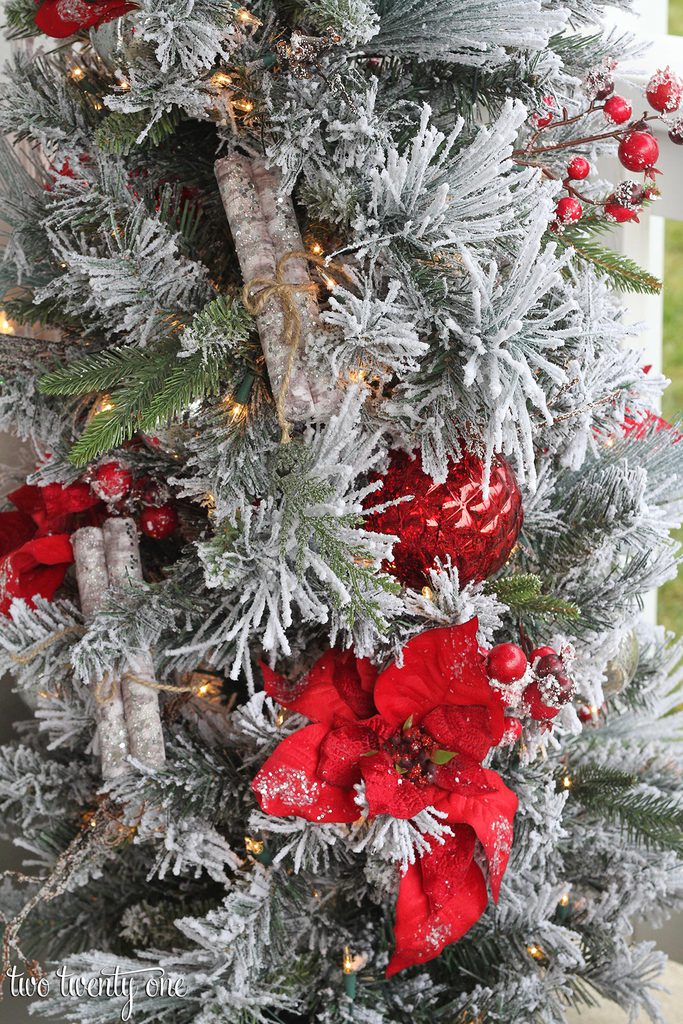 When I saw a rendering of Brittney's house I knew had to put some pre-lit garland on her new porch railings. After measuring out the distances, we used zip ties to secure the garland to the banisters. Once the garland was up, we added two red bows.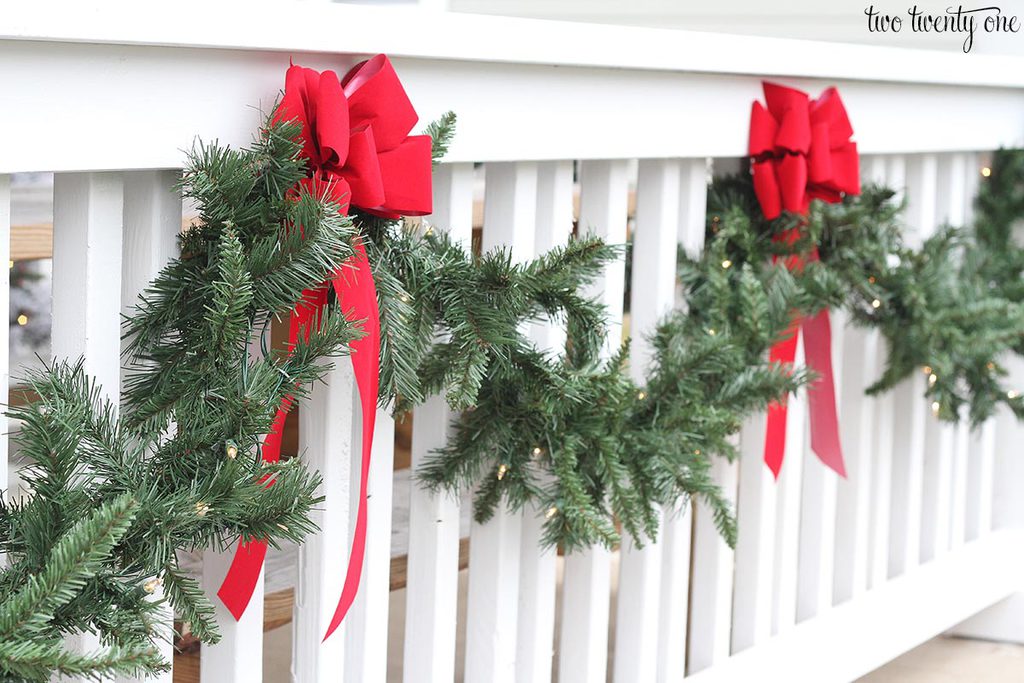 To bring together all the red accents, I added a red, white, and silver ornament wreath to her front door. Doesn't it pop on the blueish gray door?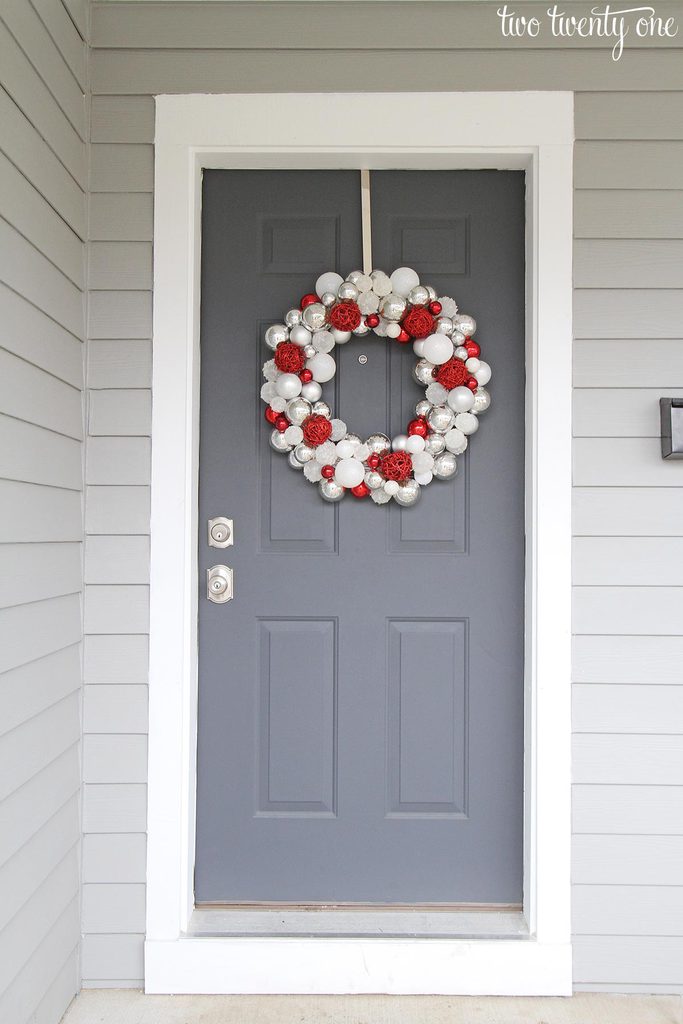 The porch turned out beautifully.
I love how all the colors work together.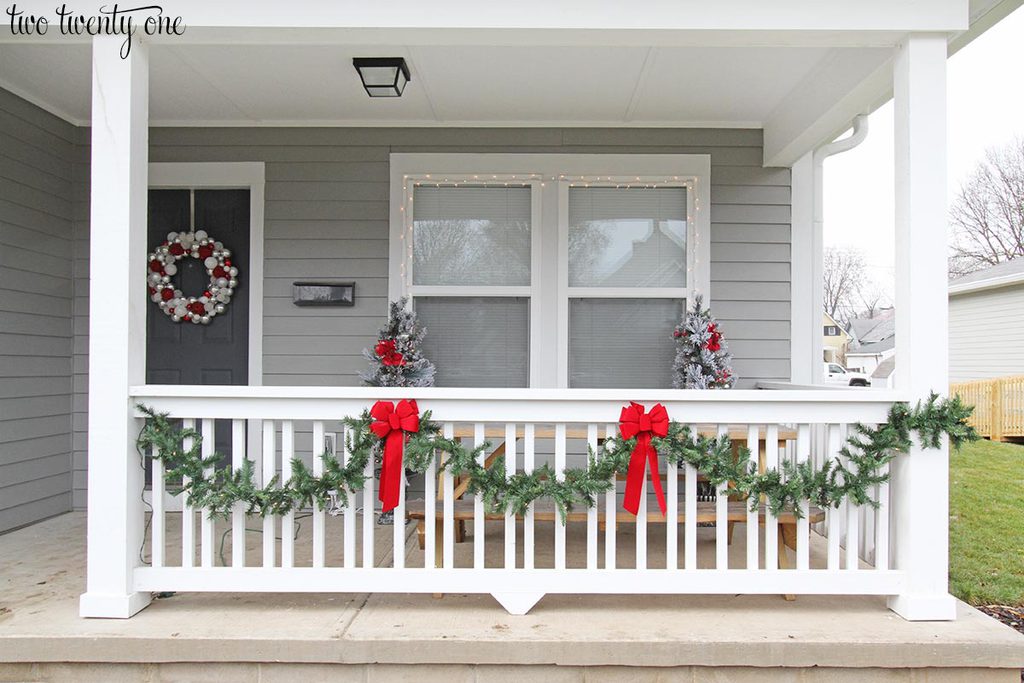 I made sure to install a timer so Brittney doesn't have to worry about turning the lights on and off.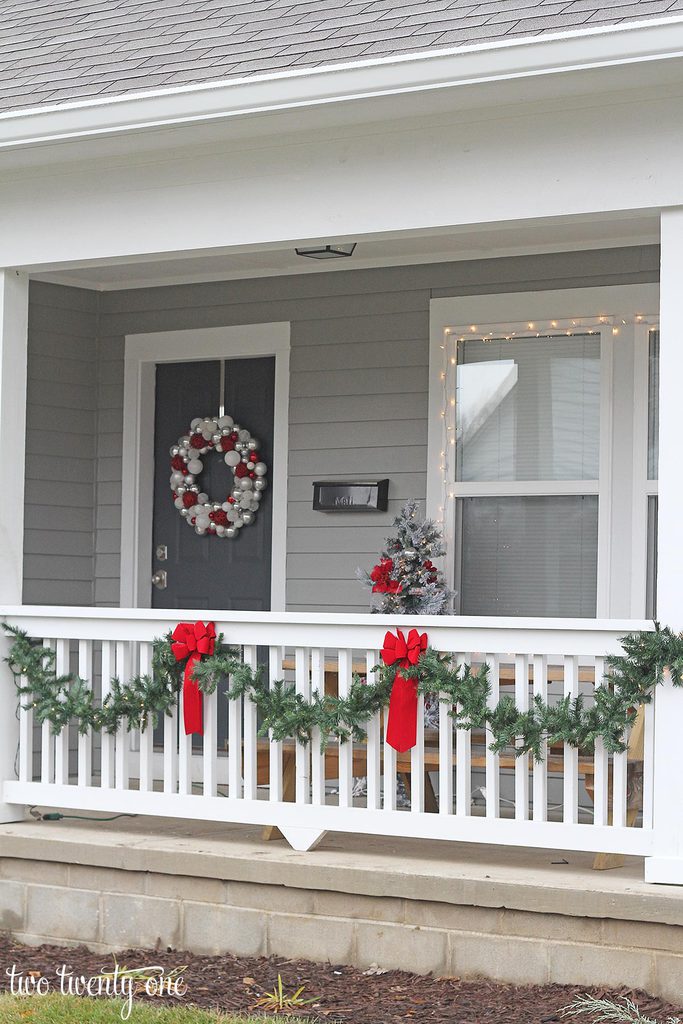 Brittney was really looking forward to seeing her boys' reaction when she brought them home from school later in the day. I'm hopeful they loved pulling up to their new home and seeing the front porch decked out for Christmas.