Red and White Christmas Tree – Decorating Ideas
Red and white Christmas tree decorating ideas! From the ribbon to the ornaments– how to decorate the perfect tree.
I decided to venture out of my comfort zone and do a more elaborate, red and white Christmas tree this year in our living room. Last year, I decorated our white Christmas tree with all white decorations. In 2014 and 2013, I put my colorful ornaments on the white tree, with nothing else. In 2012, I put my colorful ornaments on our green tree with some ribbon.
My green tree came out of hiding after using the white tree the past few years. I also switched up my color scheme again– this year I went with red and white with touches of silver.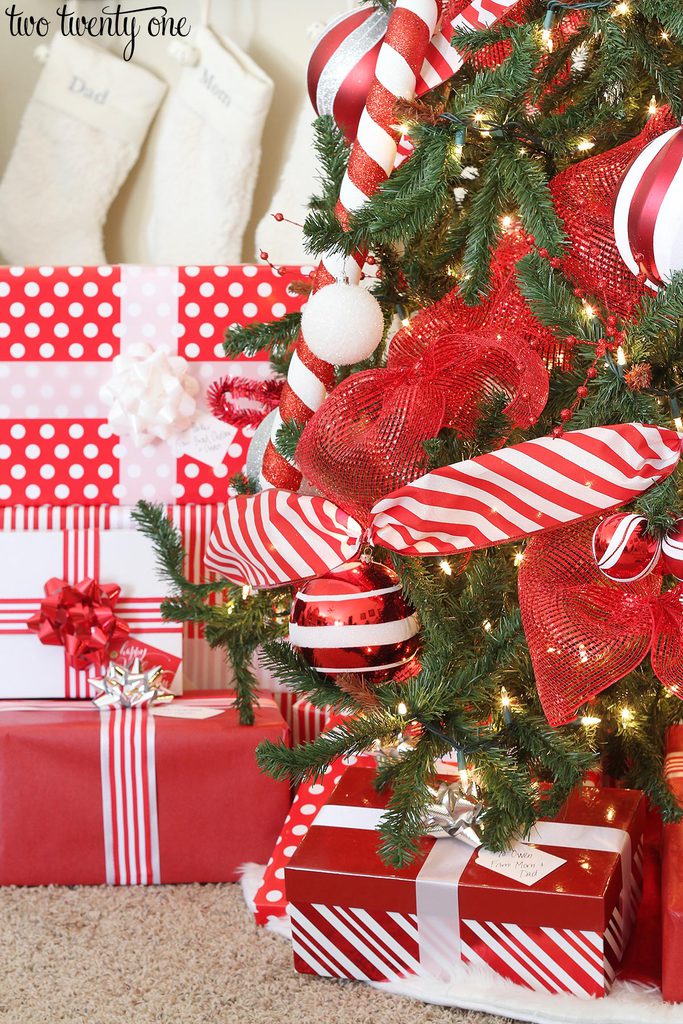 And here she is in all of her red and white glory.
I sold the idea to Brad by saying it's our Indiana University-themed (our alma mater) Christmas tree.
It's totally over the top for me, but I still love it. In fact, I had no idea what I was doing when it came to the top of the tree so I had to have my friend come over and help me because I'd never shoved that much stuff into a Christmas tree.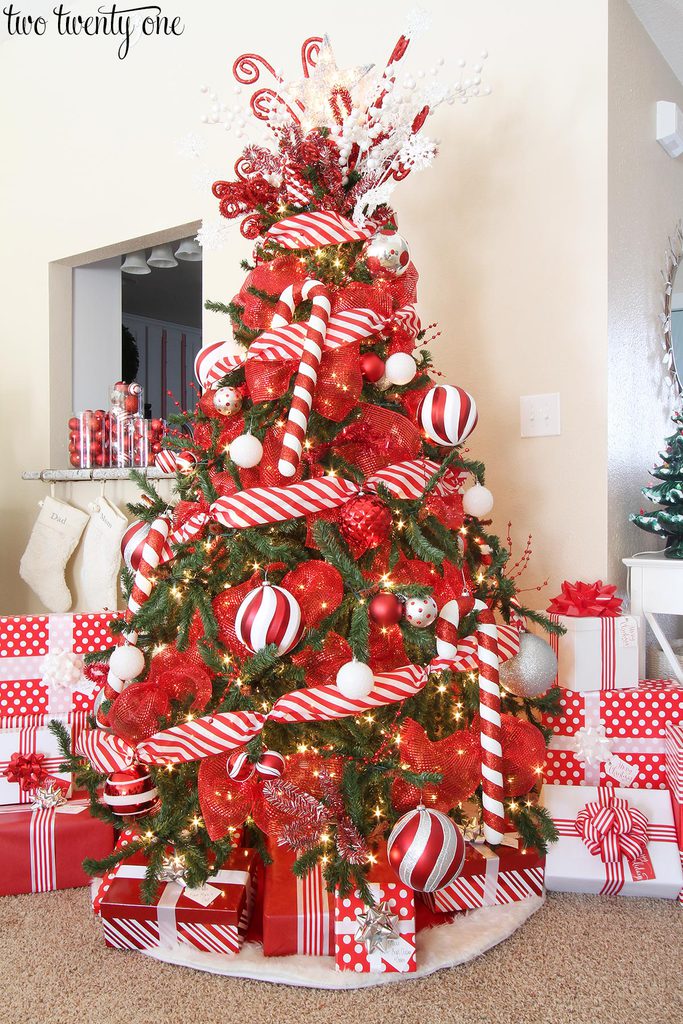 Adding the Lights and the Mesh Ribbon
Before adding any decorations to the tree, I had to put the warm white Christmas lights on because this is a 25-30 year old tree my stepdad bought from KMart for $60. To make sure the tree would glow, I did my Christmas tree light trick.
After the lights were on, I filled the tree with mesh, red ribbon. To get the mesh to look like bows, I cut two foot sections of the ribbon, took a little floral wire and twisted it in the middle. Then, I shoved the mesh in all over the tree so all you could are red and green.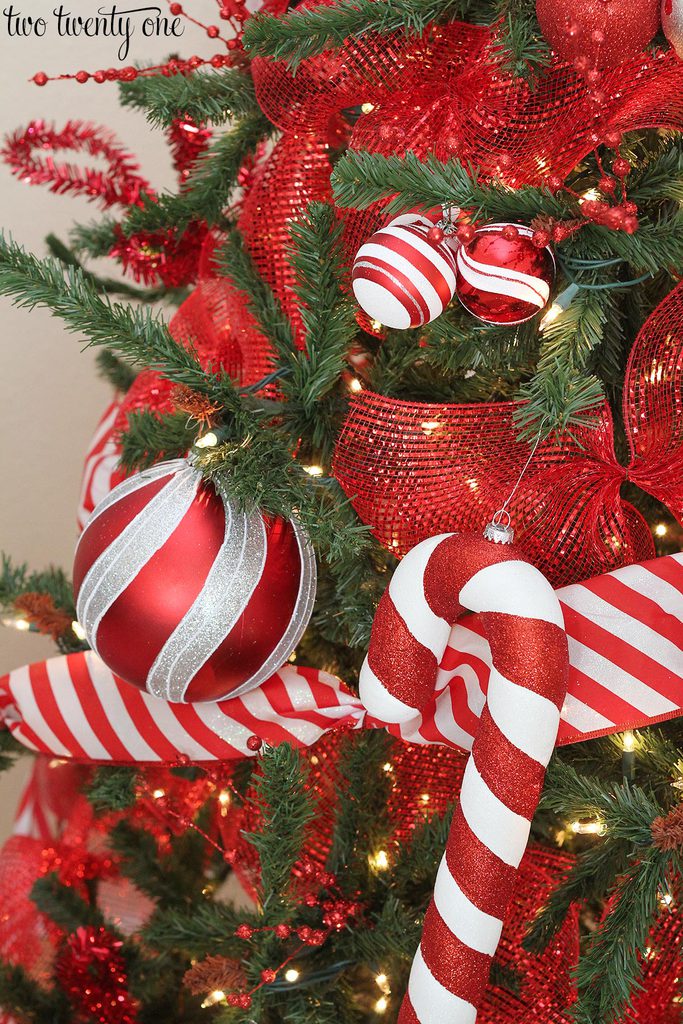 Ribbon Tip
To give the red and white candy-striped wired ribbon a little more interest, I twisted it twice as I put it on the tree.
I also figured out that to make a bold ribbon look good on your tree, it needs to go diagonally around the tree. It looks weird if it's too horizontal.
Red and White Bow
Can we pause for a second so I can kind of brag?
I made the big red and white striped bow on the white package with the 'happy holidays' tag. It's my first attempt at making an elaborate bow. The bow is a little wonky-looking on the backside, but I don't think it's too bad for my first bow-making attempt.
Be on the lookout for my bow-making YouTube channel in the new year.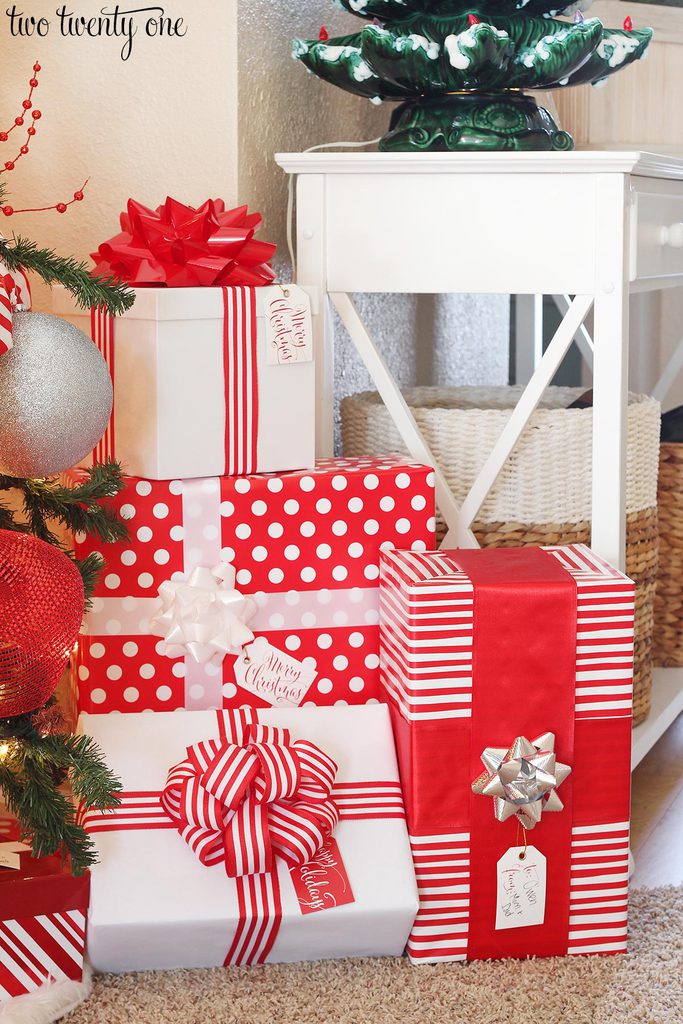 Gift Wrapping
I swear wrapping the presents takes longer than decorating the tree, even though I implemented a bunch of my gift wrapping tricks.
I love how that white box with the red and white ribbon and big red bow turned out. It's not even wrapped– I just grabbed a white box, put the present inside, and added the ribbon, bow, and gift tag.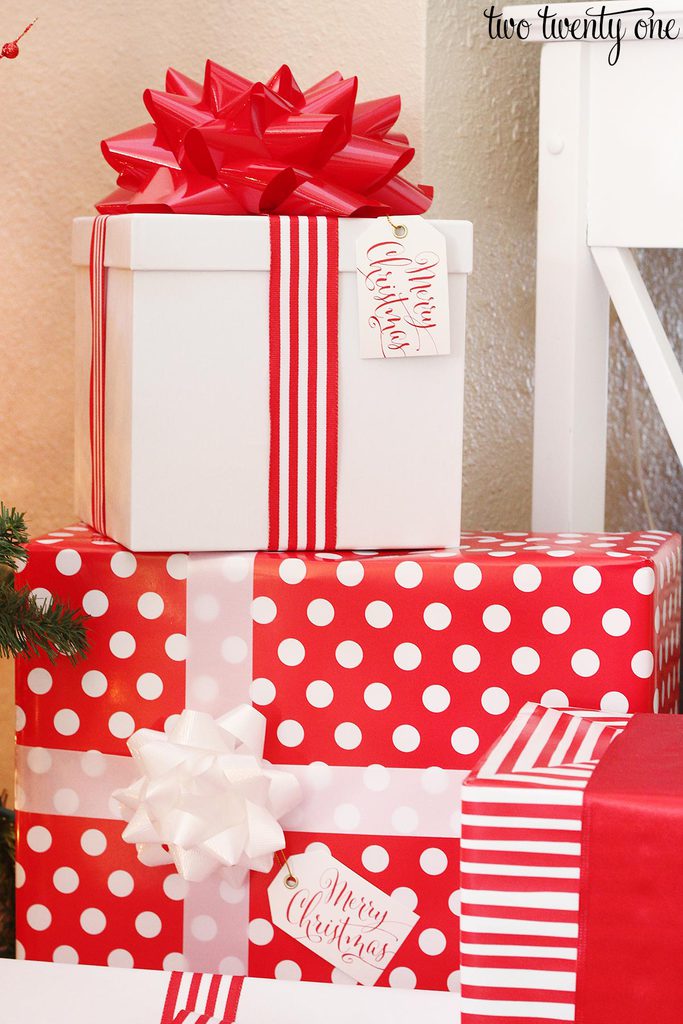 Ornament Size
I also learned that when doing an over-the-top tree, that it's important to have different sized Christmas ball ornaments.
I'm pretty sure these ornaments are the size of my two-year-old's head.
A Kid Friendly, Automated Christmas Tree
In case you're wondering, Owen hasn't messed with the tree. However, as a precaution, all the ornaments are shatter-proof. Because if he started to bleed I don't if I'd be able to easily spot it for all the red going on with the tree.
We have the tree connected to our Echo (it's currently on sale) so we can turn it on and off by saying "Alexa, turn on/off the Christmas tree." But Owen still loves to sneak behind the tree and turn it on and off by pushing the button on the wifi plug.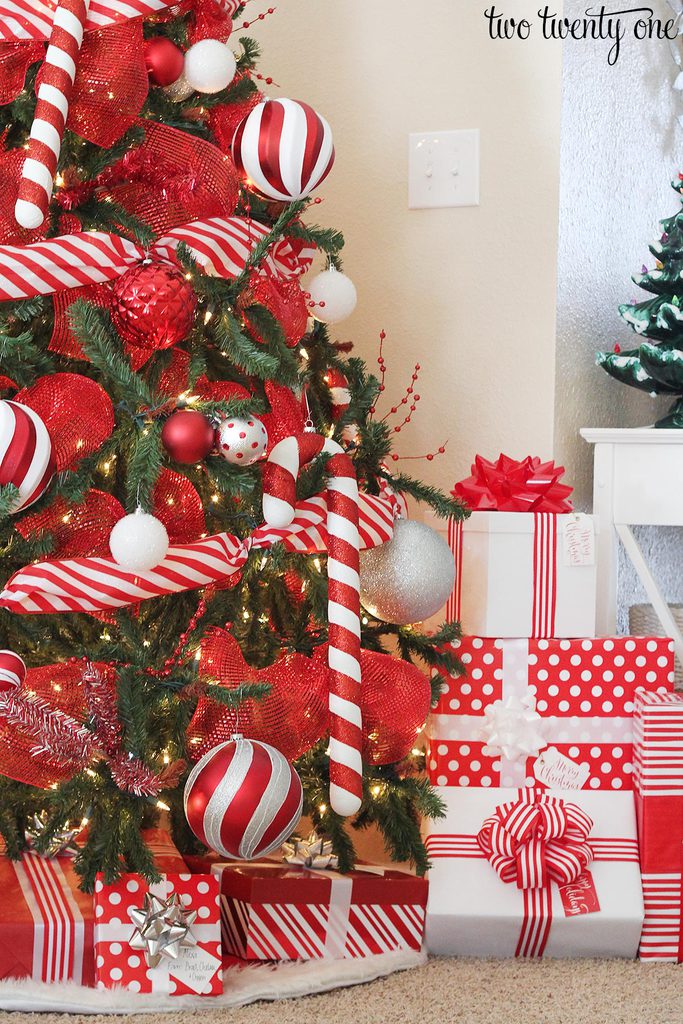 He did enjoy messing with me while I attempted to photograph the tree though.
There I was, minding my own business, lying on the floor taking this photo, while he was supposed to be mesmerized by his sometimes nanny, Daniel Tiger. But the little stinker decided to ambush me mid-snap. He's lucky he's cute. And that my heart melts when he says "Hi, mommy!"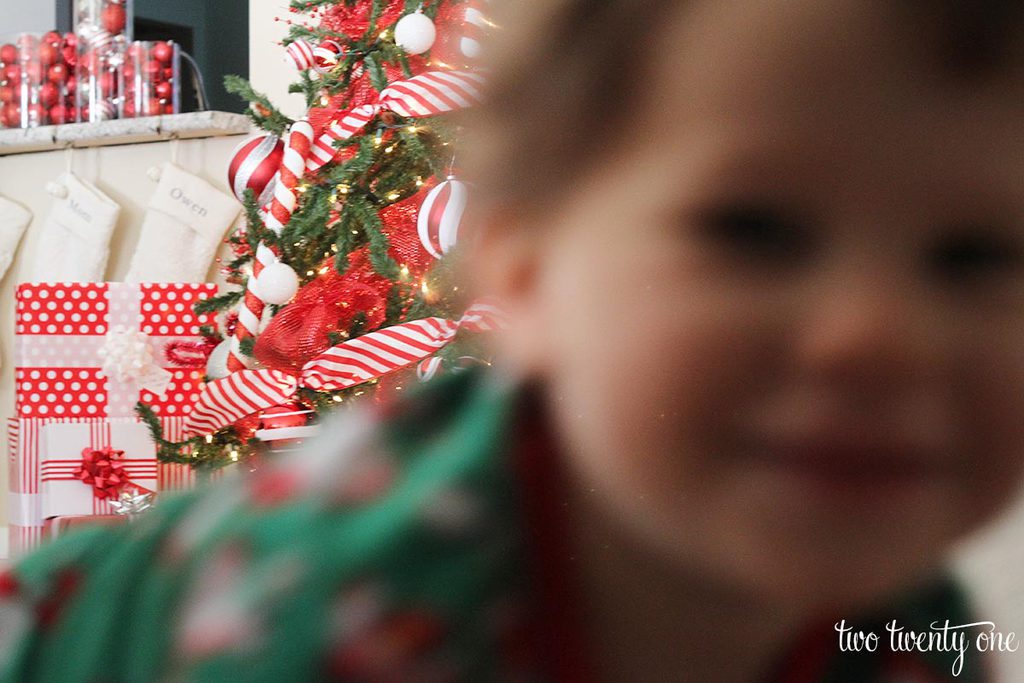 Like I said, there's a whole lot going on. But I think it's good when we step outside of our comfort zones and do something new. Even if it's decorating your Christmas tree differently.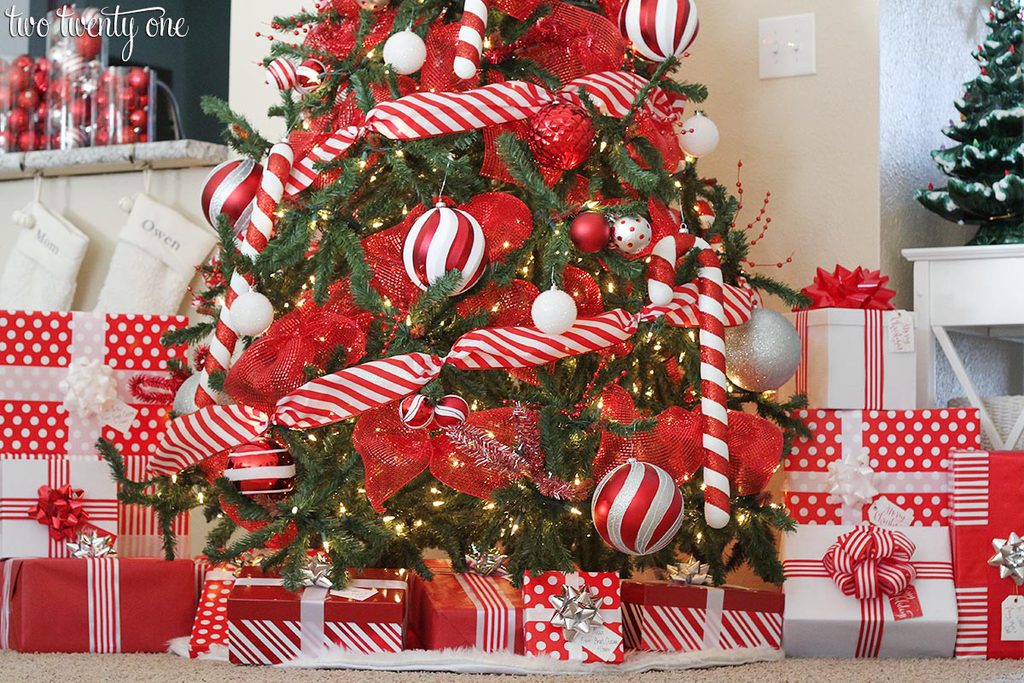 Every year, I try to get a photo of Jack in front of the tree. This year he sat without even requiring a treat.
Check out that graying muzzle on our almost nine-year-old boy.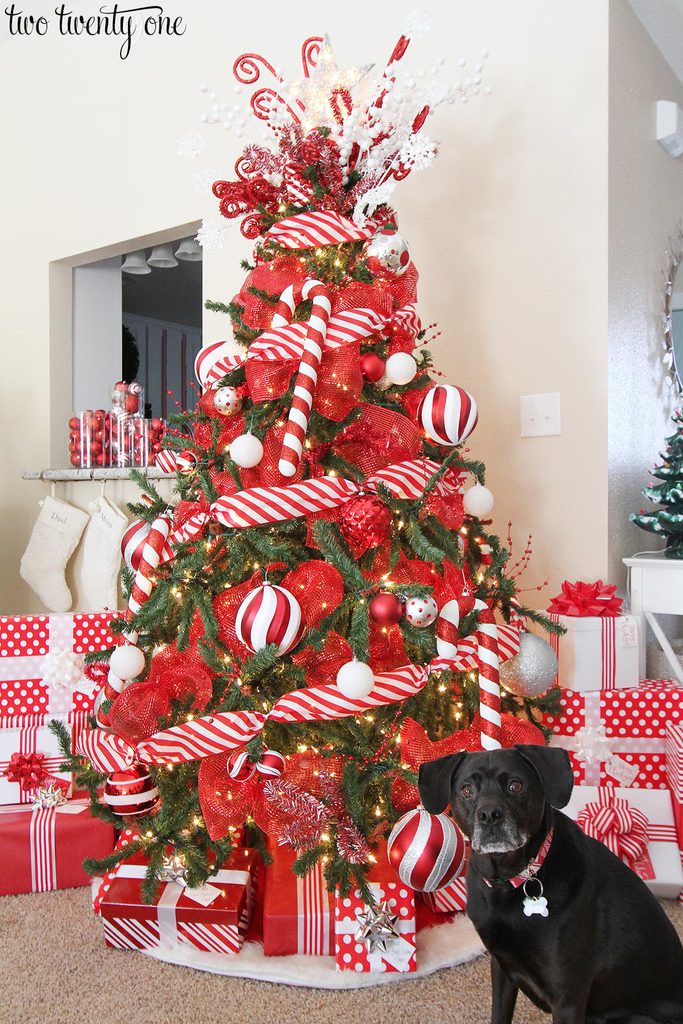 Red and White Christmas Tree Sources

Check out my flocked red and white Christmas tree HERE!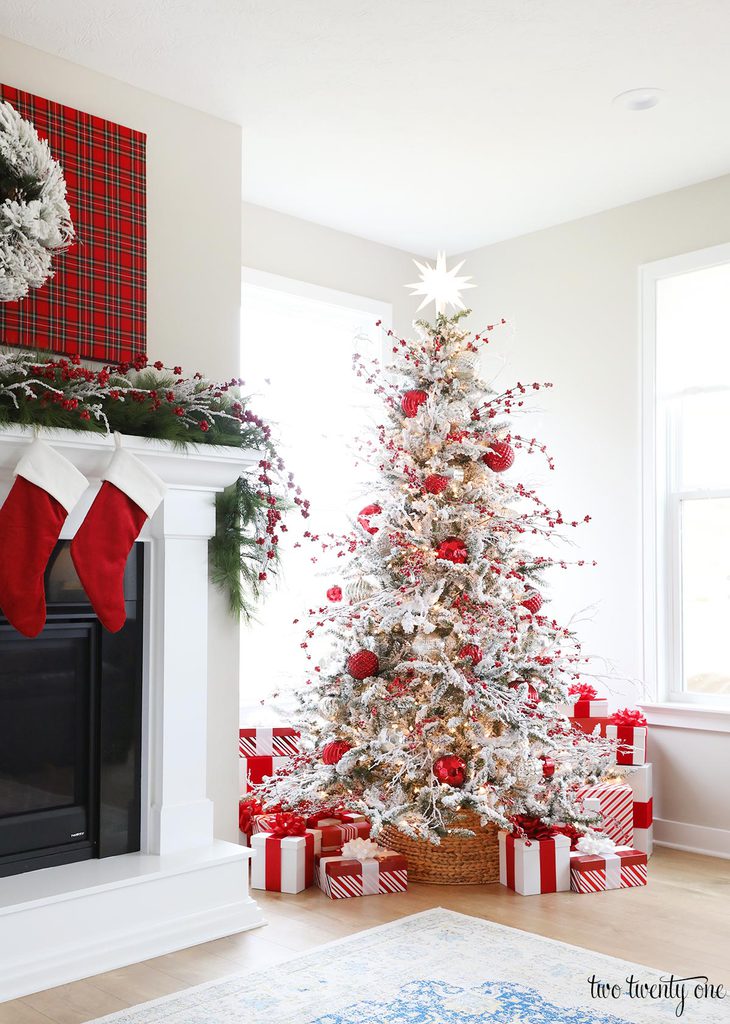 Merry Christmas! And happy Christmas decorating!