I've never really gone all out when it comes to decorating our kitchen for Christmas. But this year I decided to add a little Christmas cheer to the room. I didn't go crazy, like with this year's Christmas tree though. I mostly stuck to small areas.
If you follow me on snapchat (chelsea221blog) or Instagram (twotwentyone) you may have seen me photographing the kitchen yesterday. All of these photos were taken around 4:30-5PM so the kitchen was pretty dark. Thanks, daylight savings. If you want, you can go and check out those videos until they expire around 4:30 today.
One of the areas I decorated in our kitchen was the tiered metal stand that's a constant fixture on our island.
I grabbed three mini poinsettias from Trader Joe's for $2.99 each and plopped one on each level of the stand.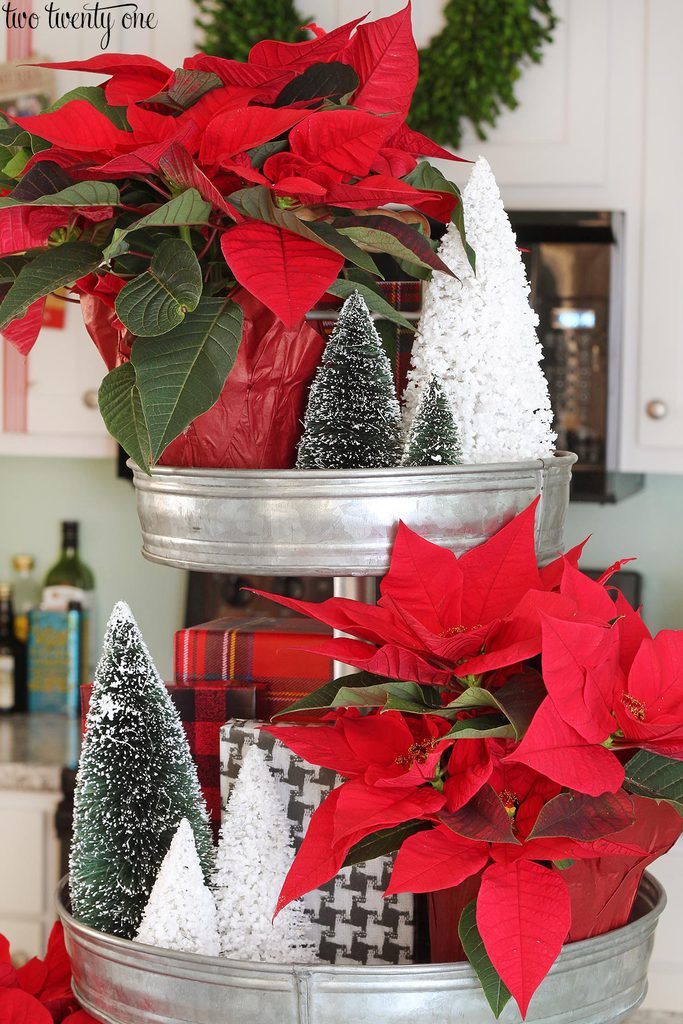 To fill in the rest of the space, I added smaller presents. I also had to wrap a couple random boxes because I ran out of gifts to wrap.
There's no shame in wrapping boxes for Christmas decor purposes. Personally, I think it's an economical decor option because you can wrap any box you find, and wrapping paper is pretty cheap. So go ahead and wrap all the boxes in your house if you want to. Just make sure to designate that it's not a real present for someone. I write "empty" on the bottom.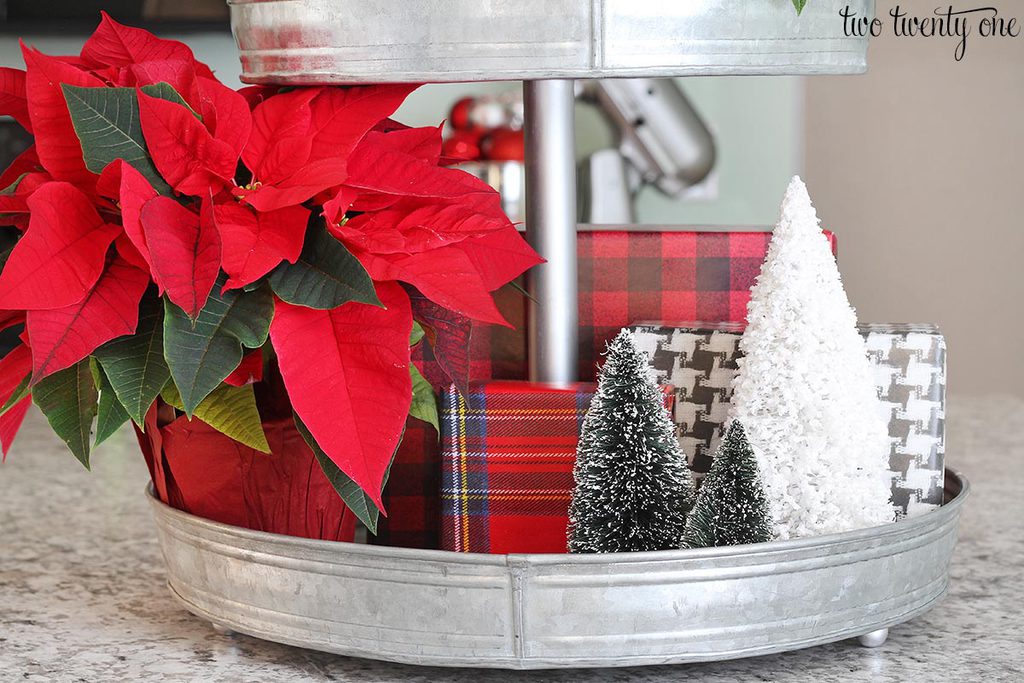 It still needed more after adding the presents, so I threw in some bottlebrushes.
So in all, I spent $9 for this because I already had the wrapping paper (bought it on clearance last year after Christmas) and bottlebrushes (bought them on clearance a few years ago).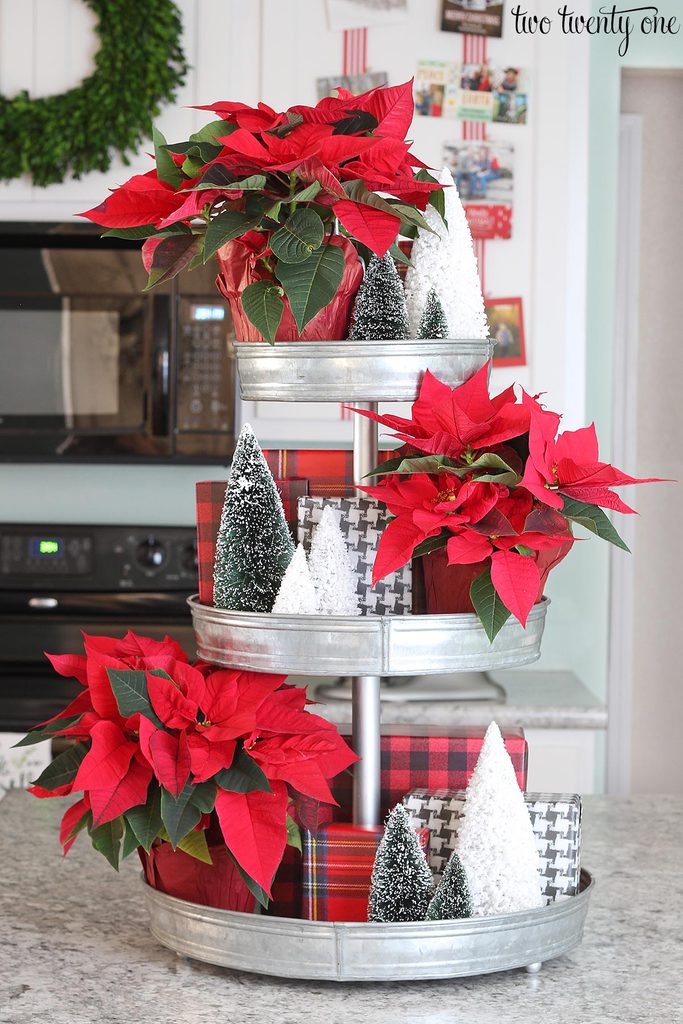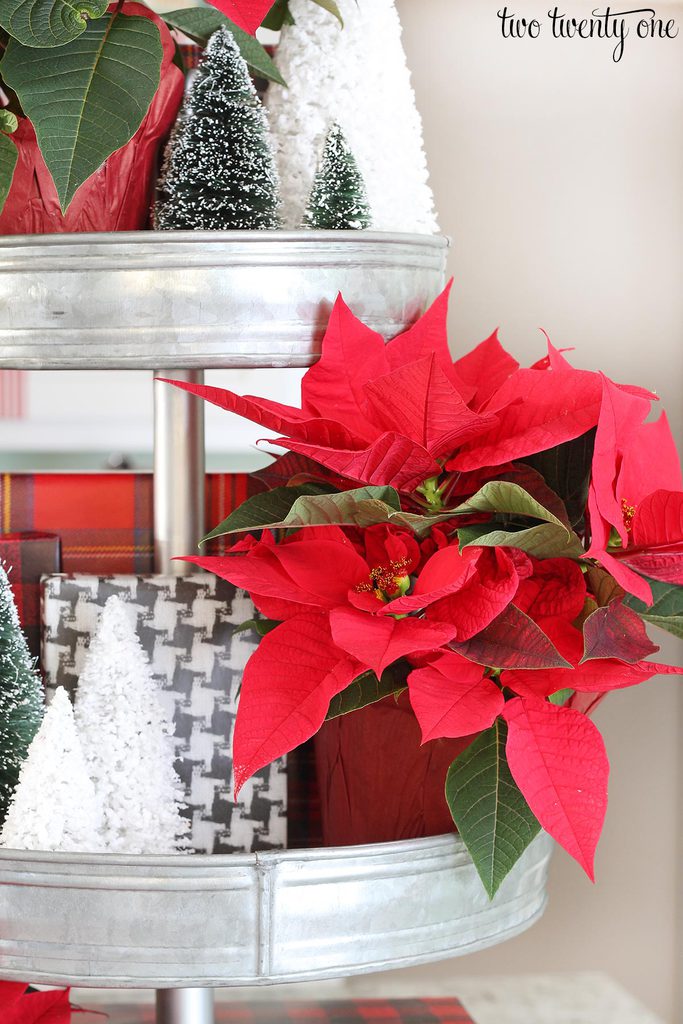 I added a boxwood wreath above the stove/microwave. To hang it, I used a small, clear Command Brand hook on the right door. It slightly overlaps the left door because I wanted to get it as close to the middle as possible. I can still get into the cabinet, I just have to open the right door first.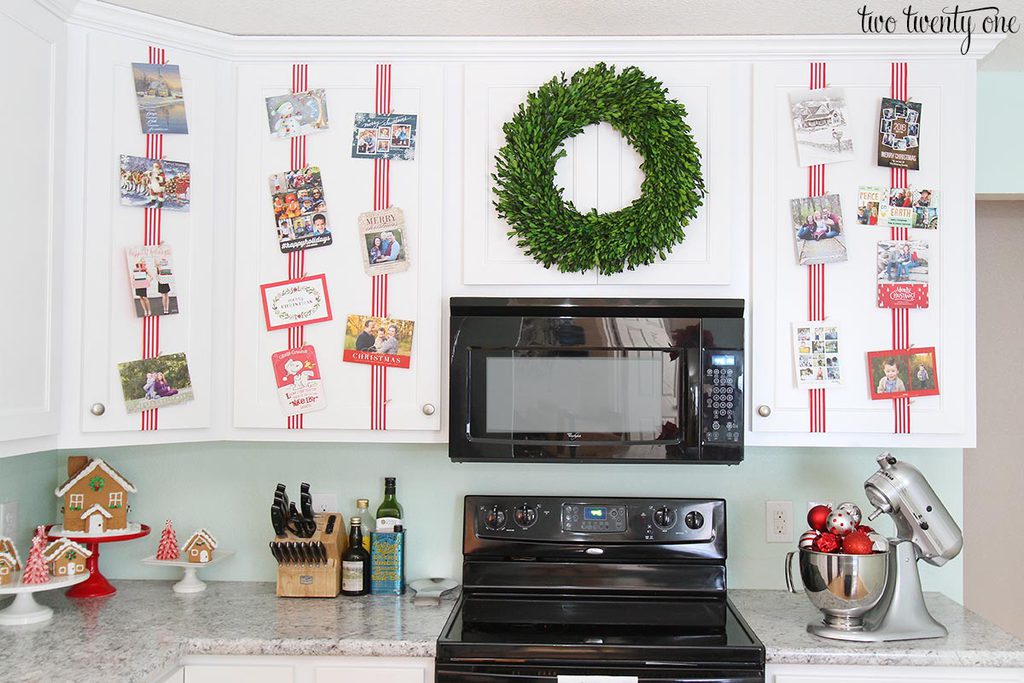 I've displayed our Christmas cards on our kitchen cabinets for a couple years. All it takes is some ribbon, tape, and mini clothespins (more details here). It's a fun way to add instant decorations to the cabinets.
I had to add our Christmas card because, apparently, people are slackers this year when it comes to mailing out their Christmas cards.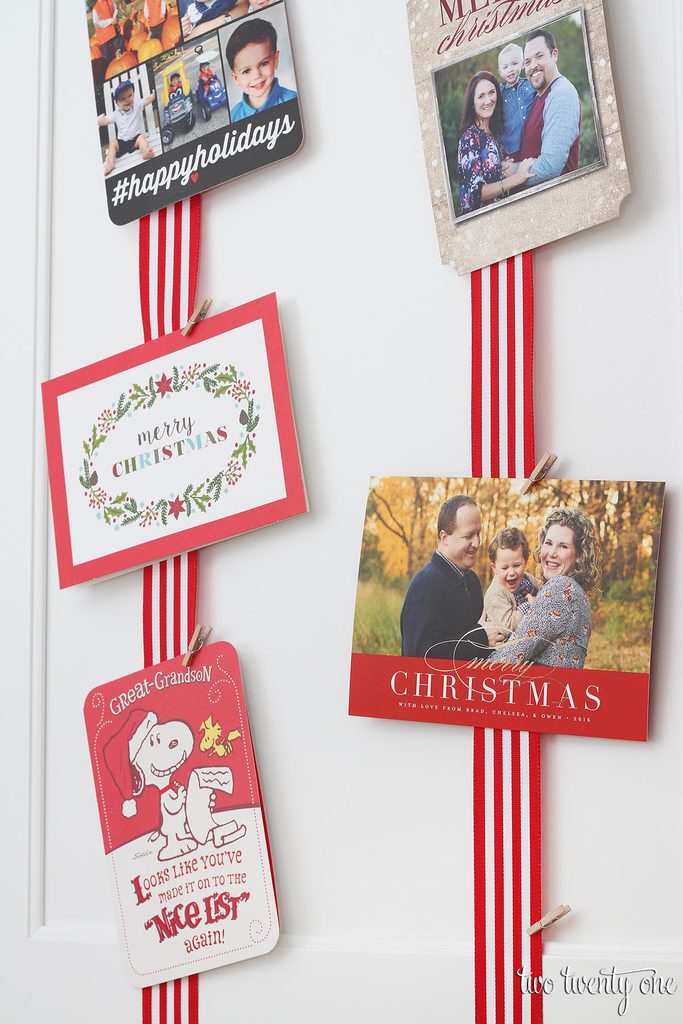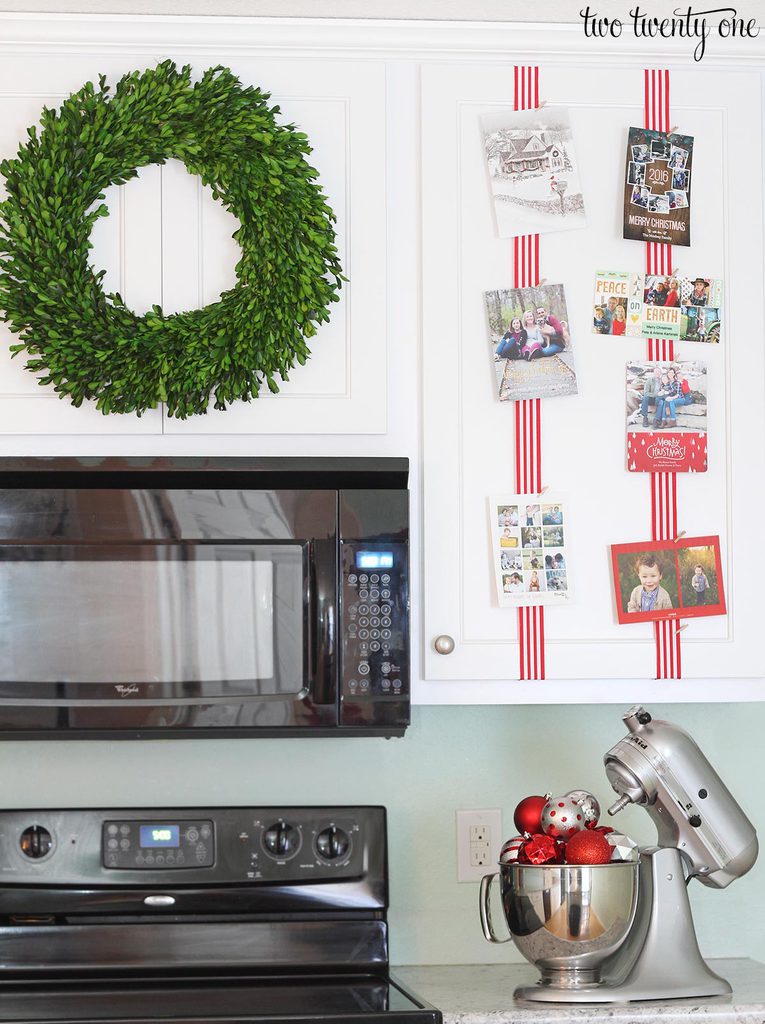 Since I added peonies to my KitchenAid this spring, I figured I should add ornaments for Christmas.
I have two metal bowls and a glass bowl, so I just swap out the ornament bowl when I need to use the mixer.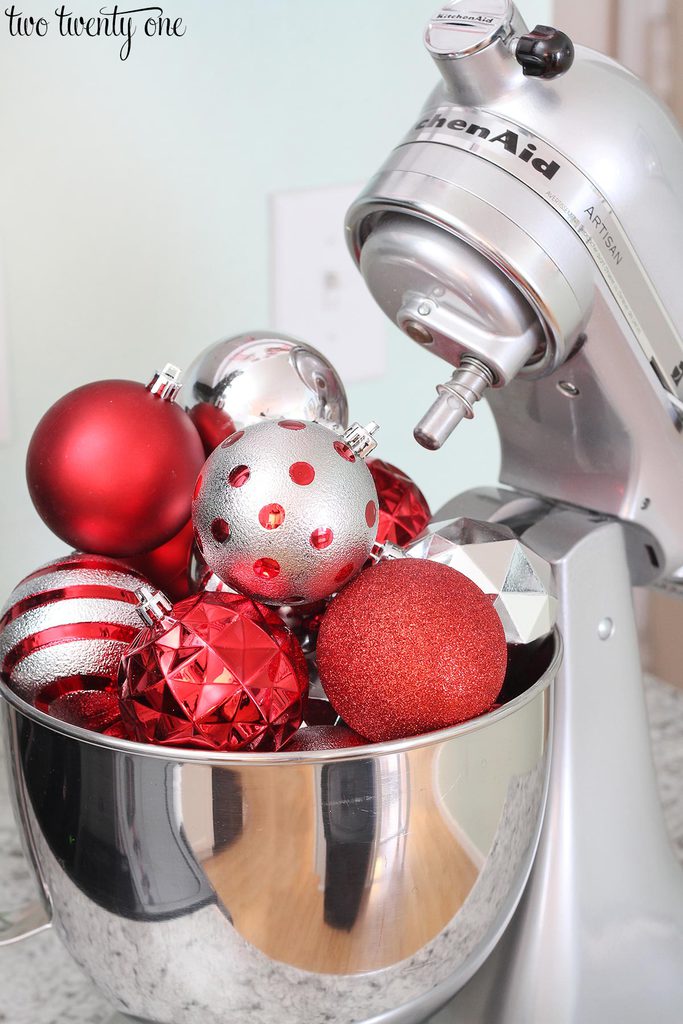 This year, I realized that I don't have many Christmas tchotchkes. And instead of buying more *ahem* crap I'll have to store for 10.5 months out of the year, I decided to make some temporary tchotchkes in the form of gingerbread houses.
The big guy in the middle was a kit I grabbed from Costco for $10. The four smaller houses were from a kit I bought for $8-9. And the peppermint tree ornaments were $1.50 each from Walmart.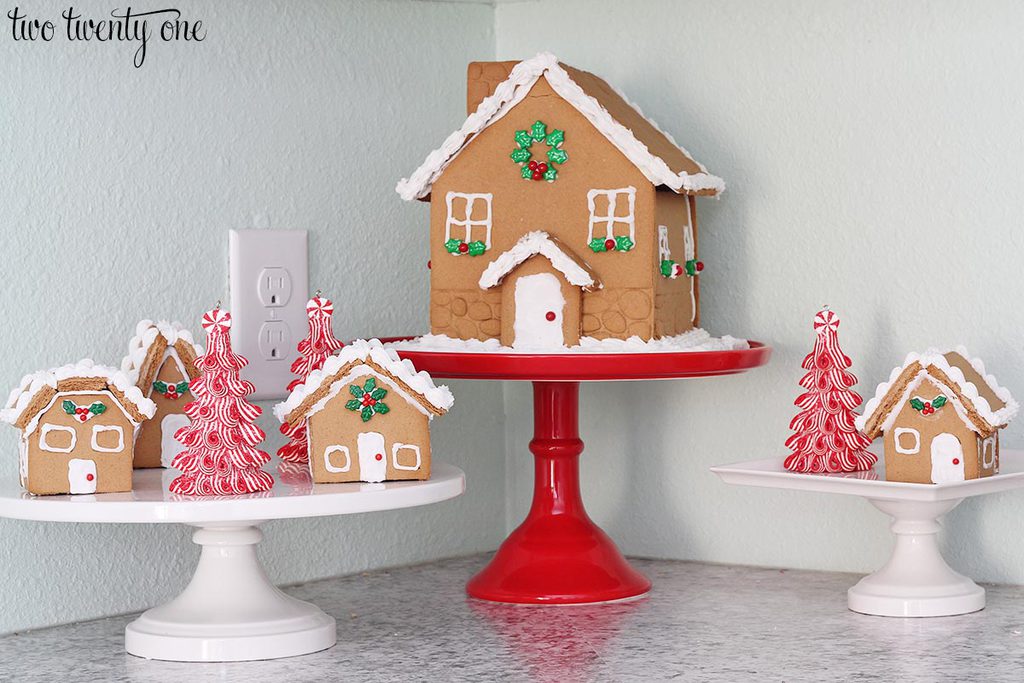 I already had the white cake stands, but I decided to buy the red cake stand when I spotted it at HomeGoods a month or so ago.
I'm not gonna lie, decorating the gingerbread houses made we want to host a gingerbread decorating party in the future. Booze would obviously be included.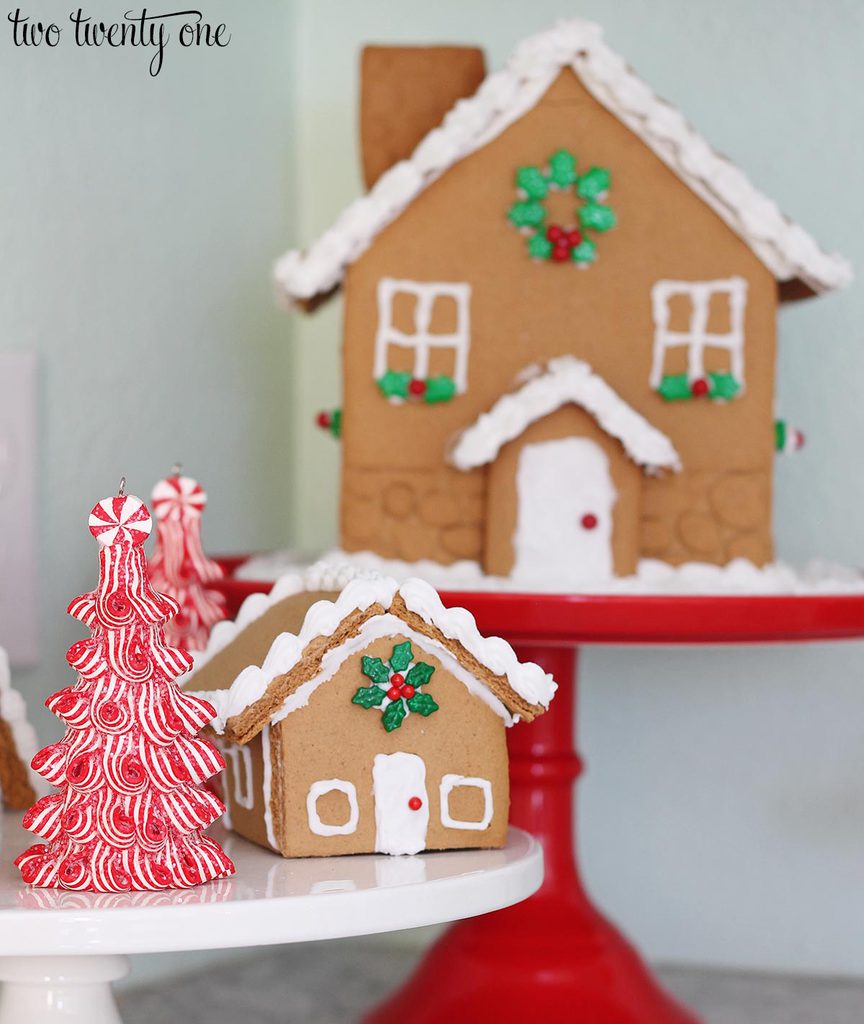 I didn't really know what to do with the island bookshelves because Owen seems to mess with whatever I put on them. So went with a present, shatterproof ornaments, and greenery on the bottom two shelves.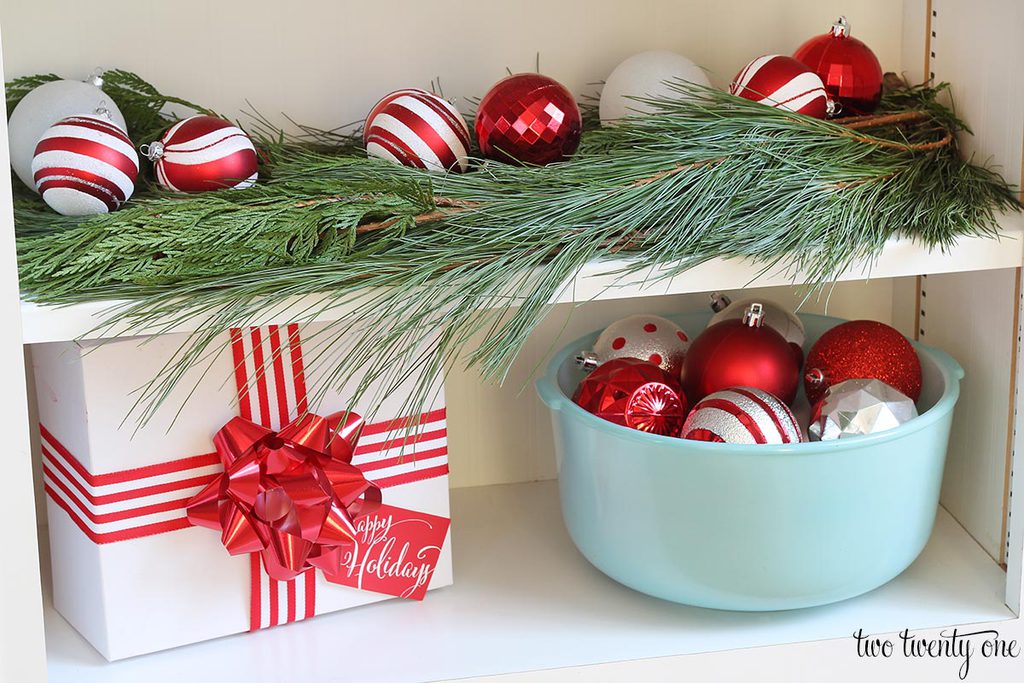 The bowl is vintage Glassbake that I scored at a thrift store years ago.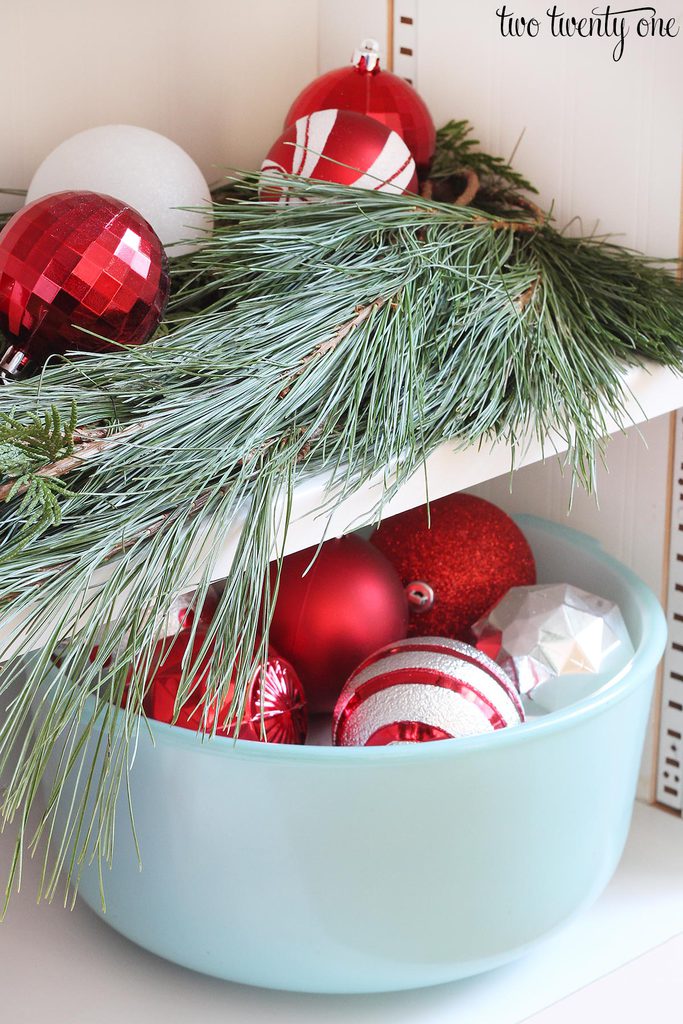 I kept my cookbooks on the top shelf and added a vintage bowl with Christmas cookie cutters.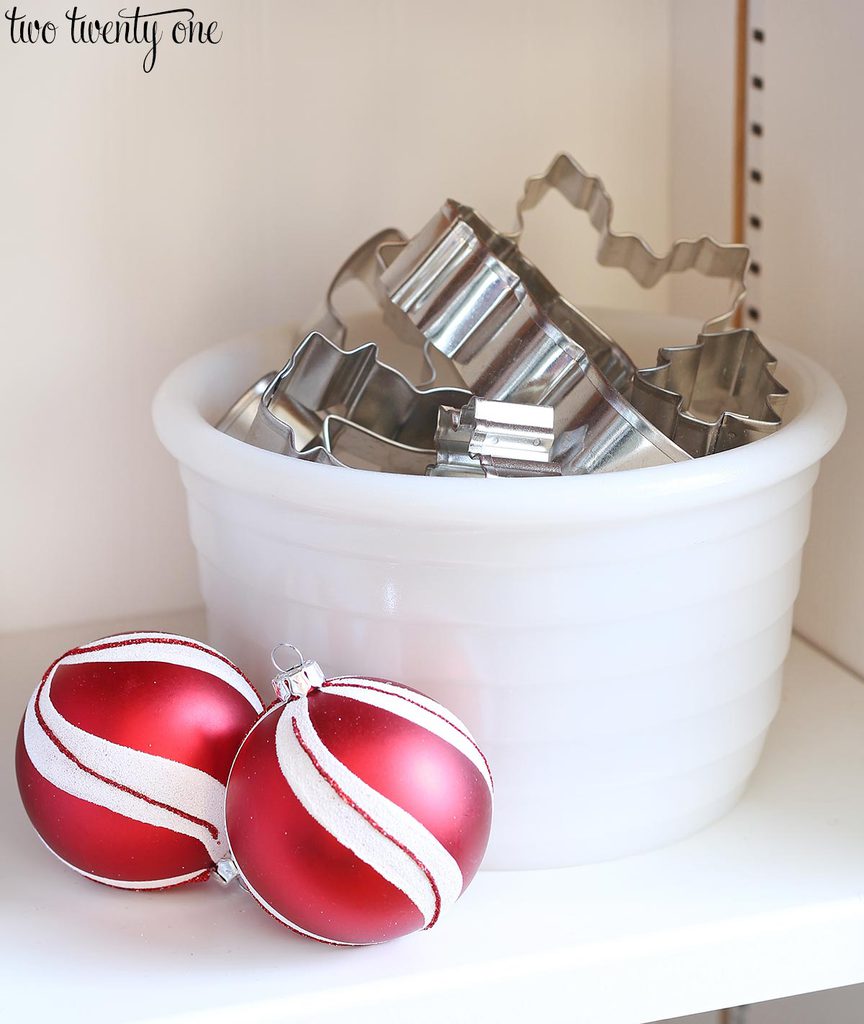 Owen has already started rearranging the ornaments for me. I'll have to post an update to showcase his decorating skills.