White Christmas Tree — Our Big Christmas Tree 2013
You guys! You know how I've been talking about wanting a white Christmas tree for a couple years? Well, my dreams have come true! Last year after Christmas I scoured the Interwebs looking for one. When I was about to give up hope, I came across a pre-lit 7 foot white Christmas tree on sale for $100. Sold.
Brad wasn't sold on the idea of a white tree. But since it was on sale I did my usual buy-now-act-clueless-later bit. As Brad was lugging our Christmas decorations back into the attic back in January he said, "Is this another tree!?" It was still in the shipping box and didn't say "THIS IS A CHRISTMAS TREE" on it so I mumbled something and walked away. It totally worked, and I didn't hear about it again until Brad dragged it out of the attic last month.
The main reason I wanted a white Christmas tree was because I thought my glass jewel toned ornaments would pop on it. And do they ever.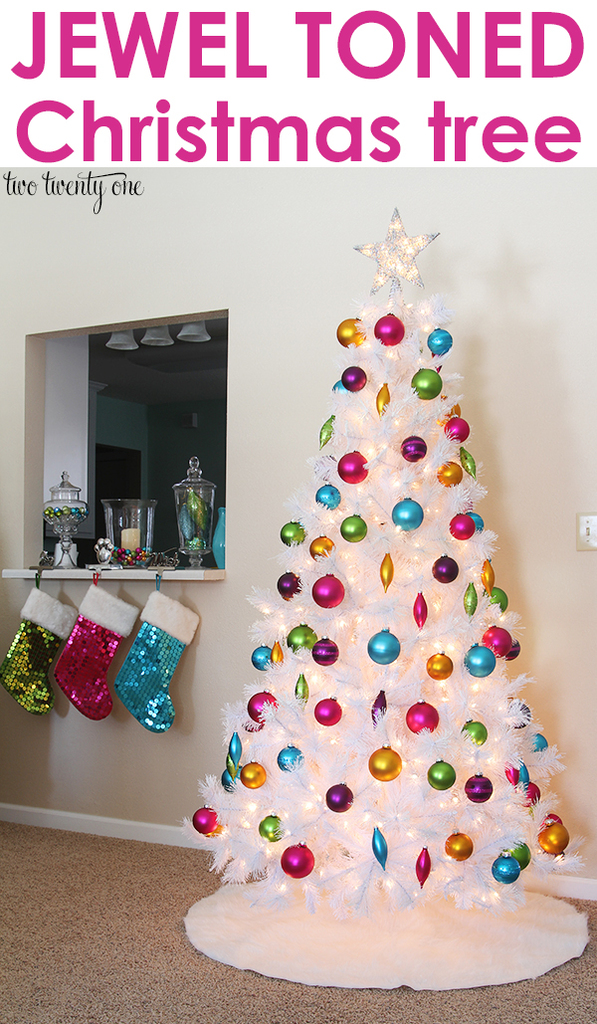 Photos don't really do it justice– it's five times prettier in real life. I'd have you all over but we just shampooed the carpets.
The ornaments are from Target, circa 2007. I scored 9 boxes (15 ornaments per box) for $2.50 each (originally $9.99) at their day-after-Christmas sale. Seriously, hit up those December 26th sales, people. In case you missed it, here are my 10 ways to save money on Christmas decor.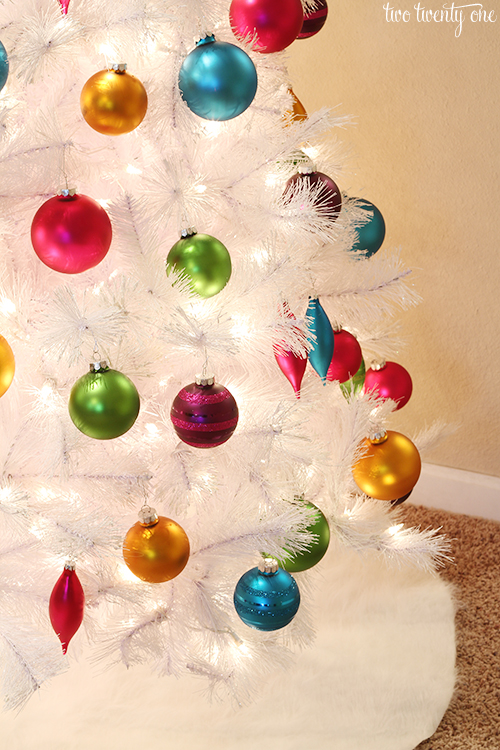 Now, I know this tree may not appeal to everyone's aesthetic but I love it. Mostly because it is different. And shiny. And colorful.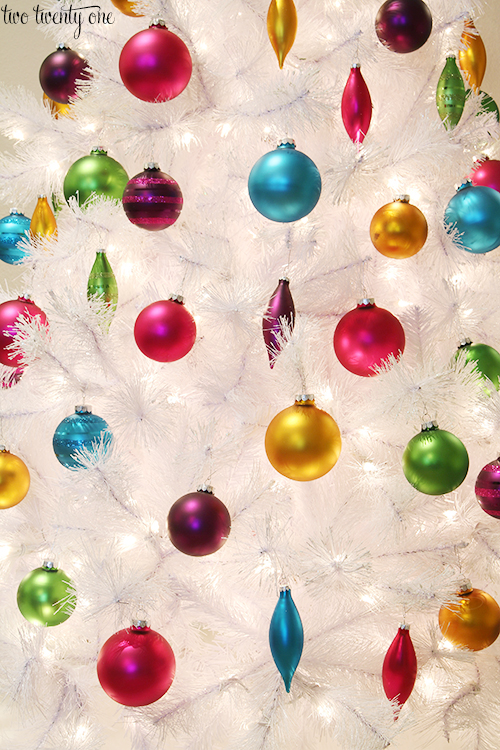 The tree looks really pretty at night. Again, the pictures don't do it justice.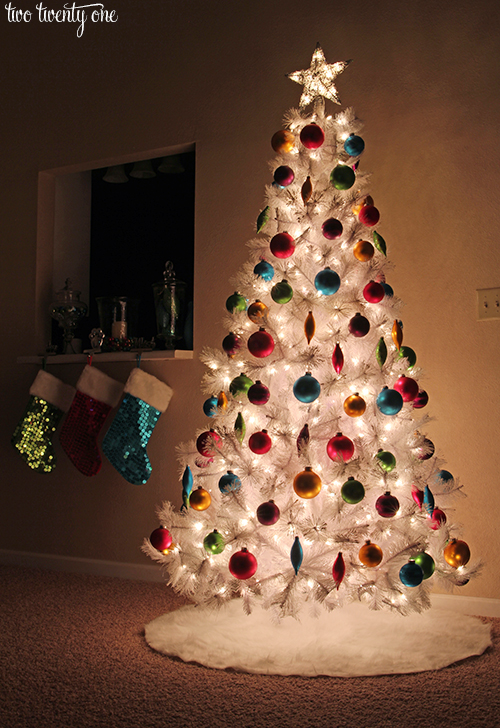 I made the no-sew white fur tree skirt for $15. I'll post the tutorial tomorrow.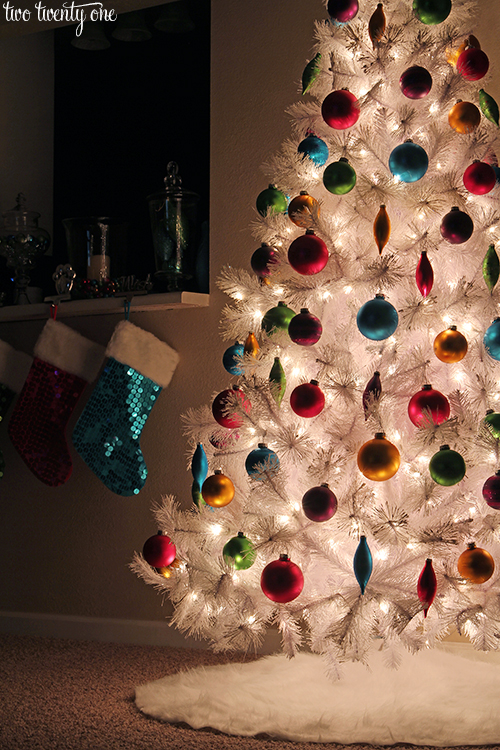 Every year I make Jack sit in the front of the tree so I can get his picture (here's 2012 and 2011). And every year I bribe him with treats to get him to sit and stay.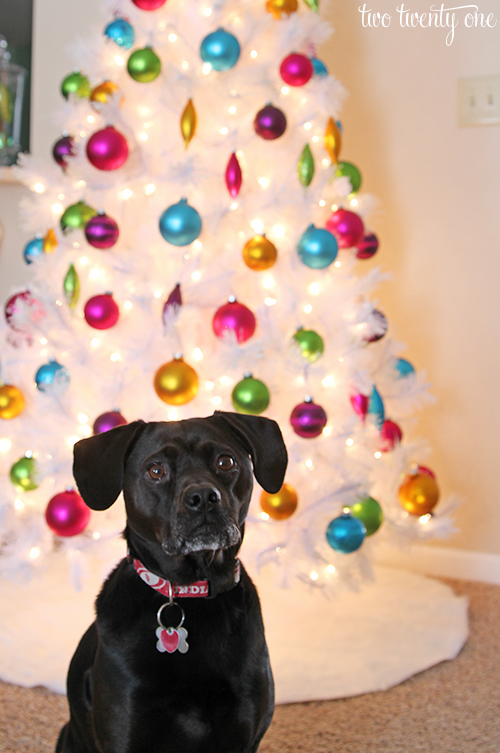 When Jack was done being photographed I told him he could go lay down. He must have thought I was hiding more treats because he moved closer, sat right in front of the camera (which was on a tripod), and stared at me and my treat-less hands. Just like this.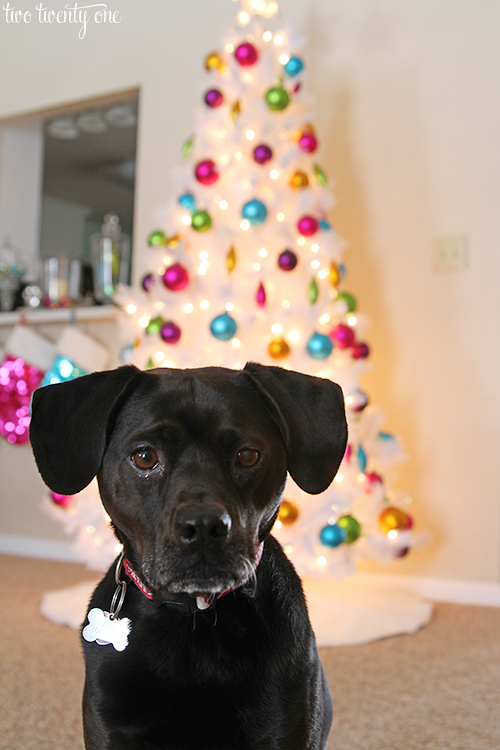 He looks both pitiful and creepy.
I'm already thinking about what I can do with the white tree next year.