10 Ways to Save Money On Christmas Decor
If you know me well, you know I hate paying retail price for anything. I'm one of those annoying people who will tell you how much I paid for something when you compliment me on it because I'm so proud of the price I paid for it. Sorry, it's a hereditary condition– I get it from my mother.
As with most things in my home, almost all of my Christmas decor was purchased during a sale or as a second-hand item. So today I'm sharing 10 ways to save money on Christmas decor.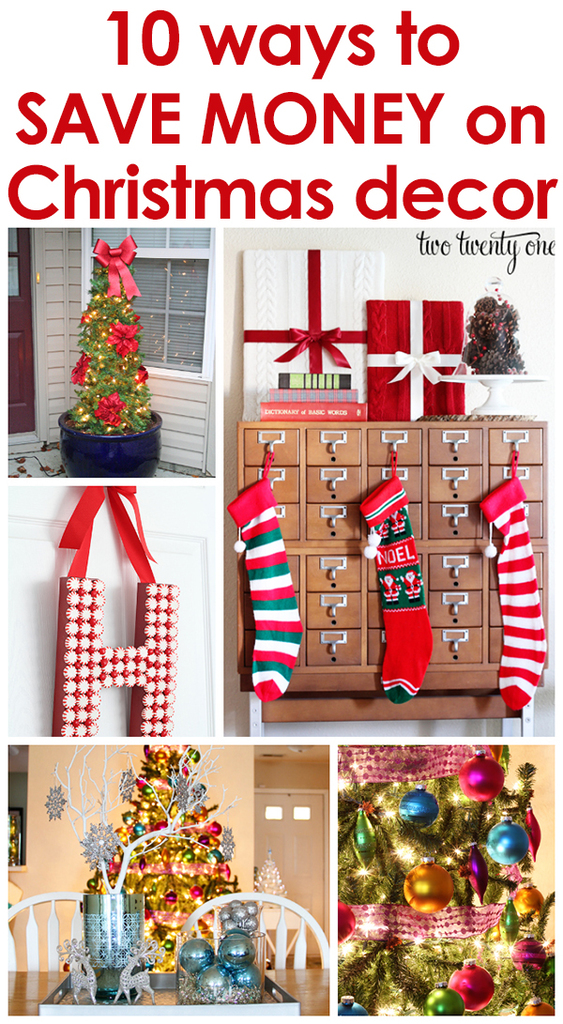 1. Black Friday Sales
Take advantage of Black Friday sales. JoAnn Fabric is a great place to look. Most of their Christmas decor is 50-60% off, plus they typically have 20-25% off coupons for Friday and Saturday. I purchased the garland and bow for my tomato cage Christmas tree (which cost me only $14 to make) a couple years ago during JoAnn's Black Friday sale. This year I purchased a few new ornaments at Kohls. They were 50% off, plus I had a 15% off coupon. Not a Black Friday brick and mortar shopper? Many store websites offer the same deals on their websites on Black Friday and you can typically get free shipping.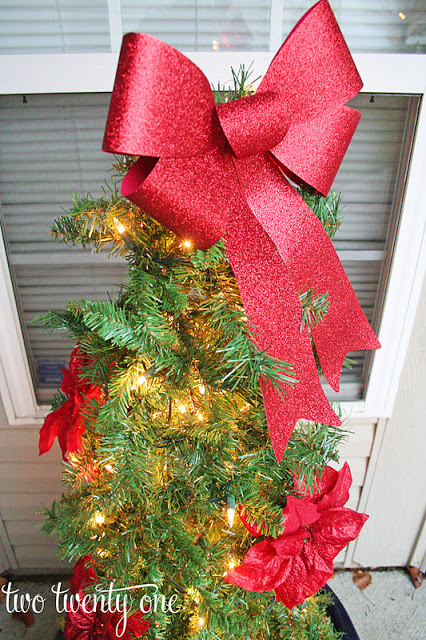 2. Shop Small Saturday Sales
Check out your local small businesses on Shop Small Saturday (following Thanksgiving), many offer discounts on certain Christmas merchandise. The stores I went in this past Shop Small Saturday were offering 20-25% off Christmas decor. I got a pretty amazing flocked wreath for $25, and I felt good spending my money in a local business.
3. Cyber Monday Sales
As with Black Friday, many stores offer Cyber Monday sales on their Christmas decor. Be sure to search for additional store coupons to use. Just do a Google search of the store's name and "coupon code".
4. Day After Christmas Sales
I highly recommend getting up early and checking out the sales on December 26th. Many stores mark down Christmas decor to 50-70% off. I've found some of my most favorite Christmas items during Day After Christmas sales. Target is usually my first stop. Back in 2007, I found my glass Christmas ornaments for $2.50 a box (10 ornaments per box) at Target's day after Christmas sale. If you're wanting to change up the look of your Christmas tree and do new ornaments, this is the time to buy new ones. This is also a great time to stock up on Christmas lights because you know some of the strands that worked this year magically won't work next year.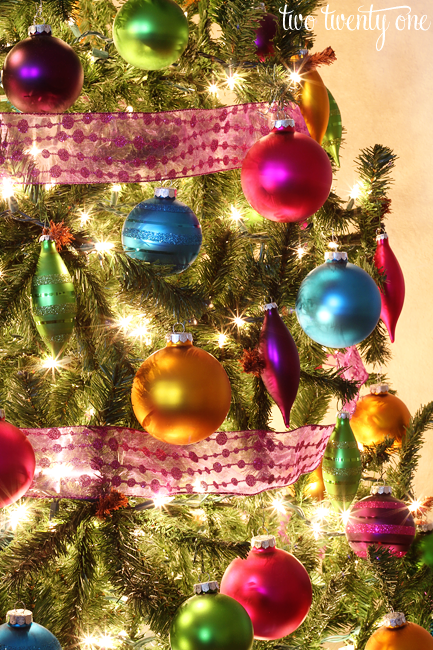 5. Thrift Stores
Most thrift stores have holiday sections. But since the selection changes so frequently, it's best to hit up your favorite thrift stores often. Don't limit yourself to only the holiday section though. Browse other sections and see what you can think up. Check out the blanket section– you may be able to find a nice blanket or quilt that can be used as a tree skirt. Hit up the kitchen section for glass containers and vases to fill with ornaments.
Last year, I found these great vintage stockings at a thrift store outlet. I purchased the sweaters for my sweater presents at a thrift store, and the books were also thrift store purchases.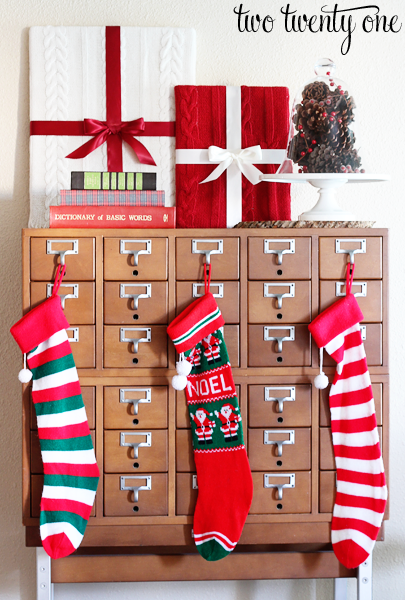 6. Yard & Garage Sales
I've seen plenty of Christmas decor for sale at yard and garage sales. You may not have Christmas on the mind when you're hitting up sales in the sweltering summer heat, but make a list of things you'd like to have for the upcoming Christmas season so you can keep your eyes peeled. If you're a hardcore garage/yard sale aficionado, ask your friends and family if there's anything special they're looking for. I'm sure they would appreciate you looking and perhaps they'll give you a finders fee tip.
7. Craigslist or Facebook Marketplace
I see all kinds of Christmas decor (indoor and outdoor) for sale on Craigslist and Facebook Marketplace. From artificial trees to Christmas plates & serve ware to vintage ornaments, you'll find just about anything. I purchased 6 manzanita branches from a lady I found on Craigslist who used them for her wedding reception. I planned to use them for our wedding but ultimately opted not to use them, so I sold all but one of them. I use the one branch I kept (and sprayed painted white) for my silver and blue Christmas centerpiece. While I didn't purchase the branches with the intention of using them in my Christmas decor it worked out nicely, so keep your mind open when browsing CL.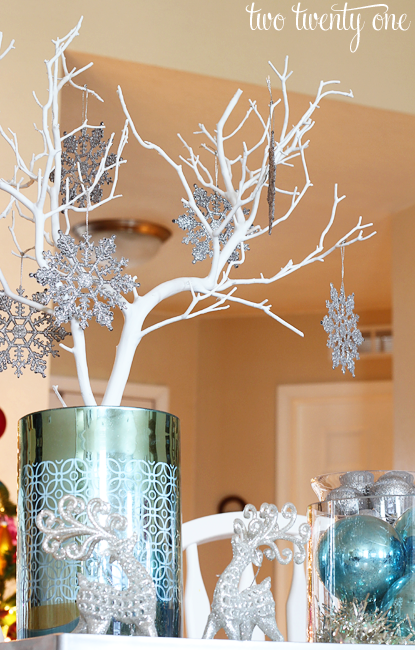 Remember to meet in a public place, like a busy store, and take someone with you if you plan to meet with a Craigslist seller. If the seller refuses to meet you inside a public location like I mentioned, move on.
8. Use Items You Already Own
I used to have a slight obsession with purchasing glass containers and vases. I always use them in my Christmas decor. My go-to way of using them is to put ornaments in them. Have an old blanket or quilt? Use it as a tree skirt, throw it over a chair, or in a basket. In the photo of the card catalog above, I used a cake stand and cloche I already had for the pinecone display. In the photo below, I used my great-grandma's quilt and a blanket my great aunt knitted for Brad and me in a wire basket below our card catalog.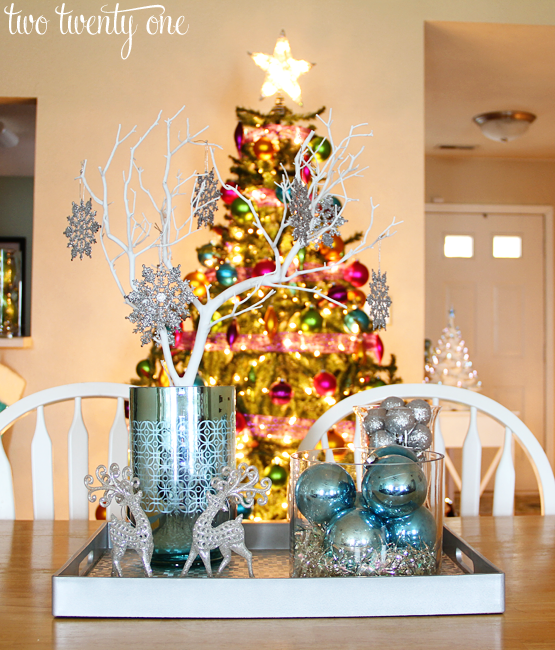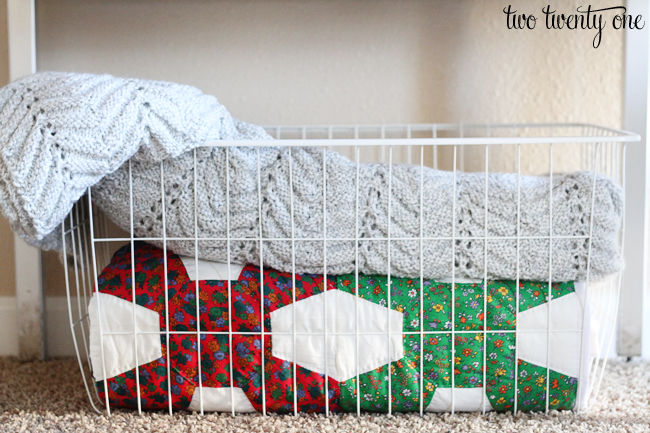 9. Swap with Family and/or Friends
Tired of you Christmas decor? Swap with a family member or friend! It's free and both of you get to enjoy new-to-you decor for a year or more.
10. Do-It-Yourself!
There are so many things you can make– wreaths, ornaments, trees, printables, and more! There are tons of tutorials in blogland for you to follow. There's also an endless amount of free printables that you can print at home and slap in a frame– instant Christmas decor!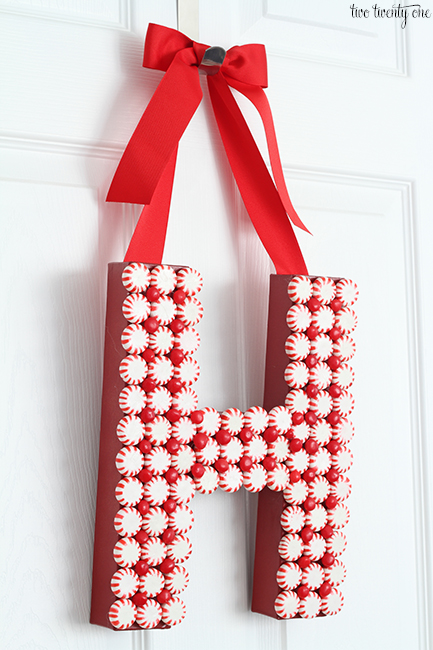 Here are some of my inexpensive Christmas decor tutorials and free printables:
tomato cage Christmas tree
peppermint monogram wreath
sweater presents
"joy" sign
ribbon Christmas card display
"eat drink and be merry" printable
"tis the season to be jolly" printable
"holly jolly" printables
Remember, you can have a beautifully decorated home for Christmastime without breaking the bank.
Stalk away!