Simple Christmas Card Holder
I was going to call it the "Cheap and Easy Christmas Card Holder", but my mind kept going to immature places, so "Simple Christmas Card Holder" it is. This is the perfect card holder if you don't have your cards displayed yet and your family is coming over for Christmas. Because if they're like some people I know, they won't see their card displayed and ask if you received it and you'll have to be all like, "Yeah, it's in that pile over there…" So don't worry, I'm here to help.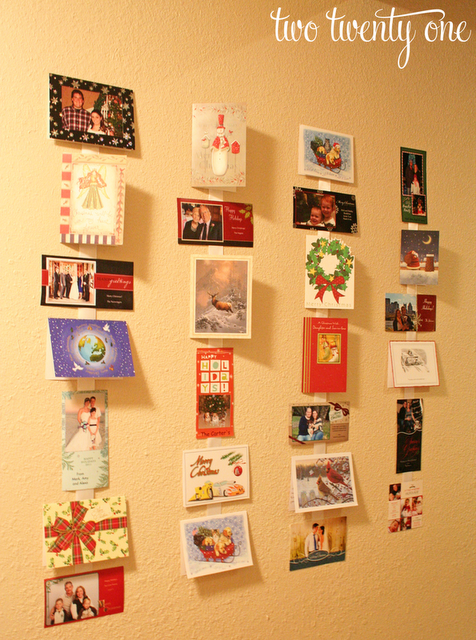 All you'll need is ribbon, thumbtacks, double sided tape, scissors, and Christmas cards.
Cut your ribbon to your desired length (mine were about 40 inches). Attach the ribbon to your walls with thumbtacks. If you're lucky, you'll find the same holes that you made the previous year.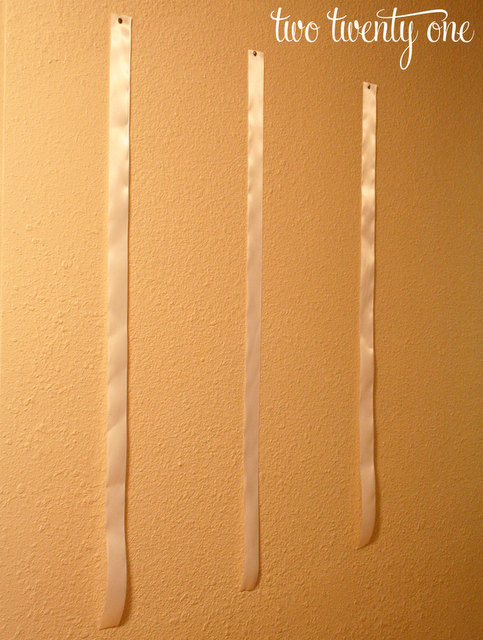 Grab your double sided tape. Slap a small piece of tape on the ribbon. Slap a card on top. Repeat until you cover the ribbon with cards. I leave about an inch in between each card. After putting all the cards on I secure the bottom of each ribbon with a small piece of double sided tape. That way when someone walks by the cards aren't flapping around.
If you're a weirdo like me and keep Christmas cards every year for no apparent reason other than the fact that you have hoarding tendencies, don't fret about the double sided tape sticking to other cards when you store them away in your Ziploc storage bag labeled "2011". Most of the time the tape peels off. If it doesn't, I put a little piece of paper over the tape so it can't attack other cards.
I hope you have a very Merry Christmas filled with love, laughter, and happiness! Safe travels for those of you making the trek to be with your loved ones. Brad, Jack, and I will be putting a good 700 miles on the car this long holiday weekend. Good thing I have a sizable stack of magazines and books to read.
What is your method for displaying Christmas cards?
Are you a Christmas card hoarder?
Can you top our Christmas driving mileage?
Check out my other Christmas projects!
[catablog_gallery id="1514″ catablog template="gallery"]