Salt Dough Recipe for Ornaments and More!
A new tradition Brad and I decided that we want to implement is making a special ornament with Owen each Christmas. Since this is his first Christmas, we wanted to make a salt dough ornament of his handprint. This is such an easy crafting project.
One thing I looked forward to after learning I was pregnant right before Christmas last year was celebrating the holidays with a little one. Friends have told me that Christmas is so much more special once you have a child, and now I can see where they're coming from.
With the holidays comes traditions, and I'm looking forward to continuing holiday traditions from when I was little and new creating ones with Owen.
One family tradition I plan to continue with Owen involves my white ceramic Christmas tree. My late Aunt Patricia made a tree for both my brother and I when we were little. My mom used to put them in our bedrooms at Christmastime. Needless to say, it's one of my most treasured possessions.
Since Owen isn't sleeping in his own bedroom yet, the tree will assume its usual position on our entryway table, but next year I intend on displaying it in his room. I hope this tree will be passed on for multiple generations to enjoy.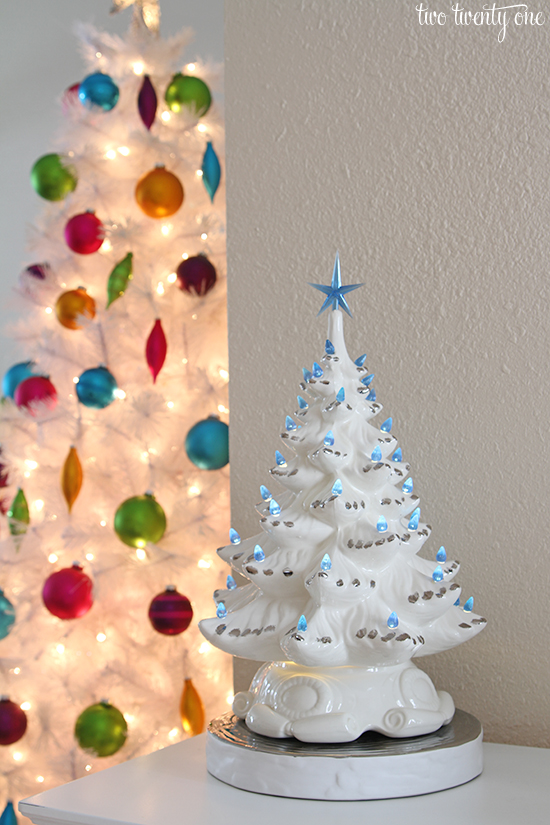 Salt Dough Recipe
2 cups all-purpose flour
1/2 cup salt
3/4 cup lukewarm water
How to Make Ornaments
Preheat the Oven
Preheat your oven to 250 degrees.
Combine the Ingredients
Combine 2 cups all-purpose flour and 1/2 cup salt. Add 3/4 cup lukewarm water. Mix together. Knead for 5-6 minutes. I recommend wearing gloves while you do this because the salt can dry out your skin. If needed, add a bit more water.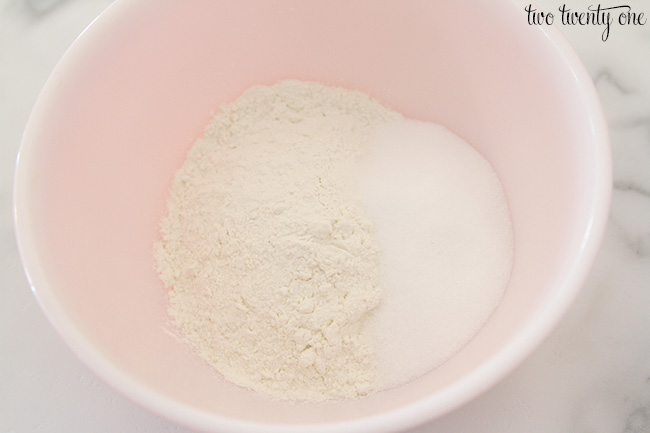 Roll Out the Dough
Roll the dough out with a rolling pin. The dough should be about 1/2 inch thick.
Press the Hands
Press hands into dough.
Note: You may want a little help with this with infants. Brad held Owen and I pressed his hands into the dough. Also, make sure you wash your baby's hand off afterward because the salt can dry their skin out.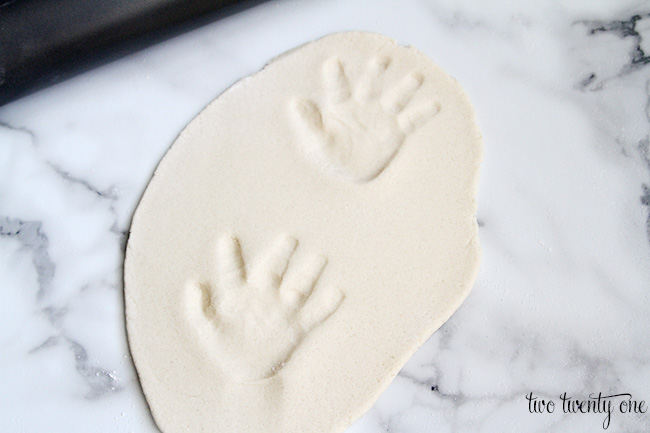 Cut Out the Handprint
Use a round object to cut out the handprint. I used a biscuit cutter.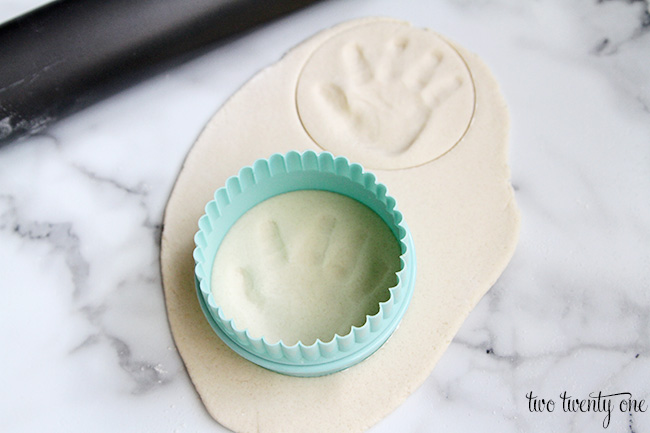 Make the Hole
Make a hole at the top for the string or ribbon. I used a wood skewer.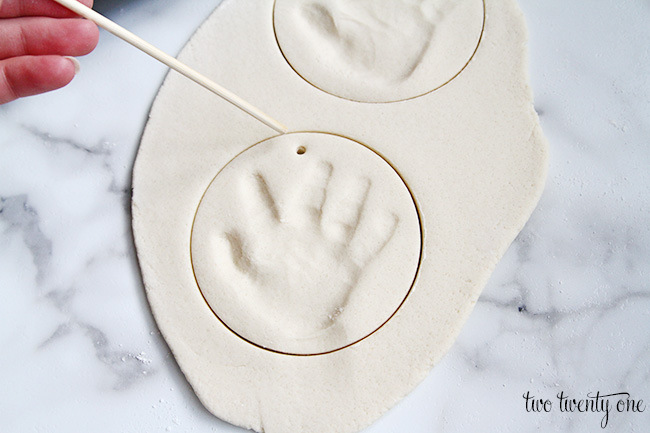 Bake the Ornaments
Place on a baking sheet with parchment paper.
Bake for 2 hours.
Allow to cool completely.
I wrote Owen's name and "2014" on the back of the ornament, followed by a coating of Mod Podge to help preserve it. You can paint your ornament with acrylic paint if you wish.
Here's our dapper little man with his salt dough recipe handprint ornament. Isn't he festive looking?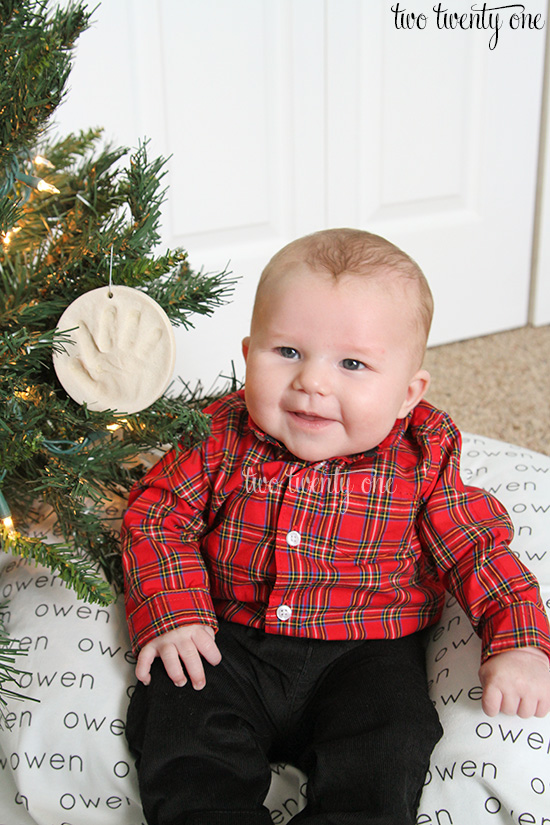 Perhaps I'm biased, but can you say baby model?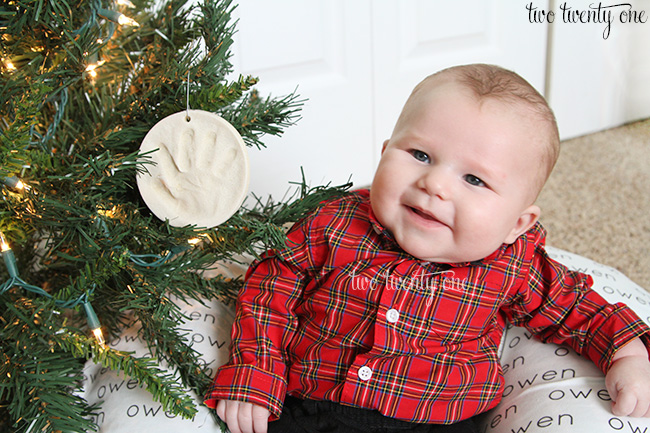 I had to include a spit bubble shot because it's Owen's newest party trick.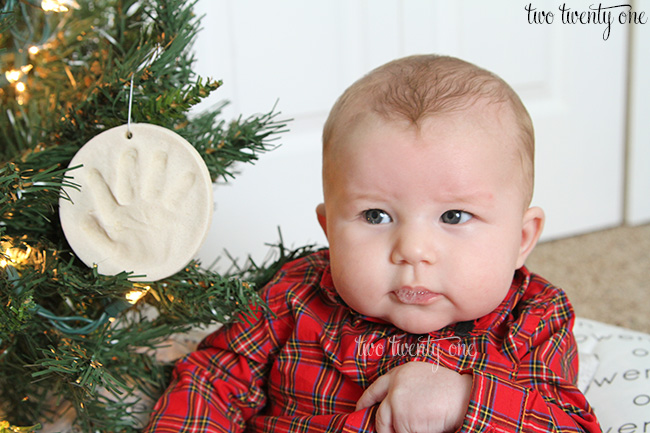 While I was at it, we decided to try to get some photos with Jack and Owen. This one best represented this portion of the photo shoot.
Jack is eyeballing the treat Brad is holding, and he's clearing looking forward to devouring it, while Owen has moved on to one of his favorite hobbies — chewing on his fingers. But doesn't it look like he's intently looking at a piece of art and saying "Hmmm…"?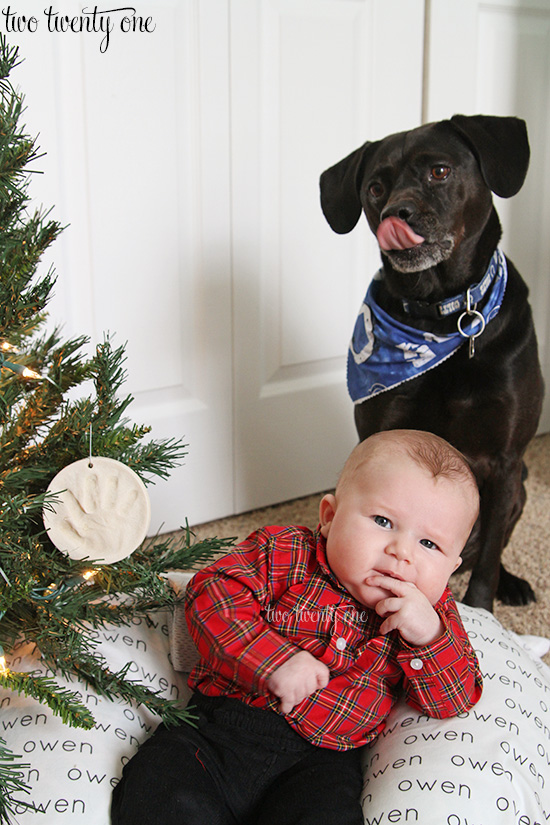 I can't wait to make a Christmas ornament each year with Owen.