Best Toys for a 1 Year Old
With Owen's first birthday less than a month away (Sob. How has a year passed already?), I thought I'd share the best toys for a one year old– toys that he loves playing with right now in case you're looking for toys for a little in your life. I'm also going to share toys that are on his birthday wish list that came highly recommended by friends of mine.
Owen plays with conventional toys about 50% of the time. What unconventional toys does he prefer the other half of the time? Empty paper towel rolls, pieces of paper (he loves to push them across the floor), empty Nalgene bottles, plastic drinking cups, and the dresser in our living room (he loves to hold on to the handles and walk back and forth). He also likes to spend time in front of our back door looking for Jack when he's outside.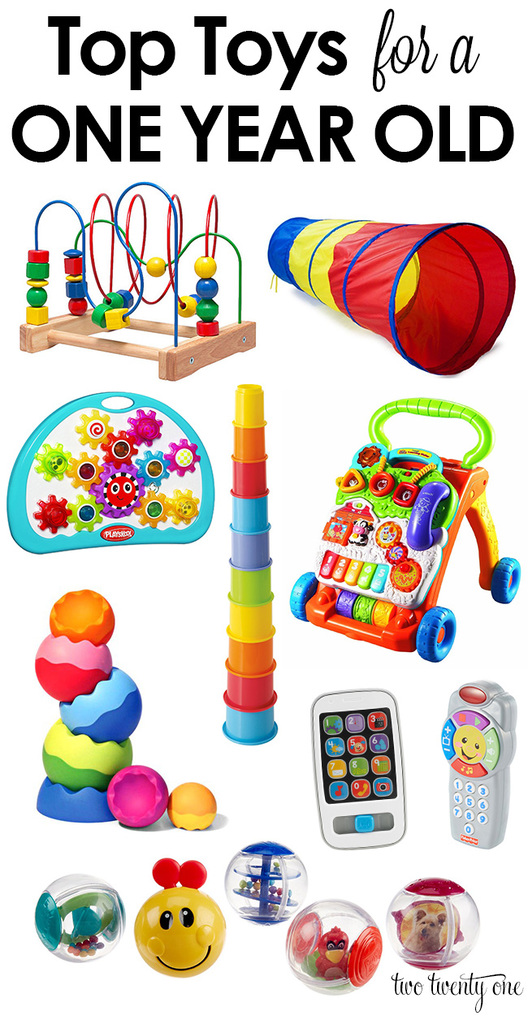 bead roller coaster • play tunnel • gears toy • stacking cups • learning walker • stacking toy • smart phone • remote • activity balls
Bead Roller Coaster
Owen will sit and play with the bead roller coaster for 10-15 minutes at a time, which is huge for an 11 month old. The one pictured above is the one we have, which is made by IKEA. If you live close to an IKEA, get one! They're only $10 in-store.
Play Tunnel
Owen loves to crawl back and forth in this brightly-colored play tunnel, which is great for gross motor skills. We'll also catch him in the tunnel playing with toys. It's like his own personal club. No big booty parents allowed.
Gears Toy
One of Owen's all time favorite toys is his gears toy, which is great for hand eye coordination. He loves to push the button and watch the gears spin (great for learning cause and effect). He also loves to carry the gears around the house and bat them like a cat on the laminate floors in kitchen and entryway. Warning: it hurts like a sonuva when you step on one.
Stacking Cups and Stacking Toy
Owen loves to knock down things, which is why he loves his stacking cups and stacking toy.
Learning Walker
Last week Owen walked for the first time with his push toy learning walker. You can see a video of him walking and laughing with delight here. He's enjoyed playing with this toy for months. I usually position it against our love seat or coffee table so he can play with the interactive part of the walker. And when I want him to practice walking, I pull it out where he has a clear path and he'll get up and start walking behind it.
Smart Phone
Owen has loved this smart phone since he was a few months old. If he would start to fuss we would hand it to him and he would usually chew on it. Now he enjoys pushing the buttons and sliding the bottom button.
Remote
The same goes for his remote. These are also great for travel because of their size.
Activity Balls
I find these activity balls all over the house. Owen will usually carry one while he crawls. He also likes putting them in baskets and his larger stacking cups and then dumping them out.
Additional Toys
Here's the toys Owen has on his birthday wish list. When I polled some of my friends, these were the top ones they mentioned.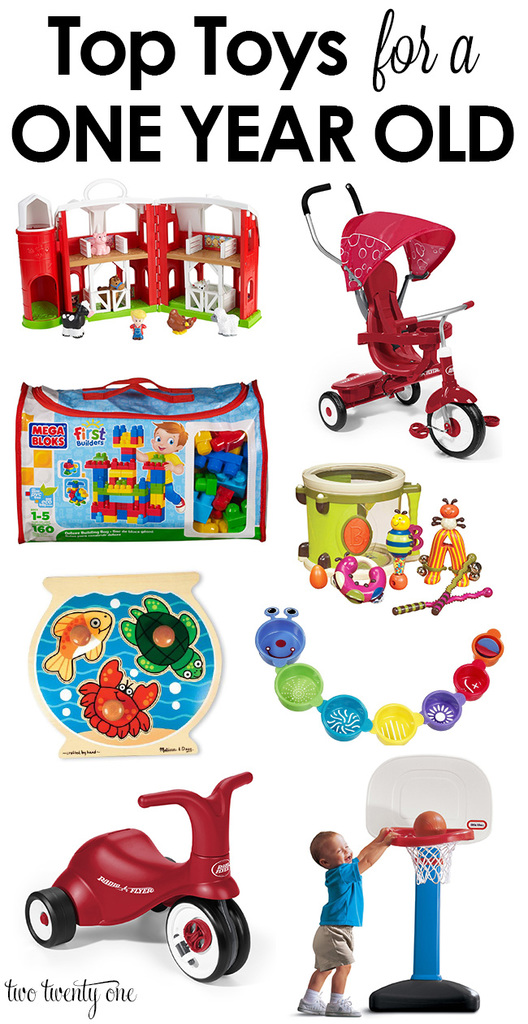 farm • trike • mega bloks • musical instruments • puzzles • bath toys • scoot 2 pedal • basketball set
What toys does/did your one year old love?
This post contains affiliate links.
Funds from affiliates help pay for web hosting, domain registration, email delivery, the occasional bottle of wine and other fees to keep twotwentyone.net up and running. Thanks for your support!