What I Packed In My Hospital Bag
This post should really be titled What I Packed In My Hospital Bag And All The Other Crap We Brought. Because, really, my hospital bag was one of five bags we lugged into the hospital. Hello, my name is Chelsea, and I'm an over-packer. So today I'm going to share what I packed that was actually used and what wasn't.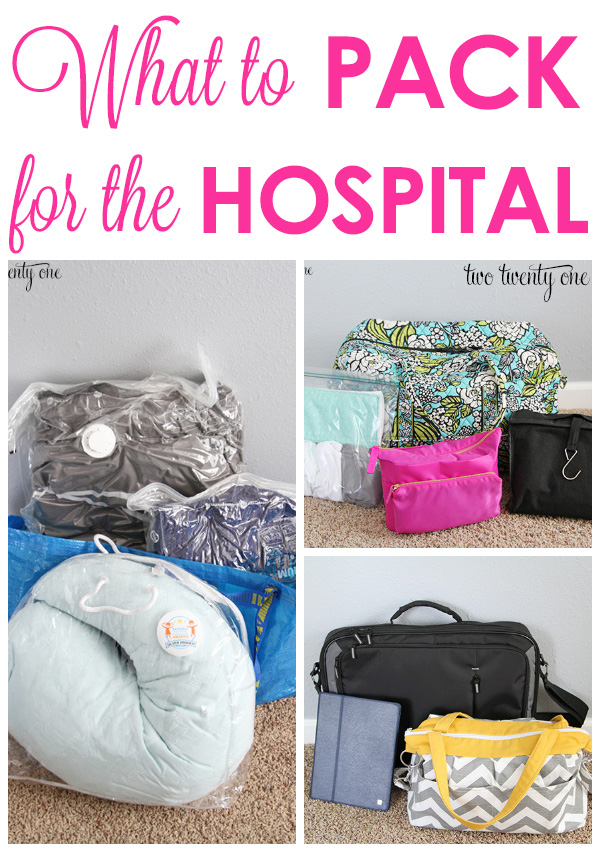 Let's start with my actual hospital bag. FYI, I put Owen's things in my bag because they took up minimal space.
Here's what I packed that I used:
• Owen's going home outfit
• 1 aden and anais swaddle blanket
• toiletry bag (glasses, contact solution, face wash, moisturizer, etc.)
• emery board — I used this to file Owen's nails down. They were too delicate to cut with baby nail clippers.
• toiletry bag for shower items (body wash, loofah, razor, etc.)
• makeup bag
• 2 maxi dresses
• fly away cardigan
• 1 nursing tank
• 1 flat bed sheet
• phone charger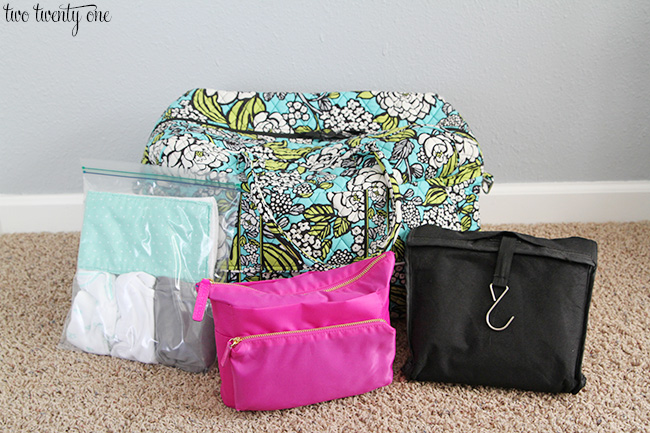 I didn't wear a lot of my clothes because, frankly, I didn't want to risk getting blood on them. Not to be too TMI, but I bled while I was in labor (yay, cervical checks!) and everyone knows you bleed like crazy after giving birth so I didn't want to deal with getting blood stains out of my nice robe or other clothes.
I put Owen's things in a gallon storage bag because they were so small, and I didn't want to have to dig through my bag for his items.
Since I had an epidural and then a C-section I was in bed for over 24 hours so I couldn't get up and get dressed in my own clothes. And I didn't care. I just had major surgery and I was a swollen mess from all the fluids they pumped into me so looking presentable was the least of my concerns.
The day after I had Owen I did put on my go-to black Maxi dress with a nursing tank and abdominal binder underneath. The next day, the day we were discharged, I wore another maxi dress with the tank and binder underneath.
We also brought an Ikea bag (love those things) with two pillows and a blanket in space saver bags (love those things too) and my Gia nursing pillow. I kept the plastic carrying bag it came in for when we travel, which was handy.
Brad used one pillow and the blanket to sleep on the hospital room couch, and I used the other pillow. No offense to the hospital but their pillows were horrible. I also brought a flat sheet that I used to cover up with at night. That's all I needed because I was really overheated for a couple days after giving birth.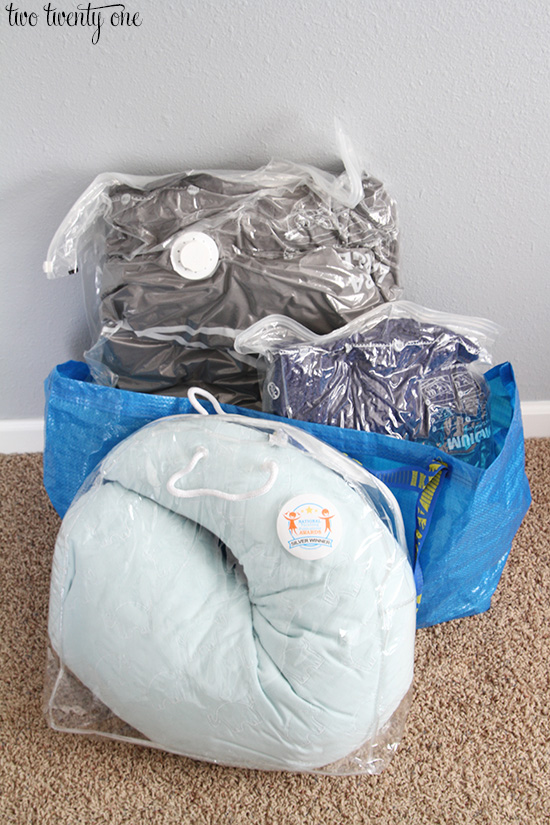 Everything fit perfectly in the Ikea bag.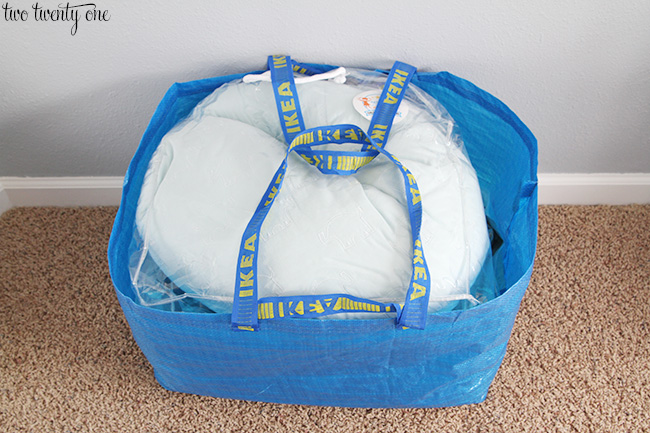 I brought my laptop in my laptop bag so I could work on blog stuff while I labored. Brad brought the iPad to keep himself entertained. And I brought my camera in my camera bag so I could take photos of Owen in the hospital.
I also packed a bag of snacks (trail mix, granola bars, beef jerky, etc.) that we put in Brad's hospital bag. I don't have a photo of those things because they were eaten. Sorry.
This is obvious, but we also brought Owen's car seat. And our hospital offers free car seat fittings so we had him fitted and the tech went out to our car with Brad to make sure the base was properly installed.
Now I'm going to list the things I packed that I DID NOT use:
• burp cloth for Owen (he never spit up because my milk hadn't come in, and we didn't use formula)
• extra onesie for Owen (we used the hospital's– less laundry for me to do when we got home)
• extra nursing tank
• robe
• pajama pants
• extra cardigan
• nursing bra
• nursing sleep bra
• underwear
• pads
• nipple butter (my lactation consultant gave me lanolin)
• breast pump (but if you don't know how to use yours I recommend bringing yours)
I have curly hair so I only wash my hair twice a week, which came in handy because the night before we went into the hospital I washed my hair so I didn't need to wash and style my hair at the hospital.
I brought my own underwear, but I ended up wearing the oh-so-glamorous mesh undies for almost a week after I left the hospital. Don't judge– they're pretty comfy. Plus, I didn't want to ruin my underwear.
I brought my breast pump but I never broke it out because I had used it before we went to the hospital (in an effort to induce labor but that obviously didn't work) so I didn't really need a lesson on how to use it. My lactation consultant did give me larger flanges to use with the pump though. If you don't know how to use your pump I recommend taking it so your LC can show you how to use it and size you for flanges in case you need a different size.
And in case you don't know this, your health insurance is required to provide a breast pump to you free of charge. I ordered a Medela Pump In Style through our insurance.
A few weeks before my due date, when I was getting our hospital stuff together, I put a post-it note on our master bathroom mirror with items listed on it that I would need to grab right before heading to the hospital like my eyeglasses, phone charger, camera, laptop, etc.– things I couldn't pack in advance.
I also printed out instructions on how to care for Jack and hung them on our fridge. In case I went into labor and we needed our neighbors to feed Jack at the last minute I wanted to make sure they knew what to do.
And in case you missed it, here's what I brought home from the hospital.
Check out my most popular baby-related posts below!
Follow Chelsea | two twenty one's board Babies & Kids on Pinterest.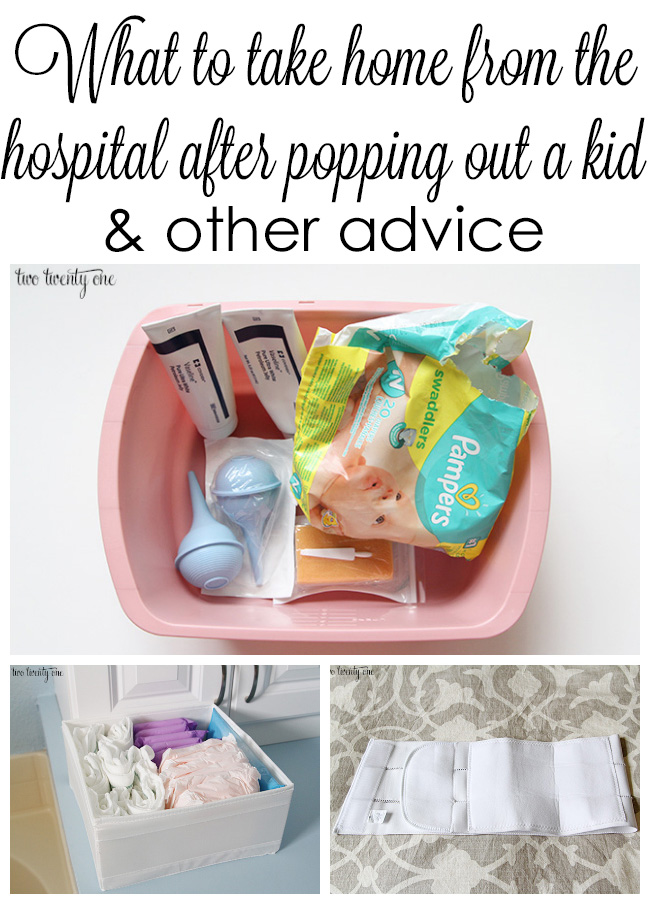 This post contains affiliate links.
Funds from affiliates help pay for web hosting, domain registration, email delivery, the occasional bottle of wine, and other fees to keep twotwentyone.net up and running. Thanks for your support! I appreciate it!