Making Outings With A Baby Easier
Today I thought I'd share some products and tricks we use when we're out and about with Owen.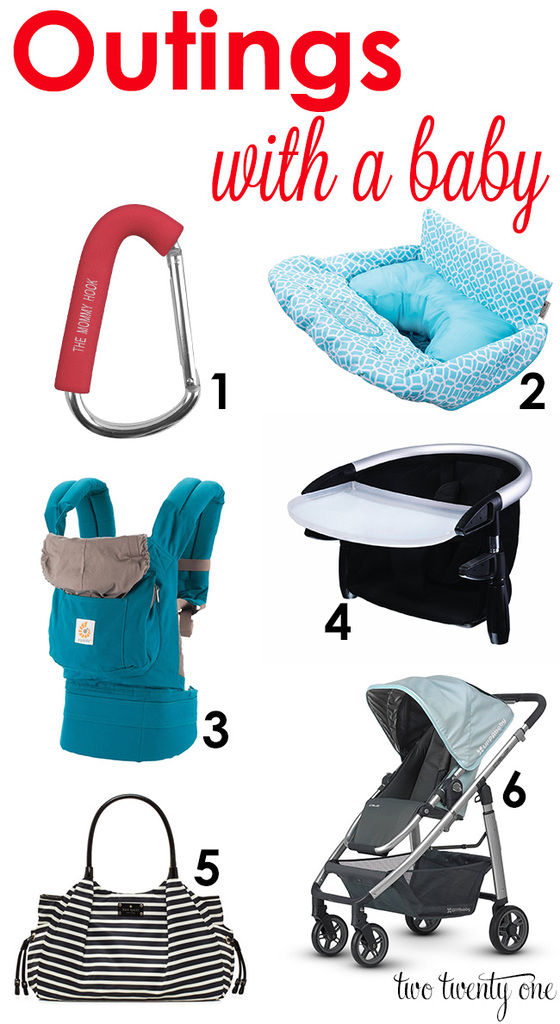 1. Stroller Hook
When I take Owen with me to a store, I don't like to waste precious space in the cart by throwing the diaper bag in. Plus, I like to easily access items in the diaper bag, especially my phone because I type my shopping lists into my phone. I had a lightbulb moment and thought, "I can use a stroller hook to attach the diaper bag to the cart handle." Friends and family gifted me a couple different stroller hooks. I use the lightest one because I always keep it in the diaper bag.
I joke with Brad that I turn shopping carts into mobile command centers.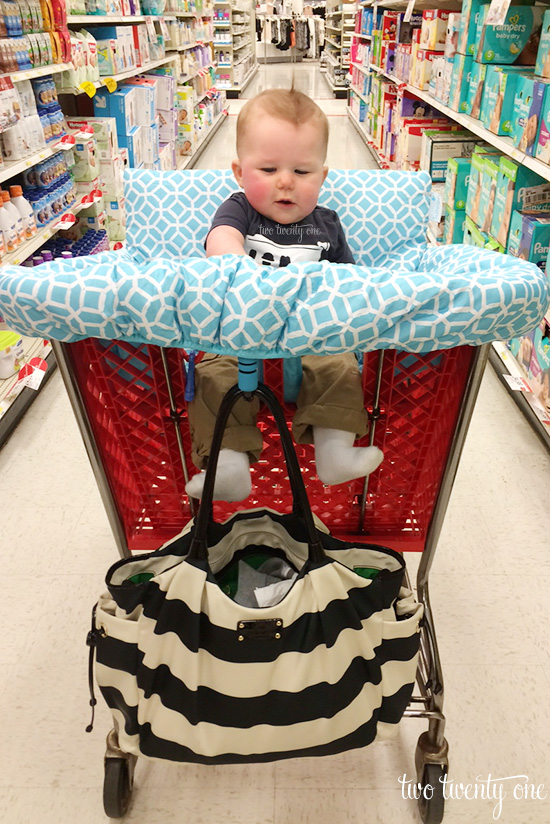 Now I have tons of room to fill my Target cart full of diapers, toilet paper, and lamps.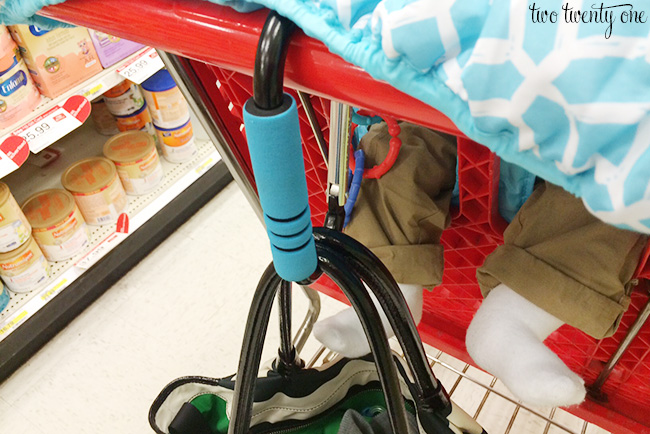 2. Shopping Cart Cover
I know these aren't necessary, but I purchased this specific shopping cart cover because it comes with a little pillow to help support kiddos who aren't sitting up unassisted 100% of the time. It gives them a little more support, and the pillow can be removed when the baby can sit unassisted. Sometimes I use the cover, and sometimes I don't. But it's especially nice when it's raining out and the cart is wet.
Here's my routine when I get to a store:  I typically park next to a shopping cart return corral, get out of my car, grab a cart, get the cover out of the back of my SUV, put it on the cart, get Owen and put him in the cart, hook my diaper bag onto the cart and roll into the store.
3. Carrier
There are, what seems to be, 500 different carriers out there– soft structure carrier, ring sling, stretchy wrap, woven wrap, etc. I have three different carriers, and I prefer our Ergo the most. We've worn Owen at NBA games, the zoo, and during other outings. I know some mommas (and dads) wear their babies everywhere, but when I'm shopping I don't really like wearing Owen– it's just a personal preference.
4. Lobster Highchair
I know most restaurants have highchairs for babies to use, but the majority of the time they're gross. When I worked in a chain restaurant in high school the highchairs were never cleaned. And sometimes all the highchairs are taken in restaurants, so we bring our own– the phil&teds lobster highchair, and we love it.
I have to tell you that we get a ton of comments like, "Wow! That's so cool!" when we whip out the highchair and clamp it onto a restaurant table, so if you're in the Witness Protection Program you may not want to invest in this highchair because it will definitely get you noticed.
The only photo I have of Owen in the highchair is when he passed out right after we sat down at a restaurant. I used a DIY burp cloth to cushion his head on the edge of the table. He promptly woke up once the food was served because this kid never misses a meal.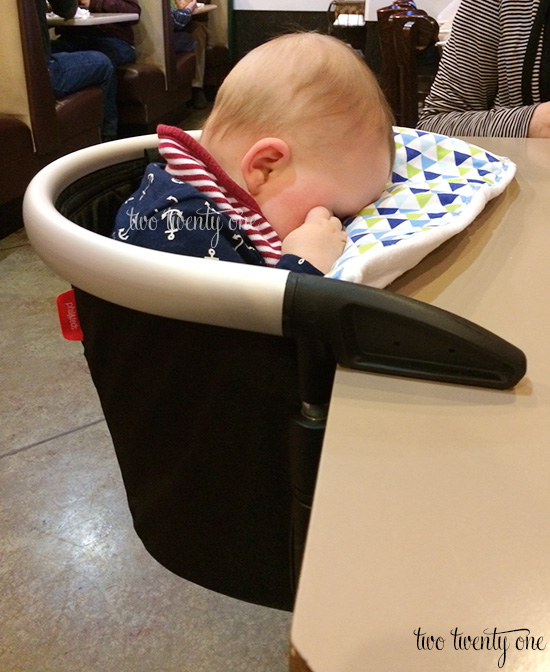 5. Diaper Bag
This is kind of a no-brainer. I never leave the house with Owen without the diaper bag. To see what I keep in the diaper bag and how I organize it, go here.
6. Stroller
We love our Uppababy Cruz stroller. We use it every day for our family walks in the park or in our neighborhood. I've also taken it to the mall and to walk the canal downtown Indianapolis. Is it a pricey stroller? Yes, but I ended up getting a good deal on it in a round about way (the store where we ordered our nursery glider from lost the glider so they reimbursed us for half the cost of the glider, so we put that money toward the stroller). And I think they've actually raised the price of the Cruz since we bought it.
In somewhat related news, on Wednesday, I shared this photo and the following trick on my social media sites. I saw the trick on a news website, and I thought I'd show how we're putting it to use.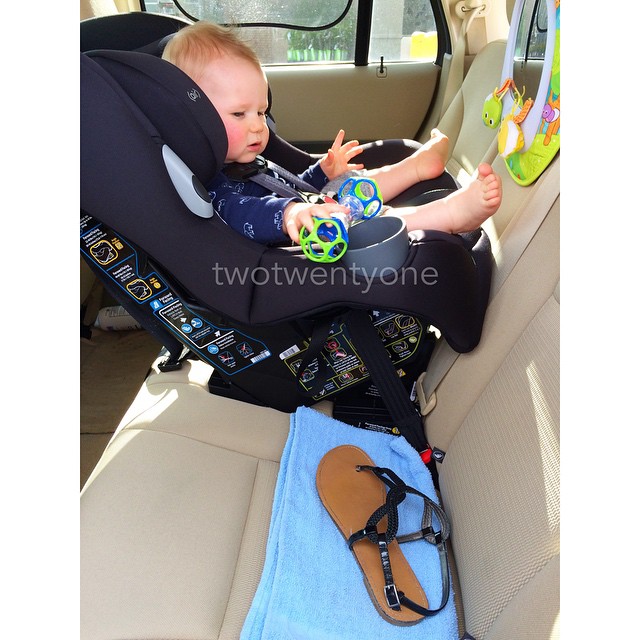 We're implementing the left shoe trick this summer. After buckling Owen into his car seat, I take off my left shoe and put it on the backseat. The idea is that I won't get very far without my shoe. While I'd like to think I'd never forget my baby in a hot car, all these cases in recent years scare the crap out of me. (No judgmental comments, please. This trick is meant to be helpful.)
In case you missed the trick, I thought I would share it here. It doesn't have to be a shoe– it can be your phone, purse, wallet, etc. Or it could be a post-it note on your steering wheel or texting your partner after daycare drop-off.
The post kind of went viral on Facebook (over 2,000 shares), which I was not expecting at all. And to be honest, I was a little overwhelmed by the attention. Especially because people can be so judgmental about the topic, which hits a nerve with me because I've watched this and I've read this (if you have time, please read it), and my heart breaks for these parents. There have been 637 US heat stroke deaths of children left in cars since 1998 so this is obviously an issue that needs attention and awareness.
EDIT: It's after midnight and I'm about to shut down my computer and go to bed when I get a message on my Two Twenty One Facebook page. It's from a parent who lost her child to hyperthermia after mistakenly not being dropped off at daycare and left in a car. She thanked me for sharing my tip, and she hopes parents will develop some sort of system so this doesn't happen to anyone else. So now I have tears running down my face. This is real, you guys.
Like I said in the original post, please no judgmental comments. Saying you don't see how people could forget their kid and not their shoe or their phone or their purse is judgmental and, frankly, isn't going to solve anything. We need to look out for one another and show some compassion.
Have a great weekend, friends!
This post contains affiliate links.
Funds from affiliates help pay for web hosting, domain registration, email delivery, the occasional bottle of wine and other fees to keep twotwentyone.net up and running. Thanks for your support!