Nursery Closet – Organization Tips and Tricks
Last week I shared Owen's nursery, so today I thought I'd share his nursery closet and how I organized it.
It's currently the most organized closet in our entire house so don't think every closet in our house looks like this. Our master bedroom closet is in shambles but Owen's nursery closet is the epitome of organized. Such a spoiled baby.
I've listed the sources at the bottom of this post.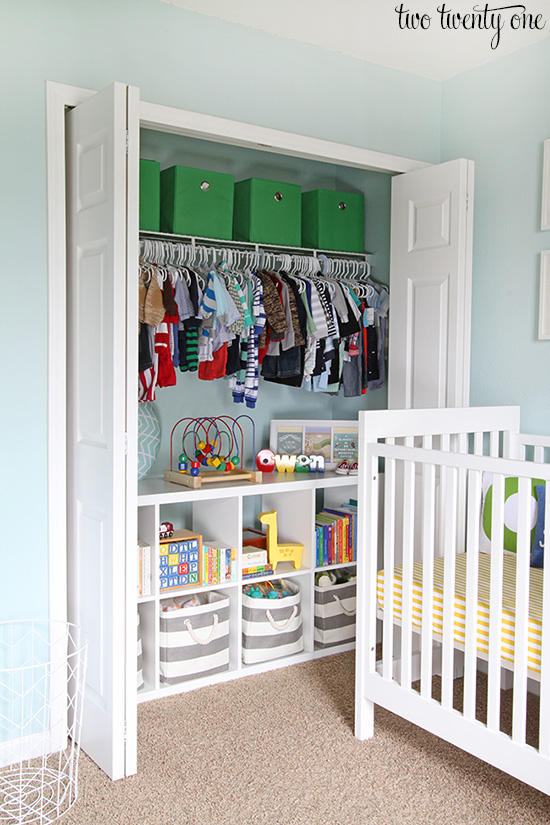 I knew from the beginning that I wanted to put a cubbie organizer (this one is also similar) four by two shelving unit in the nursery closet.
Like with the other nursery furniture, I measured and re-measured to make sure the cubbie organizer would fit. And tadah! It fits with a couple inches on each side to spare.
I love how the organizer provides an ample amount of storage with the eight cubbies. And there's still room on top since, you know, baby clothes are smaller than adult clothes and all.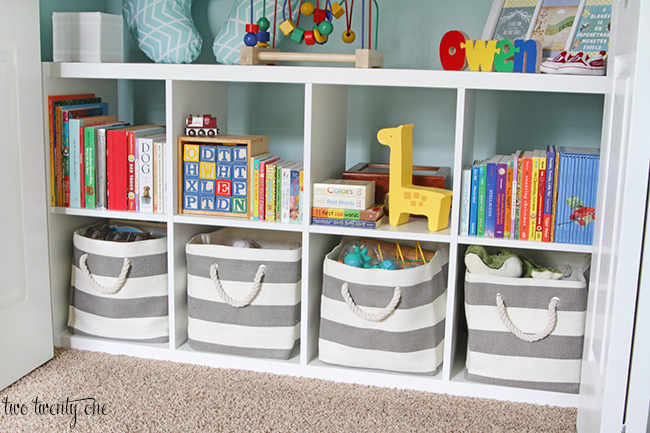 Cubbie Organizer Bins
I used these bins in the four lower cubbies to hold various toys. When Owen gets older hopefully, HOPEFULLY this will help with getting out toys and putting them away where they belong.
I put puzzles in the bin farthest to the left. He obviously won't be doing 3D dinosaur puzzles for a while but they were too cute for me to pass up when I spotted them on sale at Zulily.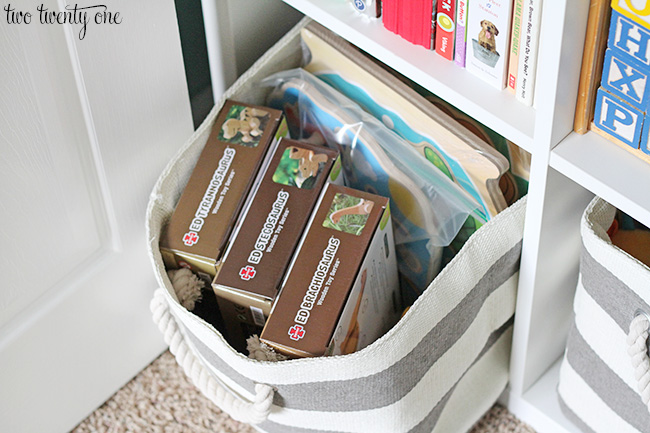 Toys that he'll be able to use very soon are in the second to the left bin.
I got the giraffe piggy bank when I was in Greenville, SC back in March for a RYOBI Outdoor brand ambassador event. I had some time to kill so I explored the downtown area, which is so cute– Greenville is a beautiful little city with amazing food, btw. A locally owned stationary store was closing so everything was marked down. I snatched up the giraffe and a few more things.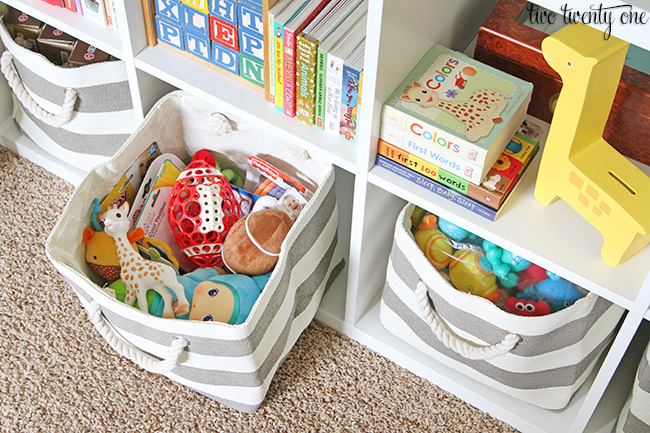 Bath toys and toys he'll use when he's older are in the third bin.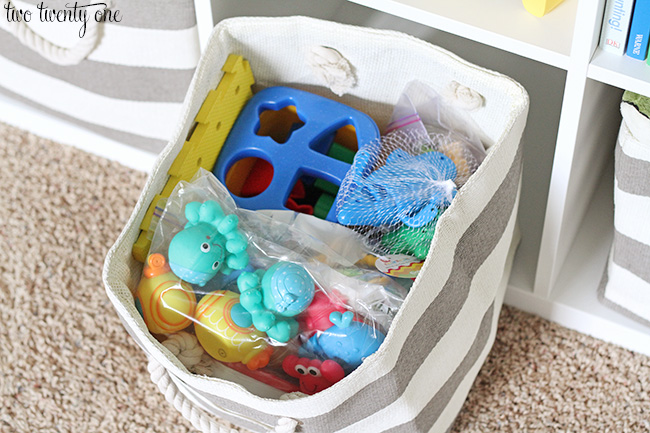 And stuffed animals are stored in the last bin.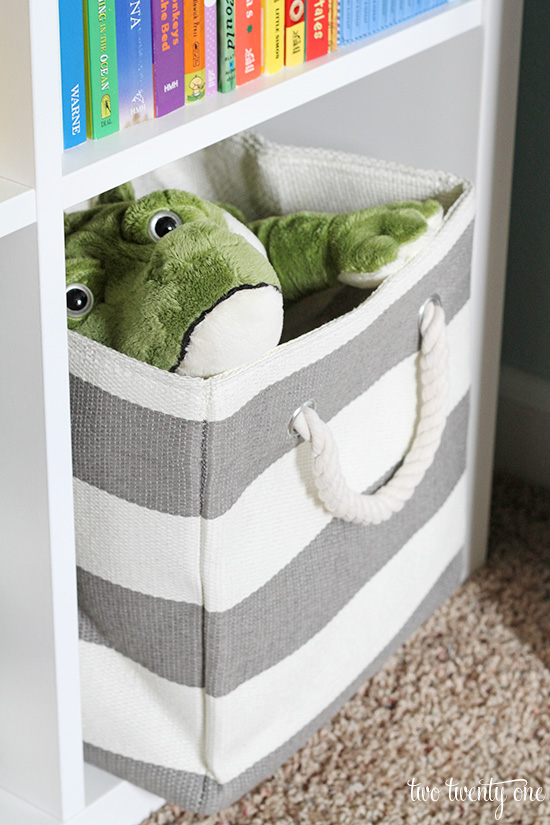 Cubbie Organizer Shelves
Since Owen has quite the book collection, there are books in every cubby of the top shelf.
Interested in our favorite board books? See a list of them HERE!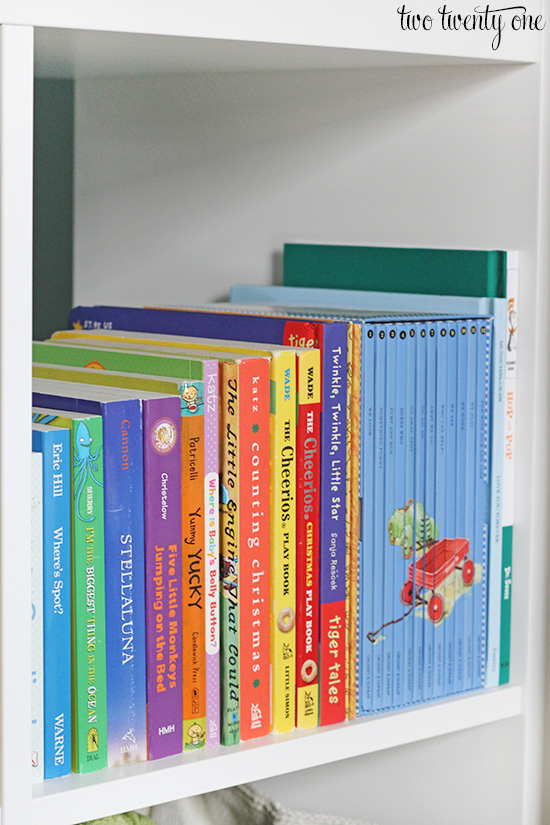 I couldn't resist this IU train. It was grotesquely expensive for such a small piece of carved wood with wheels and paint, but I guess that's the price you pay for pint-sized licensed merchandise for your little Hoosier.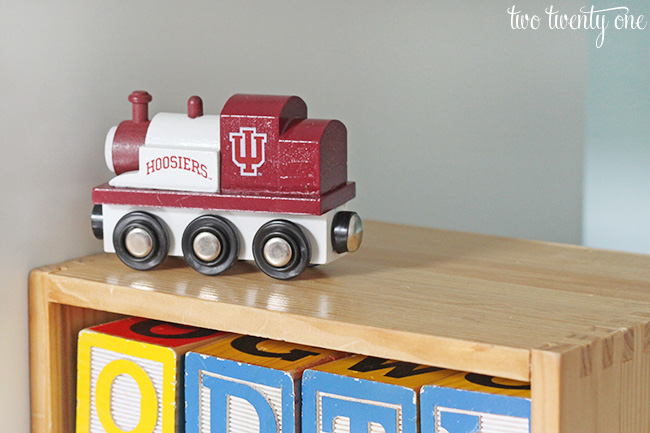 For the two baby showers my best friend, Natalie, helped host, she had guests sign birthday cards for Owen until his 18th birthday. Cool idea, eh? At one shower I got his 18th birthday card. I proceeded to write, "I love you. Now get out of my house. Love, Mom". I'm super sentimental like that.
She found this vintage humidor at a thrift shop, and that's where the cards are stored.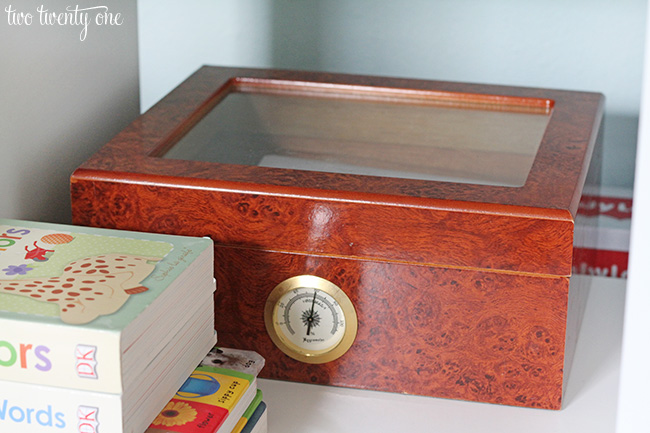 I also picked up this bead roller coaster during our Ikea pilgrimage.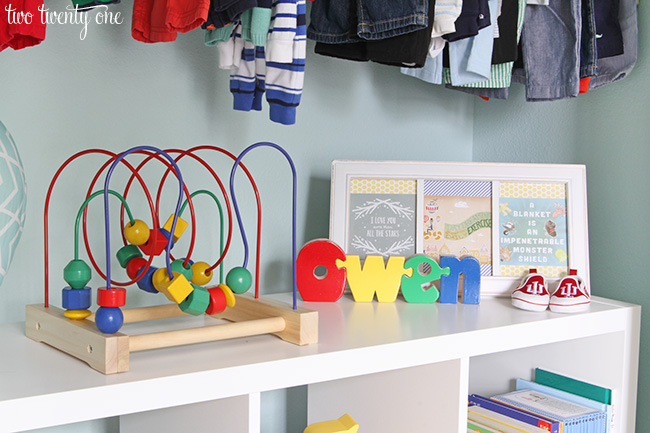 Natalie put together this framed art for Owen with illustrations from a calendar she had and scrapbook paper.
The Owen puzzle sign was another item I couldn't resist from Zulily.
And of course I had to buy Owen these IU crib shoes to go with his candy stripe overalls (see adorable photo here).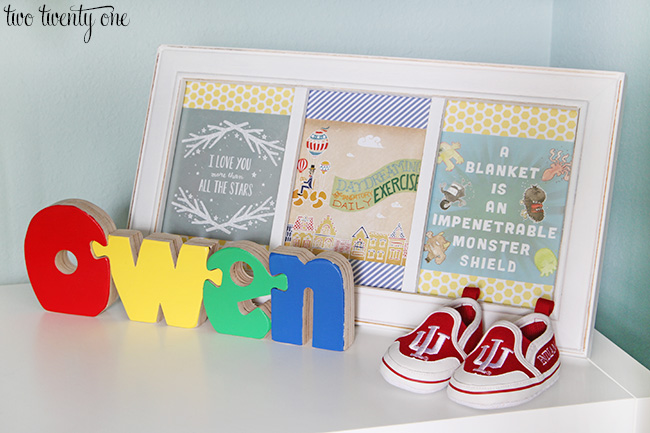 How to Hang Baby Pants
Instead of buying separate pants hangers, I use clothespins to hang Owen's pants on regular baby hangers.
I keep the clothespins in a small drawer organizer, leftover from organizing Owen's nursery dresser, on top of the shelving unit.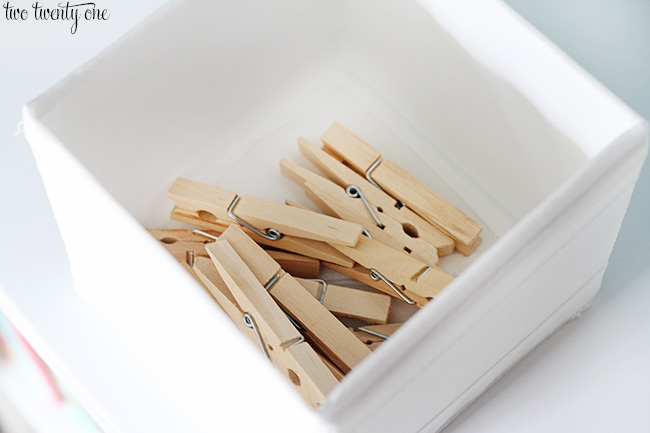 When I'm hanging up his coordinating outfits, or lone pants, I just clip them onto a regular hanger with the clothespins and hang the pants behind the shirts they go with.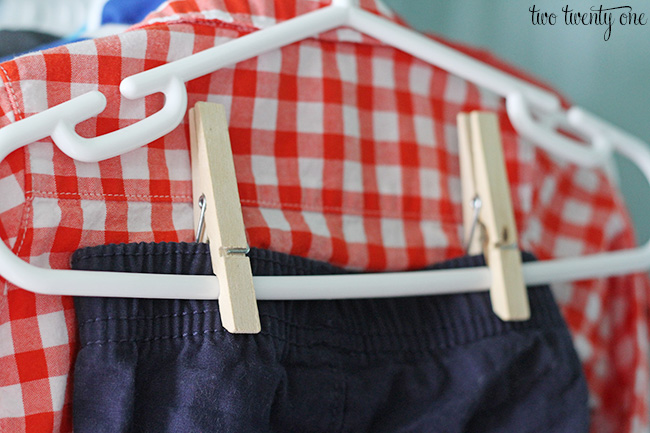 This child has more than enough clothes. Seriously, what's pictured below is only his 0-3 and 3-6 month clothes AND he has even more clothes in his dresser (I'll show you that soon) AND in the green bins on the top shelf.
So please take note family members who are reading this and getting crazy ideas for Christmas. In lieu of clothing, Owen's college 529 account number is 72…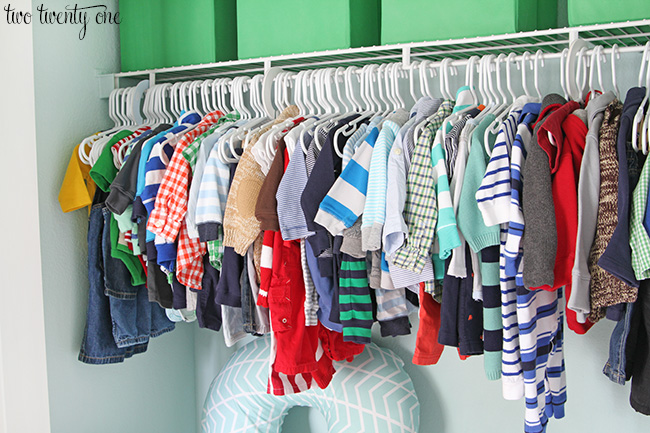 I keep his clothes organized by size with the DIY closet organizers I made a couple months ago.
Like I said above, I store some of Owen's clothing in the 11″ x 11″ x 11″ green bins on the top shelf. You may recognize them from this post. I bought them for $3.50 from the clearance section in Target. Cha-ching.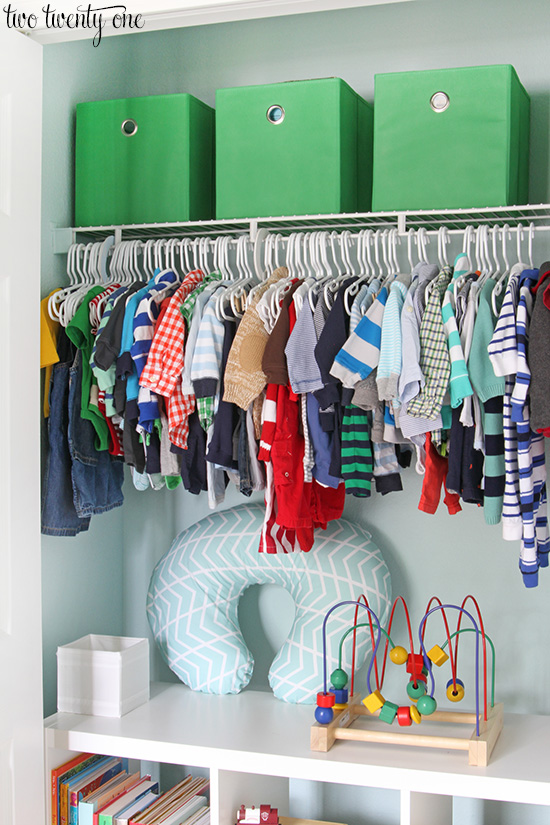 Here's what's in the five bins:
bin one … baby wipes (you can never have too many)
bin two … extra lotions and baby powders
bin three … babywearing apparatuses
bin four … 12-18 month clothes and shoes
bin five … 18-24 month clothes and shoes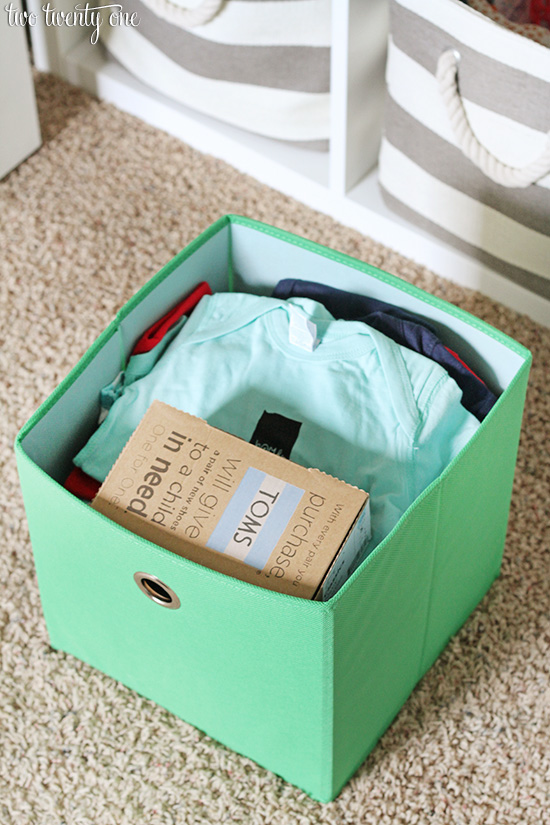 Nursery Closet Sources
Alright, here's where I got everything. I'm not going to cover everything little thing (i.e. all the toys and clothes) because that would take forever. So if you want to know about a specific item, comment and ask about it.
wall color … Tidewater SW 6477 by Sherwin-Williams
cubbie organizer in white … found HERE (similar)
11″ x 11″ x 11″ grey and white striped bins … found HERE
boppy cover … found HERE
bead roller coaster … found HERE
Owen puzzle sign … Cubbyhole Toys via Zulily
IU crib shoes … Kohl's
IU toy train … Zulily
blocks … church sale, but can be found here
giraffe piggy bank … store that went out of business, but can be found HERE
hangers … found HERE
clothespins … found HERE
green storage bins … found HERE
Want to see what the nursery closet looks like now that Owen is a toddler? Click here.
Want to know something specific about the nursery (wall color, where I purchased something, etc.)? See the nursery source post here.
If you want to save this post to reference later, you can pin it here: