Home Office Makeover Reveal
Today's the day! My home office/craft room makeover reveal. I hope it lives up to your expectations.
This room makeover has been in the works for hmm 17 months. The process was slow. Obviously. This goes to show that rooms don't come together over night. Remember that.
I must say I really love my office. It's my woman cave. The place where I can display as many pink and feminine things as I want. Forget about man caves, every chick should have a woman cave.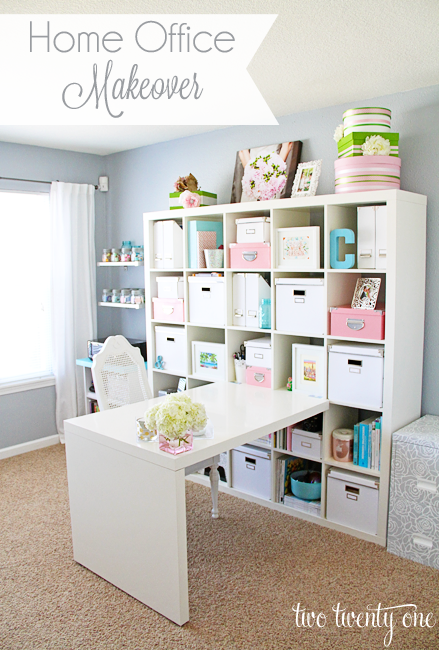 Let's start with the largest piece of furniture in the room– the Ikea Expedit workstation. I decided on this behemoth because it seemed like a good storage solution for my office. So in May, 2012 Brad and I made the 2 hour drive to Cincinnati, home of the nearest Ikea, to get the workstation, white storage boxes, picture frames, shelves, and some chocolate.
Brad started on the Expedit shelving unit when we got home and had it assembled in an hour. I don't know why people complain about assembling Ikea furniture. Tip: don't use the supplied dinky Allen wrenches. Get a cordless drill. And a beefcake husband. You're welcome for the free tip.
NOTE: The Expedit has since been discontinued, its nearly identical replacement is called Kallax.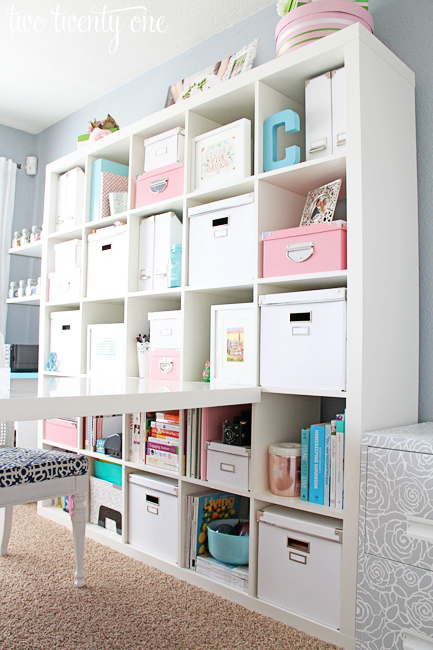 I'm not an overly girly person. Don't let this room give you the impression I'm the bubble gum and rainbows cheerleader type. I'm not. I just like the color pink. I mean, our wedding colors were pink and green.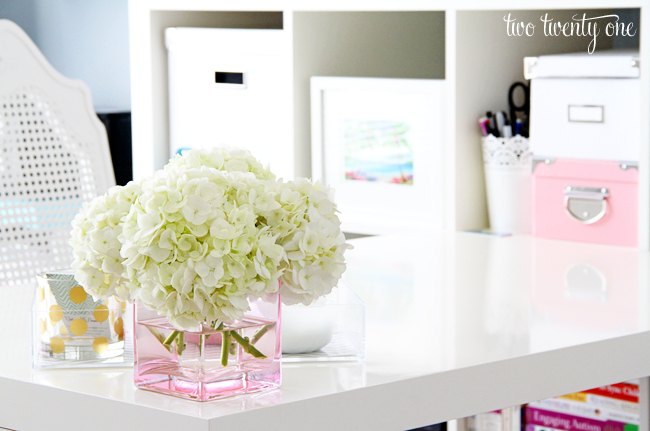 Speaking of weddings, I tried to sell my DIY wedding program box and card box after our wedding but that didn't pan out so they're hanging out on top of the Expedit. I had my wedding bouquet immortalized on canvas this past summer. But I still didn't have the guts to throw away my gross, dried up bouquet. It's in the wedding program box.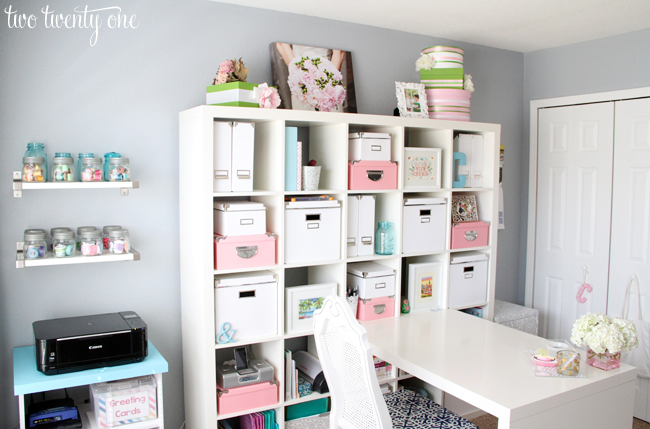 I originally bought these shelves (from Ikea) for our guest bathroom but they were too deep, so I put them in the office. The Ball mason jelly jars I thrifted a while back fit perfectly on the shelves. I also store my turquoise Ball mason jars on the top shelf.
I store various craft and sewing supplies in the jelly jars– washi tape, bakers twine, buttons, and vintage thread spools.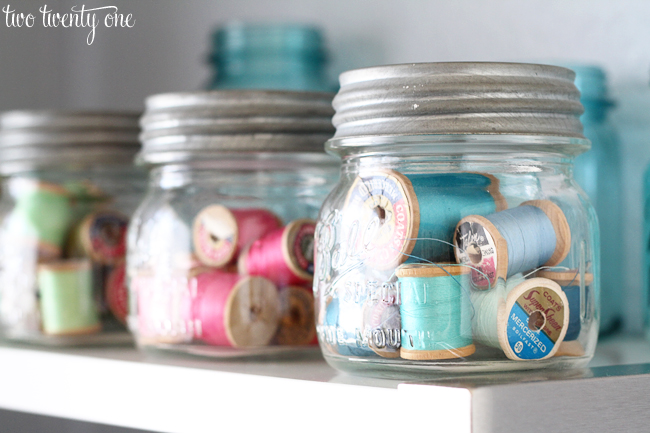 This wooden cart was given to us by Brad's grandma. I brightened it up with a little spray paint. I use it to house our printer, modem, router, my greeting card box, and some of my books.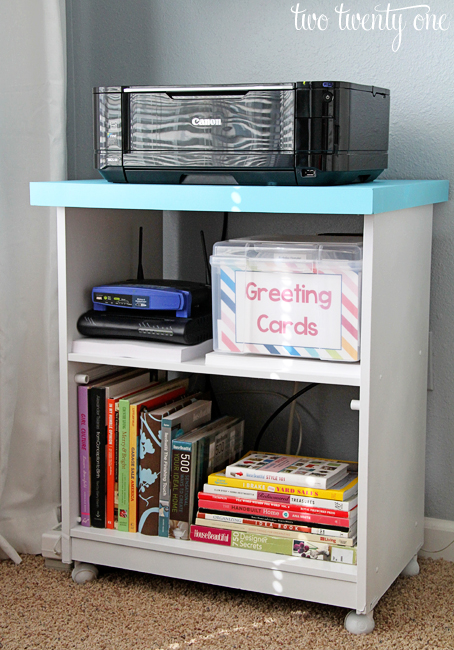 I created a little sitting area/reading nook with one of the chairs I purchased off Craigslist and a table I scored at Goodwill for $9 on half-off Saturday. The table looked a little rough, so I freshened up with a coat of white spray paint.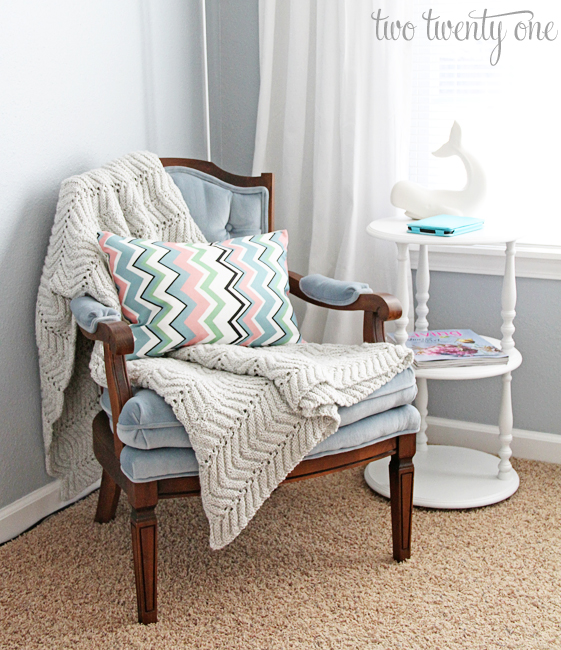 The blanket has made previous appearances on the blog– it was a wedding present knit by my Great Aunt. The pillow's twin has made an appearance on the blog too.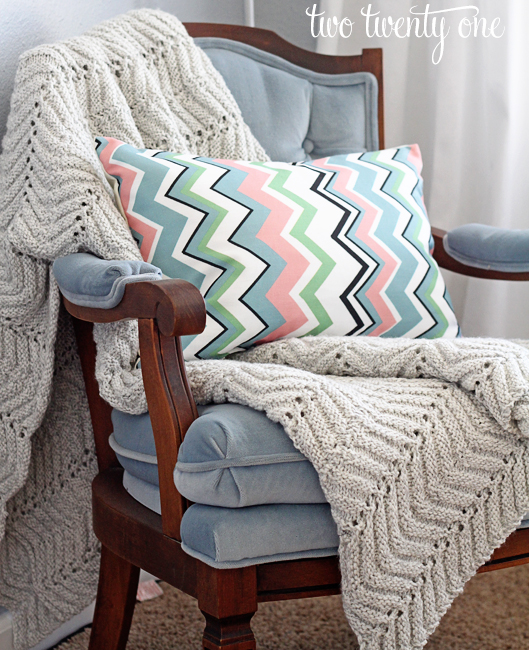 I showed you how I tackled the gallery wall a few weeks ago. The process wasn't as painful as I thought it'd be.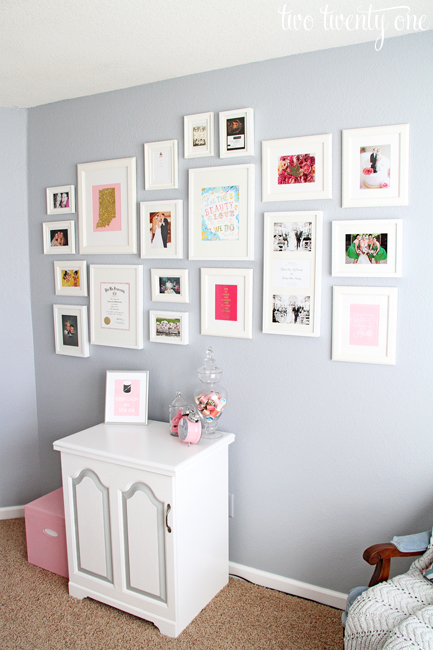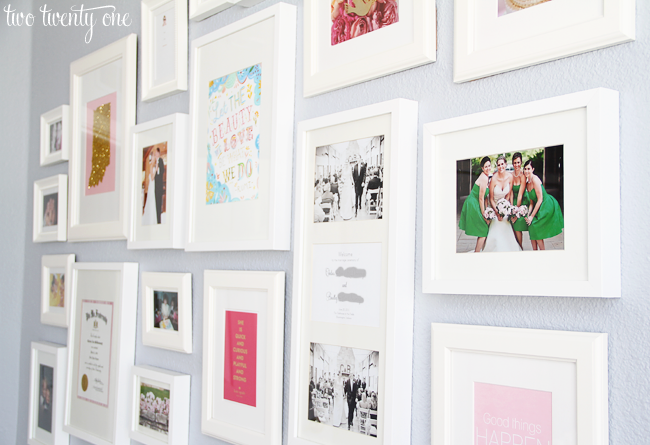 I spruced up my grandma Mildred's sewing cabinet a year ago. And I showed you how I took the storage box from ugly green to pretty pink last year.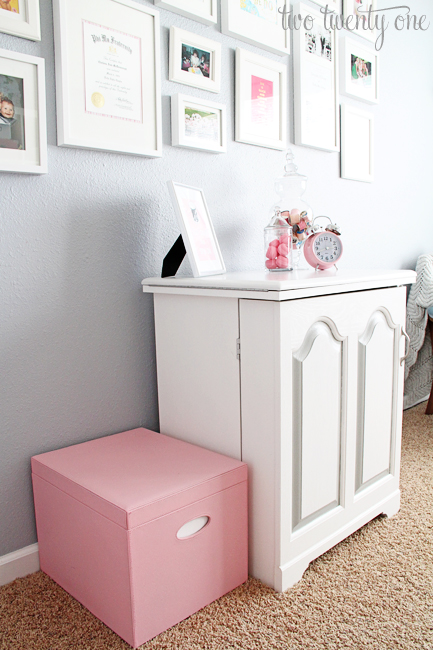 Thrifted tatting threads and vintage thread spools are displayed in apothecary jars.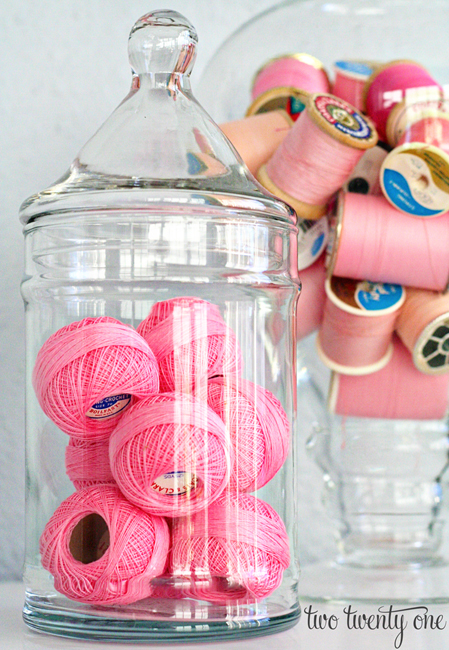 Last year I covered my teenage cork board I stole from my parent's basement with fabric and pushed 5,000 thumbtacks along the edge to give it a nailhead trimmed look. I get phantom pains in my fingers when I look at it. Just kidding. Kind of.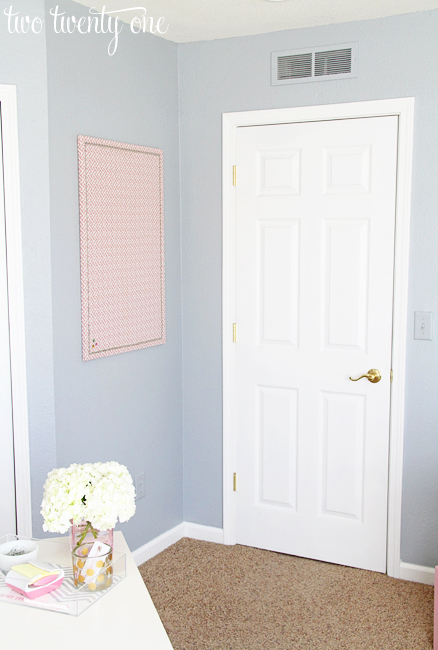 No room reveal post is complete without fresh flowers. Write that down.
I picked up these hydrangeas for under $5 at our local grocery store. Two of them were in the clearance section for $.89. $.89! And these puppies have lasted well over a week. They look pretty nice next to my DIY lucite tray, no?
I'm not opening those closet doors and showing you what's inside. . . yet. I have a little DIY project planned for the closet. Hopefully, I'll get to it within the next 5 years.
The C monogram hanging on my closet door is from college, and the canvas bag is my super cool Two Twenty One bag. I'm legit.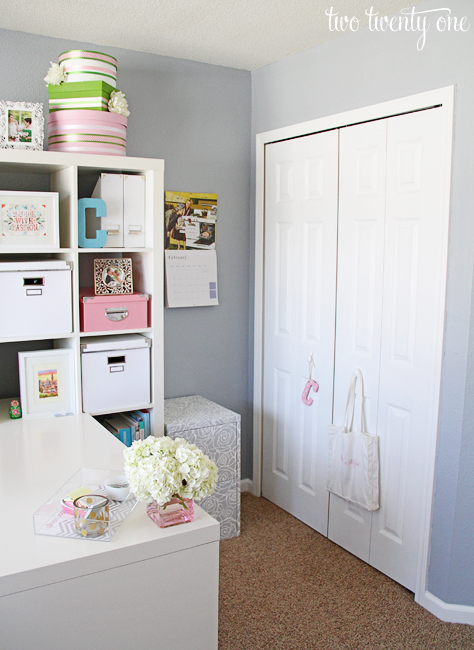 Oh look, it's my stenciled file cabinet.
I had it under the desk, but I didn't like how it was somewhat hidden so I put it here. It fits perfectly in this spot.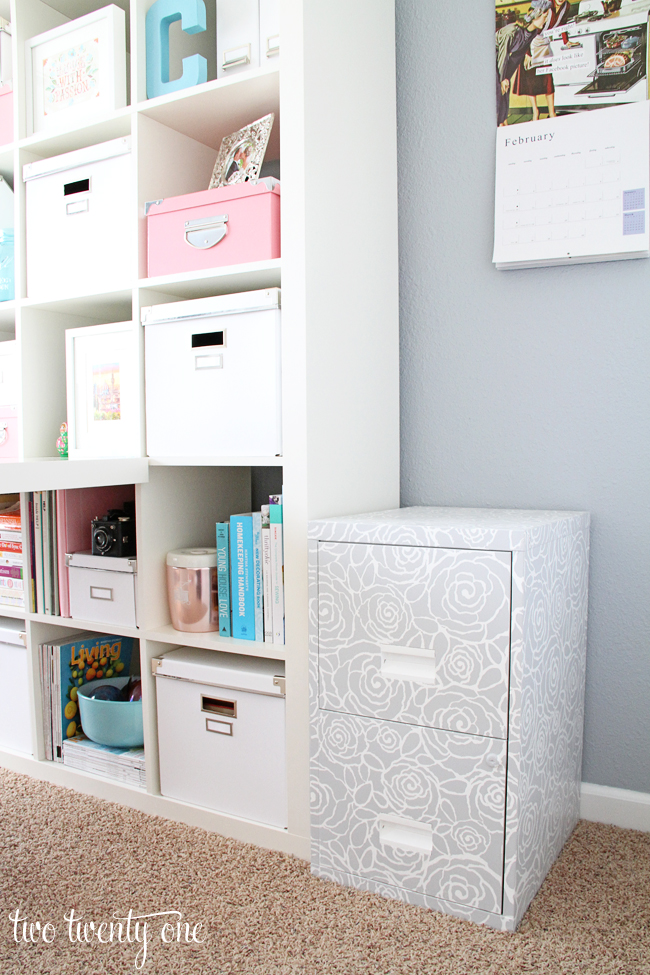 The Expedit is pretty awesome. It holds a whole lot of stuff. Which is really nice for me because my home office really is my home office. I'm a self-employed developmental therapist, and I provide in-home therapy in clients' homes so my home office is my home base. This room also serves as the Two Twenty One headquarters and my craft room. Therefore, I have a lot of stuff. I'm able to store my work related necessities (client files, paperwork, books) along with my blogging, crafting, and personal items in the Expedit.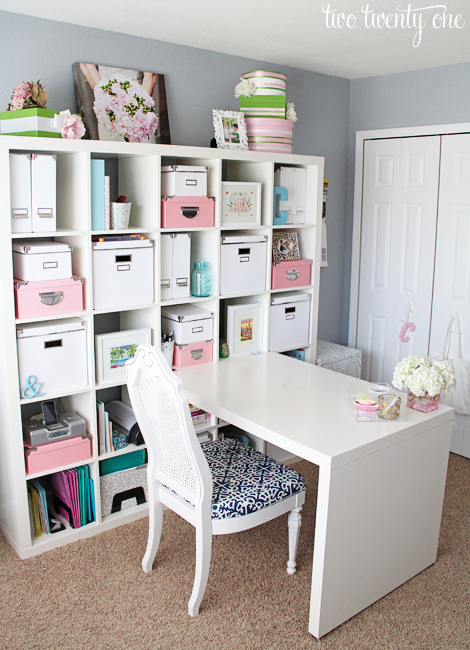 NOTE:  Here's an updated photo of the desk in my home office. I finally found a chair (Cynthia Rowley via HomeGoods) I liked, and I added a desktop to the space.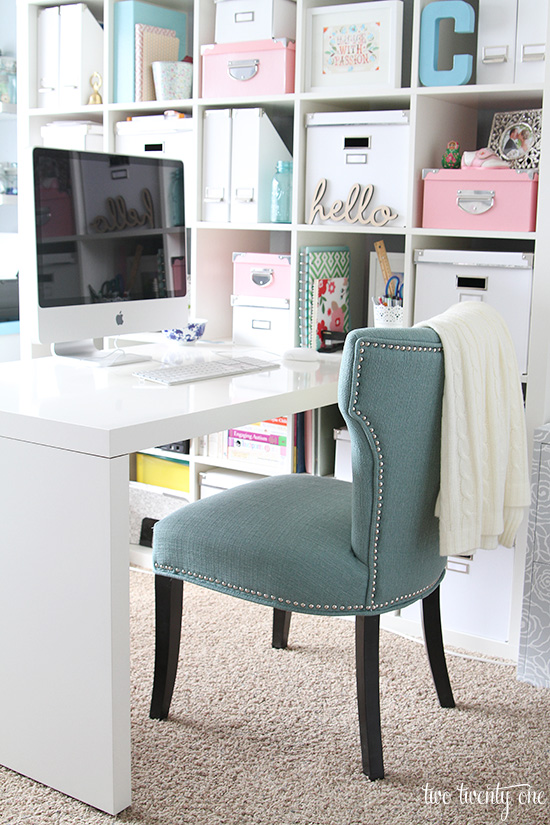 Finally, no room reveal post is complete without the appropriate before and after photos.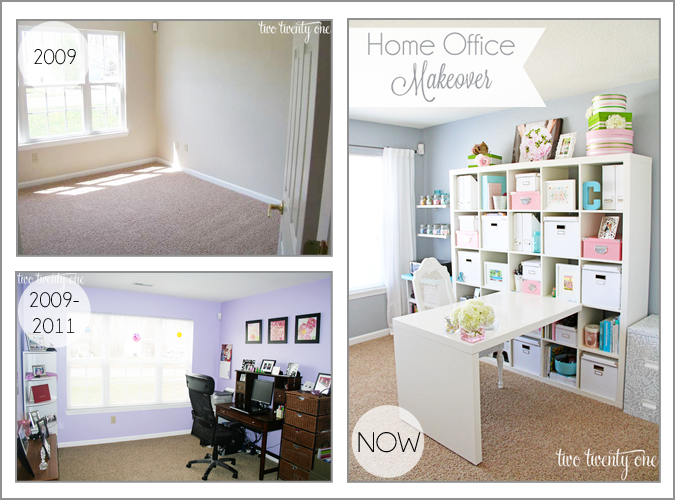 I hope you enjoyed the home office/craft room tour!
 Find out more details about the makeover, where I purchased everything, and the approximate cost of the makeover HERE.