What to Take to a Blog Conference + Printable Checklist
In a few weeks I'm heading to SNAP!, a crafts and home DIY blog conference in Salt Lake City. I'm pretty excited because I had an amazing time at Haven last year. Blog conferences are downright fun. You're with your people. They get you, and you get them. Plus, you learn a lot.
Around this time is when bloggers start to freak out a little about what to take to a blog conference, especially newbies. Do I take my laptop? Will I need my DSLR? What will I wear?! Rest assured, I'm here to clue you in on what to take to a blog conference.

Now, I'm not an expert because I've only been to one conference, but I quickly learned what to bring and what not to bring. So let's start with your blogger bag. It's the bag you'll carry with you during the conference.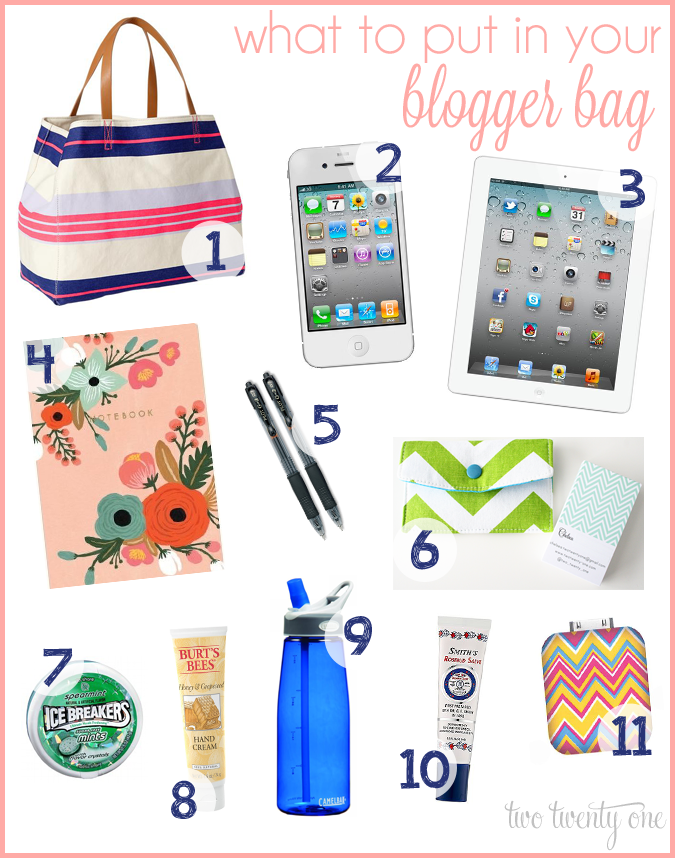 1. Bag
In order to have a blogger bag you'll need a bag. A nice sized tote is a good choice. Feel free to splurge and get a smaller bag to curtail the little stuff you'll put in the bag.
2. Smartphone
This is kind of a no brainer, but you'll want your smartphone. You're going to want to tweet people and post pics of you and your favorite bloggers on Instagram. You're also going to want to use your smartphone to take photos.
3. iPad/tablet
An iPad is great for taking notes in breakout sessions, especially if you prefer typing over writing.
4. Notebook
You'll want a notebook for notes (obviously), especially if you don't bring a tablet. I used my notebook and iPad at Haven last year.
5. Pens
Bring more than one pen. You're bound to lose one. Plus it's nice to have a couple to lend people who forgot or lost theirs.
6. Business Cards & Holder
You're at a blog conference to network so it's kind of silly to show up without business cards. (Read about mine here.)  And you don't want to fumble around your bag for your cards when someone asks for one, so invest in a business card holder. There are plenty on Etsy.
7. Mints
Who wants to have rank breath when they meet their blog idol? No one. That's who.
8. Hand Lotion
Sometimes you hug people, sometimes you shake hands. Which now reminds me that I should have put hand sanitizer on this list. Anyway, keep your hands moisturized for all the hand shaking with some lotion.
9. Water Bottle
Wet your whistle. You'll be talking a lot.
10. Lip Gloss
Sometimes you hug people, sometimes you kiss people. Hah. Just kidding. Keep your smackers looking pretty and hydrated with some lip gloss.
11. Smartphone Backup Battery
Your phone battery will die. I promise this will happen to you. Save yourself a headache and invest in a smartphone backup battery.

1. DSLR camera
I lugged my DSLR all the way to Haven to not use it. I took photos with my iPhone or if I was in a photo taken with a DSLR I'd ask the DSLR's owner if she could email me the pic. Worked out fine for me.
2. Laptop
I don't think it's absolutely necessary to bring your laptop. I didn't take one to Haven since I had an iPad. You won't have time to work on blog posts or edit photos at a blog conference. Leaving your laptop at home means one less thing you have to drag around the airport with you.
3. Duffel Bag
To put the bodies in. Just kidding. There's typically a fair amount of swag at blog conferences. If you're flying, I recommend bringing along a durable duffel bag in your checked bag. When the conference is over, you can put your dirty clothes in the duffel bag and your swag in your suitcase. This way you're able to take your swag home with you. Trust me, it's no fun leaving swag behind. Since you're only flying one way, the checked duffel bag should only cost you an additional $20-$25 to get it home. Darn airlines making us pay for checked bags nowadays.
4. Media Kits
Your media kit is a piece of paper that tells all about you and your blog. Some things you'll find on a media kit are: type of blog, history of the blog, photo of the author, about the author, statistics, some blog photos, advertising policy, brands the author has worked with, etc. Media kits come in handy when meeting and talking with brand representatives.
5. Power Strip
If you're going to have 3+ roommates you may want to consider bringing a power strip so there will be enough outlets to charge all of your electronics. However, I stayed with two other girls at Haven, and I never used the one I brought because there were enough outlets for the three of us.
6. Roommate Gifts
Some bloggers will bring little gifts for their roommates as a preemptive apology for passing gas or hogging the bathroom mirror. Just kidding. Kind of. It doesn't have to be anything fancy. It could be a candle, their favorite candy, or some cute stationary. If this gives you anxiety (will my roommates bring me a gift and I'm the jerk who shows up empty handed?) talk to your roommates about it beforehand and tell them you don't expect a gift or settle on everyone bringing a bag of dried fruit candy to share. Or you could take it to the next level and do a white elephant of sorts.
7. E-reader
If you're going to be spending a lot of time flying or hanging out in airports between flights I recommend bringing your e-reader along. You won't need it during the conference. Unless you're totally anti-social. But that won't happen because you'll be with your people, remember?
Now, because I'm the nicest person in the world, I created a blog conference packing checklist for you. Oh, stop it. You don't have to tell me how awesome I am.
I added the lines next to the clothing and accessories so you can specifically list which pieces of clothing you want to bring (ex: blue dress, jean jacket, emerald earrings).
Click on the image to download the checklist.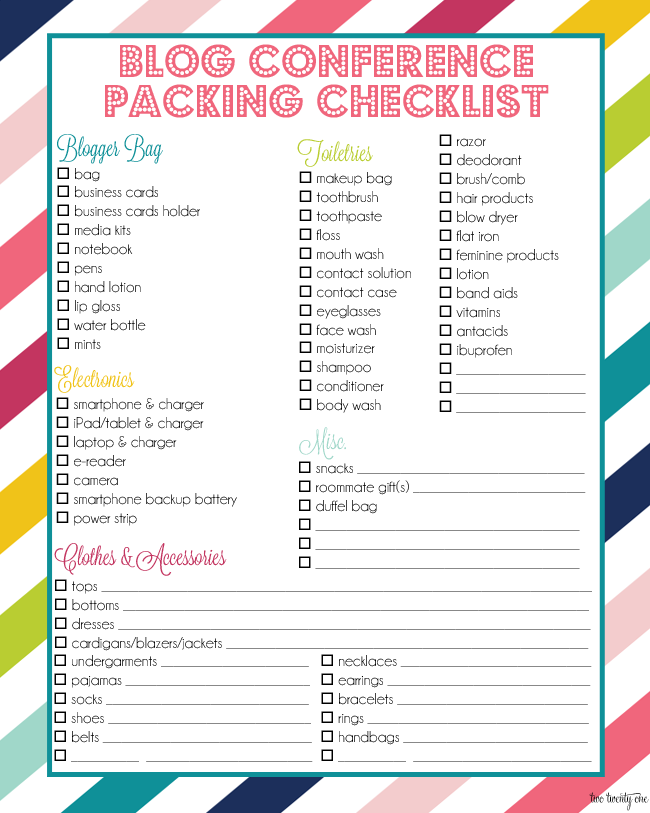 Do you have to bring everything on the checklist? No. Decide what you want to bring based on what you think your needs are. If you won't use your laptop, don't bring it. But please bring your deodorant. You'll definitely need that.
Will I see you at SNAP?
Any blog conference tips for newbies?
Is there something you bring to conference that I left out?
I'm sharing this at the following parties: Home Stories A to Z, Tatertots and Jello, House of Hepworths, Liz Marie Blog, The Shabby Nest, Positively Splendid, Whipperberry, Classy Clutter, Today's Creative Blog, Uncommon Designs, Craftberry Bush, Design, Dining, & Diapers, Crafty Scrappy Happy, Snap Creativity, and Serenity Now.

This post contains affiliate links.