How to Remove Sticker Residue
Today I'm sharing how to remove sticker residue. Because don't you hate it when you buy someone you love a gift and while you're carefully peeling the price tag off, the paper part tears away and you're left with that half paper/half sticker residue nonsense? You could leave the half paper/half sticker residue on, but that would be kind of tacky of you. Or maybe you buy yourself something, and you don't want the husband to know how much you spent and all of the sticker price tag comes off BUT the actual price. Annoying, right? Well today I'm showing you how to get rid of sticker residue.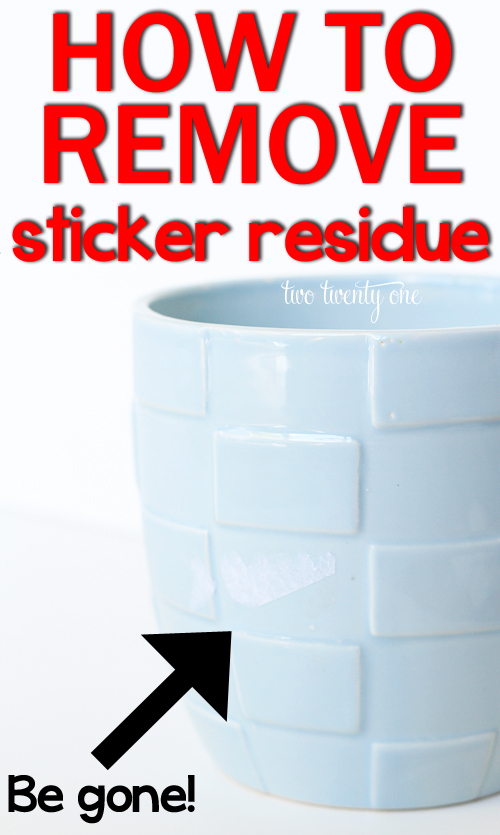 My secret: non-acetone nail polish remover.
(Emphasis on the non-acetone. DO NOT use regular, acetone nail polish– it's a solvent.)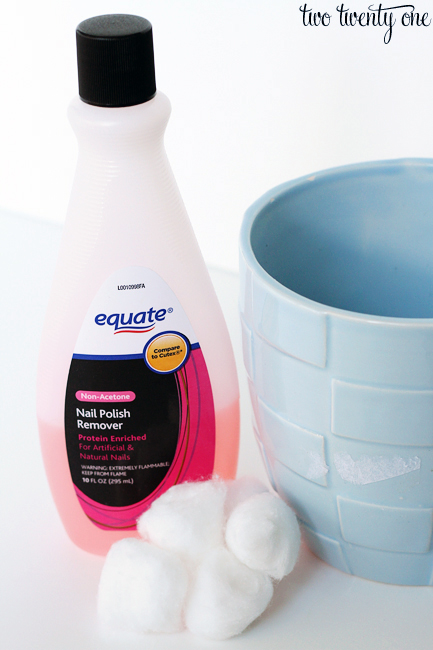 I learned this little trick back in my Phi Mu sorority days. For special new member occasions, we would decorate the crap out of stuff with paint pens. Nothing plastic was left untouched. To this day, I still have a storage container my "mom" in the house covered in paint pen and gave me to celebrate my initiation into the House of Mu– I use it to store Jack's food. Anyway, back to the paint pens. When we'd make a mistake while decorating we'd use non-acetone nail polish remover to remove the paint but not harm the plastic. One day, I decided to try this trick to remove the half paper/half sticker residue from something plastic I bought. And it worked.
This blue pot isn't plastic– it's glazed. But the non-acetone nail polish remover trick still worked.
How to Get Sticker Residue Off Glass
Put some of the non-acetone nail polish remover on a cotton ball. Blot it onto the sticky labels residue, allow it to dissolve the stubborn residue, and then rub the residue off. You may need to follow up with a paper towel.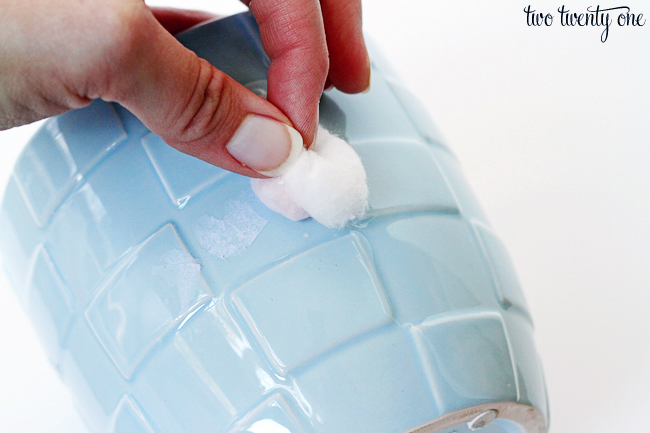 Tadah!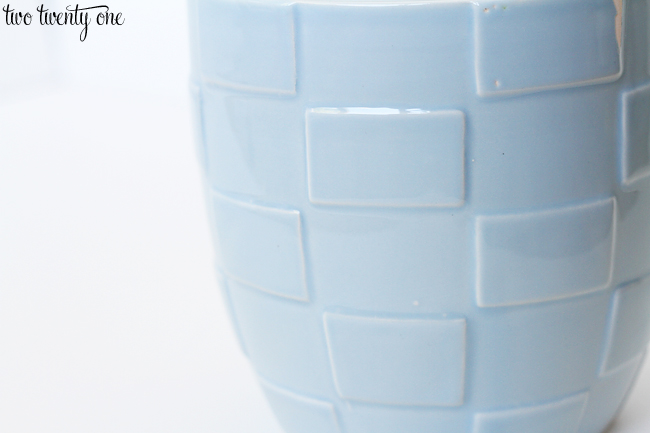 How to Remove Sticker Residue on a Book
I use this trick on other things, like books with smooth covers.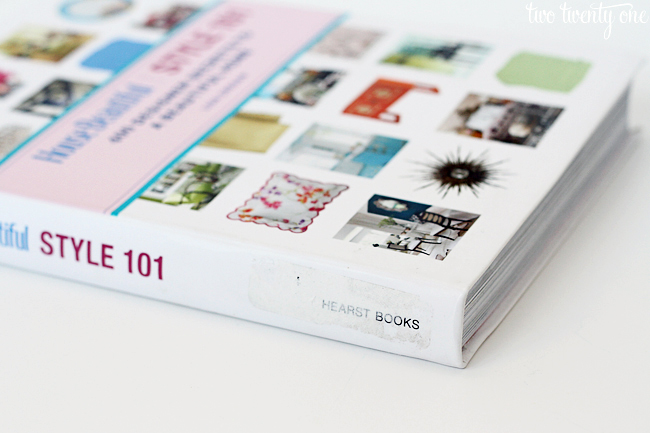 Boom. Stubborn glue be gone.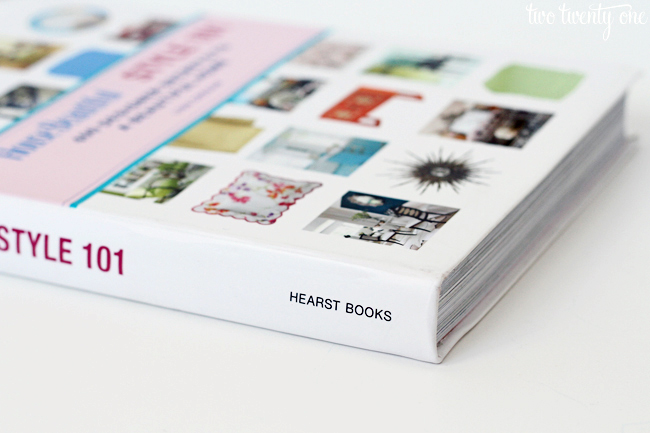 I even use it on board books (you know, for the kiddos). Just be careful because if you do it on a board book with a colored surface you can take some of the color off.
How to Remove Sticker Residue on Packaging
I also use it on cellophane packaging.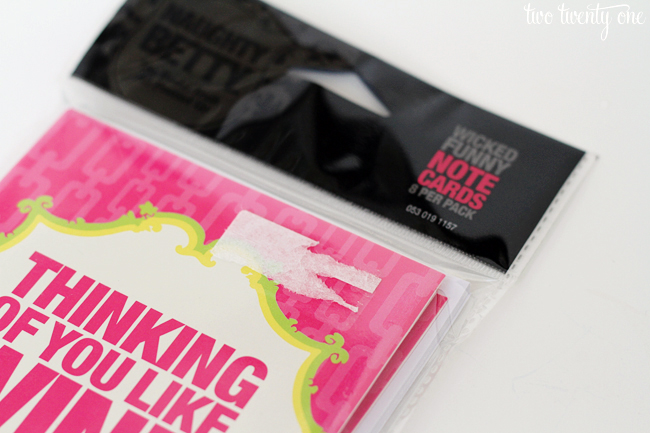 It's like magic.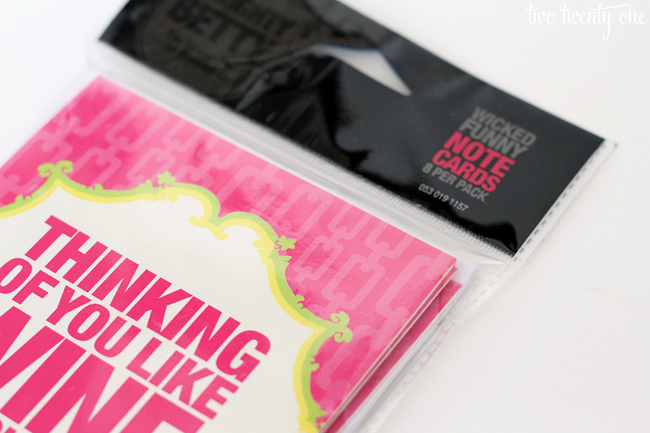 Now, I'm not going to say that this trick works on everything, so it's best to test a small area first. Don't go bananas and ruin whatever it is you used this on, and then send me an angry email. If you do send me an angry email, I'll copy and paste this paragraph in my reply. Along with the sentence, "I told you so."
There's another trick I do to remove sticker residue off of things I purchase that need to be washed anyway (mug, bowl, platter, etc.). I put the item into soapy water, and then rub the sticker off with the coarse side of a sponge. That's it. It works every time. Use caution if the sticker is on a surface that can be scratched by the sponge (made use the gentler side of the sponge). And try not to let the sticker pieces go down the drain or into your garbage disposal– you don't want then to lead to a clog.
Other Things to Try
Don't have the things on hand that I mentioned above? That's okay! Here are some other household products that you can use to try to remove those stubborn stickers:
dish soap • razor blade • peanut butter • olive oil • vegetable oil • hot water • cooking oil • pencil eraser • rubbing alcohol
So there you have it, how to remove sticker residue!