This post is sponsored by Better Homes & Gardens at Walmart. All opinions are my own.
This past weekend we gave our front yard a desperately needed refresh. We spent the better part of spring focused on the playset, playset area, and deck, but now it was the front yard's turn to receive some TLC.
As you can see, the front porch was looking pretty drab.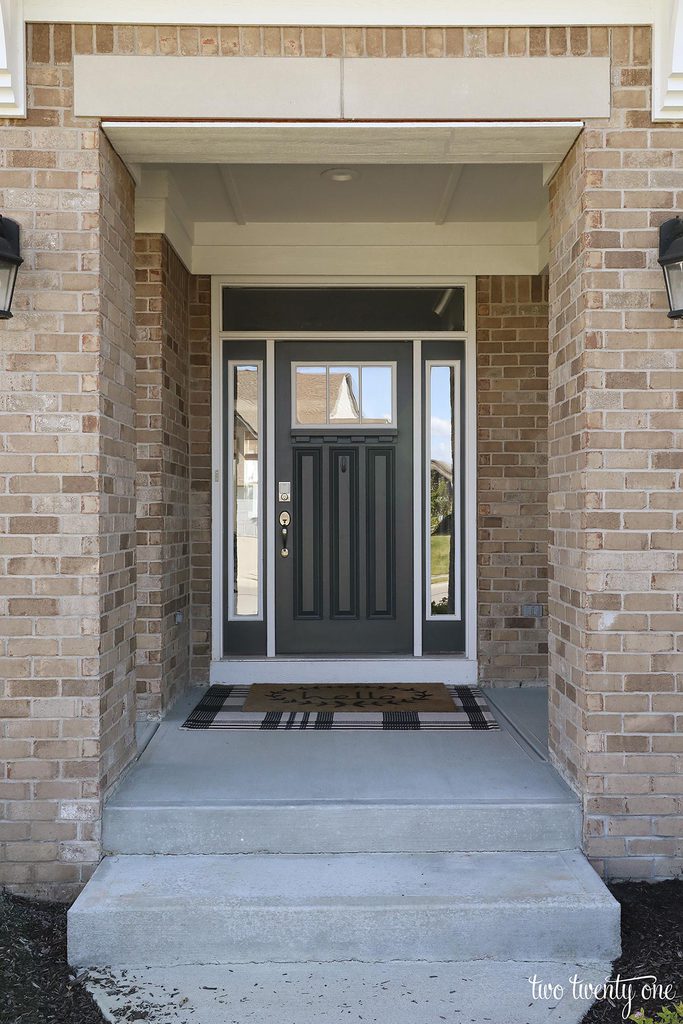 Add Color with Planters
I decided to bring in some color by adding two planters to the front porch step. I went with these two 16″ square planters by Better Homes & Gardens at Walmart for a few reasons. They're fade and frost resistant. The planters are also made with Polyresin, a lightweight recycled material. This means they're going to be easy to stack and store during the winter months.
I purchased Better Homes & Gardens at Walmart sweet potato vine, petunias, calibrachoa, and spikes to fill the planters.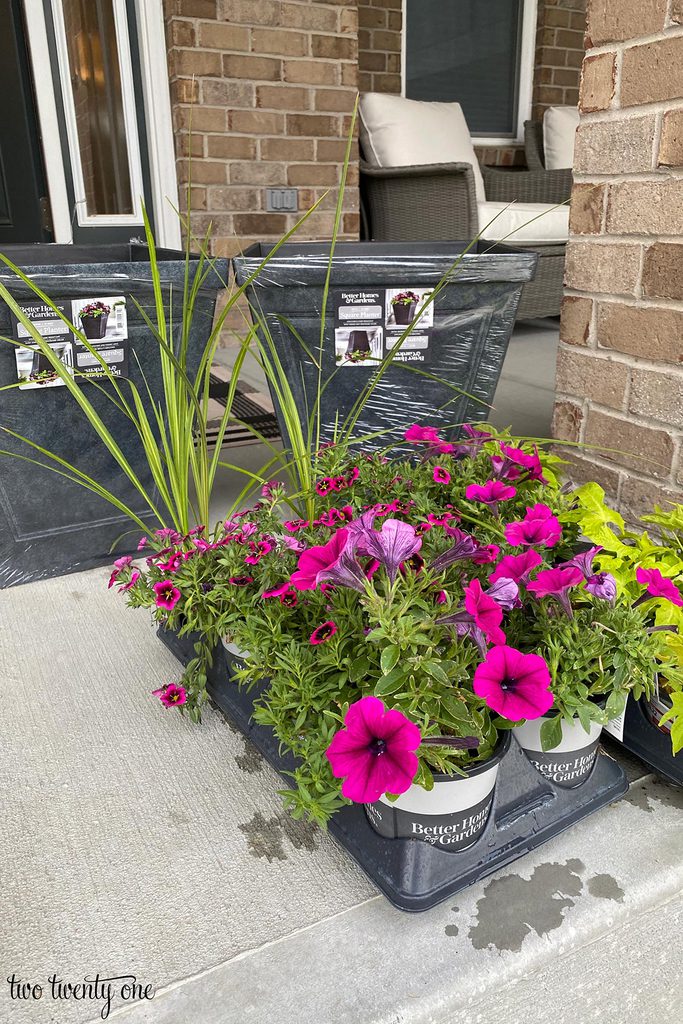 Don't forget to check for drainage holes in your planters!
These planters came with easy punch out drainage holes.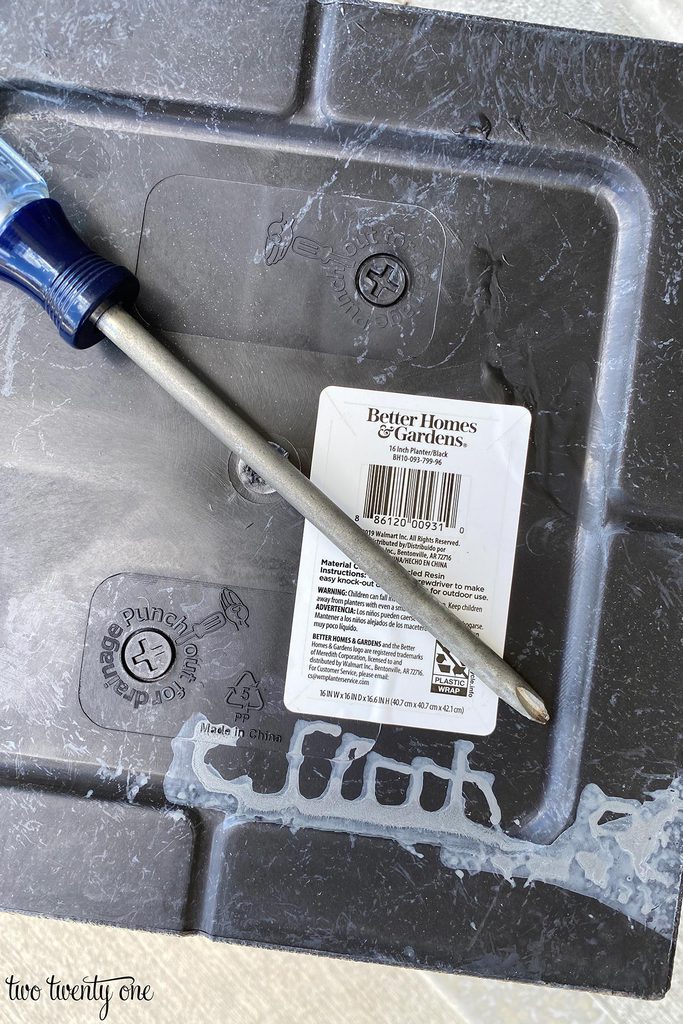 Since these planters are fairly large, I did my planter trick to make them lighter and save on soil.
Put some empty plastic containers on in the bottom of the planter.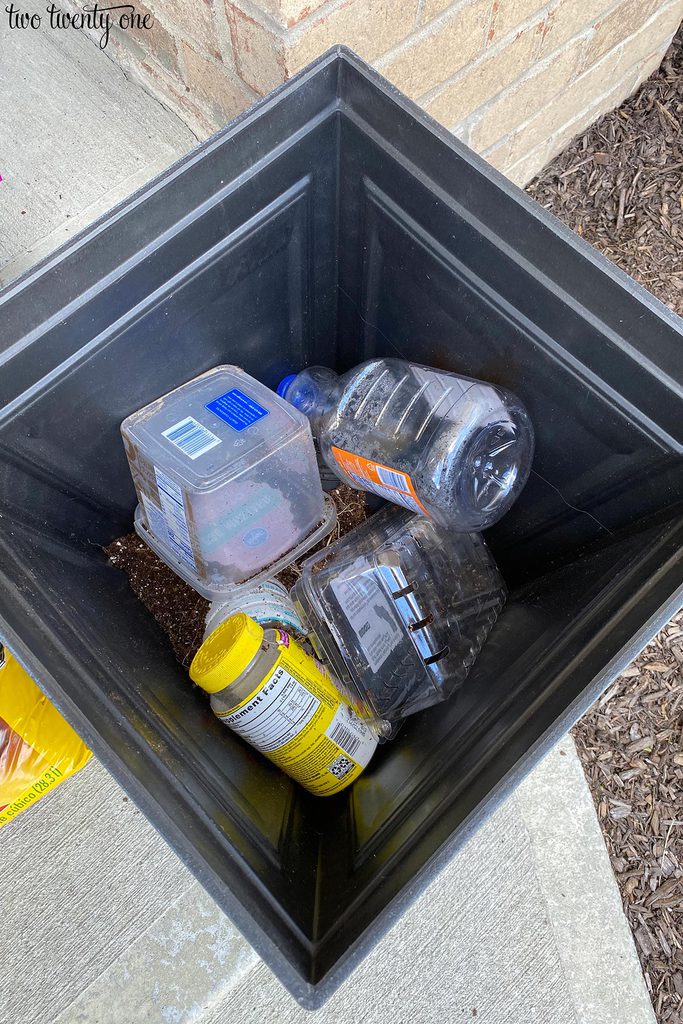 Add some potting soil and plant!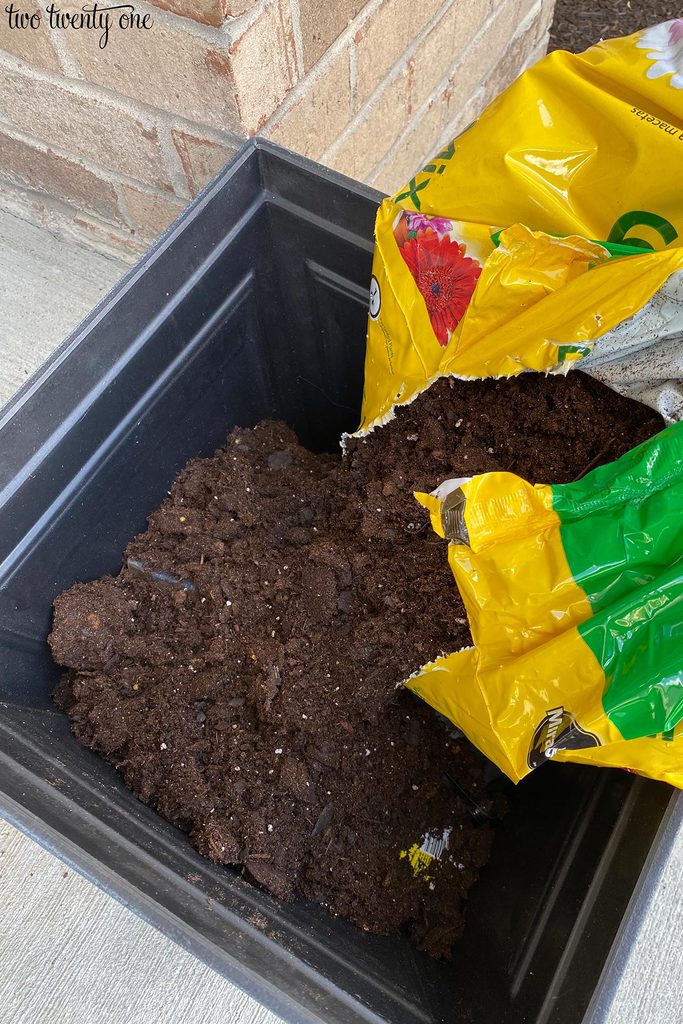 I can't wait for the flowers and sweet potato vines to fill in and trail down the sides of the planter. Don't worry– I'll keep you posted on Instagram Stories throughout summer on how things are going.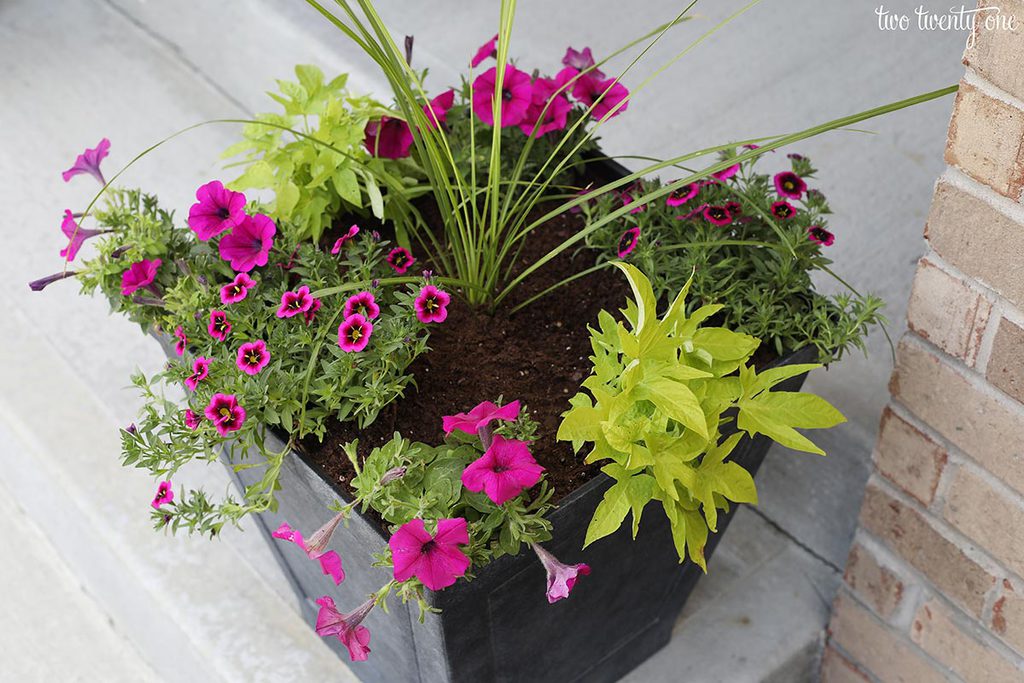 Don't they look perfect on the front porch? A couple neighbors have already complimented them.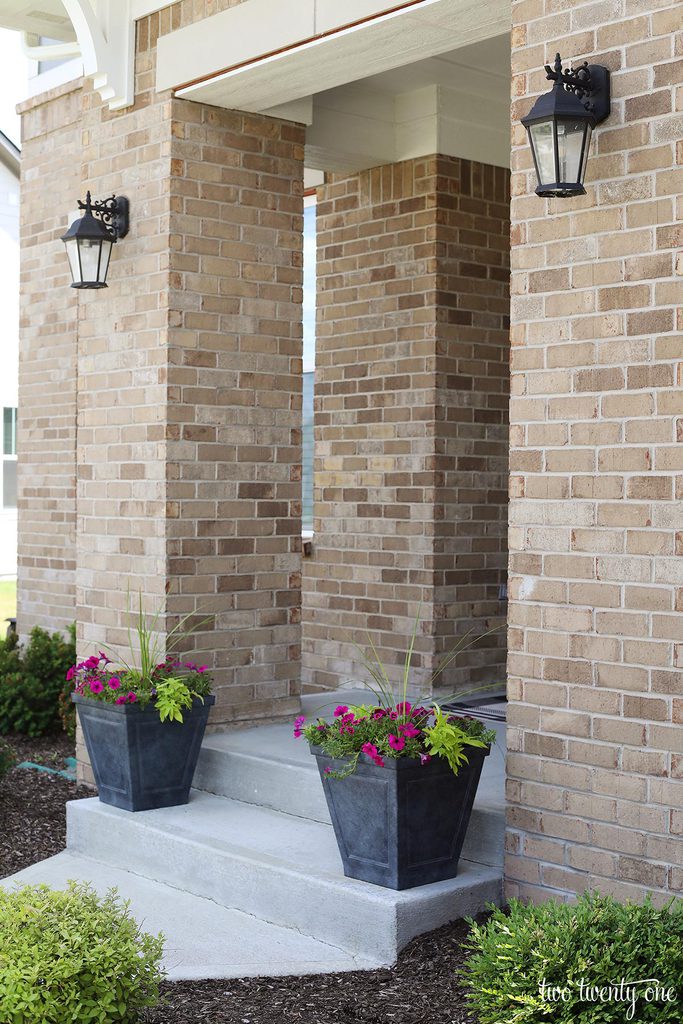 Pop of Color with Pillows
Next up was the sitting area of our porch. We've had these chairs for a year or two but they needed a pop of color.
I also needed to clean the bird poop off of the porch floor. A bird couple was upset with us because the were trying to build a nest on the porch, and we took the beginnings of the nest down. And they repeatedly let us know how they felt. *death stare*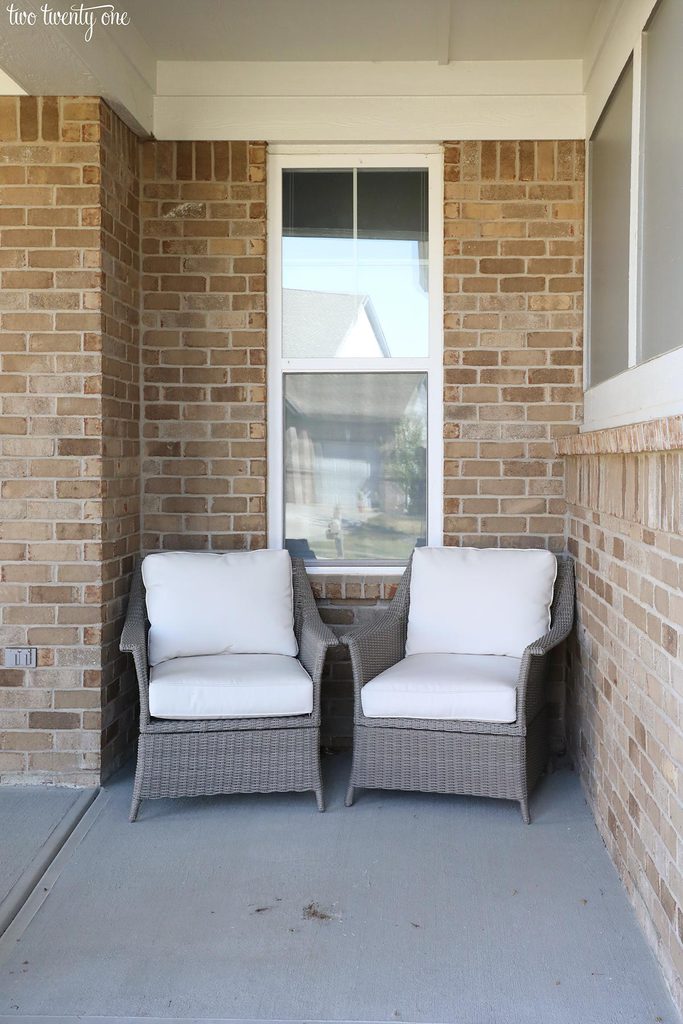 Hello, cute tassel pillows. Goodbye, vindictive bird poop.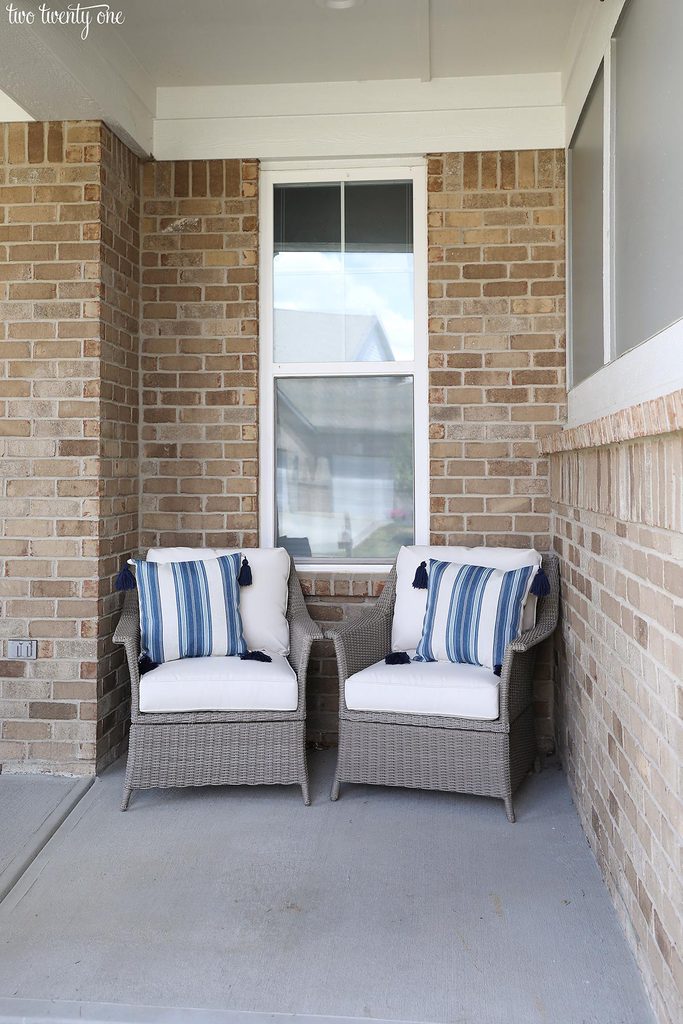 These 19″ x 19″ blue striped tassel pillows from Better Homes & Gardens at Walmart are classic with a touch of fun– who doesn't love a tassel?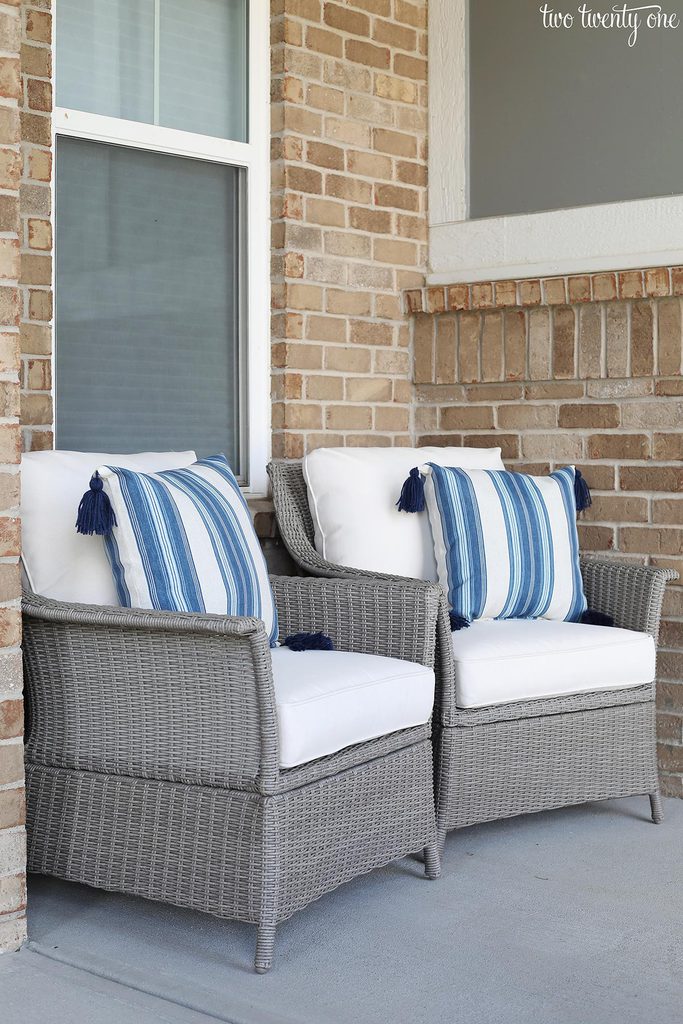 Trim the Shrubs
During our front yard refresh, we also tackled the overgrown plants in our landscaping. We've never trimmed these plants– and it showed.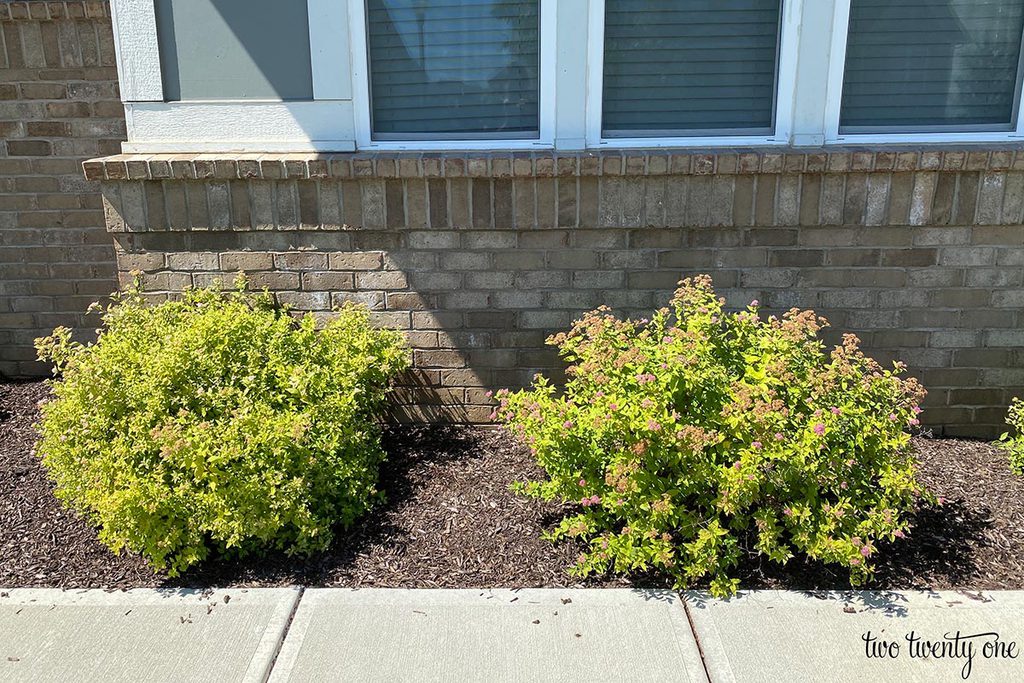 Ah, much better.
We opted not to get new mulch this year since we got a bunch last year. Instead, we raked the mulch to turn and fluff it a little.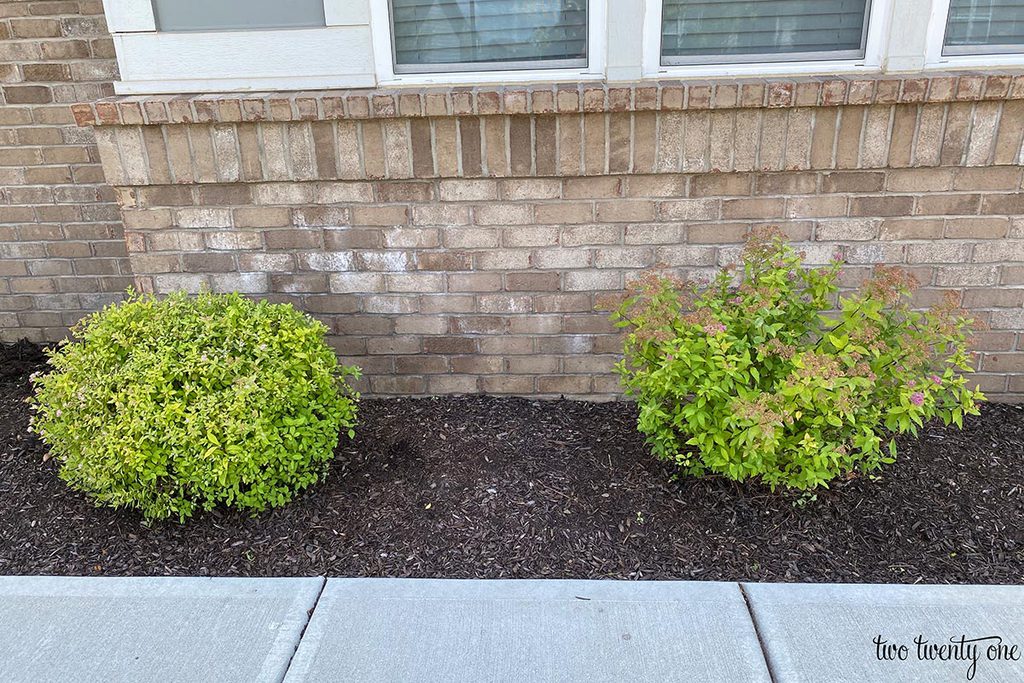 Yikes. These shrubs were in desperate need of a trimming and our rockscaped downspout needed to be unearthed from the washed away mulch.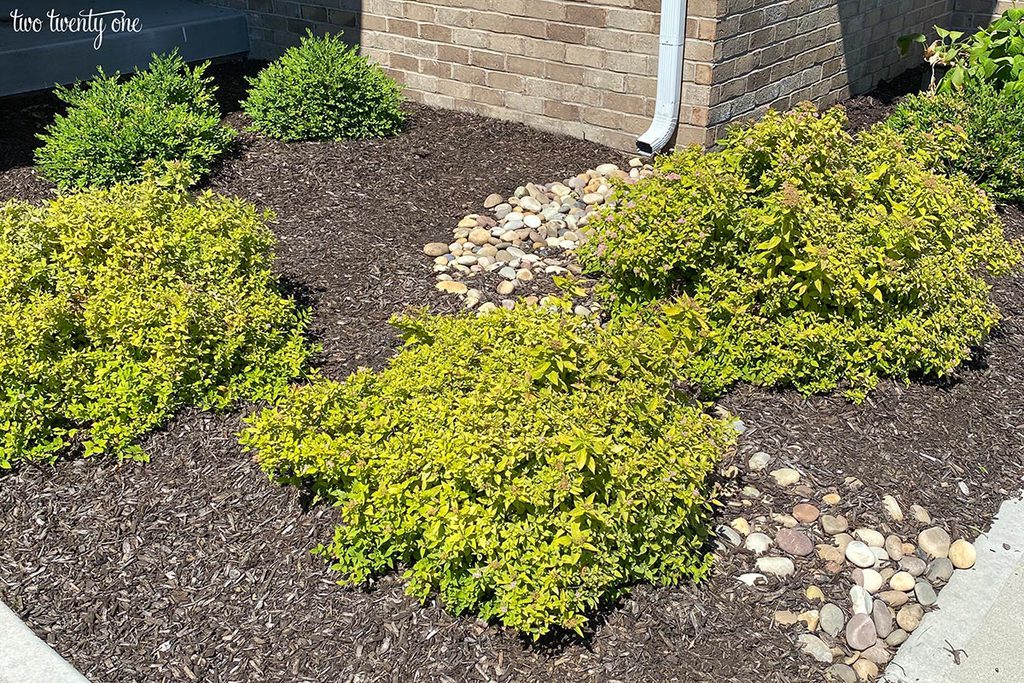 Would you look at that.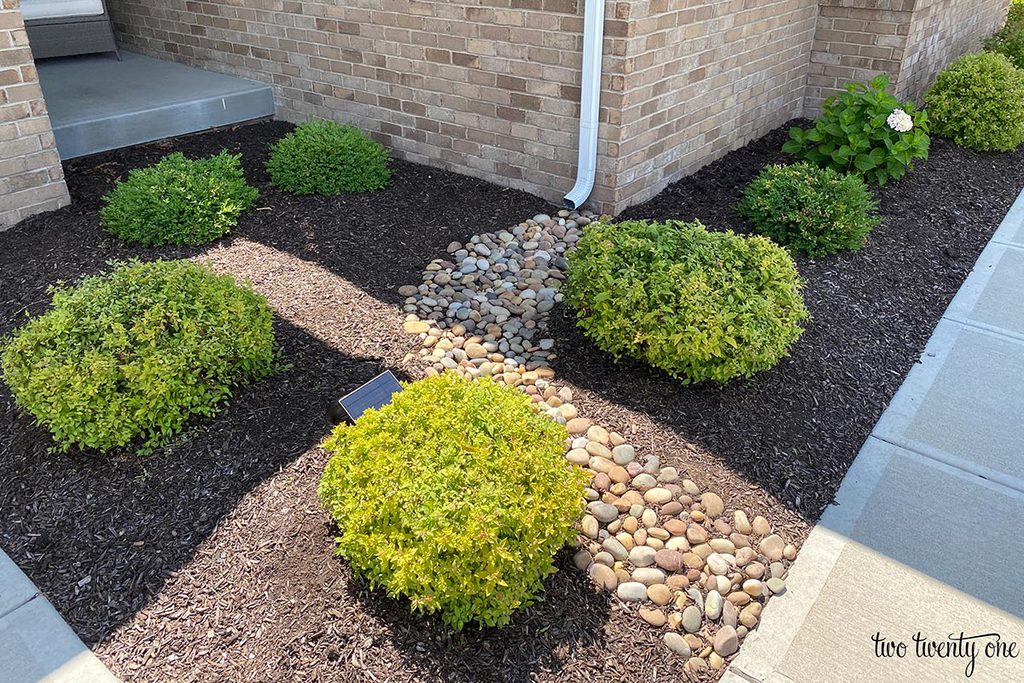 Nighttime Illumination
We also added three Better Homes & Gardens at Walmart Color Lock Solar Spotlights to jazz up the landscaping and house at night. You can see one tucked in front of a shrub in the photo above. Let me tell you– these lights are hefty. They're made out of cast aluminum. Each spotlight contains 120 lumens of power and a color changing/color locking feature. Pretty cool, right? I'm looking forward to changing the color to red for Christmas.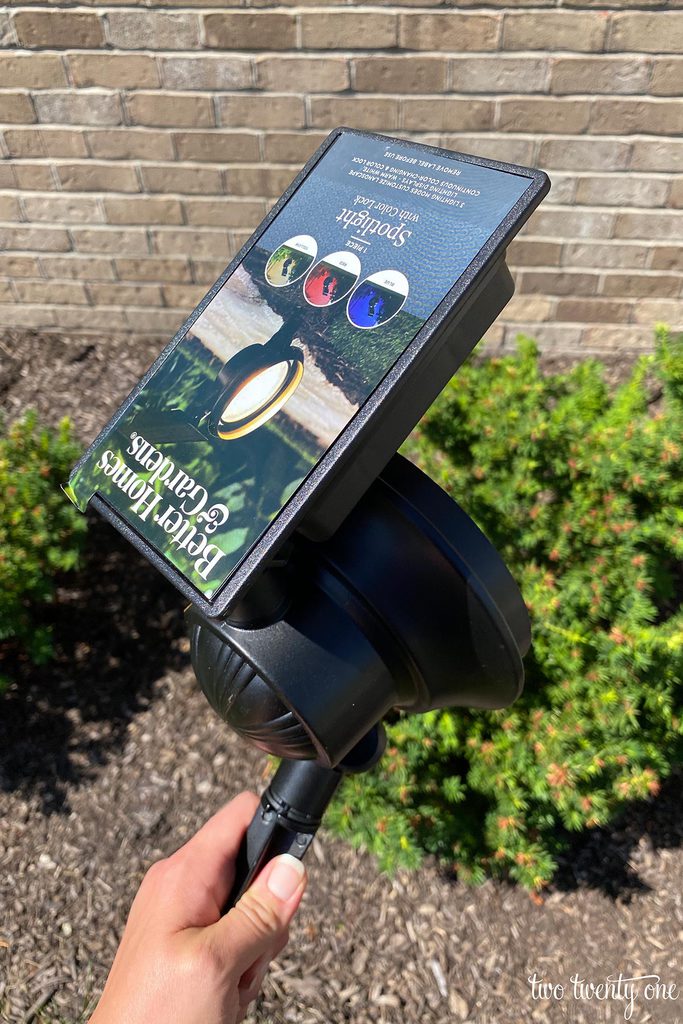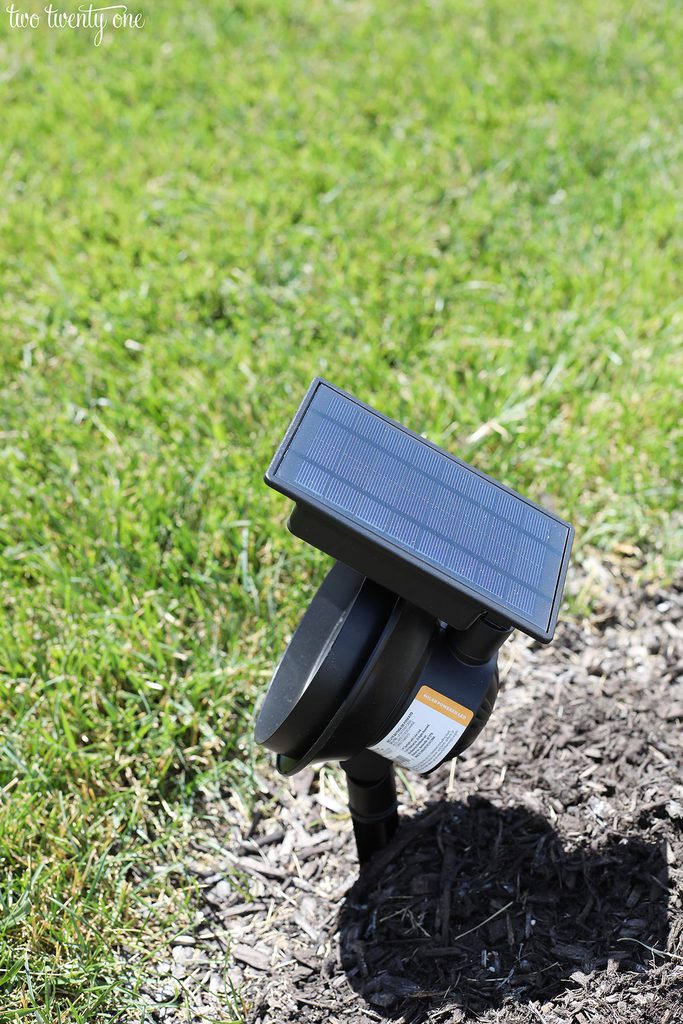 Doesn't the front porch look more warm and inviting with the just a few additions?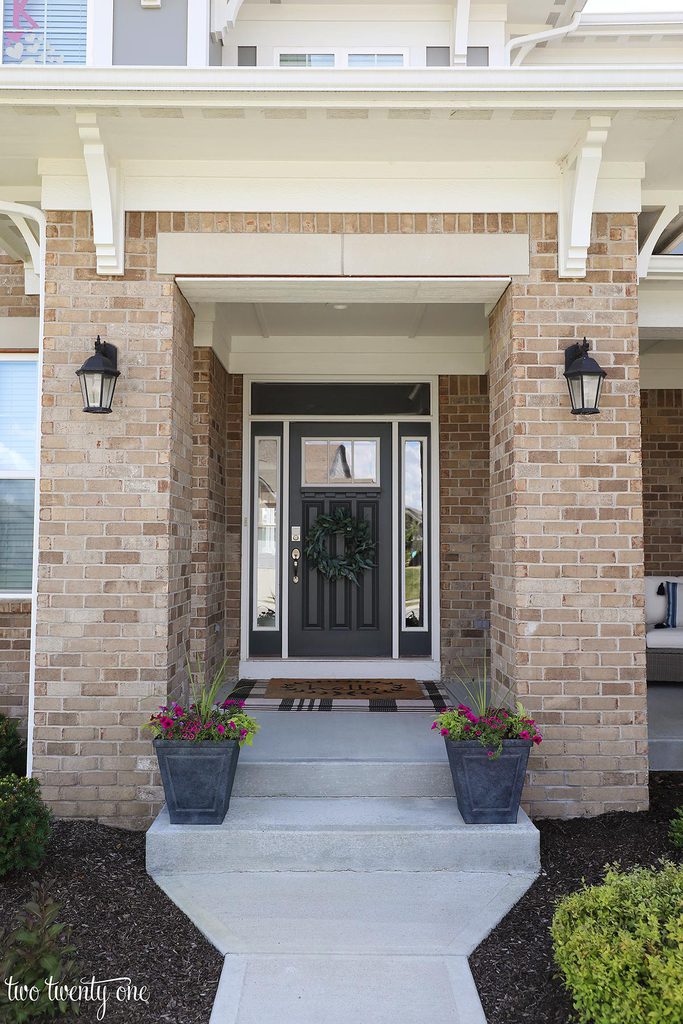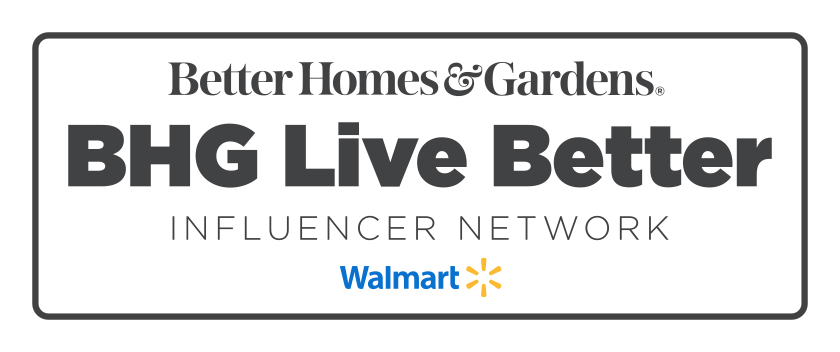 This post was sponsored by Better Homes & Gardens at Walmart. All opinions are my own.