E-Learning or In-Person School – What We've Decided
About a month ago, our school district released re-opening information. Our school was offering two options– 5 day a week in-person OR e-learning. We had to choose one or the other by July 16 because school starts on July 29.
After talking with some kindergarten teacher friends, reading information from infectious disease experts and education experts, numerous discussions with Brad and close friends weighing all the pros and cons, we've made the decision not to send Owen to in-person school this year. He'll be doing e-learning at home, and we hope to find and form a small group of other local kindergarten e-learners for socializing.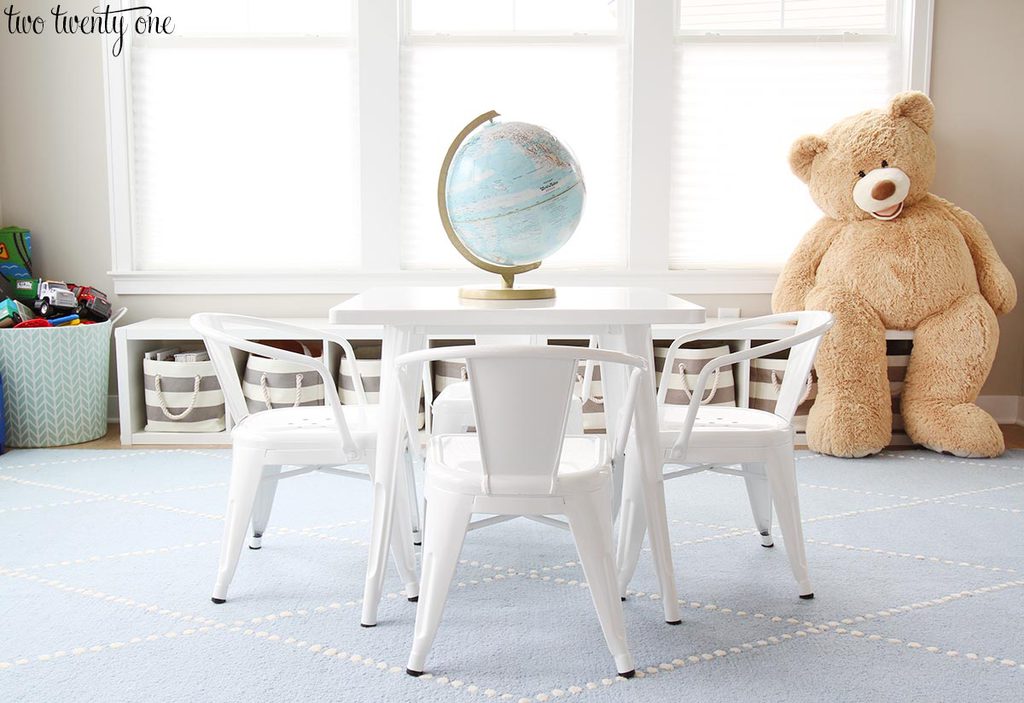 We recognize we're very privileged to be able to enroll Owen in the e-learning program and complete kindergarten at home. Will it be easy? No, but we're able to provide his meals, we have devices he can use, we have an Internet connection, he doesn't have an IEP that requires additional support, and I'm able to scale back my work in order to teach him. Many American families aren't in our position, and we realize that.
This pandemic has shown how so many of the systems in this country are broken and how much we depend on schools to solve problems, even though politicians keep making cuts to public education. I bolded that because we all should be raging about this. And you haven't registered to vote, I suggest you do so. Research. Your. Candidates. Because if you can spend a couple hours watching Bravo or Netflix, you can spend a couple hours researching people who will make big decisions that affect you and your family.
Please know that I realize in-person school will be safer for some children. I've often thought about children in unsafe homes during the pandemic, and it pains me how they're trapped with abusive parents or care givers. I've also thought about children experiencing food insecurity and children who have IEPS and need additional services that are tied to schools.
Our reasons for keeping Owen home is based entirely on our specific situation, the types of learning our school district is offering us, and the projected learning environment our district has conveyed in emails.
What Will Kindergarten Look Like?
My kindergartener teacher friends said learning in kindergarten, especially, won't be fun this year. Here are the things we've been told will take place in our school:
Masks and face shields for teachers.
Masks for children.
No station work.
Minimal classroom activities.
Plexiglass partitions on tables because there are no desks in kindergarten in our district. This also means kindergarten students will be sitting closer to one another than students who are seated at desks. A plexiglass partition isn't the same as being distanced three to six feet apart. So does that mean kindergarten students will have to wear their masks most of the day?
No circle time.
No rocking chairs for teachers to sit on for story time.
No reading corners.
This type of learning environment doesn't sound like fun, especially for a child's first experience with elementary school. And Owen attended play-based preschools for the past four years. All he's ever known is circle time, free play, and group activities at tables and in the gym.
How are teachers going to keep five and six year olds engaged if the students are going to be expected to stay in their seats most of the day?
Class Sizes
What are class sizes going to look like? The average kindergarten class size was 25 students at our elementary school last school year. That's a lot of kids to socially distance. So does that mean they'll have to wear masks most of the day?
Socialization
Our biggest reason for sending to Owen to in-person school was socialization. But what will socialization even look like in kindergarten? It's not even going to be like the normal socialization we know with all the rules in place.
Our plan is to find and form a small play group with kids Owen's age, whose families are also taking this seriously, so they can play outside and socialize.
Consistency
Children crave consistency. I see the inconsistency of school closing and opening when there are outbreaks as having a negative impact on Owen. We feel we'll be able to maintain better consistency by having him do e-learning at home.
The Stress Being Put On Teachers
We're asking A LOT of our teachers, who we all know are grossly underpaid, to follow cleaning and safety procedures while trying their best to make education fun for our children. All while they put themselves and their loved ones at risk.
I know many teachers are having to re-work their curriculums to eliminate stations and group activities. That's a lot of additional work being placed on them.
I haven't heard anything about offering the teachers in our district hazard pay. Will the school district, state government, or federal government take care of their medical bills should they fall ill with COVID? Doubtful.
Will school districts give teachers paid time off should they contract COVID or will teachers have to use their own sick/vacation/personal days?
Potential Trauma
What about the potential trauma Owen could experience? The trauma of such a stringent, and likely anxiety-inducing, learning environment. The trauma of him contracting COVID and becoming severely ill. The trauma of Owen's teacher and/or classmates falling gravely ill or dying of COVID. The trauma of Brad, Emmett, my mom, or I falling terribly ill or dying of COVID. Our family has experienced enough trauma the past two months with losing my stepdad and my dad's strokes. I don't know if we can take much more.
Pressure and Anxiety
We'd be putting all our trust in our five year old to not play with his mask, wash his hands regularly, maintain social distance, and follow the other rules put into place. That's a lot of pressure to put on a young child, especially a rule follower like Owen.
While we've tried to not talk in too much detail about the virus in front of Owen, he knows about it. He knows the virus is the reason why he had to abruptly stop preschool and why Brad is working from home. He knows the virus can make people very sick so that's why we keep our distance. He also knows Brad and I wash our hands every time we come home from an errand. Owen now asks if he needs to wash his hands after being outside "because of the virus". If we sent him to school, I know he'd be riddled with anxiety over washing his hands and following social distancing rules.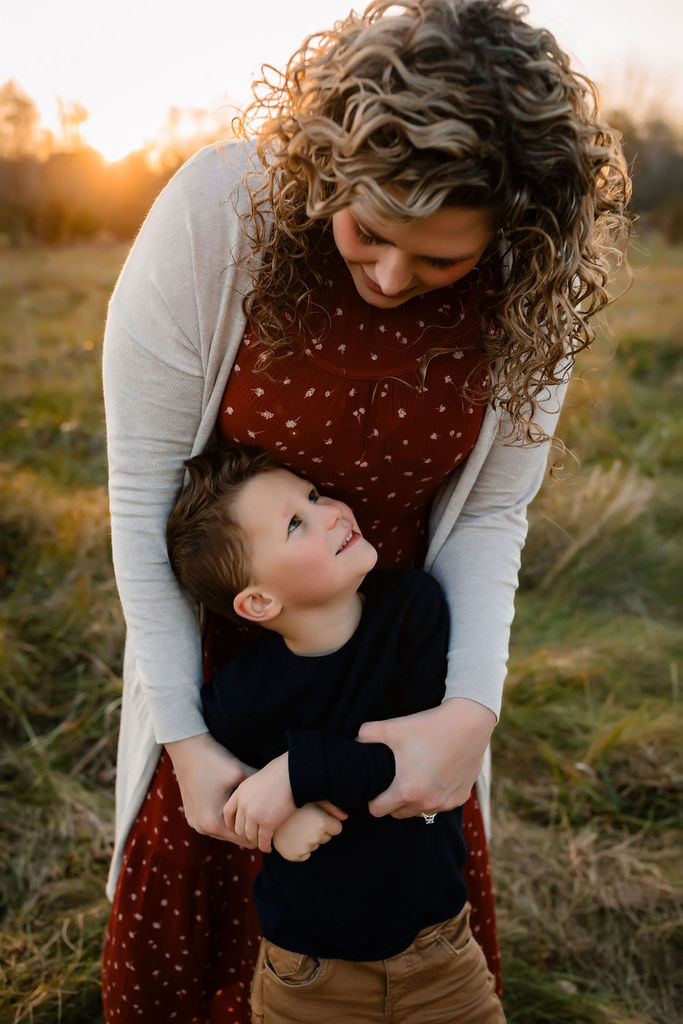 School Procedures
Like I said, I know public schools are grossly underfunded and they're receiving tons of pressure to open up with little support from the government. I don't expect them to have all the answers, but there are some things that I've thought about that our school hasn't yet addressed.
What happens if his teacher falls ills from COVID or another illness and a substitute teacher is needed? Will the school train substitutes on cleaning and social distancing procedures? Are there even going to be enough subs? Because it's not like subs are well paid. And if I was a sub I know I wouldn't be clamoring to substitute teach right now.
How will they handle fire drills? Tornado drills? Active shooter drills?
Lack of Research
Yes, the cases are low in children, but isn't that mostly because the vast majority of children haven't been in school since the spring? What about the 82 COVID cases linked to a summer camp in Missouri?
I know many parents have had to put their children in daycare. I haven't read about many outbreaks, but what happens when the siblings of daycare kids go to school, contract the virus, bring it home, give it to their younger siblings, and then those siblings take it back to daycare?
We just don't feel like there's enough research telling us it's safe to send Owen.
What Do Effects Look Like In 10+ Years?
COVID-19 isn't even a year old yet. There's not nearly enough research on the virus and its effects. And we won't know the long-term effects of it for a couple decades or more. What if COVID is like chicken pox and it's best that Owen never contracts it? What if in 10-20 years he starts developing lung or heart issues because he contracted COVID as a child? Why put him at risk if we're able to eliminate the risk and keep him home from in-person school?
Rising Cases
I knew COVID cases would go up after the 4th of July– just in time our July 29th school starting date. (Our district runs a balanced calendar.) We don't think it's a smart idea to send Owen to school with cases increasing in our area.
And I don't feel we can compare the US to other countries when it comes to schools right now. For example, German schools are back in session and yesterday Germany, with a population of 83 million, reported 159 COVID cases. Our state, with a population of 6.7 million, reported 452 cases on Sunday.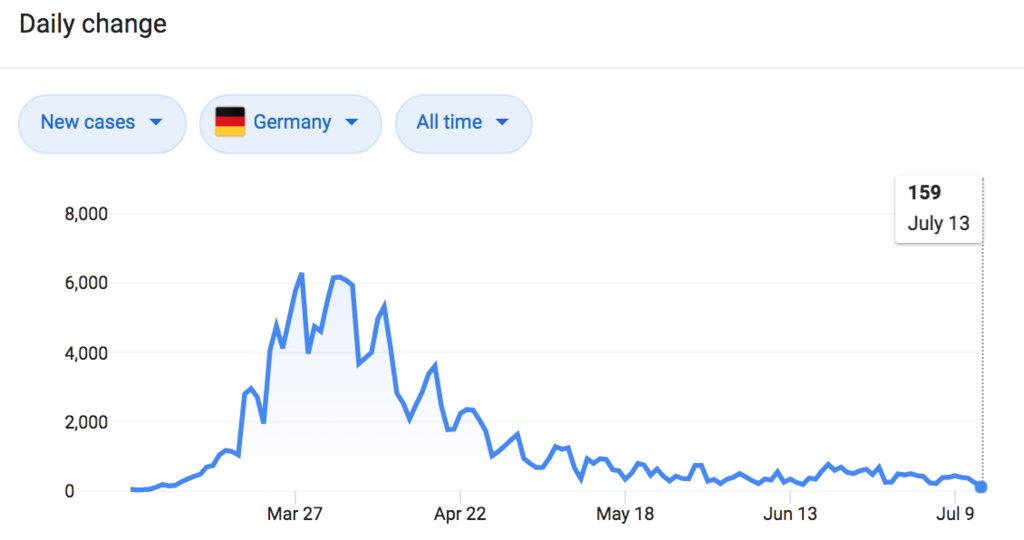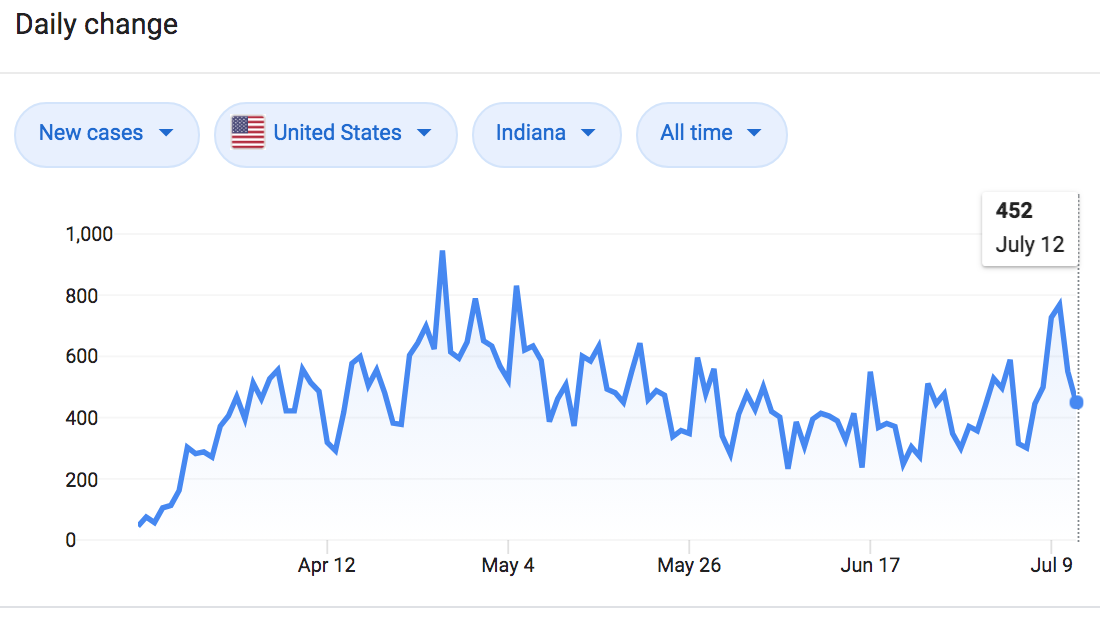 Wait and See?
A kindergarten teacher friend of mine, who actually quit a week ago due to COVID concerns, isn't sending her oldest for at least the first nine weeks of school. She's going to reassess the situation later on and determine if it's safe to send her child after those nine weeks. But currently, she doesn't feel it's safe to send them— especially with cases on the rise in our area.
Our district wants us to commit to one learning method for each semester. So we'll reassess everything as we approach the second semester of school. If we feel it's safe to send Owen, we'll strongly consider sending him. If it's not, then we'll continue to keep him home. Plus, I think it'll be easier on him to keep him home and then send him, versus sending him and then telling him school is closed or we no longer feel it's safe for him to attend school.
Parents Who Work
I honestly don't know what to say to parents who have their hands tied. It's insane to me that we couldn't get a handle on this virus so parents didn't have to choose between work and their kids. This article details most of my thoughts.
Staying Safe
By keeping Owen home, we're mitigating his risk of contracting the virus and the risk of him spreading the virus. We're keeping us safe. We're keeping my mom safe. We're keeping my dad safe when I'm able to visit him. We're keeping Owen's classmates and their family members safer. We're keeping his teacher and their family members safer.
Epic Shit Show
This whole situation is beyond outrageous. This pandemic has shown how grossly incompetent and negligent this administration is, as well as certain state and local governments. Again, are you registered to vote? And this virus rages on because some people refuse to wear masks, social distance, or to even believe the virus is a threat. And it's shown how selfish Americans are as a society. I'm not saying all of us. But a few bad apples spoil the bunch, no?
I think we can all agree that this is an epic shit show. But many of us are doing that best we can under our circumstances.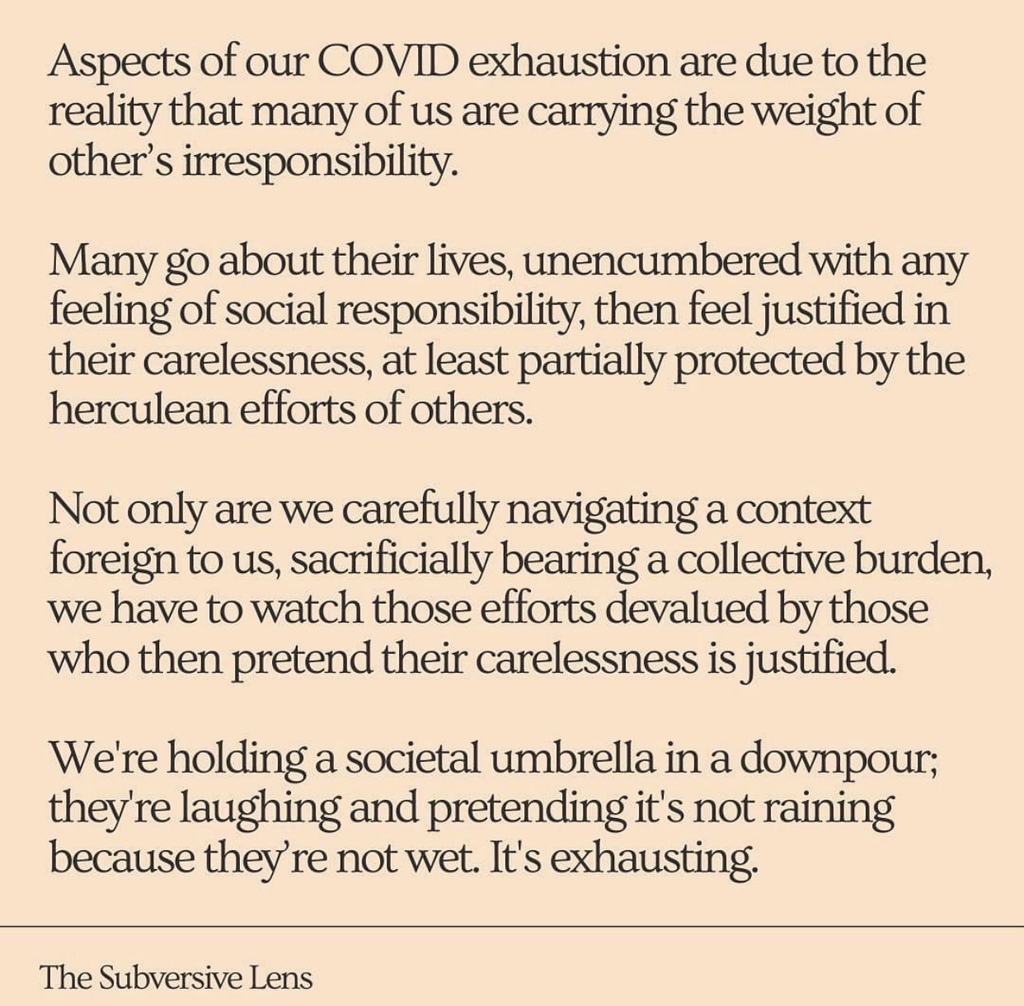 The US has the world's largest economy, but we look like the world's biggest imbeciles because we also lead the world in COVID cases and deaths.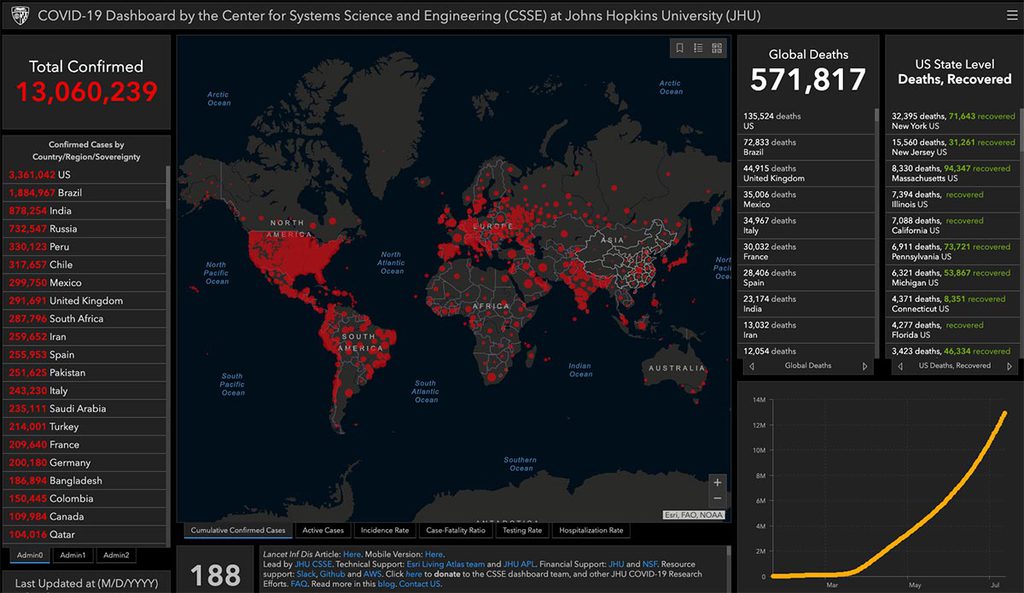 source: John Hopkins CSSE on July 13, 2020
Here are some articles I read and interviews I watched:
Will Schools Be Safe in the Fall? Experts Weigh In
This is an interesting FB post by a Special Education teacher
This is an article about Coronavirus autopsies and what they tell us about what the virus does to the body.
If you haven't yet, watch this interview with Betsy DeVos, secretary of education. There is no national plan to reopen schools. They're putting everything on states and local school districts. This is not leadership.
I watch Laurel's Instagram Stories daily. Duh. She has a couple highlights on schools.