A couple weeks ago, we set sail on a 7-day Alaskan cruise with 26 members of Brad's extended family. It was Brad's ninth cruise, my third, and Owen's first so we kind of knew what we were getting into. However, throwing a 10-month old baby into the mix added a new level of preparation. So I thought I'd share what worked for us and some must have items we took with us to make cruising with a baby a little easier.
If you've never been on a cruise it's basically a floating hotel. However, the quarters are reminiscent of a European hostel. So you have to been inventive when it comes to maximizing the space you have to work with.
Since we were going to be on the cruise for 7 days, Brad and I unpacked our suitcases and put our clothes in the closets in our stateroom. Then, I used my suitcase to create a drawer for Owen's clothes, which were originally packed in a small duffel bag, that I kept under the bed. When it was time to get him dressed, I'd slide the suitcase out, grab his clothes, and slide the suitcase back under the bed.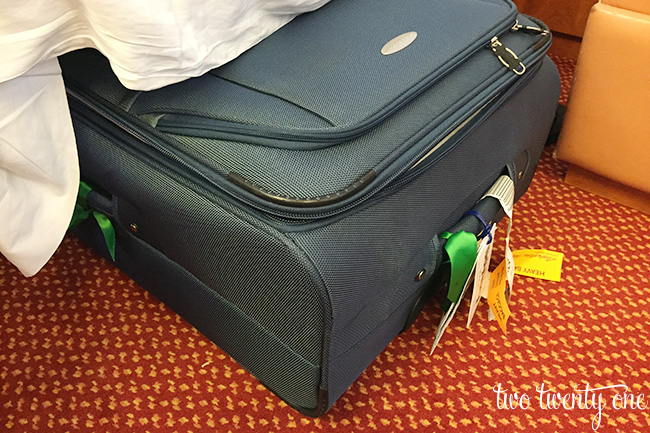 I used ziploc bags to group his clothes together. This made finding his clothes a lot easier.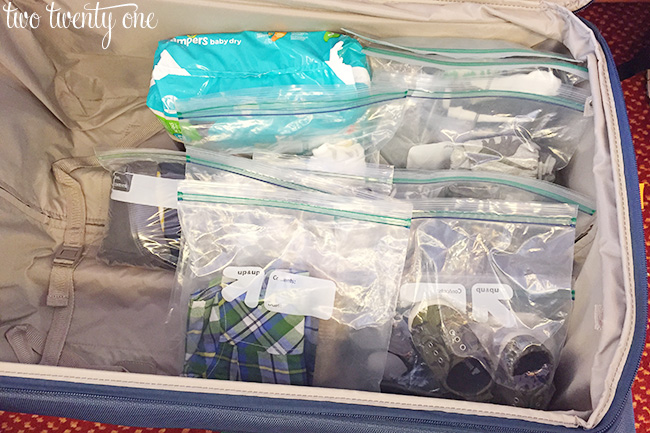 We also stored Brad's suitcase, Owen's empty duffel bag, and the stroller under the bed.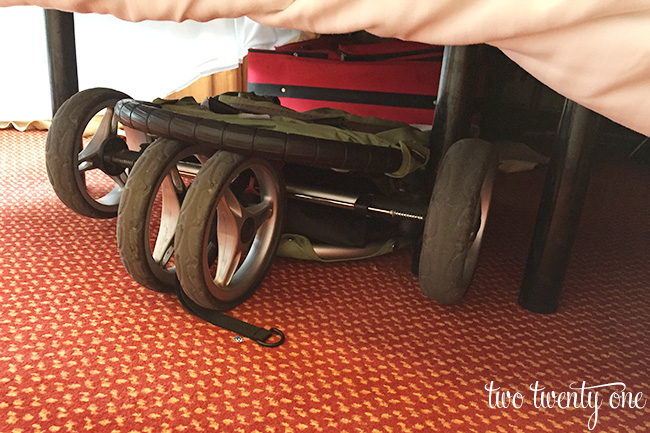 I commandeered a small cabinet in our stateroom for all of Owen's non-clothing items.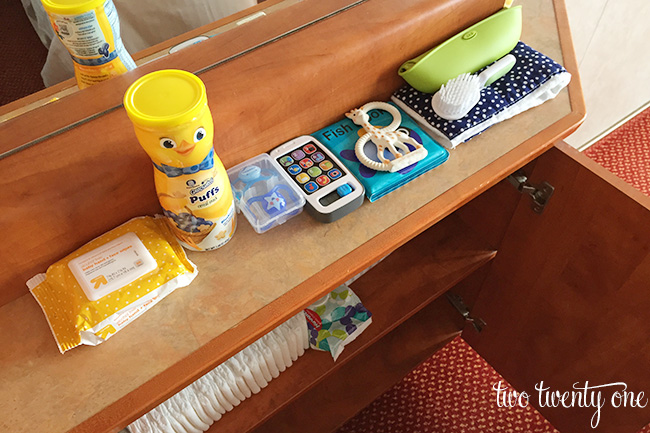 The top shelf of the cabinet held all of his diaper changing necessities. And speaking of diapers, we brought a big pack of diapers and a package of Costco wipes in Owen's duffel bag. I thought about buying the majority of diapers and wipes in Seattle before we boarded the ship, but then I wouldn't have had anywhere to put them, and I didn't want to lug around a big bag of diapers and wipes. I did buy another wipe package and a small package of diapers in Seattle just to be on the safe side. In the end, we had enough diapers and didn't have to use the ones I bought, but we had to break into the wipes I bought in Seattle.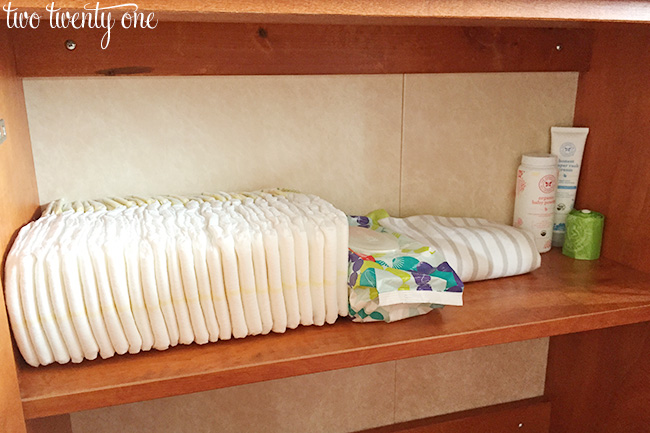 Let's talk about the seven must have items I'd recommend for cruising with a baby.
baby carrier • backpack • roll up bib • stroller • duck tub • changing pad liner • fitted sheet
1. baby carrier
I used our baby carrier (LÍLLÉbaby Airflow) every day we were on vacation. It was one of the essential things I used while on vacation. I used it in the airports, Seattle, in the ports, and on the cruise ship. It's a lot easy to wear your baby around the ship rather than carrying him. But if you're looking to tone up your arms, knock yourself out and ditch the carrier.
2. backpack
Instead of bringing our diaper bag, we used a backpack. We always had the diaper changing clutch, pacifier on a clip, roll up bib, some snacks, and a toy in the backpack. When we would drop Owen off at my in-laws' stateroom for some free babysitting action we'd leave the backpack so they would have everything they needed for him. And when we would venture off the ship we'd throw some of our stuff in the backpack, like my camera and a water bottle.
3. roll up bib
I love these roll up bibs. I always have one in our diaper bag. They're easy to wipe clean and they roll up so they fit nicely in a diaper bag or backpack. We always kept one in the backpack.
4. stroller
We brought a stroller with us for our big adventure. Since we spent a couple days exploring Seattle and the ports during the cruise, a stroller was a must. While I don't mind wearing Owen in the carrier, sometimes mama needs a break. Now, some people might think this is crazy, but I bought a used City Mini stroller off Craigslist for $75 to use on vacation. I didn't want to take one of our nice strollers because I've heard horror stories about airlines breaking strollers, and I'd be less heart broken if they broke our new-to-us $75 stroller. And good news, the stroller came back unscathed. We also fell in love with the City Mini. It's a smooth ride, and it collapses quickly and compactly. I highly recommend it, especially for travel. We stored the stroller under our bed when we weren't using it.
5. duck tub
Owen isn't a fan of shower sprayers. In fact, he's not a big fan of baths right now. But baths are the lesser of two evils. They only have shower stalls in most cruise ship staterooms, so I bought an $11 inflatable tub to set in the shower stall. It worked out great for bathing Owen on the cruise. Plus, it doubled as a toy for him to play with once it was dry.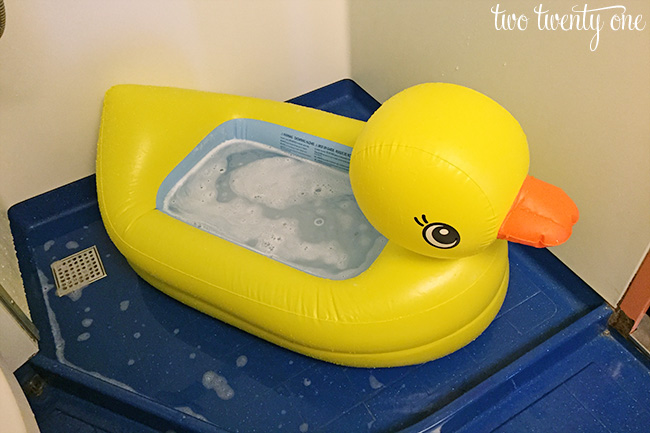 6. changing pad liner
I brought two of our IKEA Tutig changing pad liners (these are good alternatives) so we could throw it on the bed and change Owen.
7. fitted Pack 'N Play sheet
Owen slept in bed with us because he's too good for a Pack 'N Play, but if you're kiddo is less of a diva than mine, I've heard that people recommend bringing your own fitted sheet for the Pack 'N Play provided on the cruise.
Cruising with Owen was a breeze, but he's a pretty laid back guy. We also had family there to help when we needed it. Brad's parents watched Owen a few nights so we could play cards with other family members or catch one of the cruise ship shows. And Brad's aunt and uncle watched Owen while Brad and I went on an excursion on our wedding anniversary. So it was really nice having built-in babysitters.
This post contains affiliate links.