Two Twenty One Talk 004 : Bower Power
Woot! Two Twenty One Talk is back in action. Thanks for your understanding with the brief hiatus. I know you missed the soothing sound of my voice.
A couple weeks ago the hard drive on my computer failed unexpectedly right before I left for a 12-day vacation and I thought I lost everything, including my latest Two Twenty One Talk interviews. Well, my computer is donezo (RIP) but after forking over $160 they were able to extract mostly everything from the hard drive. BUT they couldn't salvage some stuff which is why I'm very thankful that Brad set up an external hard drive to automatically back up everything on the computer every day. So invest in a techie partner and an external hard drive. It will save you tears and the guilt of stress eating.
My guest this week is Katie Bower from Bower Power. Sit back, relax and enjoy my conversation with Katie!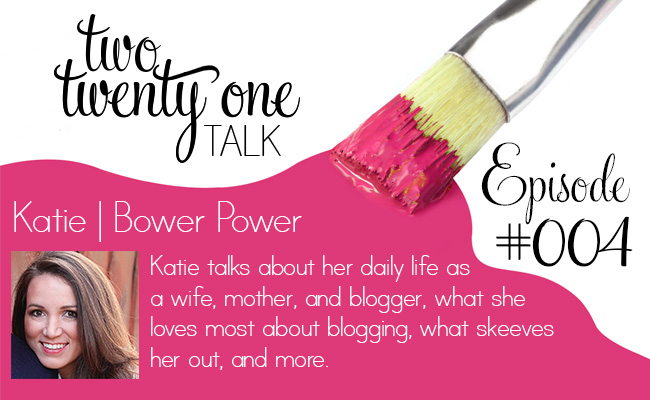 Katie's most popular posts:
Check out previous episodes of TTOT:
002 with Liz Marie from Liz Marie Blog
003 with Kelly from View Along the Way
You can now listen to TTOT on iTunes and Stitcher!
If you enjoy the TTOT podcast, I'd LOVE for you to take a couple minutes and leave a positive review on iTunes.
Do you have a favorite blogger (other than me, of course) that you'd like me to talk with? Tell me in the comment section.