Episode 5
After the snooze fest that was episodes 2-4, episode 5 came through. It was the first episode since episode 1 where it had my full attention.
The Call
I saw someone say this on reddit– "Imagine not seeing your husband for about 5 years due to sexual servitude & then being asked to make a phone call to benefit your slavers. This scene is wild."
-ThatChelseaGirl (stellar handle, btw)
Seriously. So effed up.
Ugh. That call was gut wrenching. I cried. Luke telling June how much he loved her over and over again because he's, rightfully so, overcome with emotion while June fights to remain stoic.
The Meeting
Holy roller coaster of emotions.
My favorite part of the convo:
"God bless you." -Serena
"F you." -Luke
I may or may not have laughed and let out a "Daaaamn!"
I appreciated how Luke put Serena in her place and said all the things June wishes she could/could've said to Serena. He was ruthless, and I loved it.
But then I also felt bad for Serena because so far this season, she's been helping June. When Serena was melting down, I started crying and feeling bad for her. And I even thought, "OMG you've come so far."
I appreciated Serena getting the package (cassette tape) to Luke. And I love how Tuello slipped a satellite phone into Serena's bag.
The Lawrences
Commander Lawrence appears to be a conflicted man. I don't think he thought his book would lead to the creation of Gilead. So I don't think he's necessarily thrilled about Gilead, but I think he likes the power he holds.
I think Commander Lawrence's wife, Eleanor, a former art professor, is completely against Gilead. I believe it was in episode 2 when Aunt Lydia is at the Lawrence's and Eleanor asks if they were done and if she can go to her room. Commander Lawrence ushers her out of the room. I assume it's because Eleanor detested being in Aunt Lydia's presence. And notice how the Lawrences seem to live outside the city? I think that's their way of distancing themselves as much as possible from everyone else in Gilead, or rather it was probably Eleanor's request/demand.
We got a better look at the Lawrence's relationship this episode. Commander Lawrence complimented Eleanor on her hair and said something like it's how she used to wear it. Later on, when talking with June, Eleanor said, "I miss the man who made me those tapes," when she was telling June about the mixed tapes he used to make her in college. Then, at the end of the episode, we see the Commander and Eleanor sitting on the couch listening to music together.
I'd also like to add that I loved how Commander Lawrence low-key offered June a tissue after her call with Luke. I want to believe that was a genuine gesture.
I hope these sweet moments are meant to trick us into liking him and he turns out to be Serena 2.0.
Serena
I DON'T KNOW. I don't know what's going on. Does she really want Nichole back? Or is she playing some long game? I don't know. And I don't know if we'll ever figure her out. All I know is the show does an amazing job with her character. Because so far this season I've been feeling bad for a woman who previously held down another (pregnant) woman while her husband raped her. Talk about a mind eff.
After the episode, I did say to Brad, "Is this baby going to start a war between Canada and Gilead?"
June's Taped Message to Luke
Well, this was another moment where I cried. I hope Luke understands that June had to form some sort of companionship for her survival. She worded it more eloquently than I ever could when she said Nichole/Holly was "born out of love". But at least now he knows the baby isn't Fred's.
However, I am worried that in some sick plot twist Fred will be the father.
Episode 6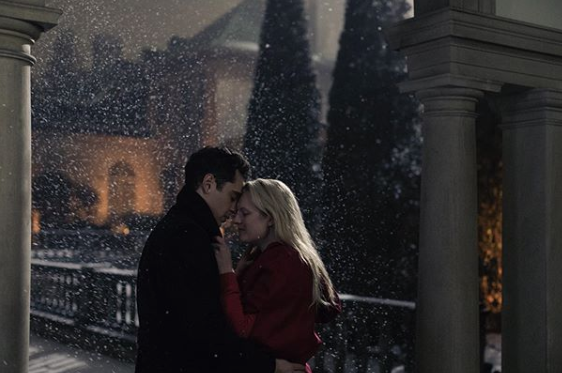 Washington D.C.
It was nice to get out of Boston and see another city, granted seeing the Washington Monument turned into a giant cross was unsettling. The Lincoln Memorial was tough too. I did find it interesting that they left Lincoln's clenched fist but blew away his relaxed hand. They are clearly tougher in D.C. what with the handmaids and some Marthas having their mouths surgically sealed with three large rings, indefinitely silencing them. Super effed up.
Mrs. and Commander Winslow
Everyone saw Commander Winslow hitting on Fred, right? How he popped his booty in Fred's business while playing pool. And then, to seal the seal, he rubbed Fred's shoulder. I can't tell if this is going to lead to a trist or Winslow is testing Fred to see how power hungry he is. And everyone noticed that his wife's name is Olivia, right? I love a good Law & Order SVU reference. It was very unsettling how many stolen children they have. When Serena asked Olivia if all the kids were hers, and Olivia says, "Who else's would they be?" a death glare washed over my face. It makes me think about the humanitarian crisis on the border and all those kids separated from their parents.
Nick
I really, really, really want to believe Nick is an informant working with the Swiss and/or Canada. They had to have intel on Nick before meeting with June because they knew who he was. It just doesn't make sense that, seemingly overnight, the Swiss were told that he's not to be trusted. And Nick is being sent to the front lines in Chicago. And where better to gain intel and fight from the inside? I'd obviously love to know more about his backstory. I've read theories that he was part of the Boston Globe massacre and/or he was one of the guys who captured June and Hannah. The biggest missing piece is how he went from war hero to driver to commander because that's an odd path.
Aunt Lydia
When June asked Aunt Lydia if she wants all of the handmaids to be silenced and Aunt Lydia says no, I felt she was being genuine. Because for how effed up and crazy Aunt Lydia is, I think she really cares for the girls. And I can't not mention that Ann Dowd is amazing.
Unrelated
Has anyone else noticed the lack of flashbacks this season? They used to annoy me at times during seasons 1 and 2, but now I miss them.
The cinematography was amazing in this episode.
Episode 7 Preview
The next episode preview goes live with the previous episode, in case you didn't know that. If you missed it, you can watch it below.
It appears June is going to try to get closer to Mrs. Lawrence. I think June needs to tread lightly because I don't think Commander Lawrence will be very pleased if he catches on. It looks like June and Mrs. Lawrence are going to attempt to see Hannah at her school. Should be interesting.
Episode 7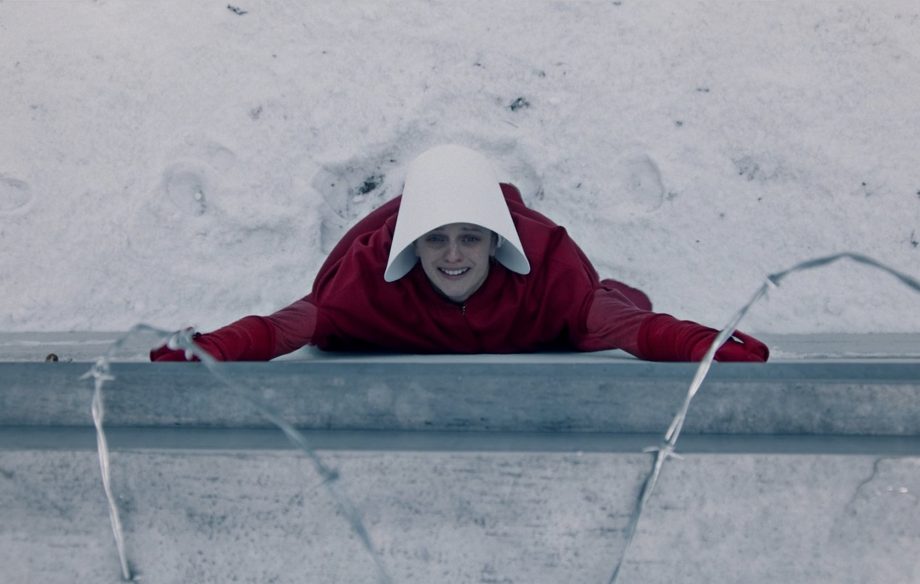 To be honest, this season is really annoying me. There seems to be no direction. It's like June's storyline is stumbling around like an overly tired toddler, making circles around and around, going nowhere. And I get it, I think they're trying to show that June is unraveling but wasn't the line at the very end of Season 2 "Mama's got work to do"? Apparently that work involves attempting to execute really dumb "plans", like visiting Hannah at her school and ask her if she wants to leave Gilead with June.
And I guess we're just stopping the whole Nichole thing. Fred something about leaving her in Canada as a bargaining chip to get goods from Canada. But… that's it? Call me crazy but it felt like that storyline was building and building with the propaganda videos and such, and now it's all "Meh. Let's leave the baby in Canada so Gilead can get some decent fruit cocktail."
Mrs. Lawrence
So I was off in regards to my interpretation of Mrs. Lawrence. Turns out she has bipolar disorder, which explains some of her behaviors. It's sad that her illness has kept her from having children. But now we know why Commander Lawrence doesn't participate in "The Ceremony". He doesn't want kids. And I'd assume he also doesn't want children because of Mrs. Lawrence's bipolar disorder.
I thought Commander Lawrence was going to lose his ish when June got Mrs. Lawrence back to the house after their trip to Hannah's school. And you'd think June would be punished somehow. I feel like June is being let off the hook way too easily this season than in the previous two seasons. Granted I know she's not with Fred and Serena anymore. But still, June seems to be getting away with everything, and it's not the most believable.
I have to mention that by far, my favorite quote from this episode was when Mrs. Lawrence was admiring Angela, and said, "Hi button! We thought you were gonna die, but you didn't die!" Hilarious.
Serena and Olivia
The scene of the two of them walking through that house was super messed up. That's all I really have to say about that.
OfMatthew
Frankly, I would've cut a bish. Not only did OfMatthew get Hannah's Martha killed, who June seemingly trusted to help care for Hannah, but now June has no idea where Hannah is because the McKenzies left. I did love how the other handmaids shielded June and OfMatthew so others couldn't see what June was doing.
Moira and Emily
I don't necessarily think it's a good look for Emily to be partaking in aggressive protests given her situation but she's her own person so… I know some people are wondering if Moira and Emily are romantically going to get involved. It appears that won't be happening. I read somewhere that the show runner said they'll be good friends because there's not many platonic lesbian friendships portrayed in TV or movies. To which I say, well done.