I've felt immense sadness the past week with all of the sorrow happening around the world.
But last night I decided to channel my negative energy into something positive.
On Sunday morning, while I was preparing breakfast, I overheard a segment on the Today Show that caught my ear. I asked Brad to pause the TV for me so I could watch it when I was finished making breakfast.
The piece was on Carry the Future, a grassroots organization dedicated to providing baby carriers to displaced refugees in Europe.
What I saw moved me to tears.
Please watch the segment below.
You can find more information on Carry the Future's Facebook page.
I don't have a Soft Structured Carrier (SSC) to donate, so last night I went on Amazon and purchased two Infantino Flip Front 2 Back carriers for $18 each. I intend on putting some baby socks, hats, and mittens and anything else I can jam in the pockets before shipping them to Carry the Future.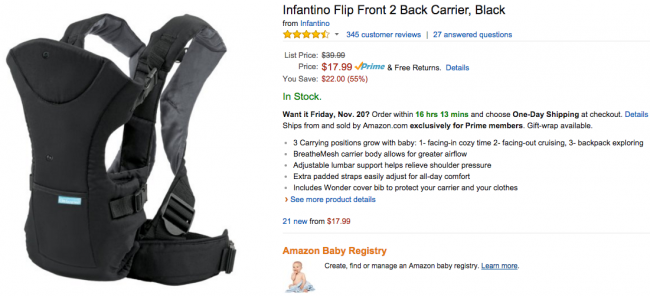 If you have a SSC you'd like to donate, you can find a group that's collecting in your area (go here for more info) or send the carrier directly to Carry the Future.
C/O CarryTheFuture
121 W. Lexington Drive
Suite L 106D
Glendale, CA 91203
If you don't have a SSC to donate, you can purchase one on Amazon, like the one I bought, and have it shipped to Carry the Future when you're checking out.
You can also donate, monetarily, to their cause here. They're also raising funds for refugee care packages. You can donate to that here.
If you live in the Indy area and would like to donate a SSC, please let me know in the comment section or shoot me an email– chelsea(at)twotwentyone(dot)net. I'm going to set up a day and time where people can meet me to hand off their carriers.
Like Antoine Leiris, a husband who lost his wife and the mother of their 17 month old son in the Bataclan terror attack said an open letter to her killers,
"Darkness cannot drive out darkness; only light can do that. Hate cannot drive out hate; only love can do that." -MLK
I used an affiliate link for the carrier. Any funds earned will be put toward shipping the carriers I collect.