Shopping for your best friend should be super easy because, well, she's your BF. But sometimes it's hard because you're all, "She has everything already." Well fear not, because I created an awesome best friend gift guide for your holiday shopping needs.
I will also add that nothing on this list is over $80, and the most inexpensive item is less than $10.
Thanks. I just felt your virtual high five.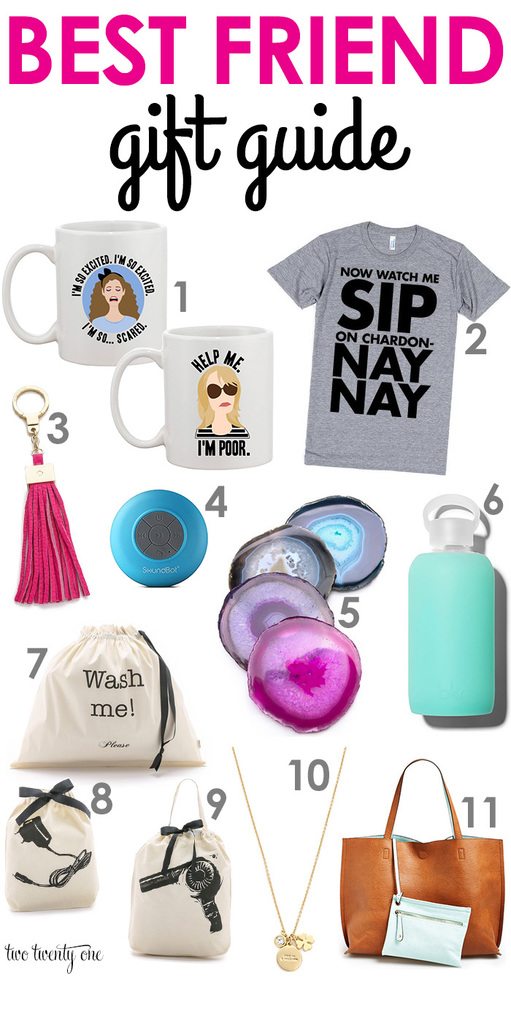 1. mugs
I don't often say that I'm obsessed with something, but I'm obsessed with these mugs. What BFF wouldn't want to receive a Jessi Spano pill popping mug? I actually hung out with my BF this weekend, and I ended up giftng her a Help Me. I'm Poor. mug and Is That Baaaaad? mug (my BF dressed up as Dooneese one Halloween) as an early Christmas gift because I couldn't contain my excitement and sit on them any longer. The shop owner also offers a buy 3, get 1 free deal so you can buy three mugs for your friends and one for yourself. Because you deserve it.
2. t-shirt
I don't think this t-shirt needs much explaining. I may or may not have purchased one for myself.
3. tassel keychain
This keychain is a good option if your BF's keys need a little oomph or if she's always losing her keys.
4. bluetooth shower speaker
Singing along to JT in the shower just got easier. To be honest, I didn't know these speakers existed until a few weeks ago because apparently I'm still living in 2010. This is another thing I may or may not have bought for myself. I'll let you know my thoughts on it once I get it and fire it up. Bonus: this one is less than $10.
5. agate coasters
Because agate coasters are pretty. And they're not limited to only holding drinks, I put candles on them too. These are a little pricey, but I also found some more economical options.
6. water bottle
Reiterate to your BF that drinking lots of water keeps you looking young by gifting her this fancy schmancy glass water bottle. Because BPA-free plastic water bottles are so last year.
7, 8, 9. organizing bags
These bags are great for travel– even weekend trips. I know they aren't necessary because you can always use a plastic Target shopping bag, but these are more classy. I mean, we're supposed to be adults now. You can find the 'wash me' bag here, phone charger bag here, and hairdryer bag here. And there's about 25 more bags in the collection.
10. necklace
I would totally wear this 'one in a million' necklace so your best friend probably would too.
11. reversible tote
I actually own this tote and I love it so your BF will love it as well. Note: it is, in fact, a reversible tote so there are no inner pockets.
You may also want to check out my favorite things of 2015. Lots of winners on this list as well.
Oh, and if handmade gifts are more your jam. Check out my handmade gift ideas!
This post contains affiliate links.
Funds from affiliates help pay for web hosting, domain registration, email delivery, the occasional bottle of wine, and other fees to keep twotwentyone.net up and running. Thanks for your support! I appreciate it!