Last month Brad, Owen, and I jetted off to Turks & Caicos so I could attend the Social Media on the Sand conference at Beaches Turks & Caicos Resort Villages & Spa. To date, it's the best conference destination I've traveled to.
We got up dark and early at 3AM on Wednesday morning in order to make our 6AM flight. Unfortunately for your reading pleasure, but luckily for me, our travel went smoothly, unlike when I traveled to NYC the month before. The plus side of getting up so early? We landed in Turks and Caicos around 12:30PM.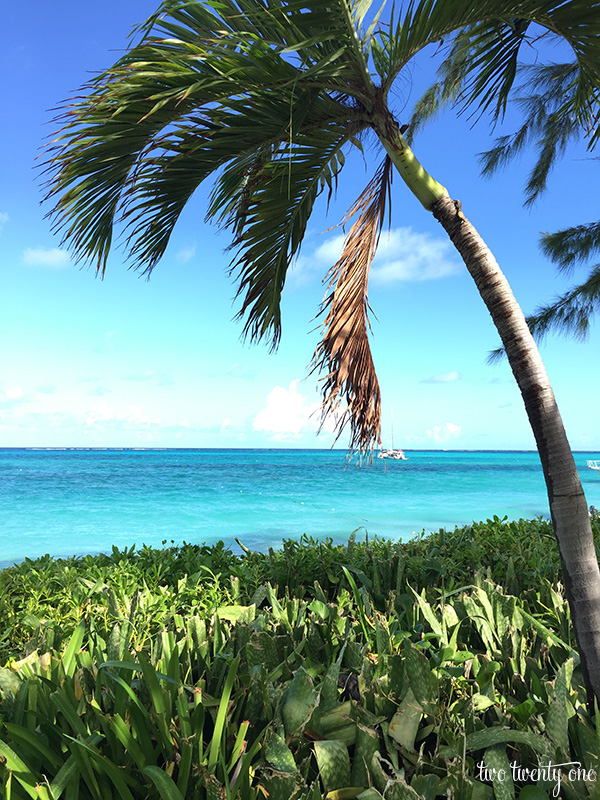 When we got to Beaches our room in the Caribbean Village wasn't ready, but after the front desk people looked at our exhausted, sweaty faces, they upgraded us to a room in the Italian Village that was ready. It worked out perfectly because Owen ended up getting his own room with a crib.
I borrowed these photos from Beaches' website because I didn't get good photos of our suite.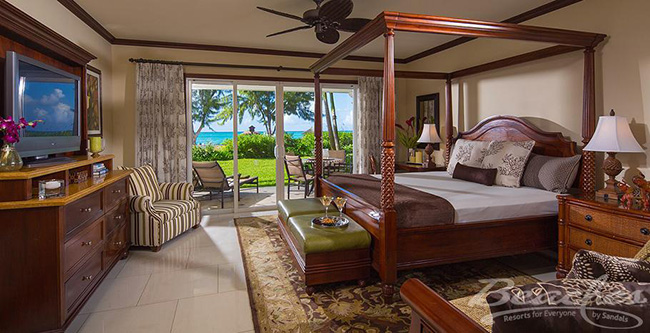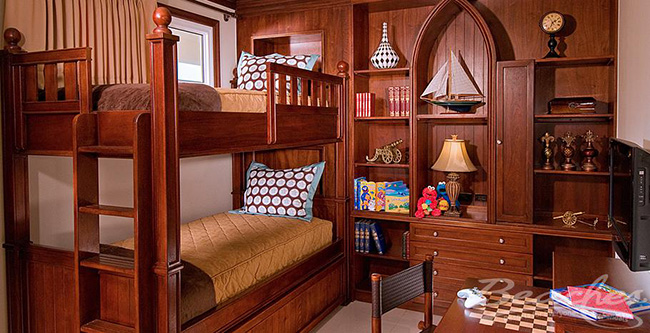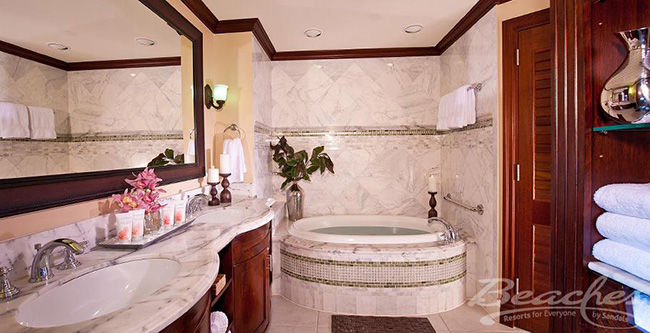 Here's the view from our patio. It was rainy the day we arrived, but the weather was perfect the remaining days we were there.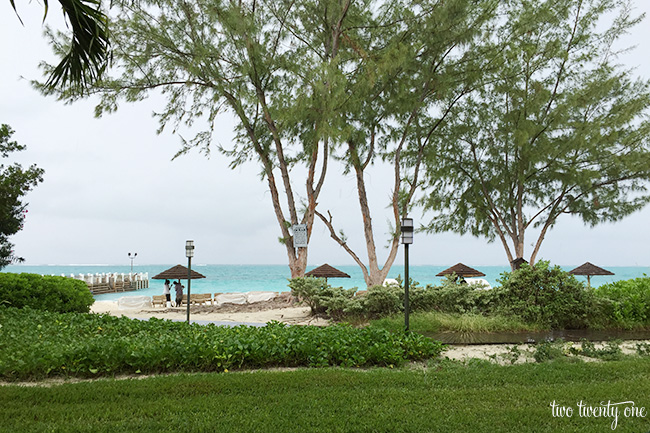 After getting settled into our room, we headed out to grab some lunch. We followed up lunch with a much needed family nap.
That evening I headed off to the conference attendee welcome cocktail hour. It was nautical themed– in case you're wondering about the hats.
From left to right, that's Alli from Made with HAPPY, Heidi from Happiness is Homemade, Britni from Play. Party. Pin., Amy from Living Locurto, me, and Cheryl from That's What Che Said.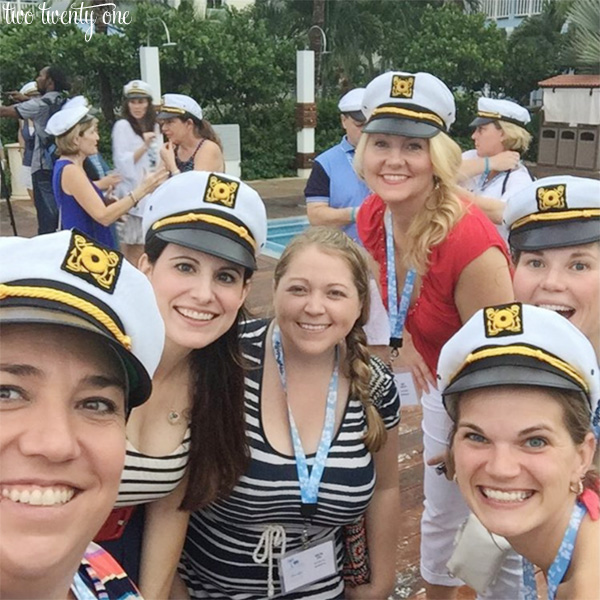 It's always nice to see and catch up with blog friends and meet new ones in real life.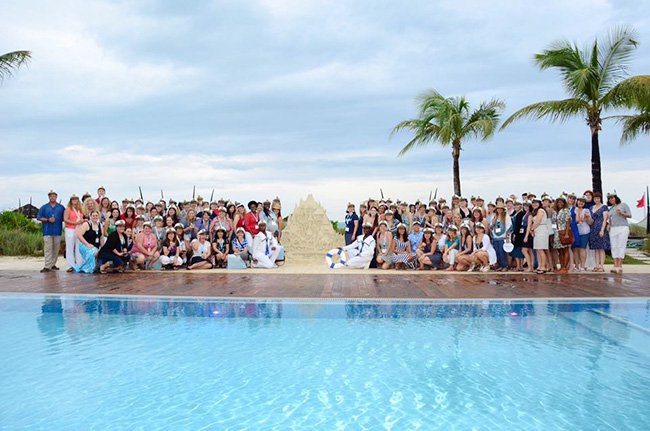 I actually won a free photo session at the cocktail hour party, which was exciting because I never win anything. More on that later in this post.
For the next three days I attended conference sessions in the morning, after having breakfast with Brad and Owen.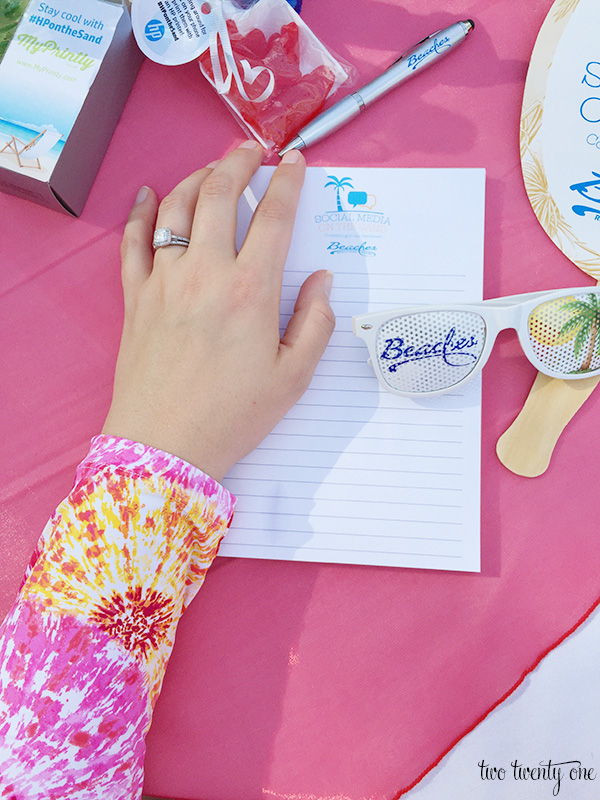 Unlike most conferences I attend, the sessions were held outside– right on the beach. It got a little toasty as the sun climbed higher in the sky, but I'll take that over being stuck in a drab conference room.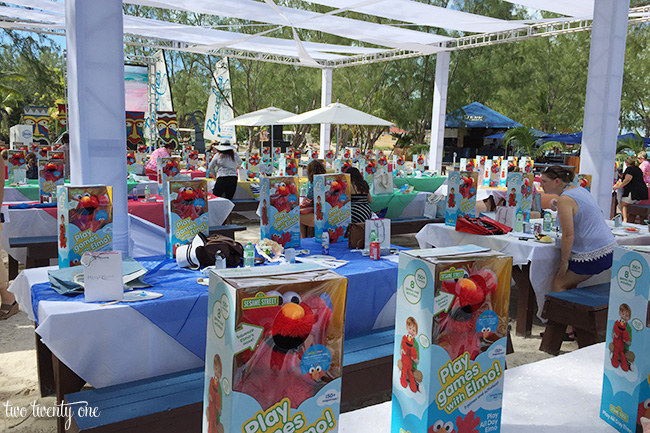 The photo above is every two year old's dream.
The first morning we listened to a presentation on The Sandals Foundation, which gives back to the citizens of the Caribbean. To support The Sandals Foundation and their Pack for a Purpose organization, each blogger brought a backpack filled with school supplies to the conference.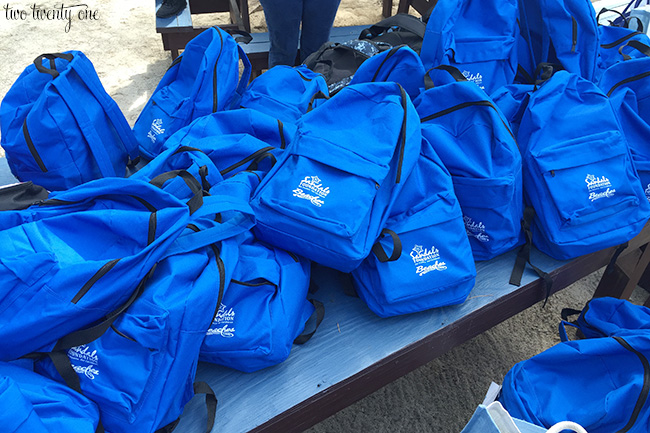 While I was in my conference sessions, Brad would take Owen to the beach or pool and then back to the room so Owen could get in a morning nap. We both welcomed this because he only naps once in the afternoon at home. Sunshine, sand, and water activities are exhausting for one year olds.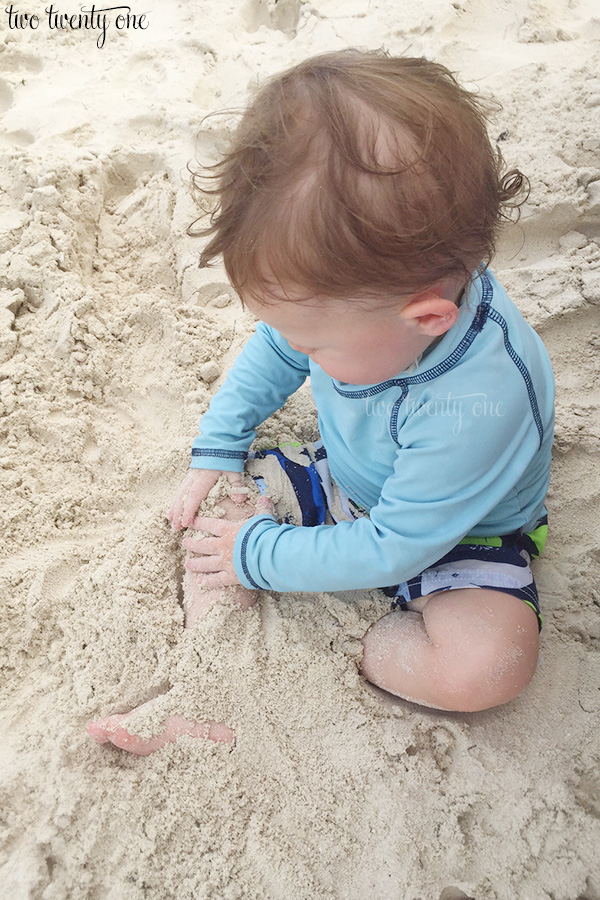 My sessions wrapped up around noon so I could meet Brad and Owen for lunch. We joked that Owen was on the 'F diet' while on vacation because he only wanted to each French fries and fruit. All the fruit. However, he broke from the F diet a couple times to eat some Jamaican patties, which surprised us because they're spicy.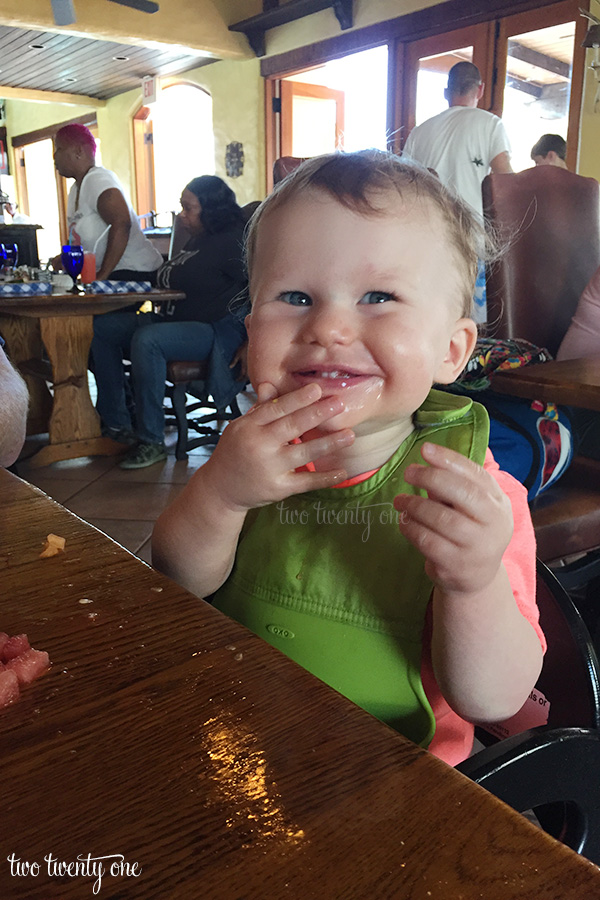 After lunch, we would head to either the beach, waterpark (lazy river FTW), or one of the pools for a couple hours before Owen's afternoon nap.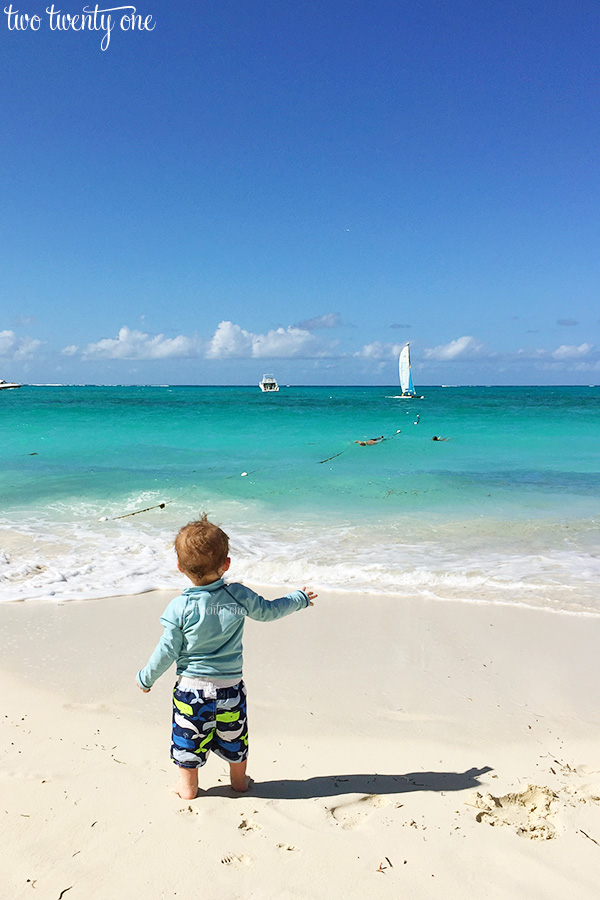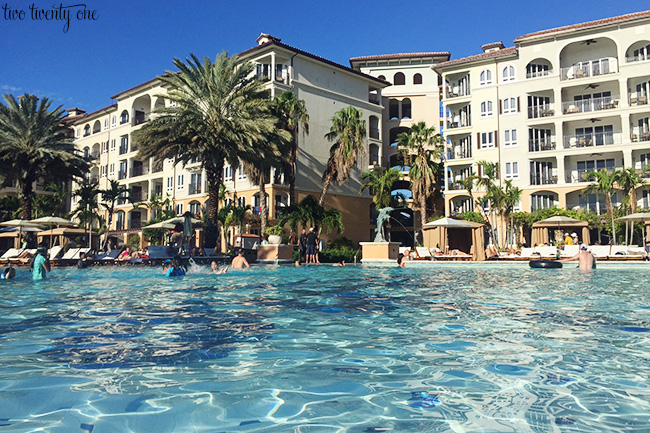 After Owen's afternoon nap, we would get ready and head to dinner. The resort has 20 restaurants so our hardest decision every evening was deciding where to eat. One evening we took Owen to Camp Sesame, which provides free childcare, so we could enjoy a kid-free dinner at the sushi restaurant, Sky.
Every night there was a different party for attendees and their families.
There was an 80's throwback party on Thursday night. I decided to branch out from the typical neon outfits, so the three of us went as Wally World tourists, a la National Lampoons Vacation, complete with matching Wally World shirts, khaki shorts, and fanny packs. Owen even rocked a baby fanny pack.
I have an amazing video of Owen showcasing his mad dance moves at the party. Little man loves him some 80's tunes.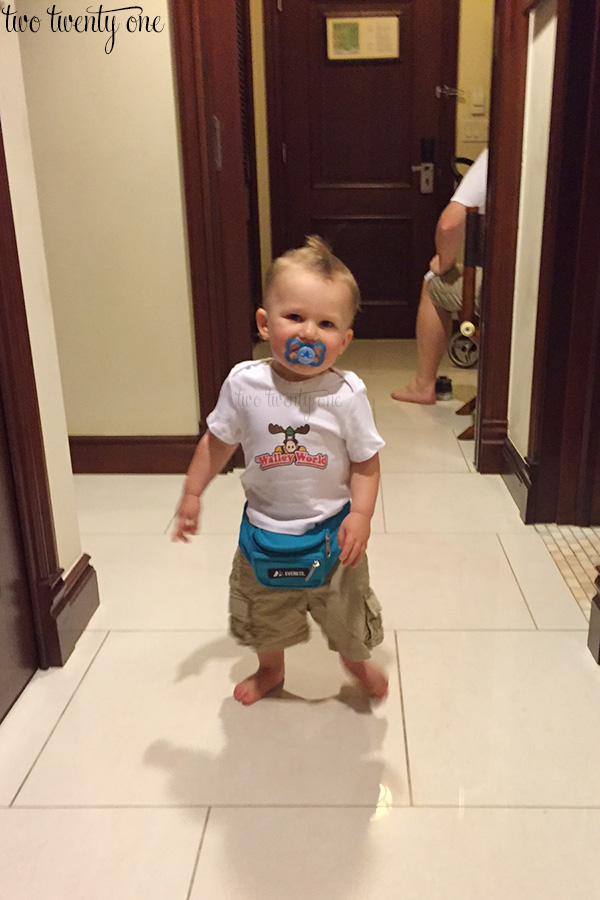 There was a laid back beach party Friday night complete with leis, food, drinks and entertainment.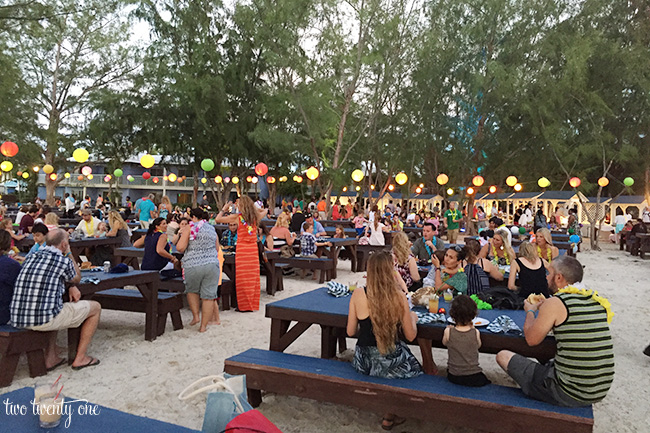 Owen's favorite part was the Sesame Street performance. His next favorite thing about the beach party was running from us and attempting to touch everything he shouldn't.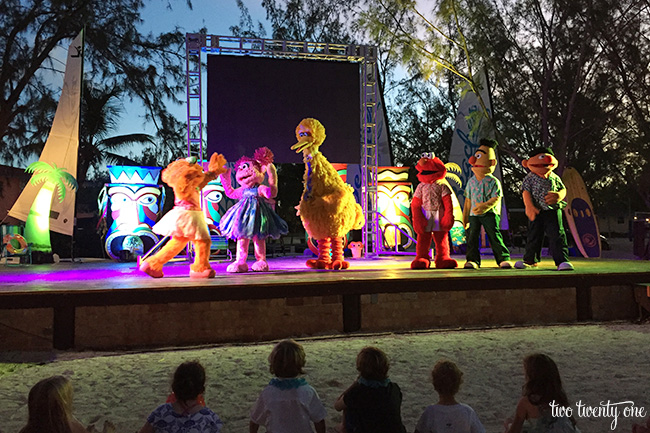 That night, after putting Owen to bed, we had a babysitter (provided through the resort for $15 per hour) come to our room so Brad and I could go out for drinks with some of the other attendees and their spouses for a couple hours. That was the only expense we paid while at the resort because food and alcohol are included.
Saturday evening they had a trick-or-treat costume party in the middle of the Key West Village.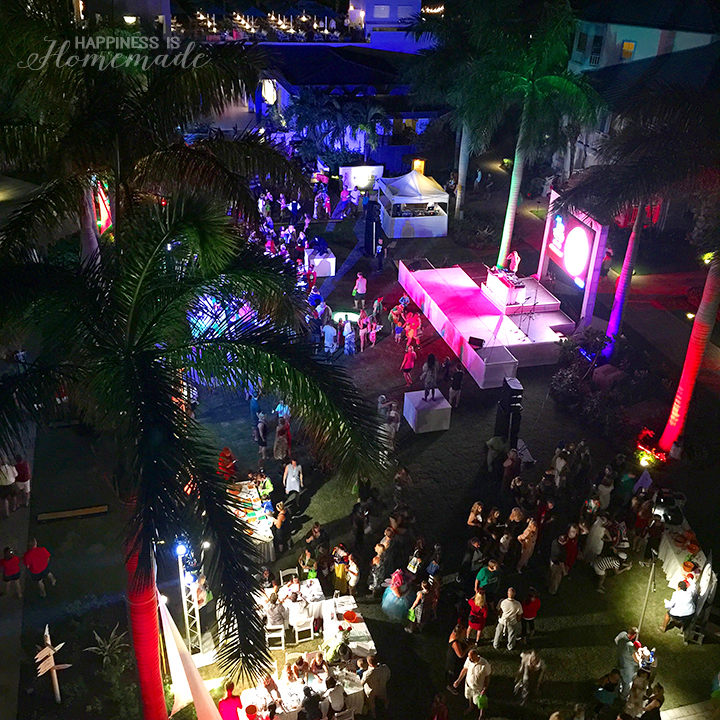 photo by Heidi
Since space was limited in our luggage, I made minion t-shirts for the three of us instead of buying and packing extensive costumes.
This photo of us, which was taken on Halloween, turned out so much better than the photo we took at the costume party. Mostly because we aren't sweaty hot messes.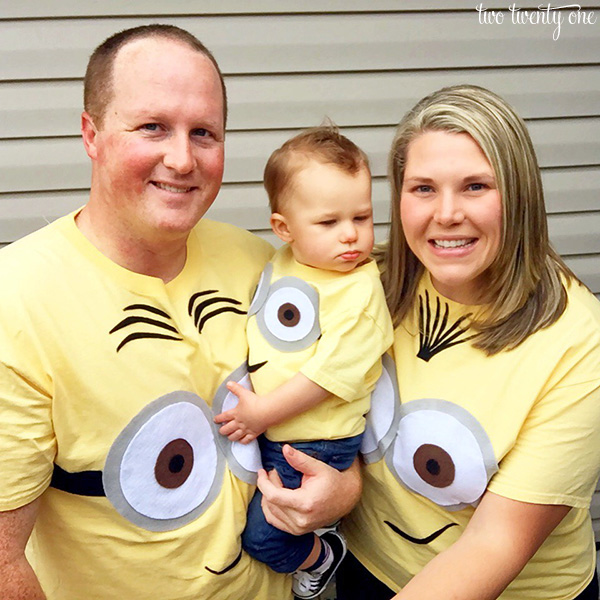 Remember when I said that I won a free photography session? Well, it went as well as photography sessions with a cranky one year old can go.
Exhibit A.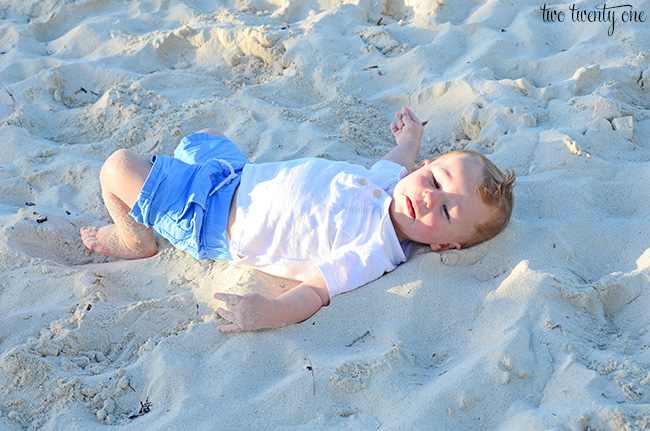 We managed to get a handful of good shots where Owen doesn't look completely miserable.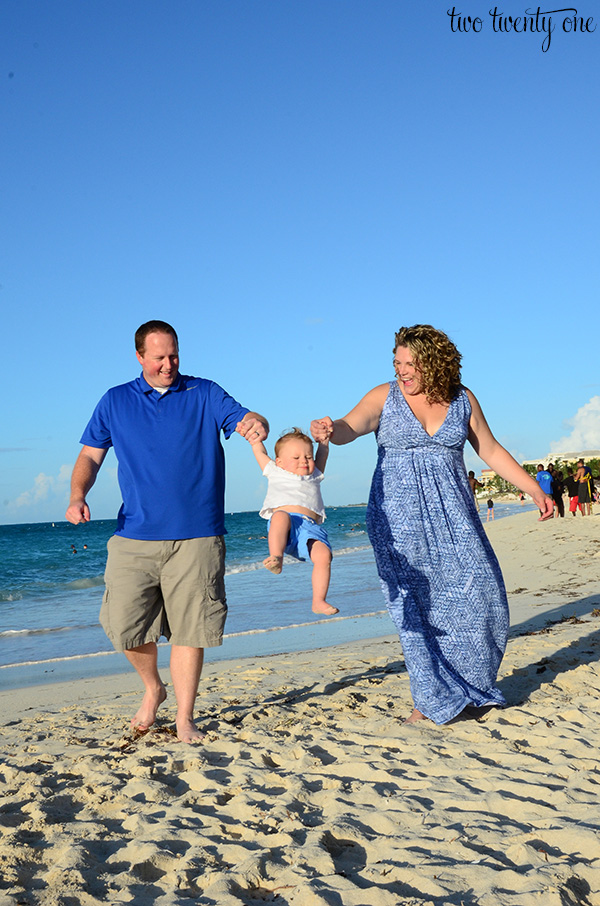 His face is saying, "Can you stop torturing me?"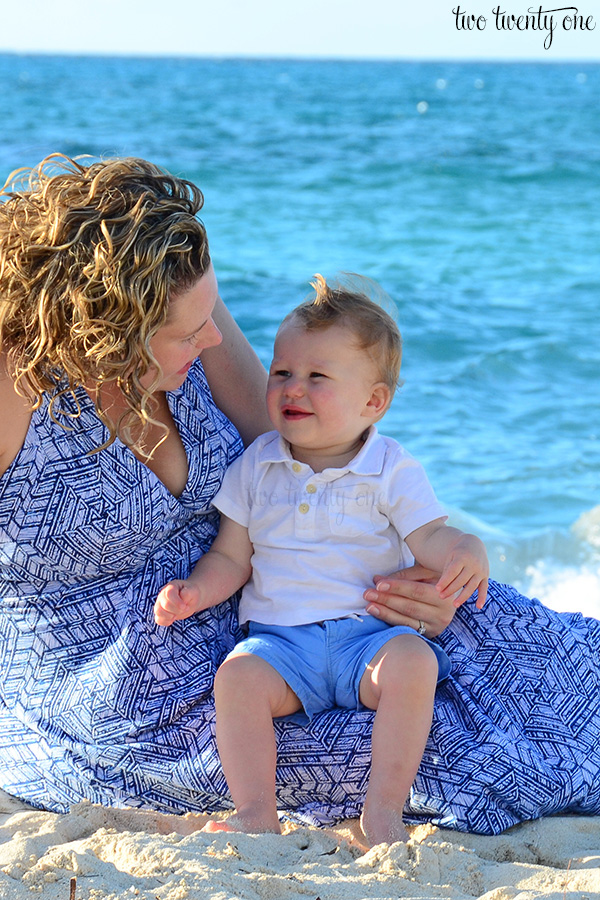 Next week I'll share more photos from our trip and our favorite things about the Beaches resort.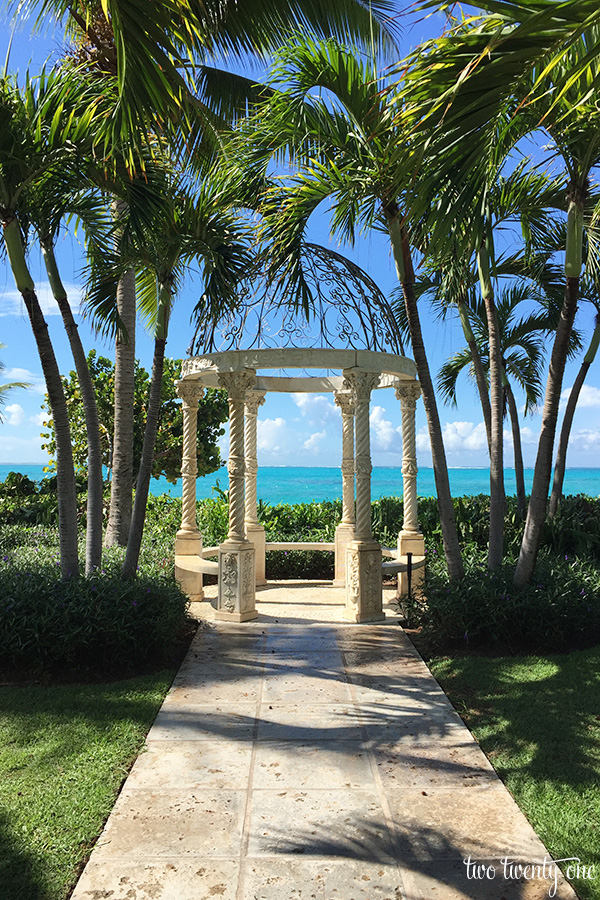 We were given the opportunity to visit Beaches Turks & Caicos Resort Villages & Spa at a reduced rate in order to attend the Social Media in the Sand conference. As always, opinions are 100% my own.