NYC & Better Homes and Gardens Stylemaker 2015
The alternate title for today's post is:
I Shouldn't Be Allowed Out of The House & That Time I Met Brooke Shields.
Two weeks ago I jetted off to New York City, for the very first time, for the Better Homes and Gardens Stylemaker Celebration. It's a yearly event that brings together home, lifestyle, food, and fashion bloggers to network and learn from BHG editors and guest panelists.
But before I get into the awesome event, let me share a couple travel stories with you.
I flew out early Wednesday morning– like I woke up at 4:30AM early. It also worked out that my parents' were flying out early Wednesday AM as well to visit my brother in Portland and head up to Seattle for some sightseeing. But 20 minutes before we were supposed to leave for the airport, I got an automated call from the airline saying my flight was canceled, and the airline took the liberty rebook me on a flight 2 hours later, which would've made me miss my connecting flight in D.C. After letting some colorful words flow out of my ladylike mouth (sorry, mom), I called the airline, got in the car while still on hold, and we headed to airport. Half way to the airport someone finally picked up, and I was rebooked on a flight leaving at the same time as my original flight, it just connected in Charlotte. Airlines frustrate me.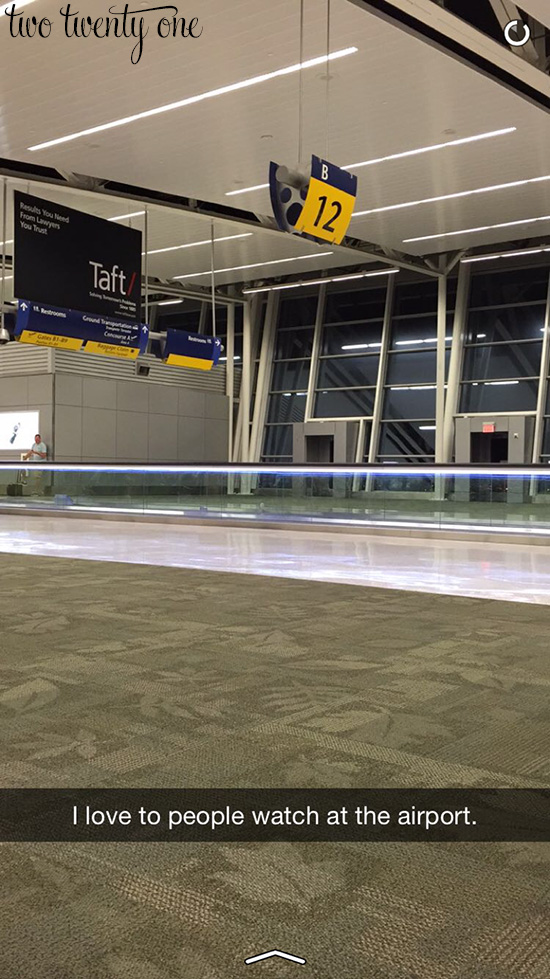 Find me on snapchat: chelsea221blog
So I get on my second flight from Charlotte to LaGuardia, and I score big time and get the middle seat (/sarcasm). The very nice lady, who was heading to NYC for a fashion week event, next to me and I chatted for a while. About halfway into the flight I started to get a headache so I grabbed some medicine from my bag and my Contigo water bottle. Now this particular bottle has a flip up spout that works like a straw. You push a button and the spout flips up. So I pop the pills in my mouth and push the button. Wrong choice, Chelsea, wrong choice. Water starts spraying EVERYWHERE. The water shot so far up in the air it almost hit the fasten seatbelt sign. I was so stunned I couldn't react fast enough. So water is getting all over me, the guy in front of me, the guy to my right, and the lady to my left. I finally got the water under control. The guy in front of me turns around and gives me a dirty look while I'm profusely apology to everyone who was in the path of my water bottle turned wet t-shirt contest hose. But I still have these nasty-tasting pills in my mouth that I needed to swallow. So I make the decision to open the water bottle and drink from the open container. Another bad choice, because water starts spraying down from the straw onto the lady's expensive-looking shoes and Tory Burch bag. Why, me? Why?!
Thankfully, the flight attendant brought an abundance of paper towels. Everyone but the guy in front of me were good sports. But I kept replaying the events in my head, and I'd start to laugh out loud to myself. Because this is the kind of stuff that only happens to me. So I probably looked like a crazy person, covered in water, chuckling to myself.
As soon as we landed I had to text my best friend because one time she went to open her Purell hand sanitizer on a plane and it squirted all over the lady next her, specifically her face and hair. I knew my BF would appreciate my hilariously embarrassing encounter and affirm why we're meant to be besties.
 After getting to the Hudson Hotel, where everyone was staying and where the event was being held, I met up with a group of other bloggers. We grabbed lunch at Bouchon, ate our lunches in Central Park, and did some sightseeing.
The hotel lobby was beautiful, as was the patio and bar area through those windows, where I drank a $17 glass of house wine. Why are drinks so expensive in NYC? I'm pretty sure the bottle of that wine would be sold in my local Kroger for $7.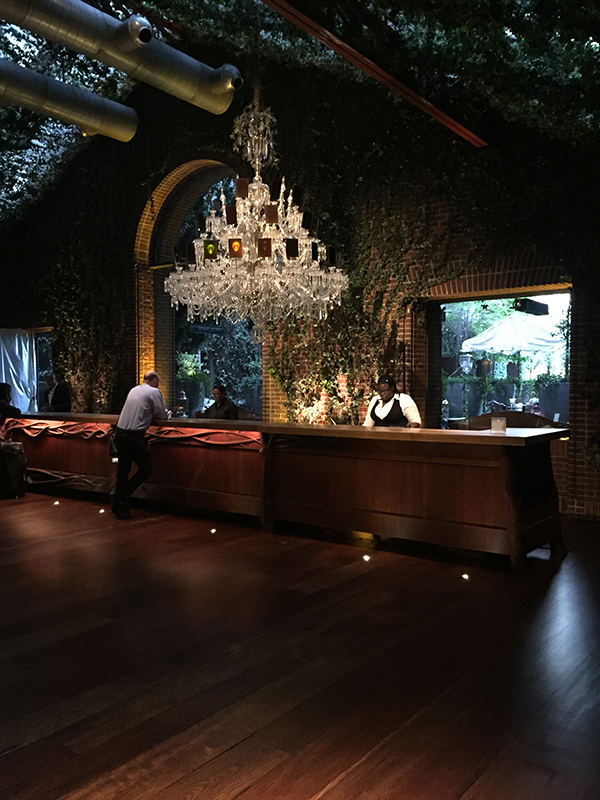 photo stolen from Julia
We walked by some of the big stuff– The Plaza Hotel, St. Patrick's Cathedral, Rockefeller Center, Radio Music Hall.
We also went into Anthropologie, where the edge of my purse tapped an unintelligently stacked $26 candle and sent it careening toward the ceramic tile floor where it burst into hundreds of pieces, which then made the security guard run to see who was loudly vandalizing the store.
I have to admit, my first thought, after hearing the candle explode on the tile was, "Are they going to make me pay for that?" They didn't. Probably because they didn't want to listen to me say, "I'm so sorry" one more time.
I was on a roll that Wednesday.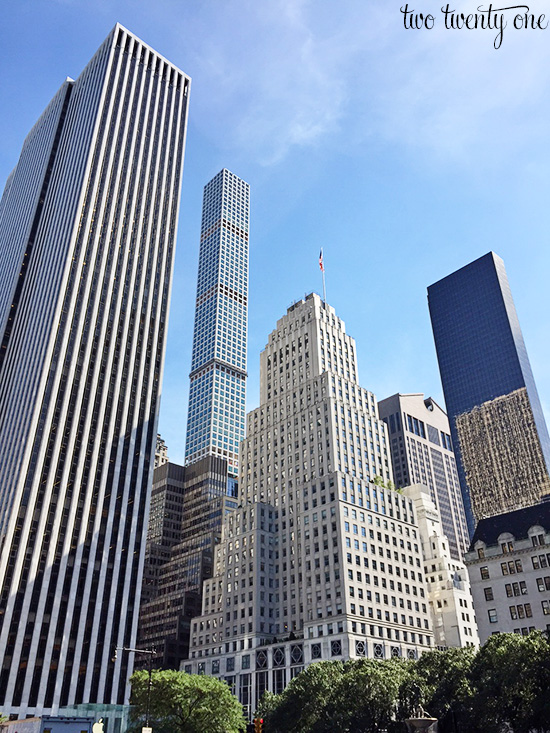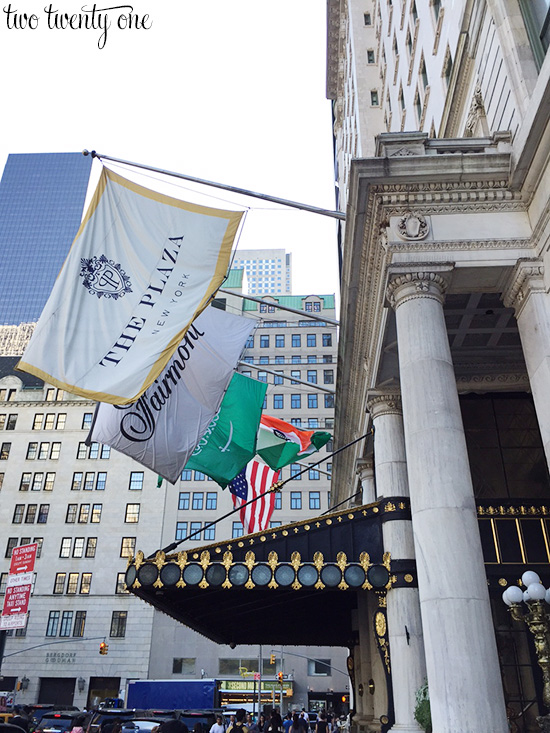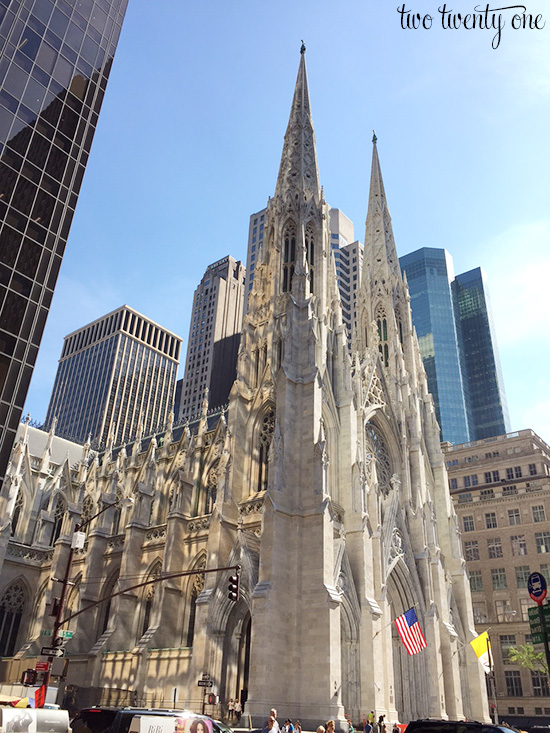 Wednesday night a group of us went to dinner at Room Service, a Thai restaurant. Our table was next to this massive chandelier in a glass case. Nothing says 'ambiance' like a giant crystal chandelier at eye level.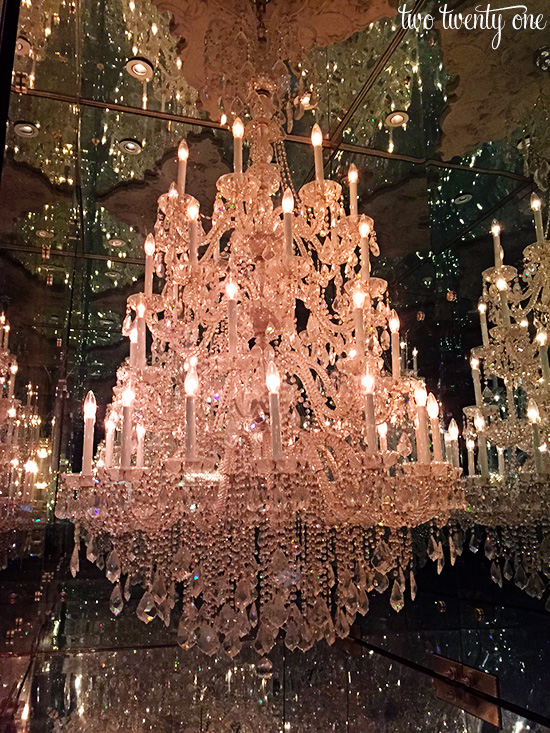 The Stylemaker Celebration was on Thursday. The day was filled with sessions on social media, food styling, flower arranging, table styling, creating video content, and other fun stuff.
There were also some panel discussions and Q&As with the BHG editors and Stylemakers from the September issue.
Every blogger in this photo is taking a photo with their phone. And apparently I'm motioning for someone to get out of my shot.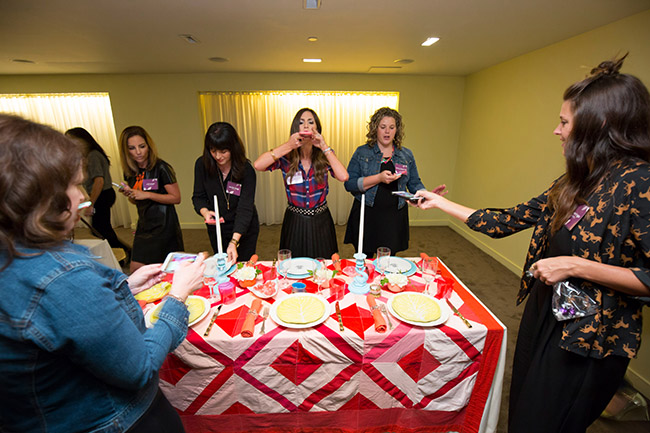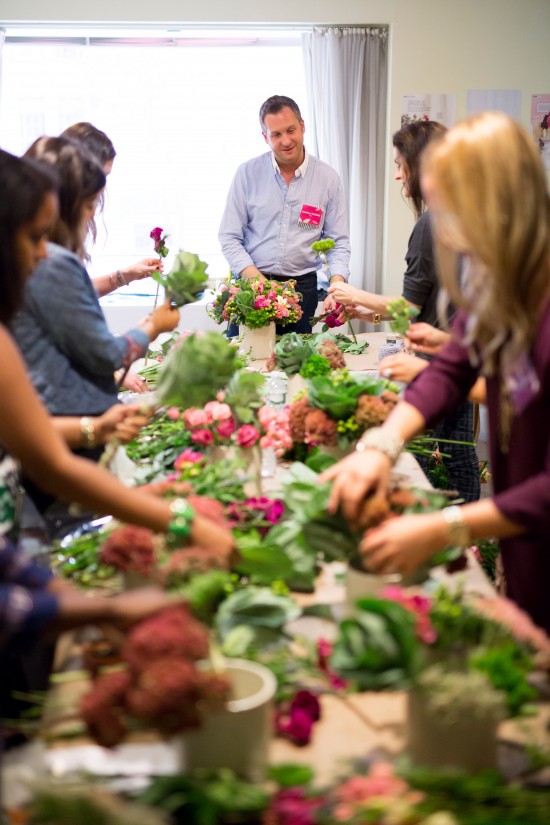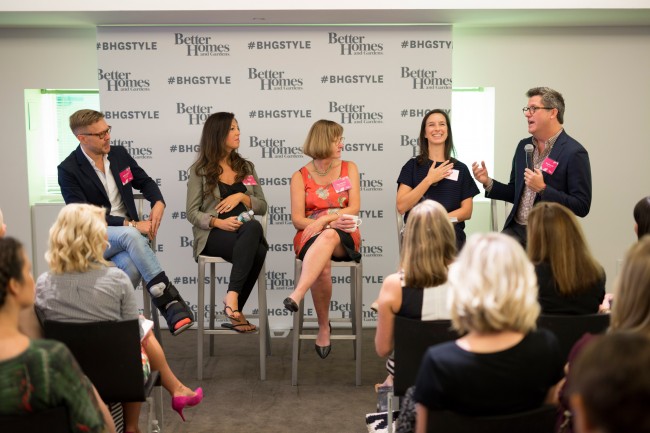 Can you spot the back of my head?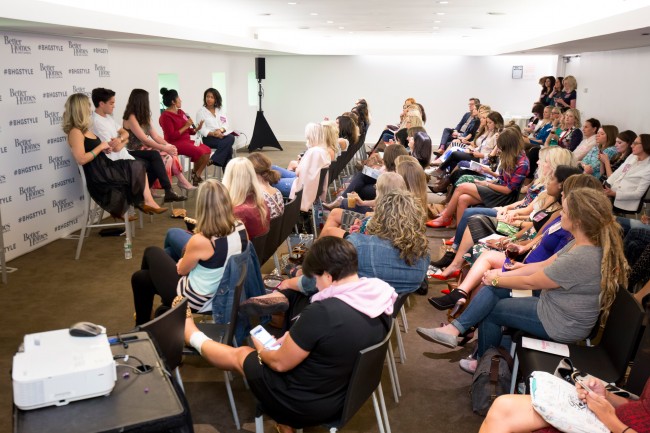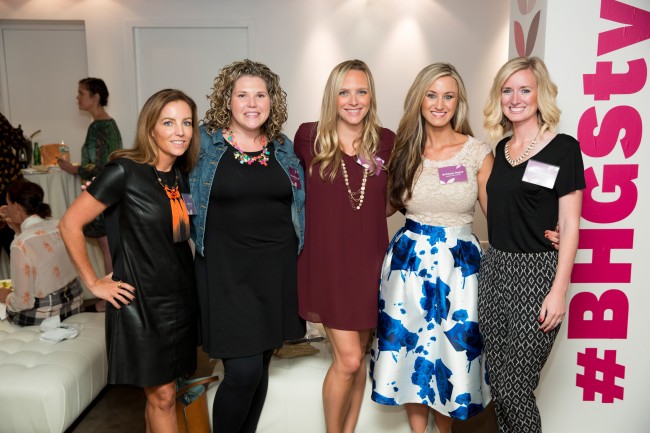 Julia, Me, Casey, Brittany, Bridgett
After the daytime event was over, we had a quick break, and then everyone headed up to the rooftop for the cocktail party with Brooke Shields, the cover model of the September issue. Plus, her gorgeous home was featured in the issue.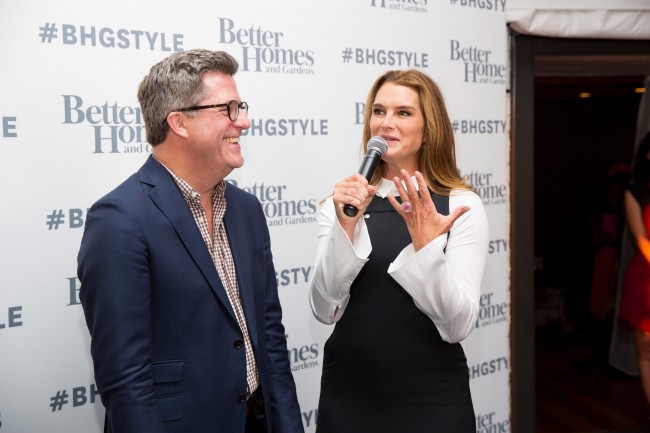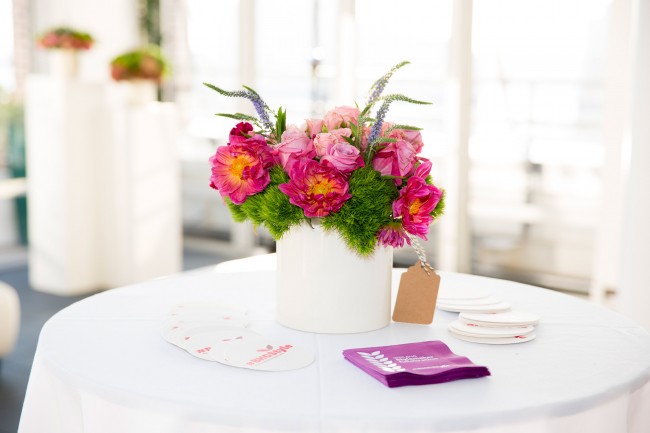 I even got the chance to introduce myself to Brooke and chat for a minute.
Here's a play-by-play of the conversation:
"Hi, I'm Chelsea from the home and lifestyle blog, Two Twenty One. It's so nice to meet you!" -Me
"It's nice to meet you, too!" -Brooke
"I have to say, I love watching you on the Today Show when you guest host." -Me
"Errrr welllll, unfortunately they decided to go in a different direction." -Brooke
"Oh, no! I'm so sorry! Well, I loved you!" -Me
"Thank you! Willie (Geist) really went to bat for me. I love Willie." -Brooke
"I love Willie, too!" -Me
"Yeah, he's so humble and down-to-earth. He's super funny, too. And his wife is hilarious." -Brooke
I don't remember what was said next. I think I talked about Willie as if I personally knew him.
"Do you mind if we get a photo together?" -Me
"Sure!" -Brooke
Photo is taken.
"It was great meeting you!" – Me
"You too!" -Brooke
First time meeting a celebrity? NAILED IT.
At least I didn't bring up Blue Lagoon.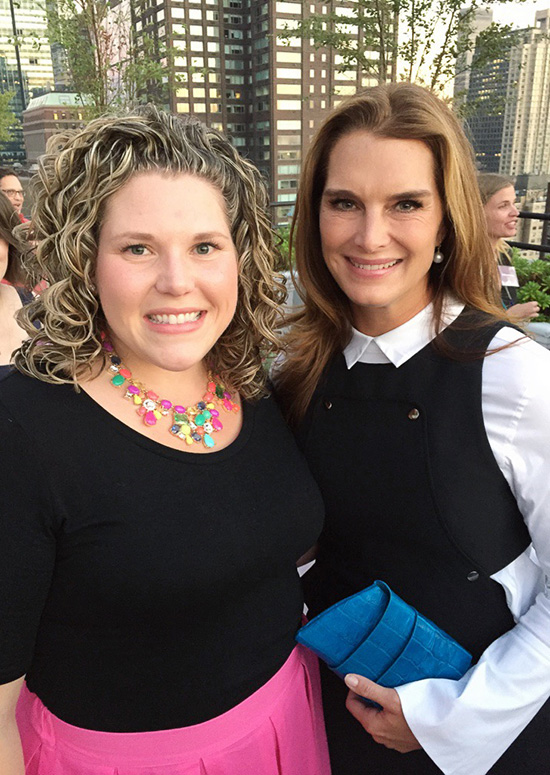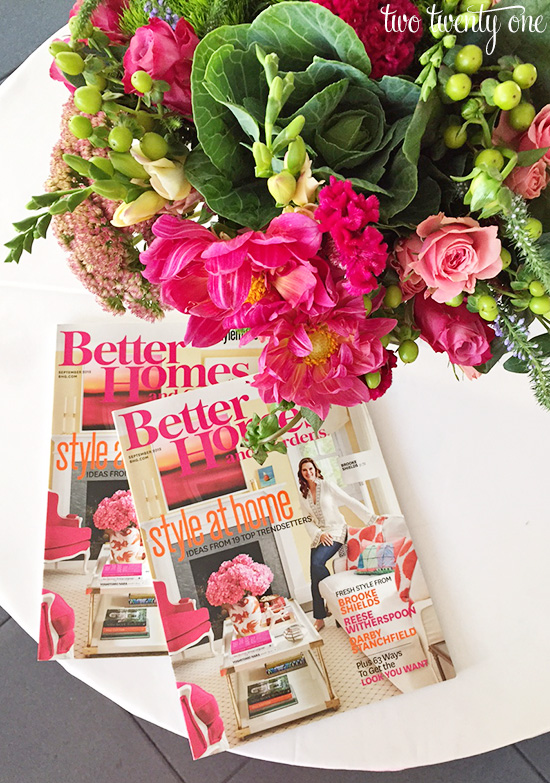 Here's my roomie, Sam, and me. She's a fancy fashion blogger.
Funny story. My original roommate had to back out at the last minute so I was stuck with an expensive $400 a night NYC hotel room by myself. Until Sam said she needed a roommate. Which was great! But did I mention that the room I booked was a standard queen? Meaning there was one (1) queen-size bed. So a couple hours after meeting for the first time, Sam I snuggled up in our bed, inches from one another.
It worked out perfectly though because we got along amazingly well. She laughed at all my jokes, and she even let me borrow her travel steamer to knock the wrinkles out of my skirt.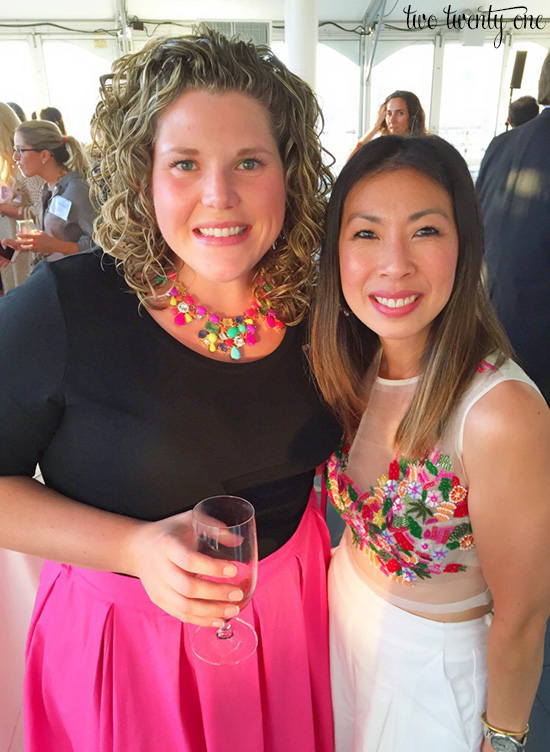 Oh, and then there was the shower in our room. It was one of the weirdest things I've seen in my life. There was a WINDOW with a sheer curtain so anyone in the main part of the room could see you showering. Talk about getting to know one another really well.
Thankfully, we both promised to not look while the other person was showering. I know, I know– we all have the same parts, but there's just something weird and creepy about someone possibly watching you shower while they're in a different room. Not exactly a locker room situation there, folks.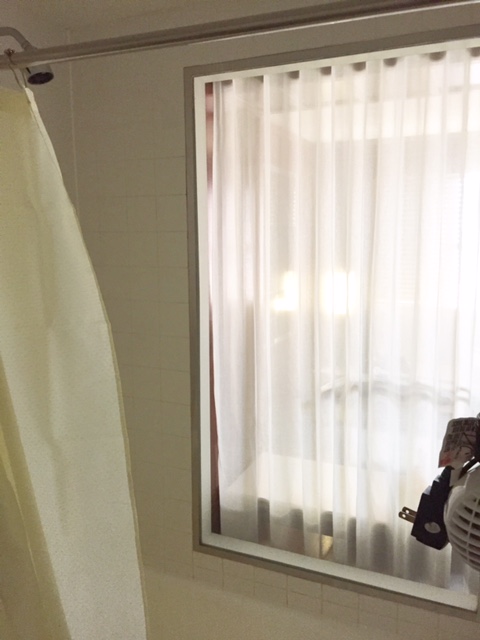 Some photo booth action with Diane and Julia.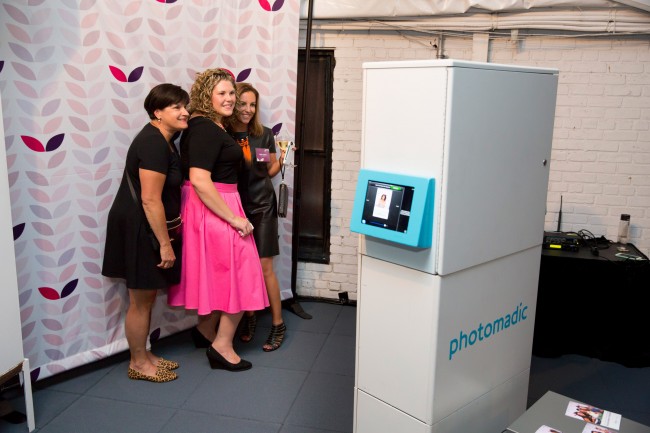 The views from the rooftop were breathtaking. Like I said, I have never been to NYC so I was blown away by the city. I can see why people love it.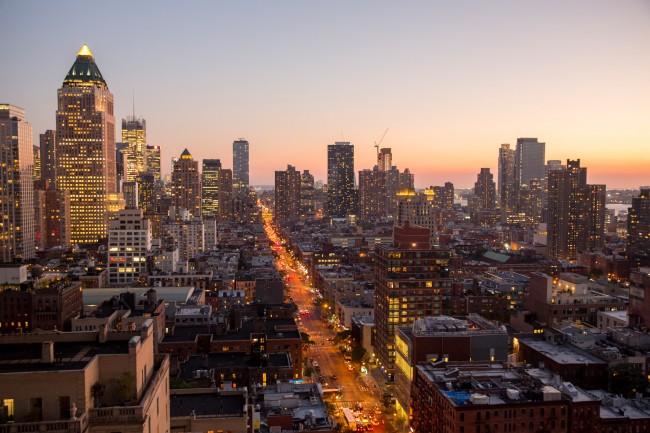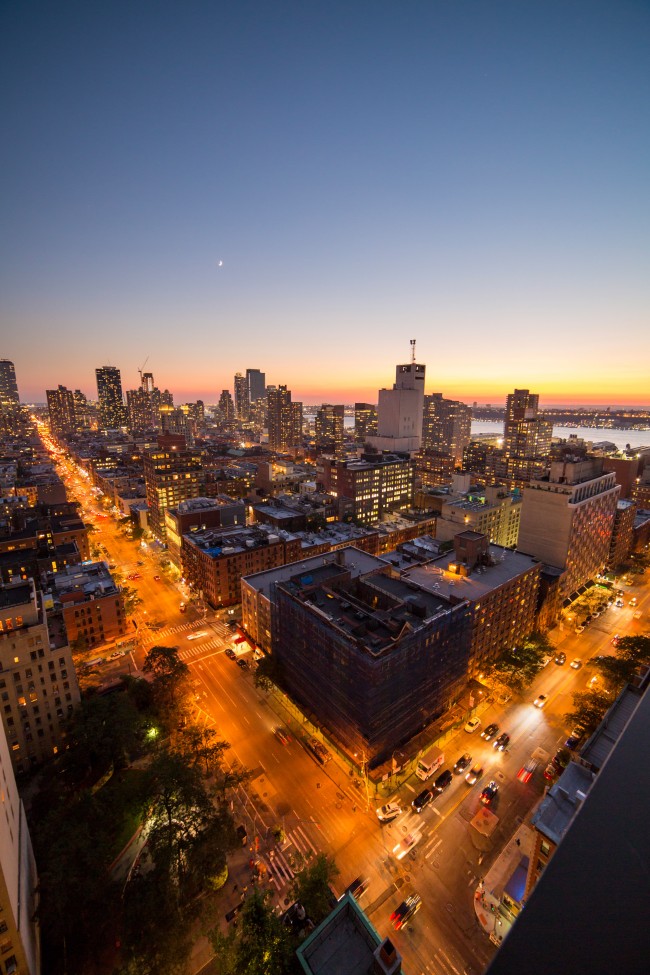 A group of us capped off the night with dinner at the hotel restaurant, where I paid $12 for a beer and swore I could never live in NYC because I would be forced to take the cost-effective measure of drinking, probably alone, in my 200 square foot studio apartment.
Me, BHG Digital Editorial Manager Kaelin (her son and Owen are exactly 2 weeks apart in age), and Jen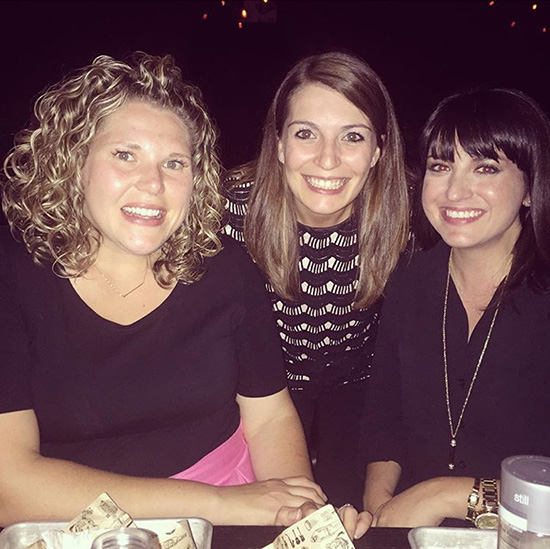 I made the stellar decision to book a 6AM flight Friday morning so I was up at 3AM, after 3 hours of sleep, to check out of the hotel and take a cab to the airport. I was able to catch a glimpse of Times Square on the way to the airport, which was nice. And after paying my fare in my sleep-deprived state, I managed to leave my credit card in the cab. Thankfully, the driver saw it before leaving, knocked on the airport window to get my attention and held up my card with a look on his face like "Really, lady? Get it together."
Seriously, you guys, I should not be allowed to leave the confines of my home.
But it was an amazing whirlwind trip. I had so much fun catching up with old blog friends, meeting new bloggers, chatting with the BHG editors, and learning while in NYC.
Most non-watermarked photos were taken by Avi Gerver Photography.
Here's my cocktail party outfit details in case you're interested! The shoes and necklace are similar to what I wore.