Ok, so I know you saw peeks of my fall outdoor decor in the new front door post on Monday, but I wanted to share more detailed photos with you today.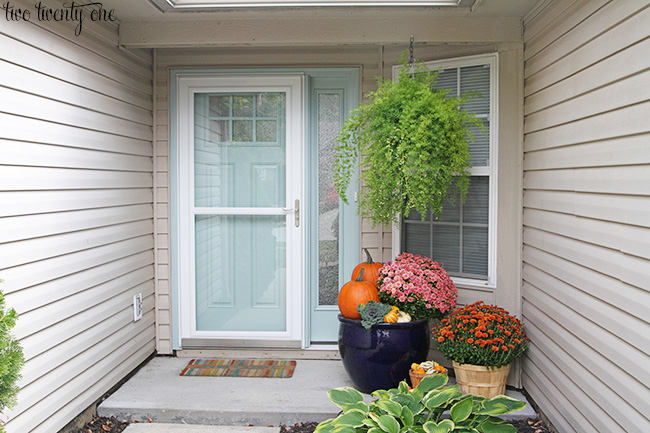 Yesterday I shared photos from our annual trip to our favorite orchard. One of the reasons why we go to the orchard is because it's where I buy my mums and gourds because you can't beat the prices for what you get. The mums, which are pretty large, are $7 each or 5 for $30. This year, I bought two for myself and a picked out three for a friend. And the gourds are $.50 each so I go bananas picking out around fifteen to twenty. Sorry, I can't help myself.
If you've been around for a while the porch set up may look familiar. But I like what I like. And I'm kind of limited because of my 300 pound planter and, as you can see, I'm kind of limited on space.
Here's our 2011, 2012, 2013, and 2014 fall front porches in case you want to compare and contrast.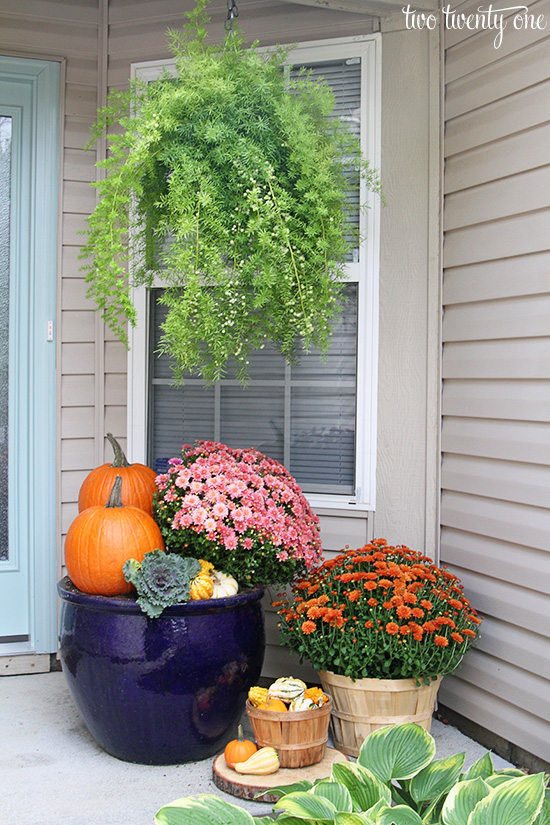 This year's display is different in a few ways from last year– the colors of the mums, size of the mums, the size and placement of the cabbage, and I put a pumpkin and gourd on the wood slice instead of three gourds.
Whew, so much change that I think I need to sit down.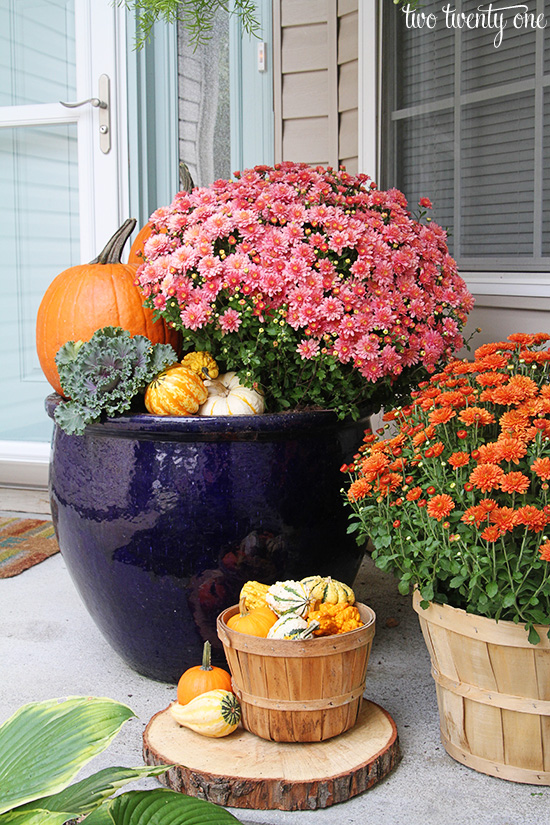 This is my favorite fall porch so far. I love the colors of the mums– pretty pink and burnt orange. I think they complement each other really well.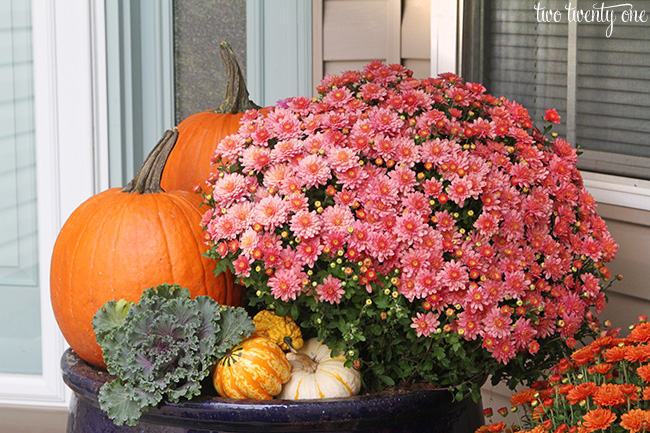 I couldn't choose a favorite photo of each mum so I'm sharing all of them.
But who hates flower photos? No one, that's who.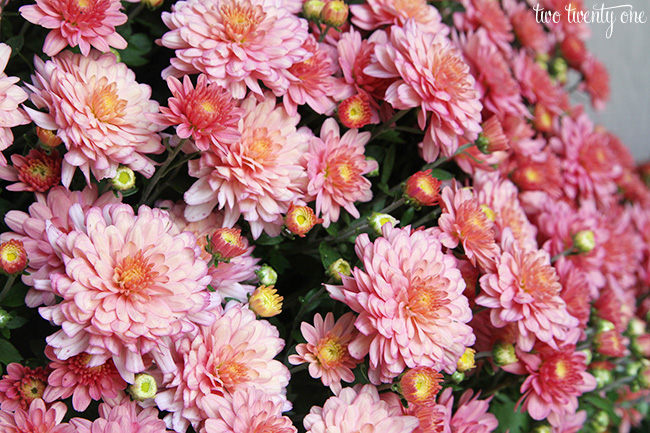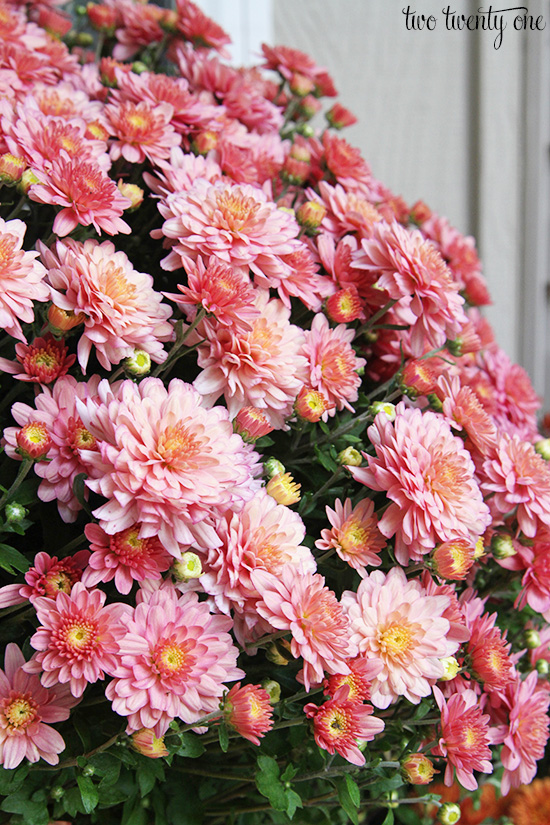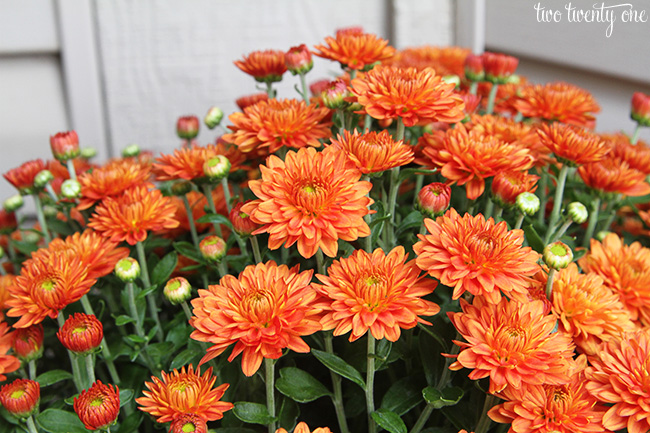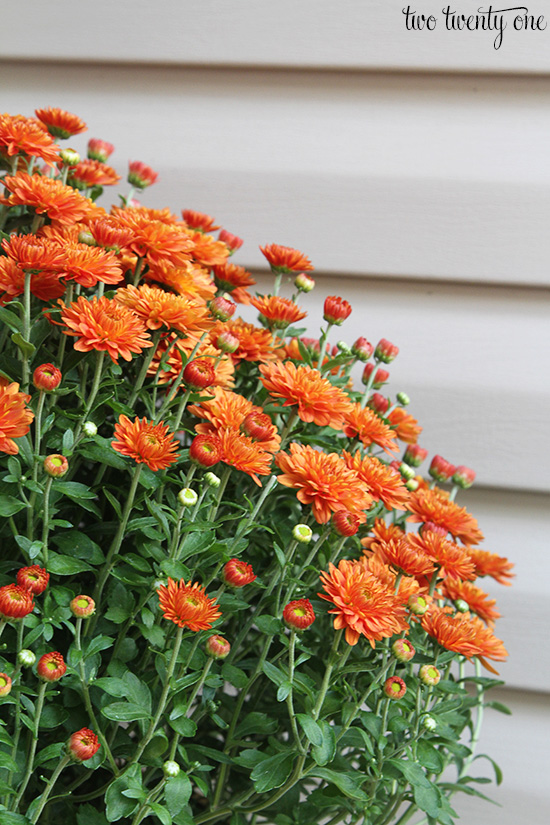 I store these apple baskets in our shed when I'm not using them. They've lasted me a few years.
In case you're wondering, the wood slice was cut by my father-in-law from some logs he got for a bonfire a couple years ago. It also lives in the shed while not in use.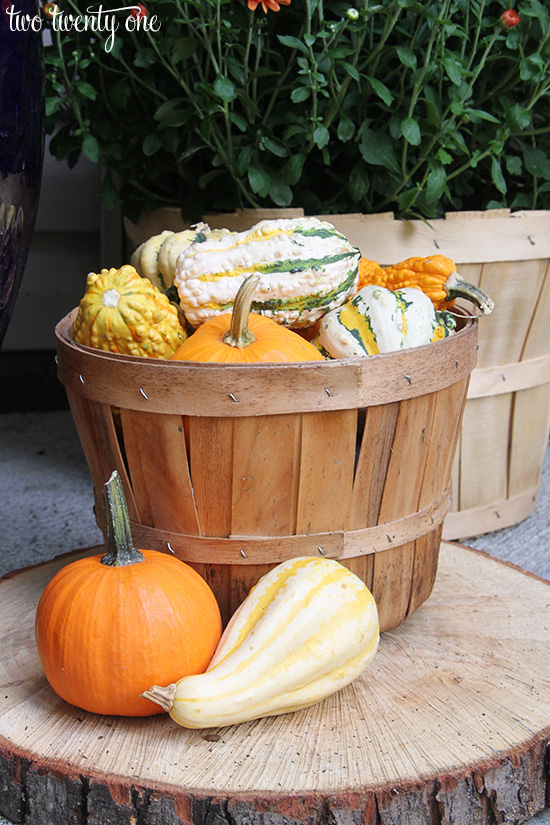 I share this tip almost every year–instead of filling the basket full of gourds, I put a clear storage container on the bottom and put the gourds on top.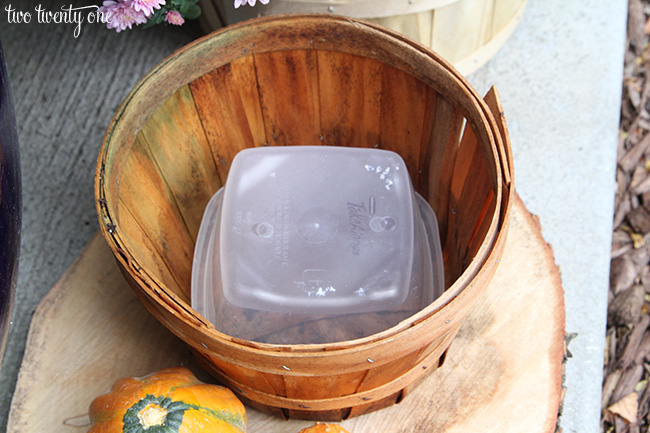 I like adding a cabbage (from Lowe's) for texture.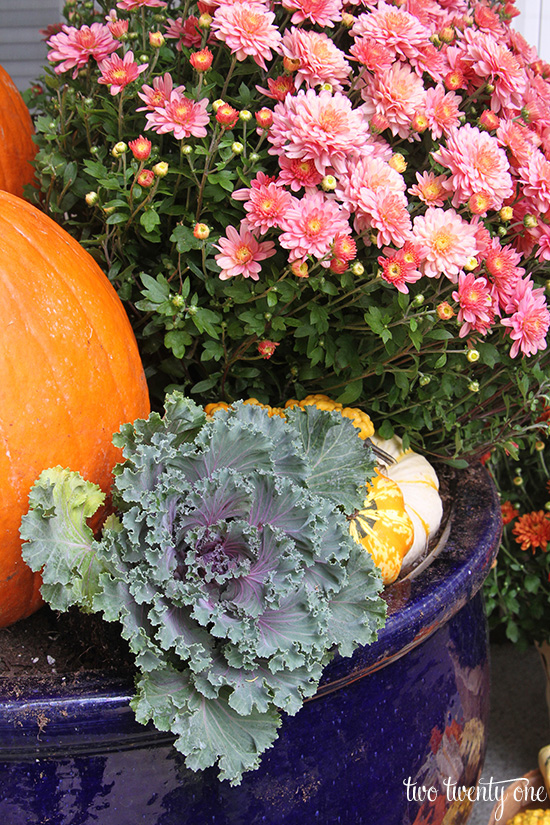 I usually get a regular fern in the spring and let it grow throughout summer and into fall. Sidenote: Seriously, ferns are awesome. They're usually $10 and they last for months. They're pretty hardy too. I've nearly killed mine multiple times and they always came back to life. They turn a really pale green when they're in desperate need of water.
But instead of getting a fern this year, I went with a petunia hanging basket (ultimately, I was underwhelmed). So I bought this gorgeous asparagus fern because I good fall-looking hanging basket is hard to come by, at least around here. And I love the look of a big, green fern hanging above all the fall colors happening below it.
The guy at the nursery said I can bring the fern inside for the winter. But I'm afraid I'm going to kill it so I might send it away to boarding school (my parents' house) for the winter.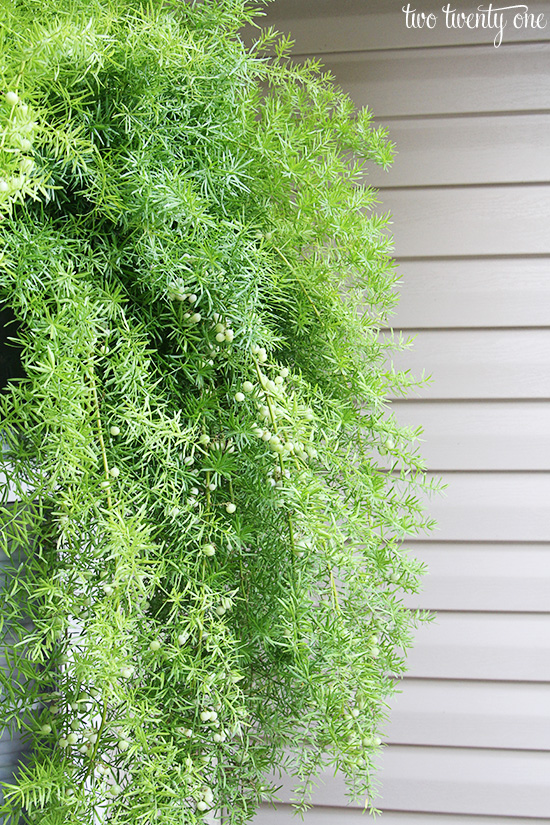 You can see that I also implemented my tiered pumpkin trick.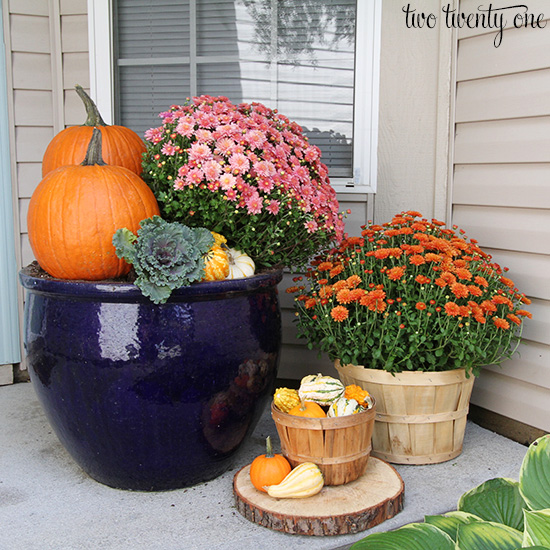 And we can't forget about our window box.
I punched up the color this year with fuchsia mums.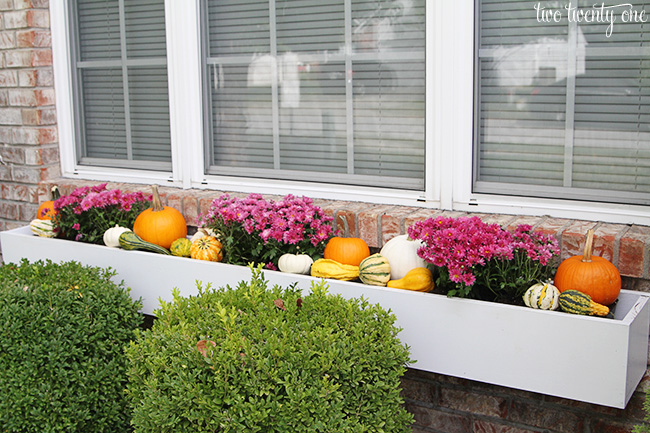 Then I scattered some pumpkins and gourds throughout.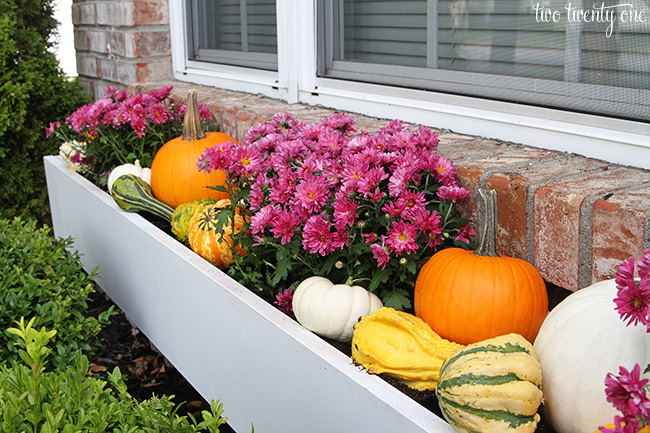 Now I just need to add some fall touches to the inside of our house.