It's been a little over a month since we got back from our trip to Seattle and 7-day Alaskan cruise. So it's about right that I'm finally getting around to sharing photos from the cruise portion of our vacation.
Today I'm sharing photos of Tracy Arm Fjord, which is located about 45 miles south of Juneau. Brad and I went on an excursion where we got off the cruise ship and onto a smaller boat to get better views of the scenery. The excursion also happened to fall on our fourth wedding anniversary so the excursion was kind of a gift to ourselves.
I thought I'd start by sharing a map of the fjord because I'm a visual person and I feel like it gives a better understanding of the location. Plus I'm a nerd who enjoys looking at maps, especially of the Google Earth variety.
At the end of Tracy Arm Fjord, which is over 30 miles long, there's the twin Sawyer Glaciers, North Sawyer and South Sawyer. We saw South Sawyer first, and I'm sharing those photos first, so I numbered that with a 1.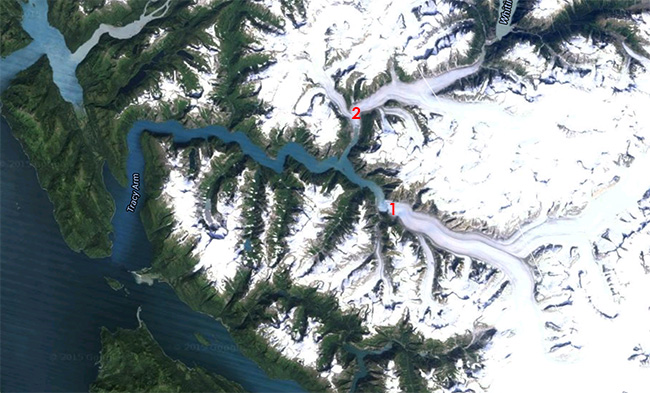 The color of the water was amazing. Photos don't do it justice.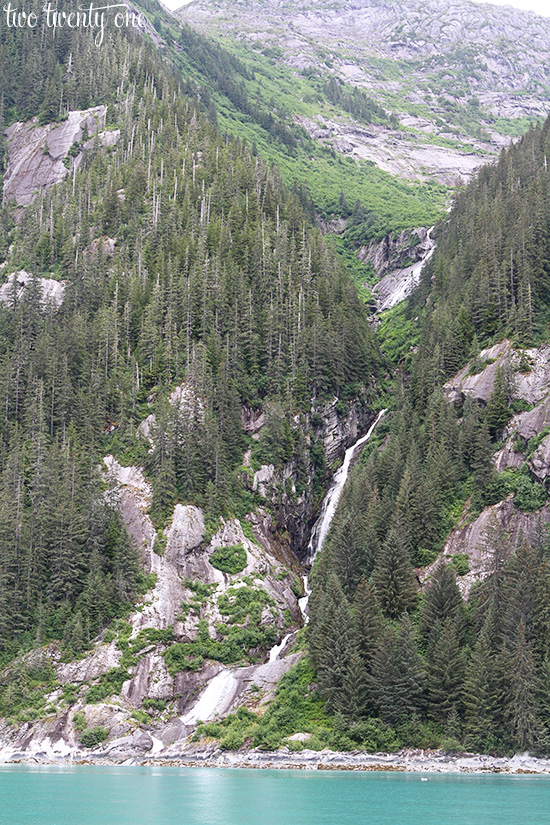 Our guide said the silt from the glacier run off gives the water the beautiful turquoise color.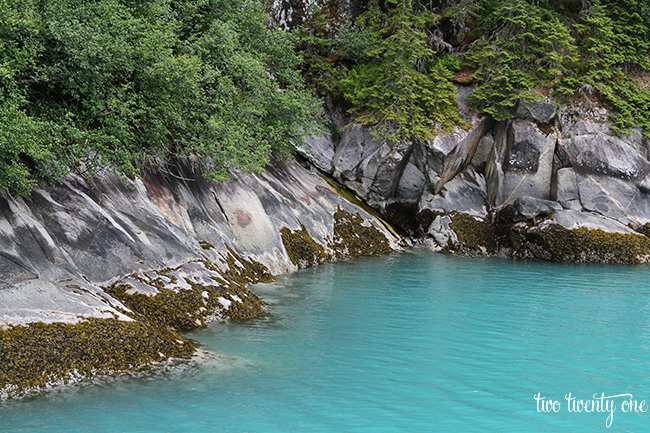 This is Hole in the Wall Falls.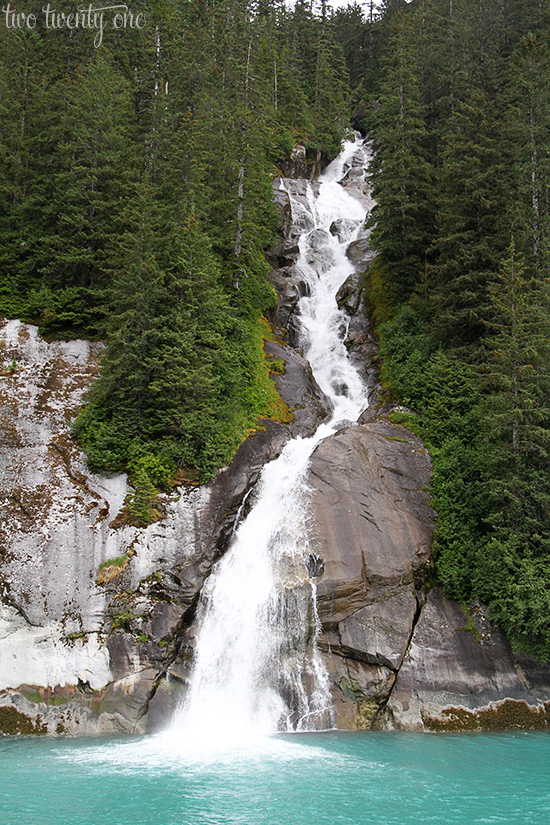 It got its name because there's a hole in the rock where water pours out of. Very literal.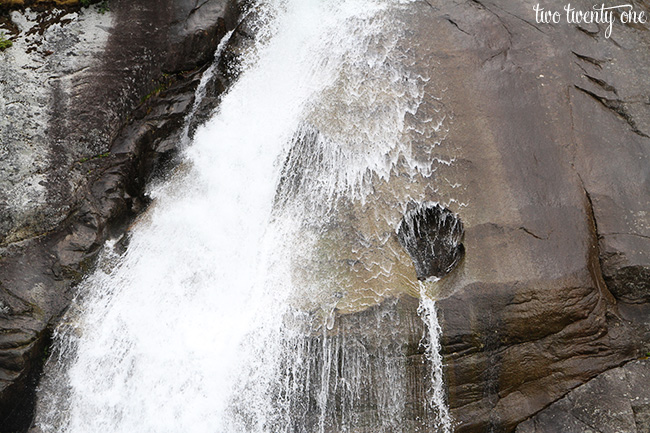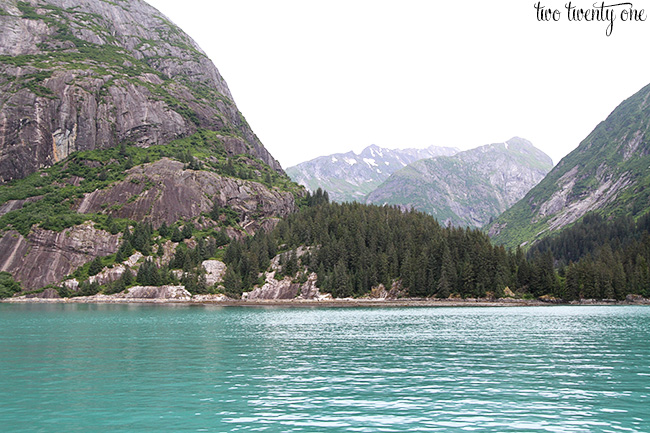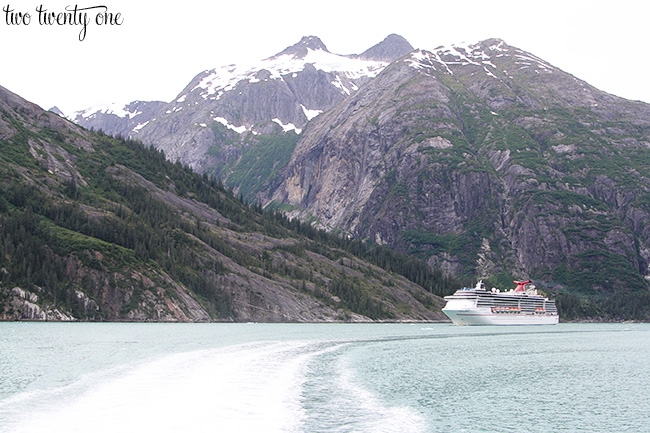 As we got closer to the twin glaciers the number of icebergs increased. It was so cool to see them up close, bobbing in the water.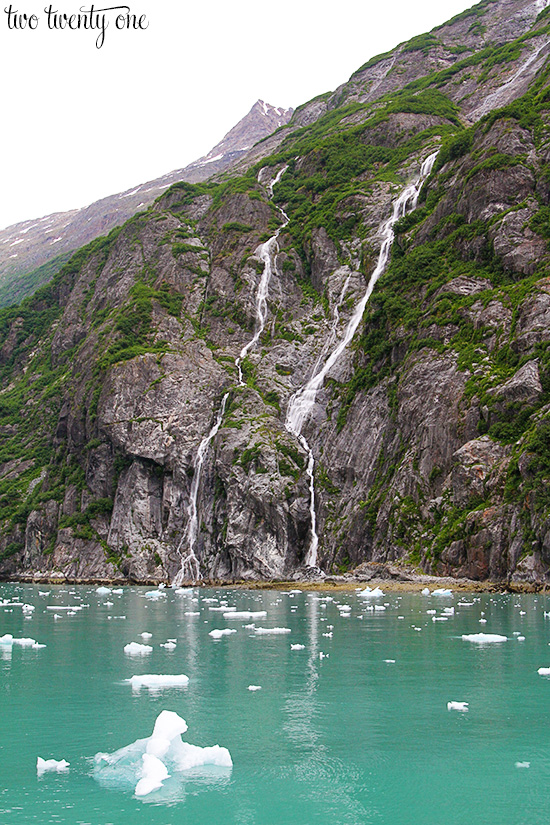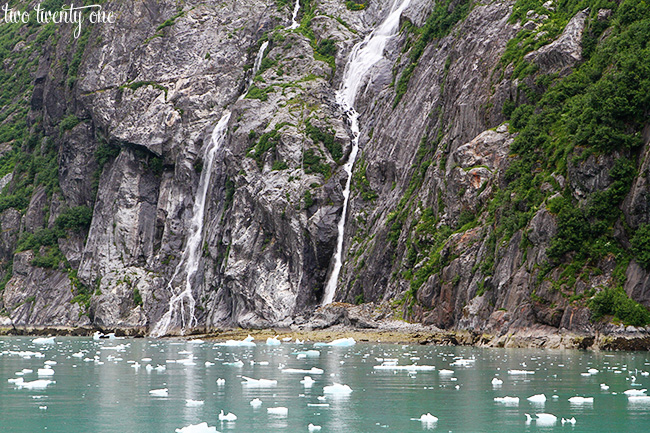 We were able to see a handful of harbor seals in the fjord, like this mom and her pup.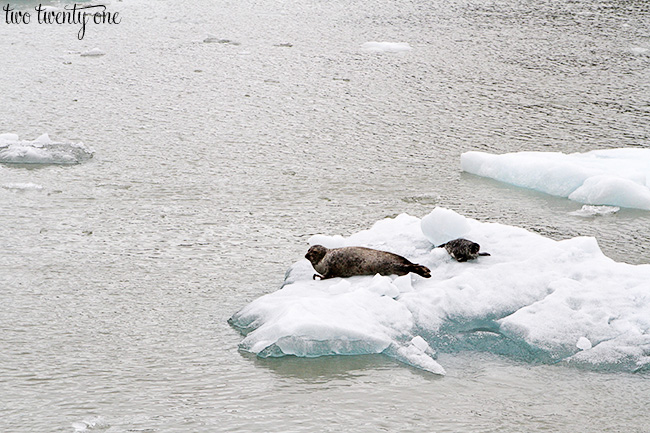 This is South Sawyer Glacier.
Now, I'm going to sound like a brat right now, but I was a little underwhelmed by the glacier. I know, you want to smack me right now, and that's okay. Maybe if this was the first glacier I had seen in person I would've been more excited. But when we were in Alaska in 2006, our cruise ship went in College Fjord, which contains 13 glaciers, and it was absolutely breathtaking– I'm talking "holy cow, places like this actually exist?" breathtaking. At one point, you can see 8 glaciers at once in College Fjord. (Seriously, Google it.)  Seeing such amazingness on my first trip to Alaska kind of set a high standard. Thanks for setting me up for future glacial disappointment, College Fjord. Thanks a lot.
Nonetheless, it was still cool to see Sawyer Glacier. Because seeing one more glacier is better than seeing none.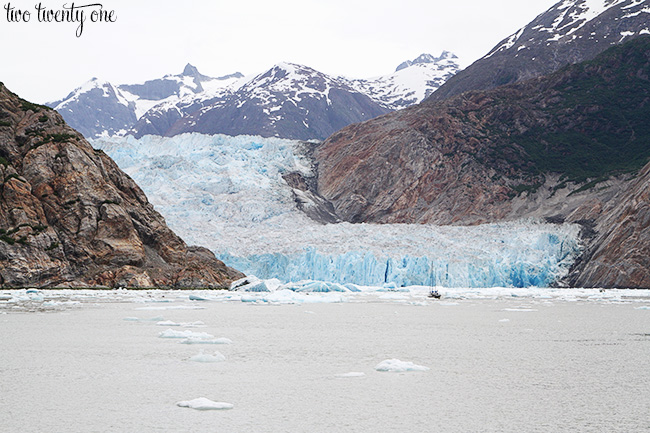 There were about five small boats in the area that were conducting research, which was interesting to watch.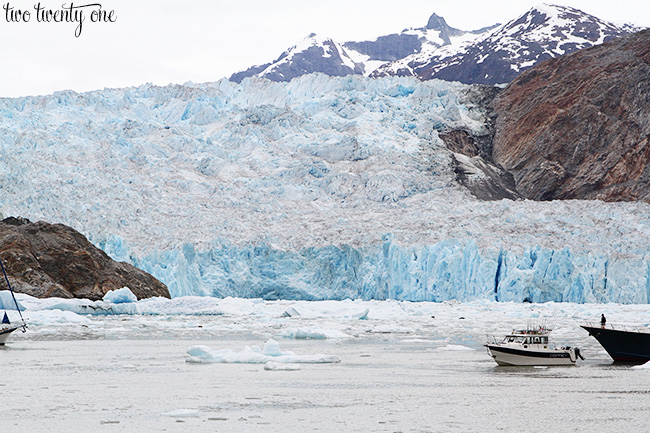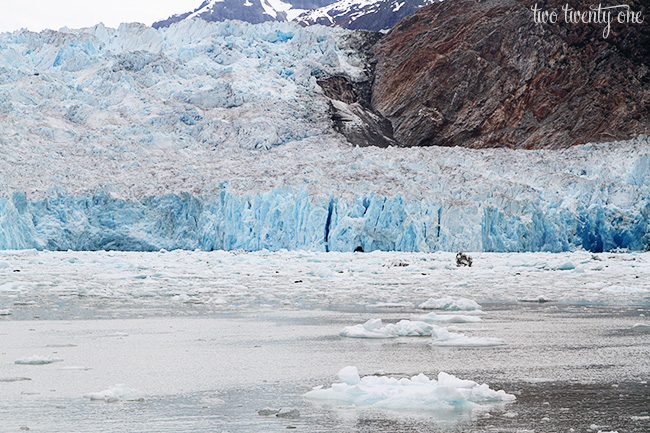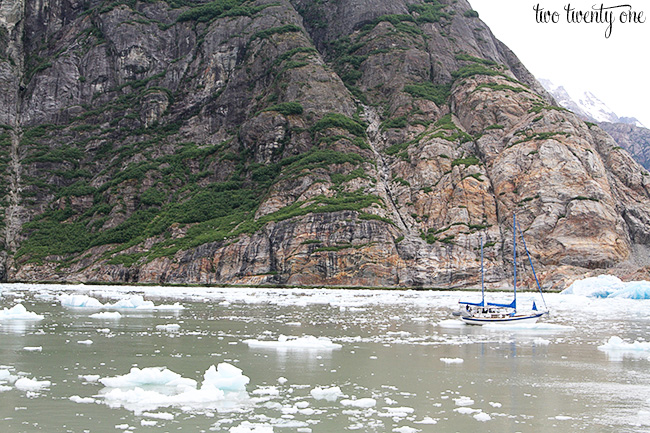 Another harbor seal chilling out on an iceberg.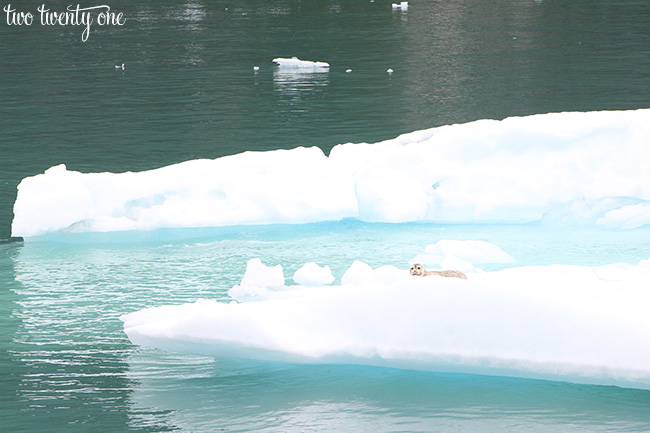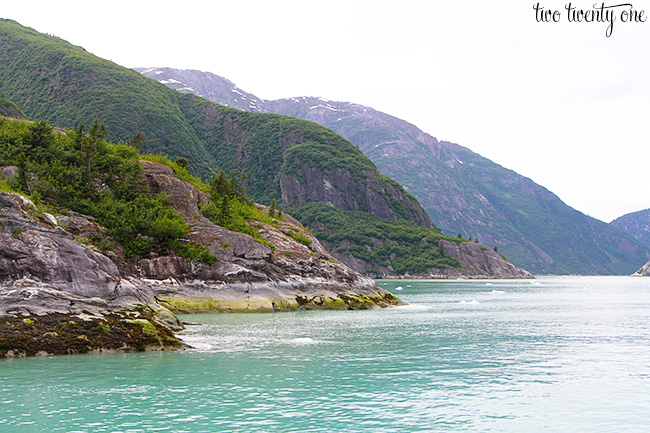 And here's North Sawyer. As you can see, there aren't any icebergs around this side of the glacier. I can't remember the reason for why there's a ton of icebergs by South Sawyer and none by North Sawyer. I don't think our guide told us. She didn't talk much.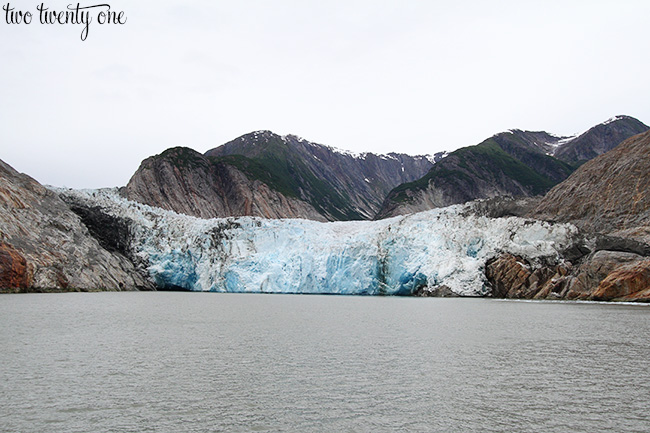 Did you know that glacial ice has a blue tint because it absorbs every other color of the spectrum except blue? Yay, science.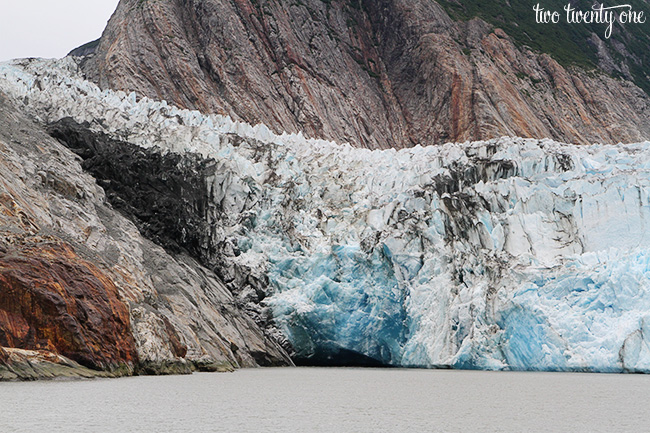 This was on the coolest icebergs I saw while touring the fjord.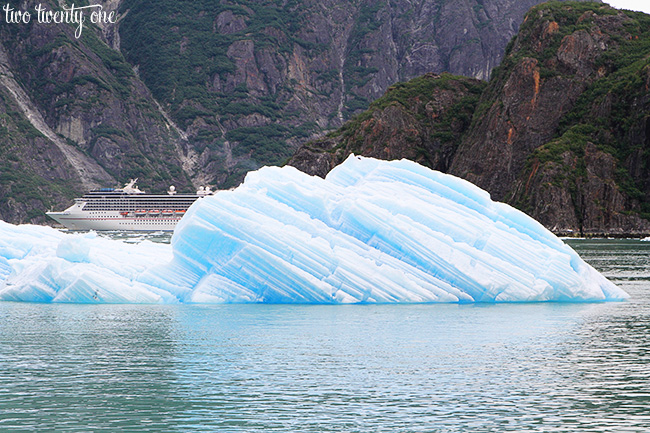 I'll never let go, Jack. I'll never let go.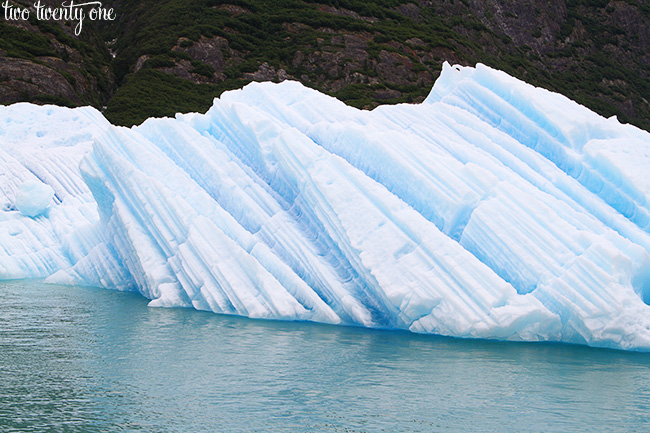 I hope you enjoyed your visual tour of Tracy Arm Fjord.
All in all, it was a nice excursion. Although, we could've done without the twenty selfie stick wielding people constantly bumping into us because they were too busy making duck faces at their phones. I mean, how many selfies do you need of yourself? #imonaboat #glacierselfie #icebergselfie #mountainselfie
Have you been through Tracy Arm Fjord?
Have you been through College Fjord? Someone back me up on my claims.