How to Get a White House Baby's Birth Greeting
Did you know that you can get greetings from the White House? I first found out about this when I planning our wedding five years ago. So when I was addressing invitations, I also addressed one to the White House. A few weeks later, we received a wedding greeting from the President and First Lady.
You can get greetings from the White House for various occasions– weddings, birthdays (80+ years), retirement (20+ years), wedding anniversary (50+ years), and births (request before their first birthday).
I think it's a great keepsake for a child to have, so a couple months ago I finally got around to mailing one of Owen's birth announcements to the White House. Better late than never.
(Don't judge my handwriting. My typing is much prettier.)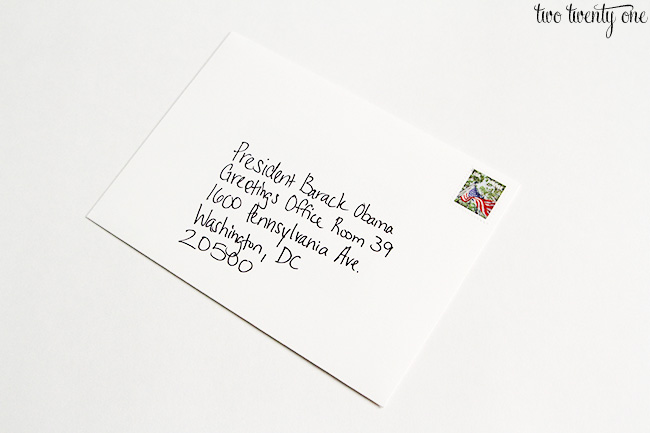 If you want to save on postage, you can head over to the White House greetings page and fill out a form online and submit it.
Or, you can send a birth announcement to:
President Joseph R. Biden Jr.
Greetings Office Room 39
1600 Pennsylvania Ave.
Washington, D.C.
20500
Last month Owen's greeting arrived in the mail. He was pretty pumped.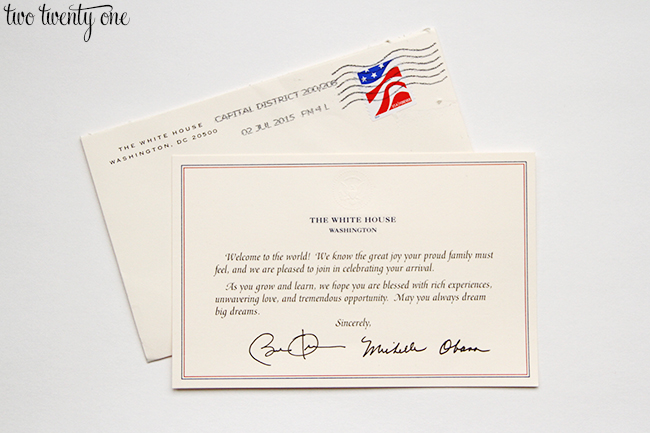 Check out more baby-related posts below!
Look! I even made a handy pin in case you want to pin this for later.