We hosted our gender reveal party at our house this past Sunday. Our families traveled from all over the state and from two other states to be there to celebrate with us. It was great having both sides of our families together– something that hasn't happened since our wedding nearly 3 years ago.
I'll warn you: this post is photo heavy. So get your scrolling finger ready. But don't scroll too fast– take it all in.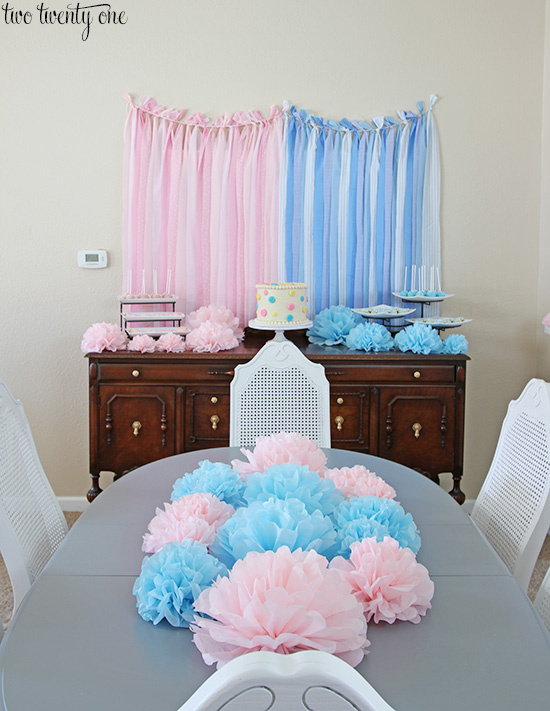 I started prepping for the gender reveal party about a month in advance– starting with the invitations. I found this invitation on Etsy and used it as my inspiration for the paper products for the party. My friend, Erin, tweaked the design to make it look how I wanted it to and also helped make other paper products (signs and food label tents) for the party based off of the invitation. I had the invitations printed onto card stock (2 invites per page). I cut them out and mailed them in 5×7 envelopes I bought at JoAnn Fabric.
The buffet was the focal point of the gender reveal party. I wanted there to be a pink side and blue side so I made the fabric backdrop to hang behind the buffet. I also made blue and pink tissue paper poms, onesie cut out cookies, and chocolate cake pops. And the gender reveal cake went in the middle.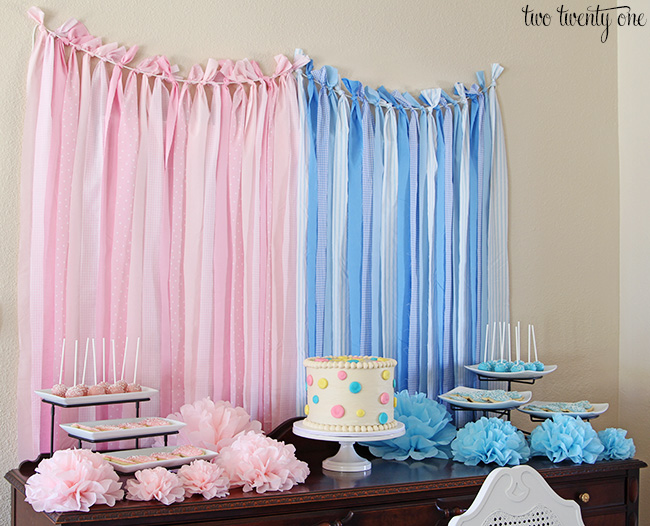 The cake was decorated to match the paper products. Which worked out perfectly with my inspiration cake from Christina's gender reveal.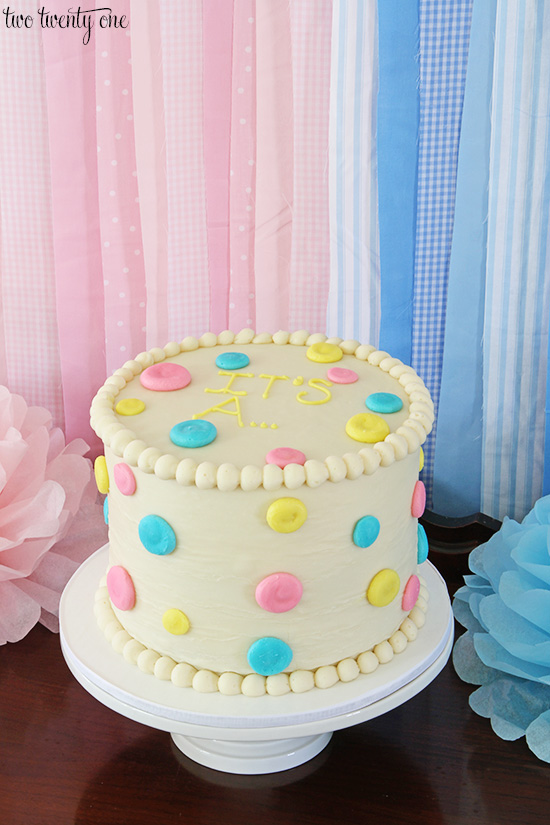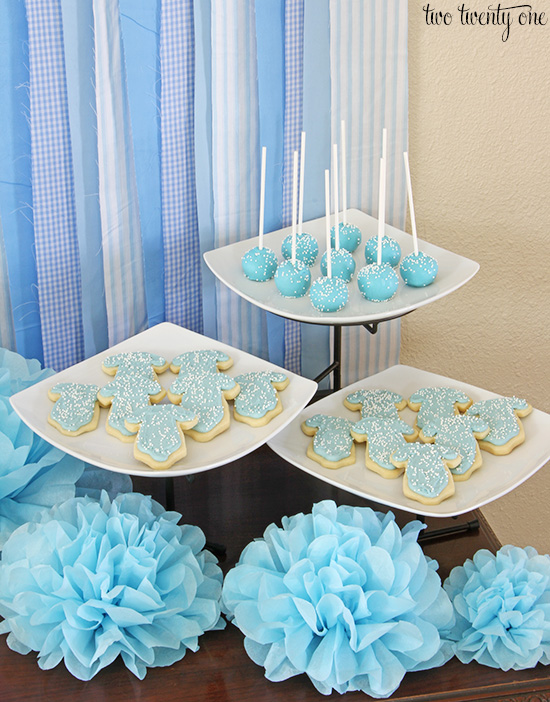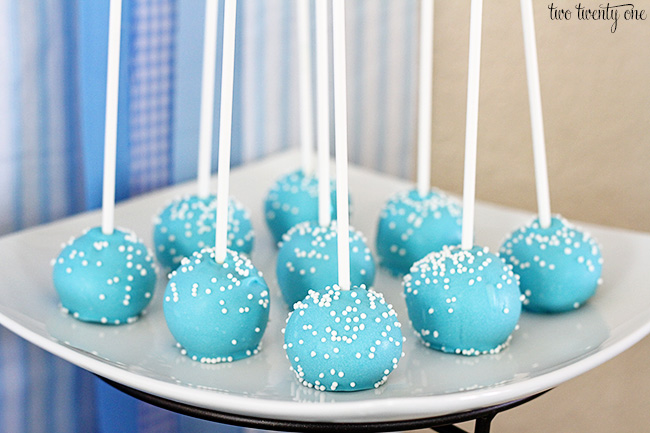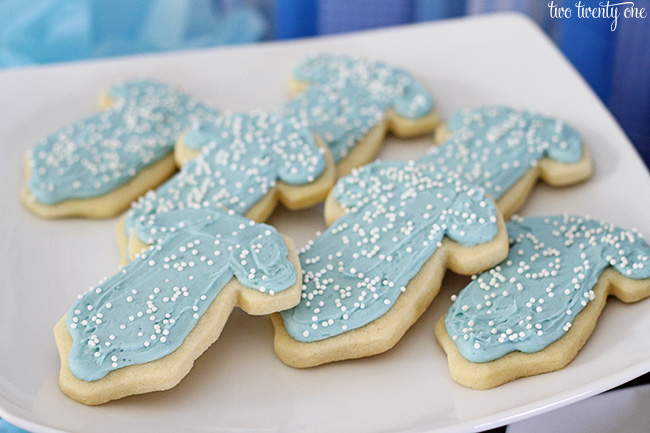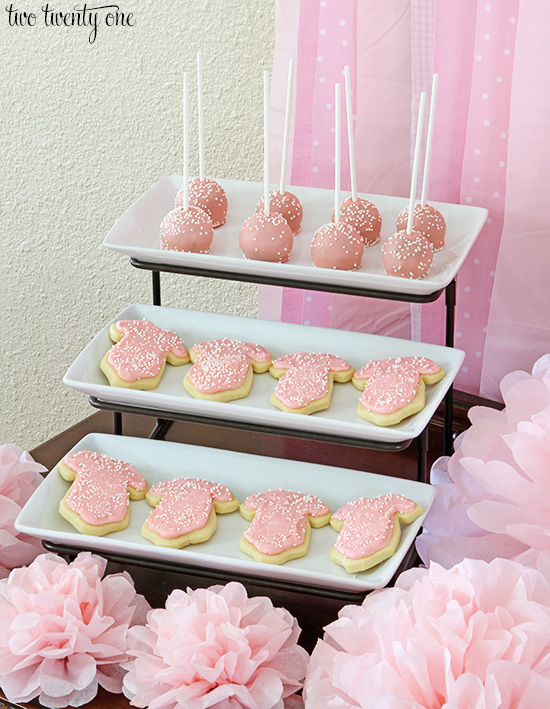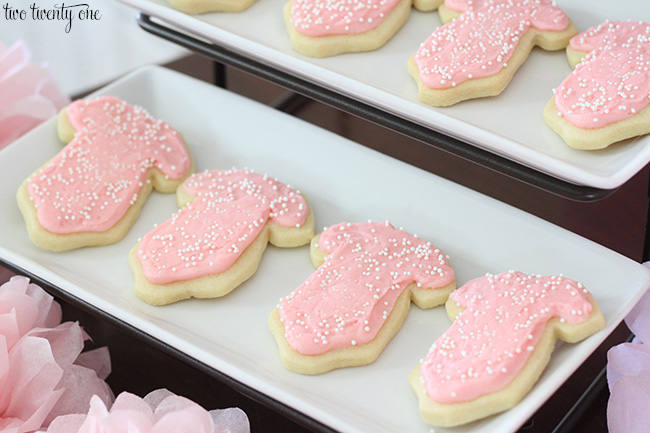 I decorated the dining room table with tissue paper poms. I also made some circle paper garland and hung it in our pass through that goes to the kitchen.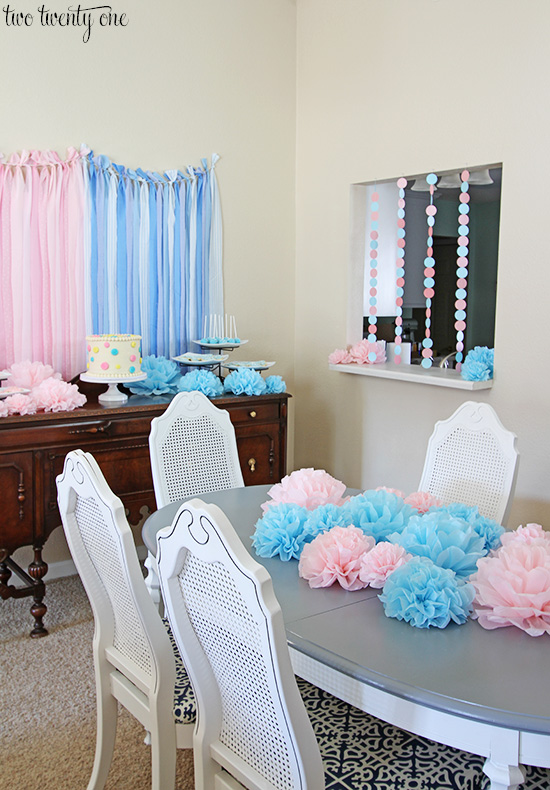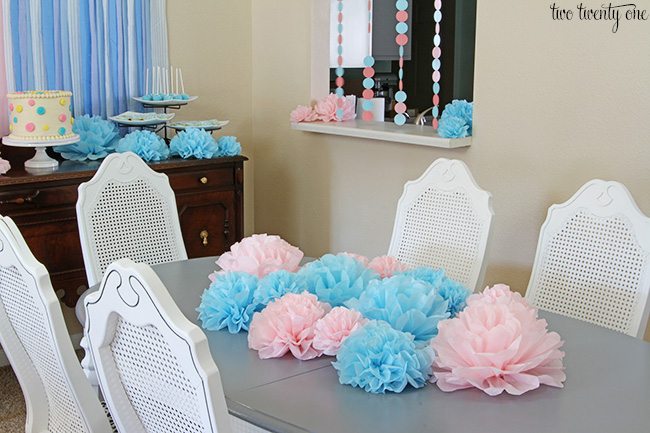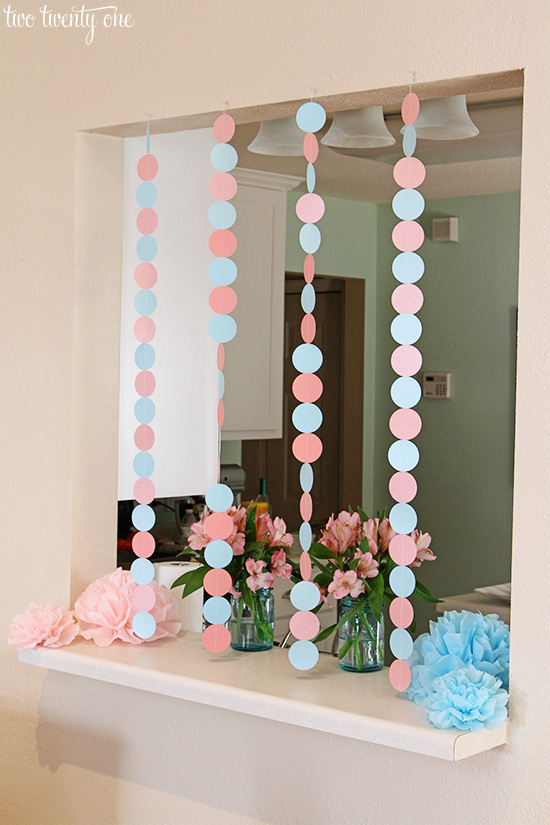 Our entryway table is where I set up the welcome station. I used Ikea frames to display the Old Wives' Tale print, "Blue or pink, what do you think?" print, sonogram photos of the nugget, and blue bow tie and pink bow pins. My friend, Jacque, helped me with the paper cut outs for the pins (tutorial coming soon). My best friend, Natalie, showed up the evening before the gender reveal party with a bouquet of tulips and a bouquet of baby's breath. I think the baby's breath looked great on the entryway table– it was also fitting.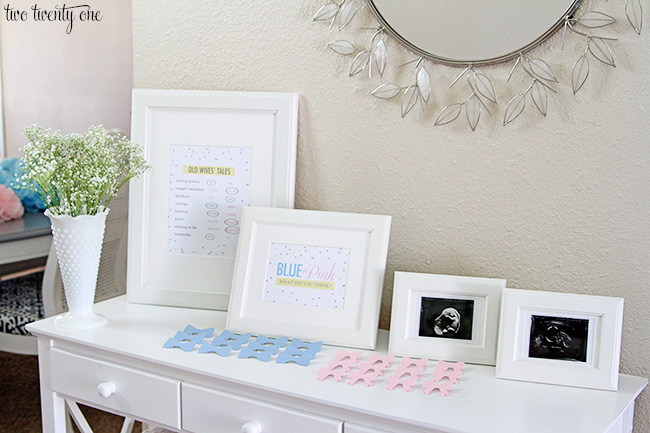 Guests were instructed to wear their guesses.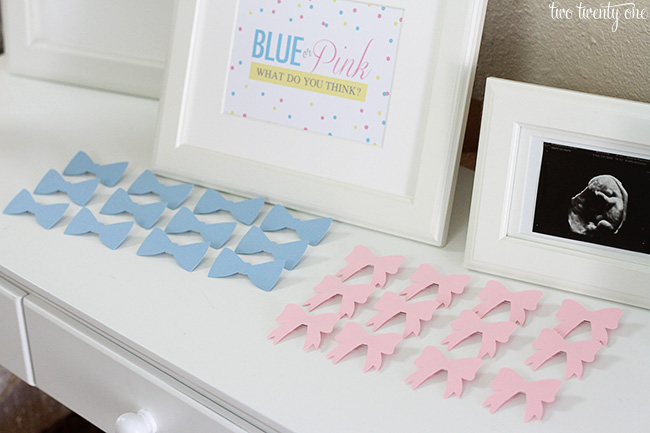 Before our guests left, I put extra onesie cut-out cookies out on the entryway table for them to take home as favors. The cellophane bags the cookies were packaged in were the same bags I used to package the cookie favors from our wedding. It pays to hoard.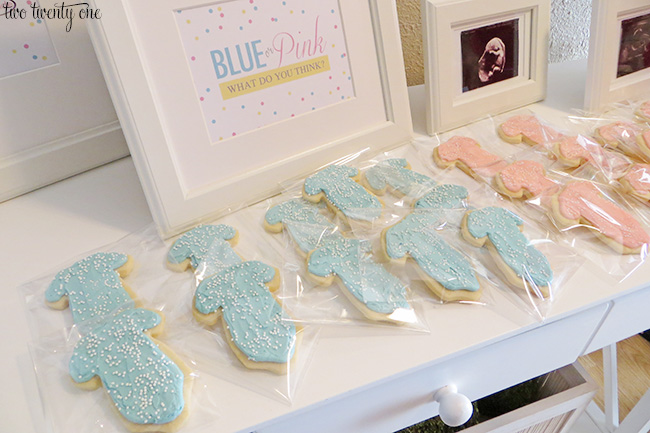 Since the gender reveal party was at 2 o'clock in the afternoon, we offered light refreshments. One of our friends is the COO of a local catering company, Black Plate Catering, so I asked if he could provide some of the food (I paid him, obviously). If you live in the Indy area check them out– the food is amazing. He prepared some of the my favorites: dilled chicken salad, sun-dried tomato dip, creamy basil dip, feta ranch dip, and an awesome cheese and fruit tray. My aunt made meatballs and spinach dip and Brad's aunt prepared a veggie tray.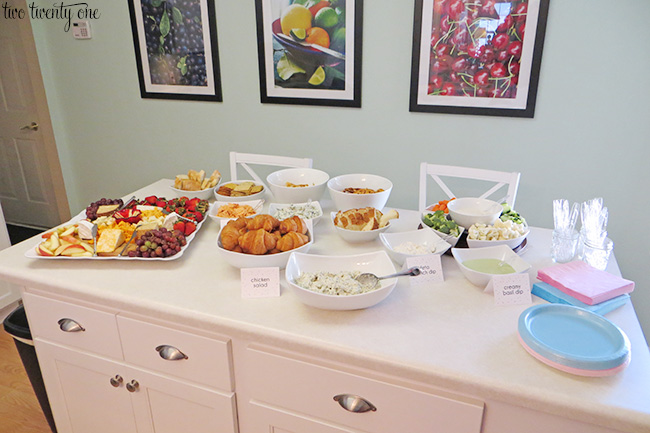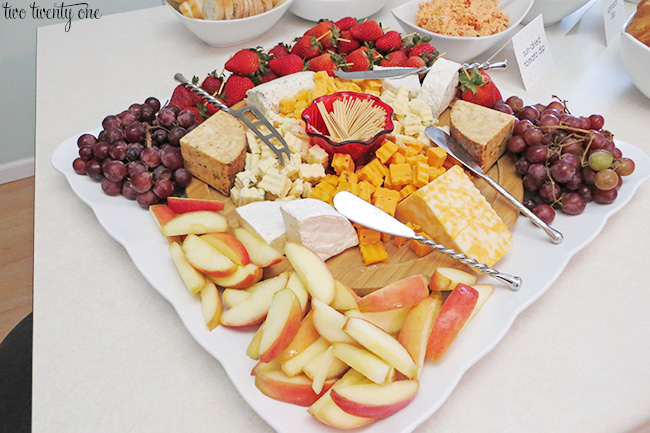 For drinks, we had pink lemonade, blue punch, water, and wine (not pictured). I also put out pink and blue paper straws and Sharpies (so people could write their names on their cups).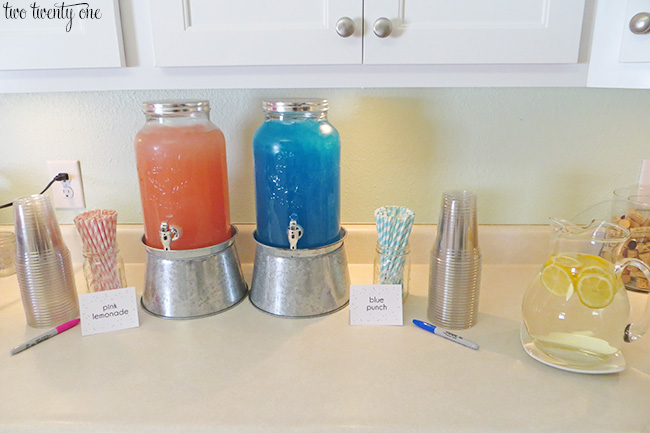 In case you're wondering where everything came from, here's the source list.
cake:  Confectioneiress Cupcakes & Sweets
cake stand:  Macy's (wedding gift)
fabric backdrop:  made by me (tutorial found here)
tissue paper poms:  made by me (tutorial found here)
cake pops:  made by me (tutorial found here)
onesie cut out cookies:  made by me
onesie cookie cutter:  Dash and Dollop
paper bow ties and bows:  made by me with help from Jacque
white picture frames:  Ikea
food:  Black Plate Catering, my aunt, Brad's aunt
white serve ware:  Bed Bath and Beyond (wedding gifts)
paper plates, napkins, and cups:  Walmart
pink paper straws:  HomeGoods
blue paper straws:  Amazon.com
drink dispensers:  Kirkland's
I think everyone had a good time at the gender reveal party. They seemed happy when they left. Brad and I had a fun time catching up with family members and celebrating our nugget boy.
I will say, this preggo was beat once the last person walked out the door.