I have to admit, I had never made cake pops before but I was determined to make them for our gender reveal party.  I've made Oreo truffles multiple times, which are somewhat similar to cake pops.  Somewhat.  They're essentially the cookie version of cake pops.  Basically dessert cousins.  I figured, how hard could it be?
I'm pleasantly surprised to report that making cake pops isn't very hard at all.  It's not very time consuming either.  Win-win.
Now, I know mine aren't 100% true cake pops– they're basically cake balls with sticks in them, but people can still carry them around like cake pops.  I mean, who wants messy hands?  Anyway, I'll tell you at the end of the post how to make them into legit cake pops with the cake portion at the top and the stick coming out the bottom.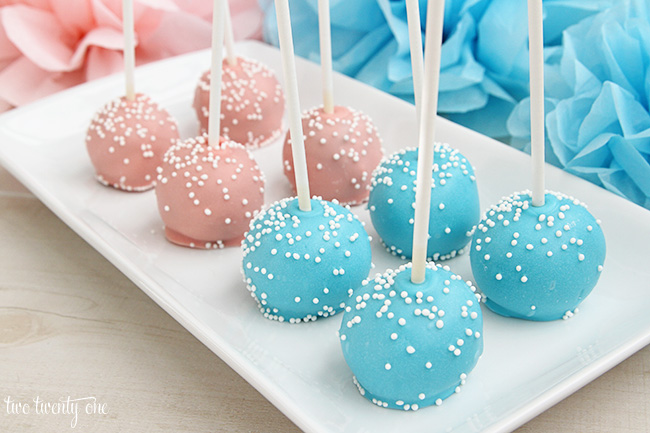 Here's what you'll need to make cake pops:
• cake mix + ingredients listed on the box
• 1/3 cup icing
• Candy Melts (available at most craft stores)
• 6 inch lollipop sticks (available at most craft stores)
• sprinkles (optional)
Here's the gist of how you make cake pops.
Prepare a boxed cake mix as directed on the box (I prepared a 9×13 Devils Food cake).  Let the cake cool.  Wash your hands.  Crumble the cake into fine crumbs with your hands in a large bowl.  Mix in about 1/3 cup of icing (I used store bought milk chocolate) with your hands.  The mixture should be dense but not gooey.  Gooey cake balls gross me out.  Grab a cookie scoop (I used my 1.5 T scoop).  (Remember, everyone needs a cookie scoop, or 3.)  Scoop out the mixture, packing the cake mixture into the scoop as you scoop it (I smushed the open side of the cookie scoop against the inside of the bowl).  Smush the mixture in your hand to pack it tightly into a ball.  Roll it into a nicely shaped ball.  Roll the remaining mixture into balls (my cake mix made 18 cake balls).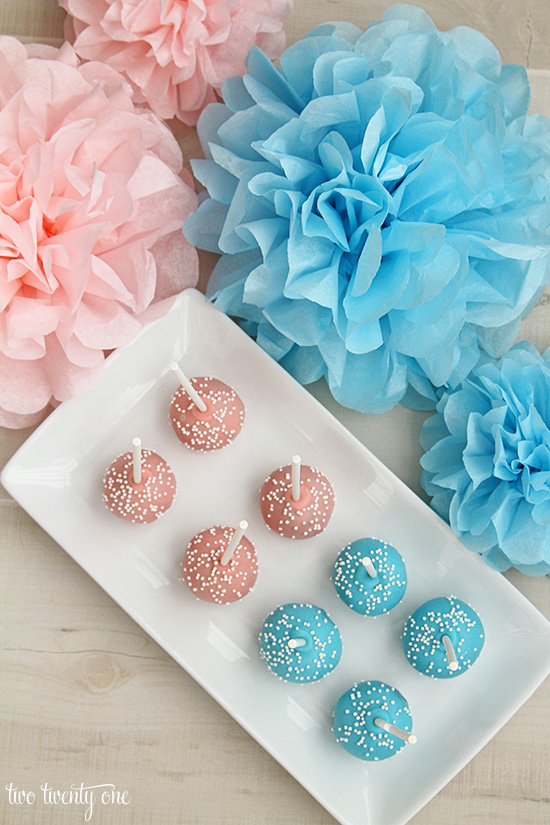 Now, onto the coating process.
Grab your Candy Melts (I purchased mine from JoAnn Fabric) and a small microwaveable dish (I used a small oatmeal bowl).  Put about 5 morsels into the bowl and melt them in the microwave.  Grab your cake pop sticks (I purchased mine from JoAnn Fabric).  Dip your stick into the melted Candy Melt and quickly stick it into a cake pop at least half way down.  Repeat with remaining cake pops.  Set pops on a cookie tray.  Freeze for about 15 minutes (they wouldn't fit in my freezer so I put them in the fridge for 30 minutes– worked fine).  Put your Candy Melts into a microwaveable mug (I filled mine to the top).  Melt the Candy Melts as directed on the package.  Dip the cake pop into the mug, evenly coating it.  Let the coating drip off.  Place cake pop on cookie sheet.  If using sprinkles, add immediately before coating sets.  Repeat for remaining pops.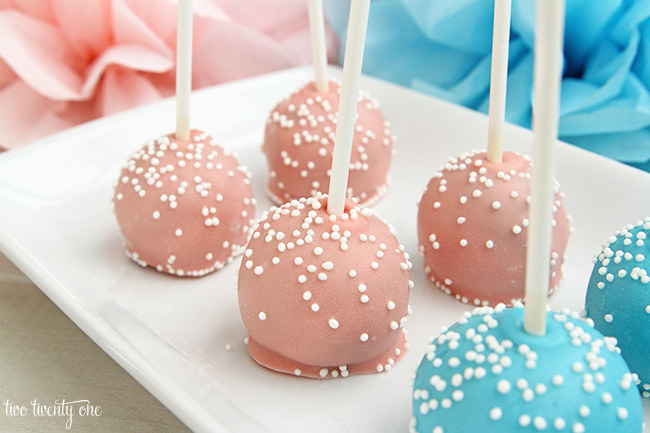 These may seem like a lot a work, but trust me, once you have it all mapped out it's a breeze.  I spent maybe an hour on these (not including baking and cooling times).
If you want your cake pops to be true cake pops, rather than cake balls with sticks in them, instead of putting them on a cookie sheet to dry, insert the stick into Styrofoam for the coating to set.  I wanted mine to sit on the platter but still be cake pops, so that's why I went the route I did.
FYI, the Candy Melt coating is really good.  I used chocolate cake and you barely tell there's dark cake underneath the coating.  Just thought I'd throw that out there.

Have you make cake balls or cake pops before?
How'd it go?
This post contains affiliate links.