In an attempt to keep Owen away from our real tree, I decided to make him a felt Christmas tree. So I spent the better part of last Saturday night putting 20 year old Chelsea to shame and knocking out a baller DIY felt Christmas tree– complete with ornaments and presents.
I should also add that I'm too much of a perfectionist to freehand ornaments, bows, and ornament designs with scissors so I created patterns, which I'm sharing with you at the end of the post.
In case you didn't know, felt sticks to felt so the ornaments and presents can be placed and removed anywhere on the tree.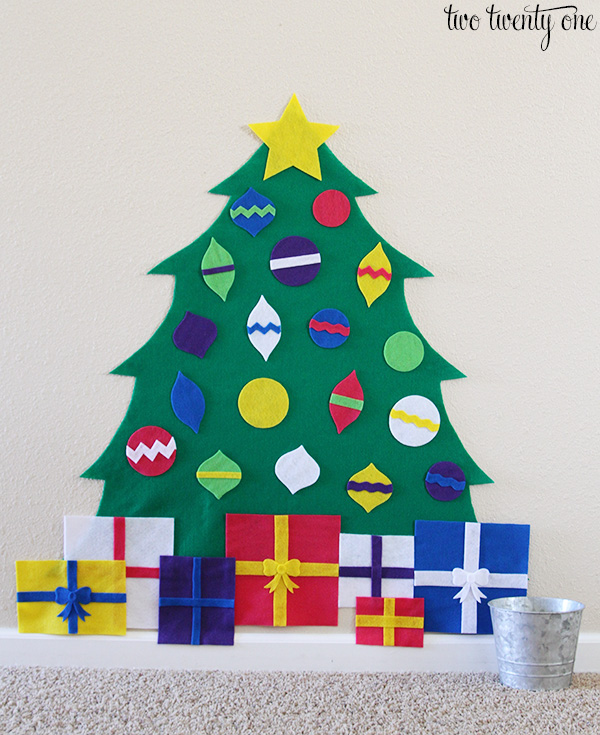 Felt Christmas Tree Supplies:
1.5 yards of green felt … found here or fabric store
different colors of felt … found here or a craft store
scissors … these are my favorite!
patterns … see at end of post
card stock
Sharpie
chalk
hot glue gun + glue
masking tape
Step One
I printed the patterns onto card stock, cut them out, traced them onto pieces of felt, and then cut them out. I should add that I traced the patterns onto the shinier, smoother side of the felt, leaving the fuzzier side facing out because I think the shinier side sticks to the fuzzier side better.
Step Two
To make the tree, I folded the green felt in half with the shinier side on the outside and freehanded half of the tree with a piece of yellow chalk. Then, with it still folded, I cut it out so it would be symmetrical.
After cutting out the tree, I decided it was too tall so I cut off the bottom portion. But feel free to make the tree as tall or short as you'd like.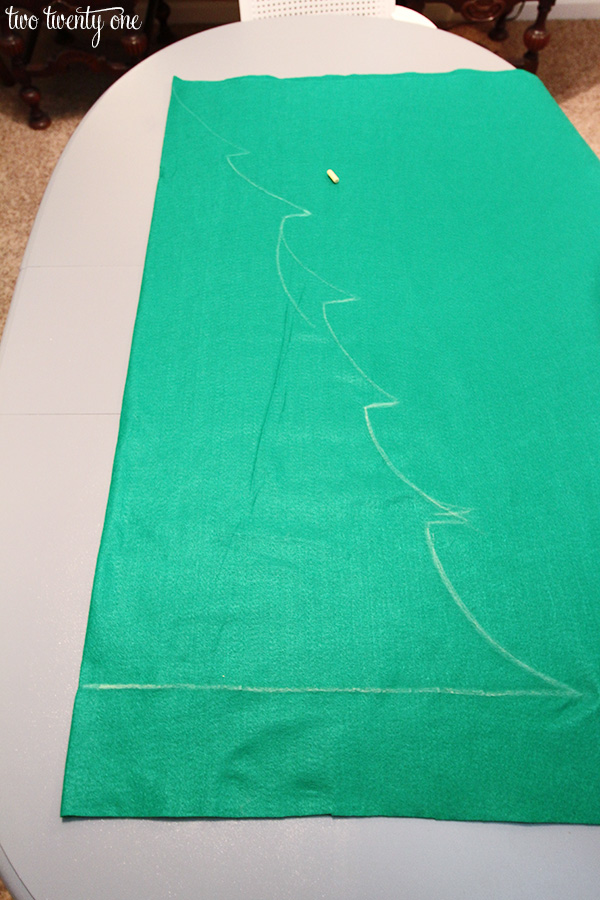 I initially mounted the tree to the wall with painters tape, but that didn't hold. So to hang the tree, I went with command strips, which has worked the best.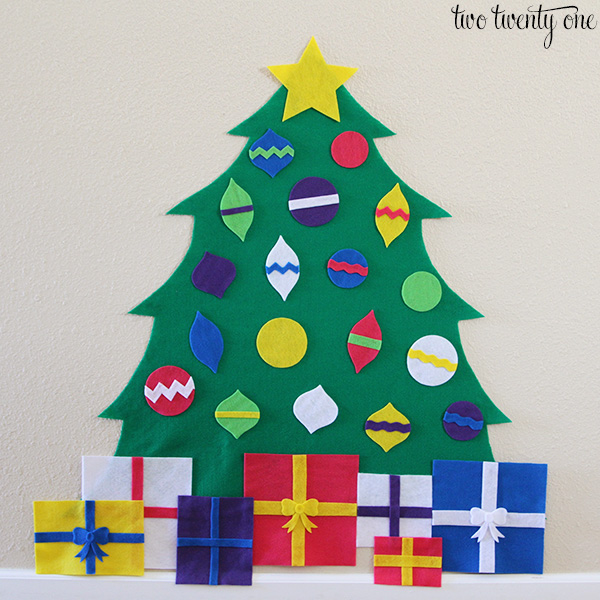 I wanted the ornaments to look similar to the glass ornaments I've been using for years so I went with blue, purple, green, yellow, hot pink, (colors kids love) and I added some white to break things up a bit.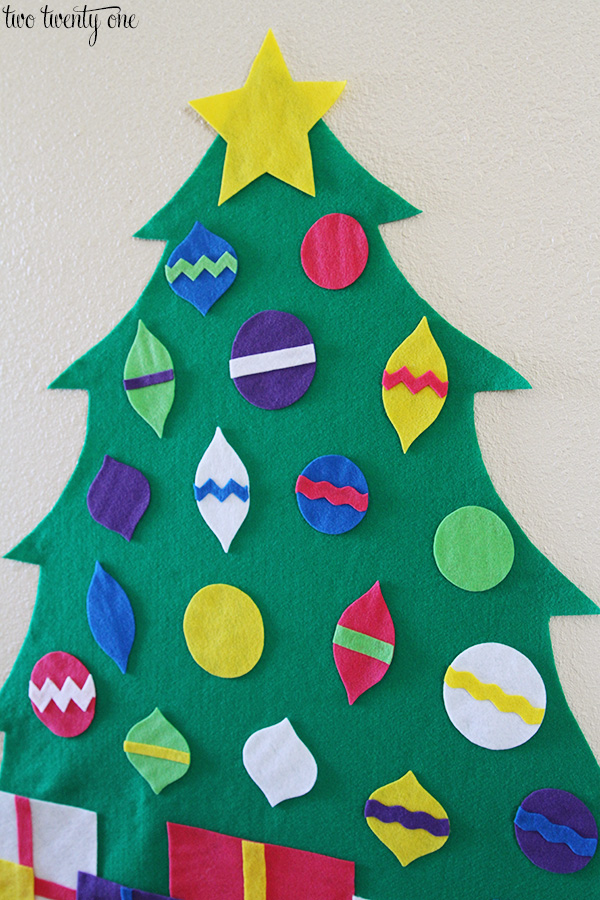 After I cut out all the ornaments, I created different designs to glue on top of the ornaments to jazz them up a bit. Super cute, right?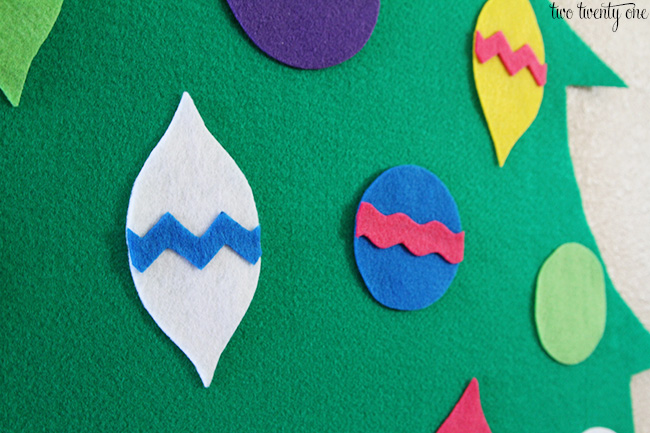 I didn't use a template for the presents and the 'ribbon'. Instead, I just measured out squares and rectangles and cut them out. Then I cut strips of felt to make the 'ribbons'. I used a template for the bows though.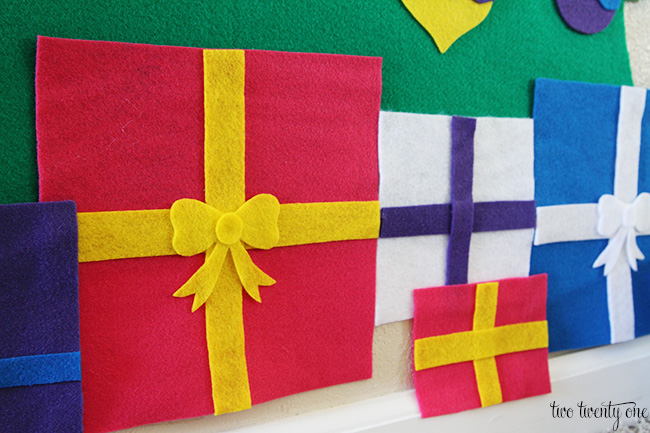 A great idea for ornament and present storage is to use a bucket is placed next to the tree.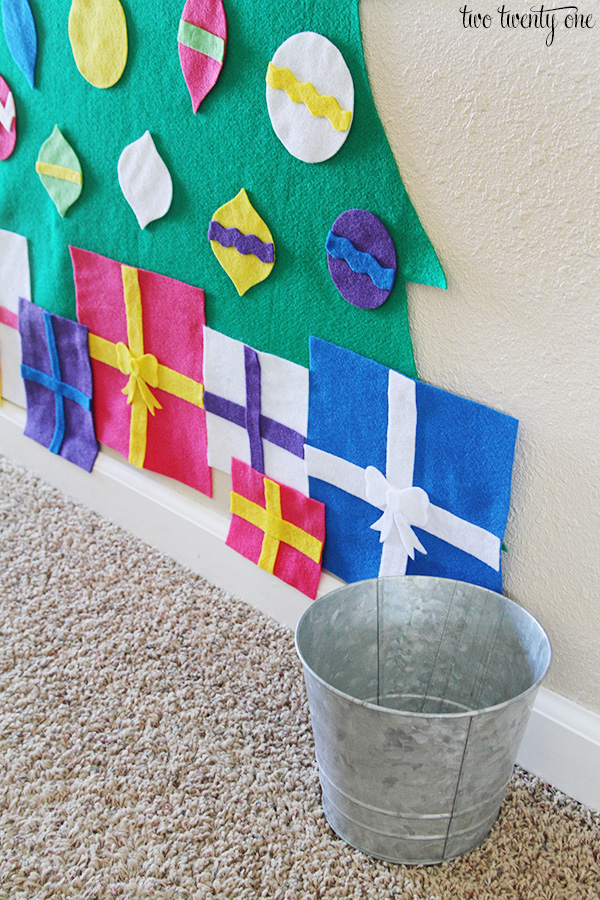 Owen was napping when I put up the tree, so when he woke up he was excited to see something new to play with. It seems that he enjoys taking the ornaments and presents off the tree and putting them in the bucket more than putting them on the tree. But I'll take it.
FYI, Owen is 33 inches tall– just to give you an idea of the height of the tree.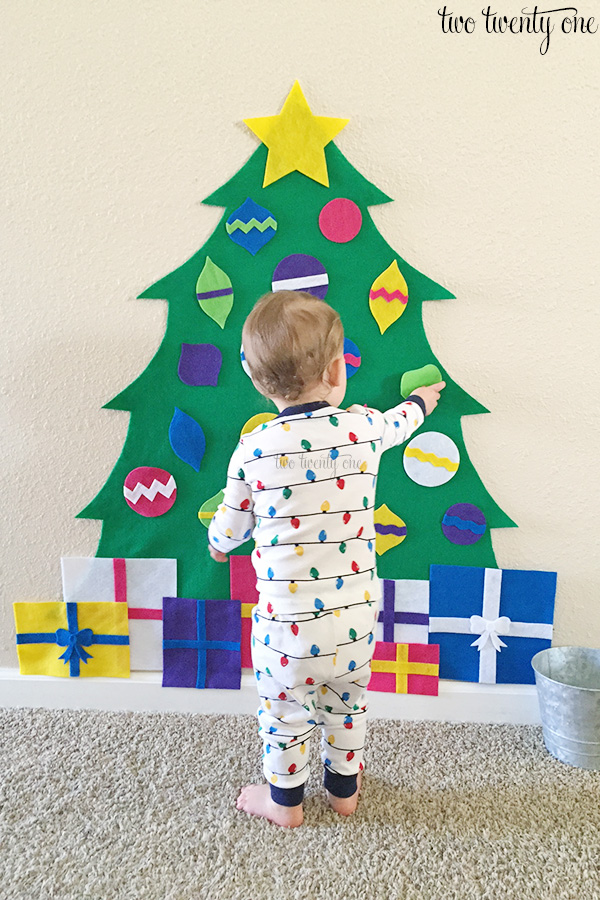 Felt Christmas Tree Patterns
Here's the templates. Click on the names of the templates to open a new page and print or save them.
FOR PERSONAL USE ONLY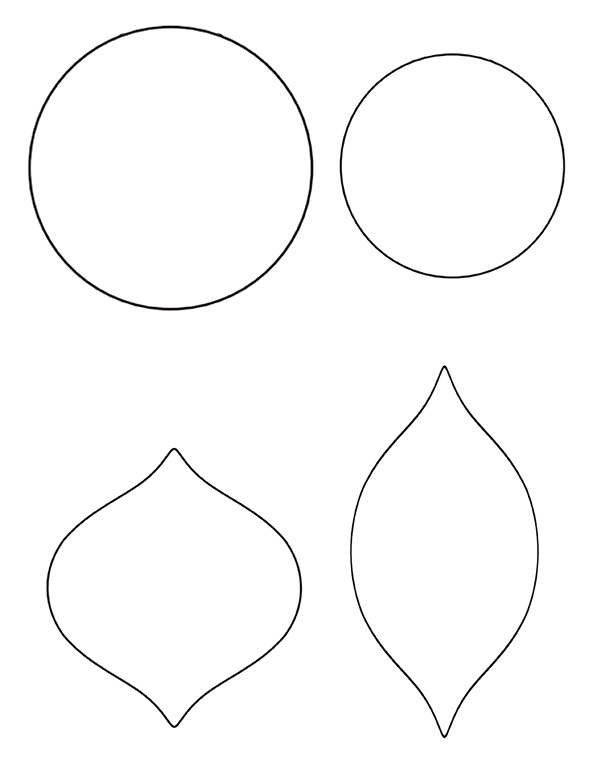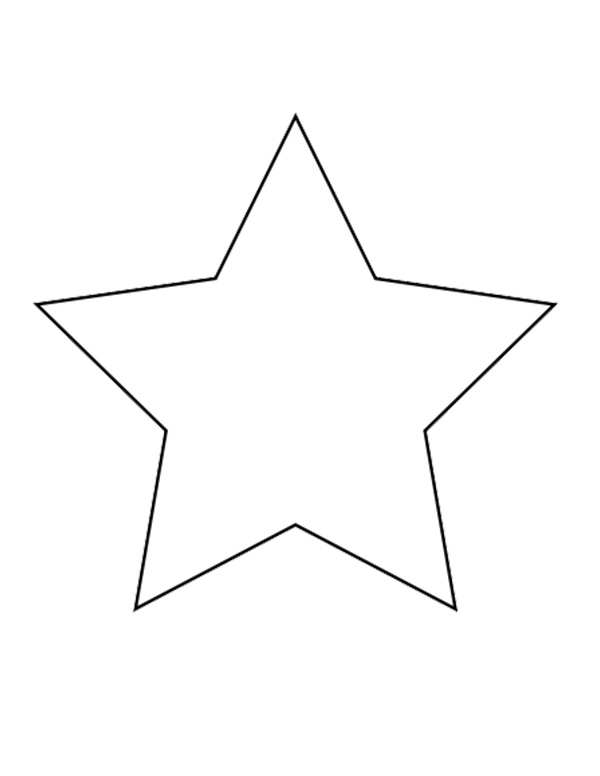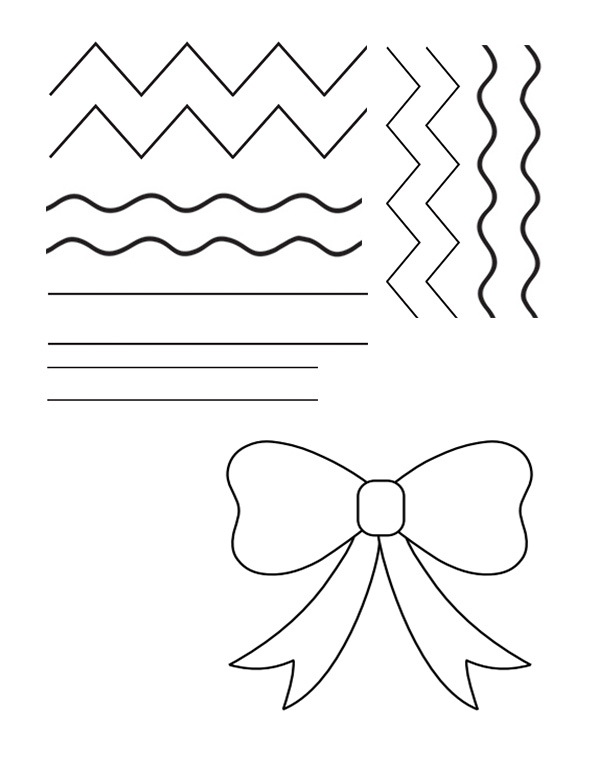 TEMPLATES FOR PERSONAL USE ONLY
Fingers crossed Owen loves his felt Christmas tree more than our big Christmas tree.
Have you made a felt Christmas tree for your kiddo(s)? Did they love it?