I never get tired of playing Oprah so today I'm sharing my favorite things from 2015. And to top it off, I've teamed up with a bunch of lovely bloggers who are also sharing their favorite things.
Alright, let's get this party started.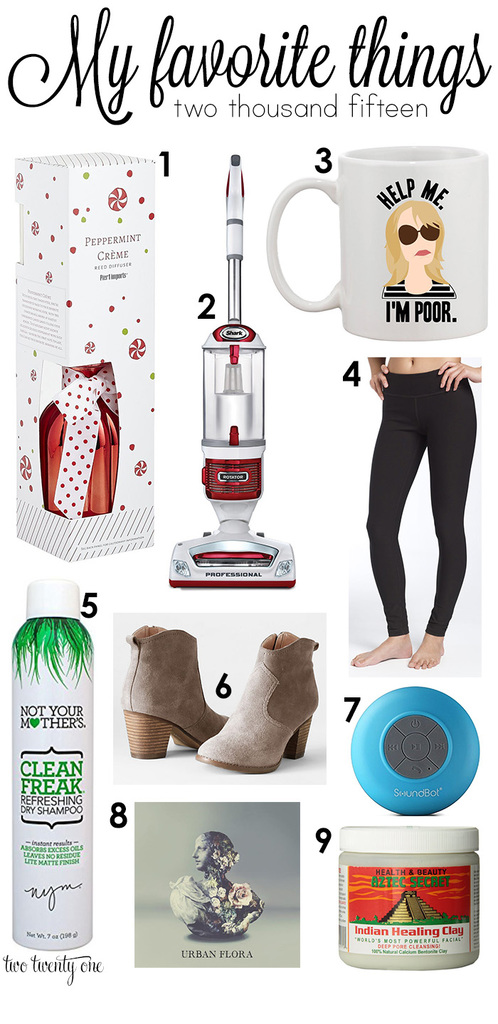 Side note: Do you like how I positioned the mug and the leggings in the graphic? It cracked me up when I laid it out like that so I left it.
1. reed diffuser
I love this peppermint creme reed diffuser so much that I load up on them at Christmastime so I can bask in the scent year-round. That and I'm always afraid companies are going to discontinue my favorite scents so I hoard, hoard, hoard. I don't know how to describe the scent, but I can say that it's not super pepperminty if that's a concern of yours. And I prefer the reed diffuser because it doesn't involve fire or candle soot.
2. vacuum
Our hand me down vacuum of 8 years bit the dust in May so we broke down and bought a new one. After lots of research, we purchased this fancy Shark vacuum. And guess what? We love it. Brad loves it so much he vacuums. That's right, ladies, a vacuum so fancy my husband uses it almost more than me. He also cleans my hair out of the brush. If that isn't true love I don't know what is. Okay, back to the vacuum, it's great. It has awesome suction, which is necessary because Jack, our dog, sheds A LOT and Brad is allergic to dogs (but he's been getting weekly allergy shots for a year so his symptoms are improving) so a good vacuum is a must for us. We also like the light on the front of the vacuum. My only complaint is that I have to unwind the cord all the way to use the wand part of the vacuum.
3. mug
I mentioned this Bridesmaids inspired mug in my Best Friend Gift Guide last week. I gifted that mug and a SNL Dooneese Is That Baaaaad? mug to my best friend for part of her Christmas gift. I was so excited I had to give them to her early. I bought myself a 'Help me. I'm poor,' mug, and it's pretty much my favorite now. I'm kind of itching to get this SNL Target Lady mug but Brad told me I'm not allowed to acquire any more mugs until I thin out my herd.
4. leggings
My outfit of choice when I leave the house is a short dress and leggings. It feels like I'm wearing pajamas but I look like I have my stuff together. The best kind of deception. These leggings are my absolute favorite. I've had two pairs for about a year, and they still look brand new. They're a bit of a splurge, but trust me– they hold up. You know how some leg prisons start to pill where your thighs rub together? (Oh, your thighs don't rub together? That must be nice.)  Well, I can attest that these leggings will not leave you with inner thigh pillage. Also, they come in sizes 1X-3X.
5. dry shampoo
Ah, dry shampoo, the miracle product that allows us to squeeze one more day out of hair before having to wash it. I've been searching for a good, moderately-priced dry shampoo for a while, and I've found a winner. With this dry shampoo I was able to stretch my last blow out to 6 days. I'm. Not. Kidding. It also helped that it was cool outside, and I had to skip my weekly work out class (yes, weekly. I'm working on increasing that, ok?), so I didn't sweat much. Seriously, try this stuff.
6. booties
I bought a pair of these booties a couple months ago, and then I followed up by buying another pair in a different color. It's mostly because I have the largest female feet this side of the Mississippi and I require size 11 wide shoes. I can never find cute shoes or boots in wide width so I go bananas when I find a shoe that will fit my boats. These super cute booties come in regular and wide width. They also have a chunkier heel for those of us who aren't used to wearing stilettos on the regular
7. bluetooth shower speaker
I included this bluetooth shower speaker in my BF Gift Guide. I also mentioned that I was going to buy one for myself. Hey, it's only $10. Well, I got it last week, and I really like it. My shower experience has definitely been enhanced. This is a great stocking stuffer for anyone.
8. music
My musical tastes are eclectic. I tend to go through phases. For the past couple months I've been in an electronic/dance kind of phase. I heard "You Know You Like It" by DJ Snake and AlunaGeorge in a bar in NYC, and I was all "This is my jam!" So I created a 'DJ Snake & AlunaGeorga' Pandora station a couple days later. I listen to the station almost every night I'm working on my computer in my office. (Although I took a break for a couple days to listen to Adele's 25 about ten times. My current favorite song is Send My Love.)  While listening to this Pandora station, I came across songs from Urban Flora, an EP by Alina Baraz & Galimatias. If I could choose a word to describe the EP it would be ethereal.
9. clay mask
One of my favorite things to do while I'm wearing this face mask is to Snapchat my friends. I'm sure they enjoy it. In all seriousness, I LOVE this clay mask. My pores are noticeable smaller and my skin is super soft. Oh, and it only costs $7.50 for a one pound container. You do have to add apple cider vinegar so keep that in mind. In case you're wondering, I apply the mask at least once a week, and I use 1 1/2 tablespoons of the clay and 1 1/2 tablespoons apple cider vinegar.
Here's the list of the bloggers joining in. Hit up their blogs and check out their favorite things!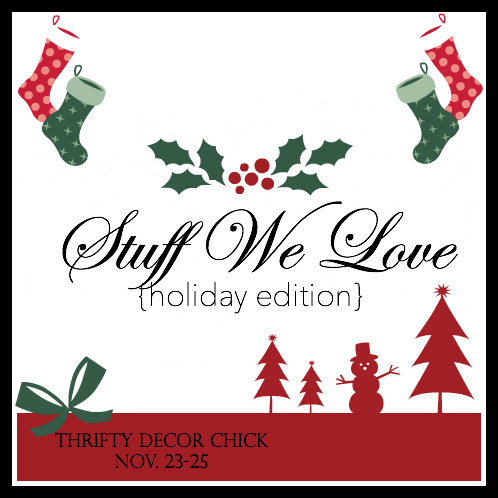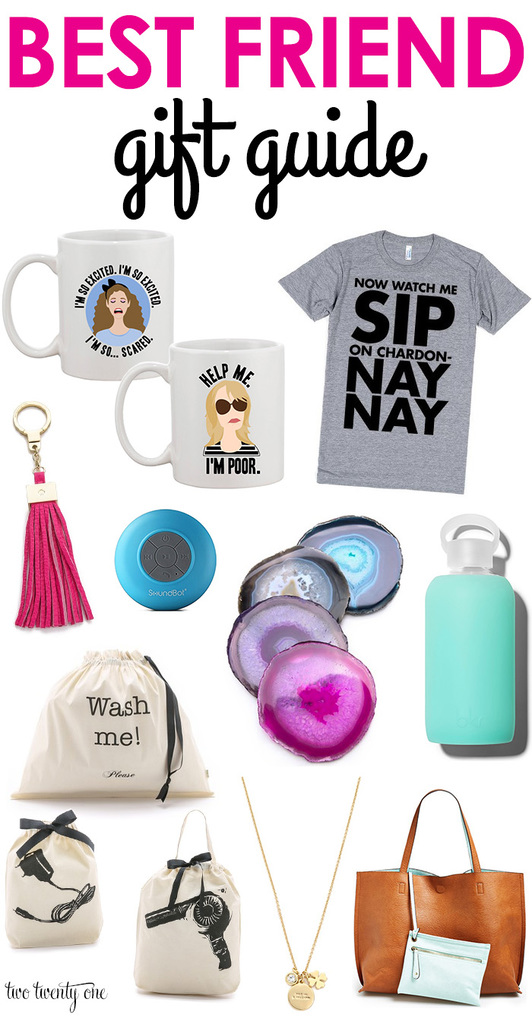 This post contains affiliate links.
Funds from affiliates help pay for web hosting, domain registration, email delivery, the occasional bottle of wine, and other fees to keep twotwentyone.net up and running. Thanks for your support! I appreciate it!