Tips for Pumping While Traveling
Today I'm sharing some tips for pumping while traveling. When Owen was 11 weeks old, I went on a 48 hour business trip to Charlotte, NC without him. Looking back, I think I must've been crazy. But it was a great experience, and while it was hard being away from him, it was nice to get away.
Before I left on my trip, I tried to plan ahead as much as possible. And since I was nursing Owen, I had to figure out how I was going to navigate pumping while traveling.
Here are some of my tips:
See if the airports you're traveling through have nursing rooms.
Because pumping in an airport bathroom doesn't sound enjoyable. My home airport, Indianapolis, has two lactation rooms, but I figured I wouldn't have to use them. I did look online to see if the Charlotte-Douglas airport had a lactation room (they do!) in case I needed to use it.
Ask about a lactation room beforehand.
A couple weeks before I was supposed to attend this specific event, I asked my contact if there was a designated lactation room that I could use. She found a lactation room and arranged for someone to escort me to the room the first time so I knew where it was. The room had a chair with a little attached surface, sink, and a mini fridge. When I was done pumping, I would put my breastmilk storage bags into my cooler, and the cooler in the fridge. I'd rinse my pumping parts under very hot water and use these wipes to clean the parts.
If you're staying in a hotel, try to get a room with a freezer.
Thankfully, I was booked at a Homewood Suites so my room came with kitchenette that had an empty fridge/freezer. I was able to set up a little pumping supplies cleaning station in the kitchen. And after pumping, I was able to lay the breastmilk storage bags flat in the freezer.
Allocate time to pump.
At the time, I was exclusively breastfeeding Owen and rarely pumping, so I figured it was going to be kind of hard to switch my brain to remembering to pump because I didn't have a screaming baby with me. Plus, I had a feeling I would get wrapped up in the day's events. So I looked at my daily schedules and decided when I would pump. I got up earlier, I'd use 15 minute breaks, and I would cut my lunch short so I could pump. And one time I even held up our transportation for 10 minutes while I finished pumping, but, thankfully, everyone was understanding.
Use an app to track how long and how much you're pumping.
I loved using apps after Owen was born. I tracked everything, including pumping when I traveled. Medela has a great app for tracking breastfeeding, bottles, pumping, sleep, and diapers.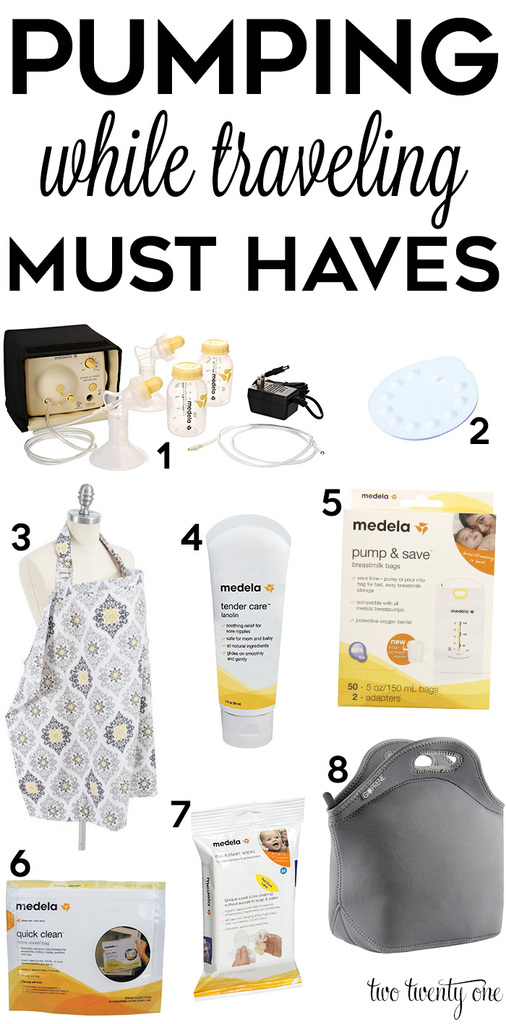 Now, let's talk about pumping while traveling must haves.
1. breast pump
You're definitely going to need a breast pump, unless you prefer hand expressing, which I think most women don't. I'm going to assume that you already have a breast pump, but in case you don't, remember that most health insurance companies provide you with one, free of charge. That's how I got my Medela Pump In Style.
Under The Affordable Care Act (Obamacare), it states, "Health insurance plans must provide breastfeeding support, counseling, and equipment for the duration of breastfeeding. These services may be provided before and after birth… Your health insurance plan must cover the cost of a breast pump. It may be either a rental unit or a new one you'll keep." Keep in mind that you won't get a pump with a bunch of extras. This was exactly what I was sent.
2. membrane replacements
I really wish I would've replaced my breast pump membranes before leaving on my trip because I felt like the suction wasn't the best it could've been. Membranes should be replaced every 3 months.
3. nursing cover
I brought a nursing cover just in case I would need to pump in a public setting (this is a personal preference– do what makes you comfortable). I never needed to do that so I didn't use it, but my cover is pretty small so it wasn't a big deal packing it.
4. lanolin
My lactation consultant taught me to 'grease' the inside of my breast pump flanges with a little lanolin. This helps with chaffing.
5. breastmilk storage bags
Since I was planning to bringing my expressed breastmilk home with me, I needed breastmilk storage bags. The breastmilk storage bags also came in handy for traveling home with my breastmilk. The night before I flew back home, I filled a few bags with water and put them in the freezer. These served as ice packs for my flight home.
I also brought one of the breastmilk storage bottles and lids that came with my breast pump. I used the container to bring home the milk I had pumped the morning of my flight.
6. micro-steam bags
I seriously love these micro-steam bags. You put the recommended amount of water in the bag, throw in your pumping parts, put the bag in the microwave, and the items in the bag are sterilized by the steam.
7. quick clean wipes
When I couldn't use the micro-steam bags, I whipped out these quick clean wipes to quickly clean my pumping parts.
8. cooler
When I traveled, I brought a soft cooler. I went with a soft cooler because it was compact when I flew to Charlotte, and I was able to fit it into my suitcase when I was returning home. With my breastmilk storage bag ice packs, my milk stayed completely frozen for my 4 hour trip home. Just make sure your cooler will fit filled, frozen breastmilk storage bags.
9. nursing pads
I didn't include these in the graphic, but I assume if you're lactating you would know to bring nursing pads. I took disposable pads with me so I could just toss them.
This post was sponsored by Medela through their partnership with POPSUGAR. While I was compensated by POPSUGAR to write a posts about H&M all opinions are my own.