Our Laundry Room Just Got Fancier
This is a sponsored post written by me on behalf of hhgregg. All opinions are 100% mine.
Let me preface by saying that our laundry isn't a pretty room. It's small, there's no natural light, and it doubles as our utility room because it houses our heat pump, water heater, and water softener. I also store a good amount of my Christmas ornaments on the shelving because, unlike our attic, the laundry is climate-controlled. Oh, and there's the excessive amount of Duplos that we're hiding from Owen.
I've never put much effort into making the room fancy because I don't spend much time in there. I need the room to be functional, not overly pretty with a chandelier and all that jazz.
Which brings me to our washer and dryer. For the past 7 years we've been using the hand-me-down washer and dryer Brad's aunt and uncle gifted us when we bought the house. When we got them they were about 15 years old but they ran like champs. Not to mention we were broke and they were free. But they've needed more and more repairs as they've aged.
So when hhgregg reached out to me and asked if I wanted to try out the new Samsung 5.0 cu ft capacity, 8600 ActiveWash™ Top Load Washer and Samsung 7.4 Cu. Ft. Black Stainless Steam Electric Dryer (and keep them) I couldn't say no. I mean, really, who says no to that?
I felt like a grandma getting her paws on an iPhone for the first time when it came to working these bad boys.
When you're used to turning two dials and pushing the start button, a control panel like this can be overwhelming. But I got the hang of it after reading the manual and doing a few loads of laundry.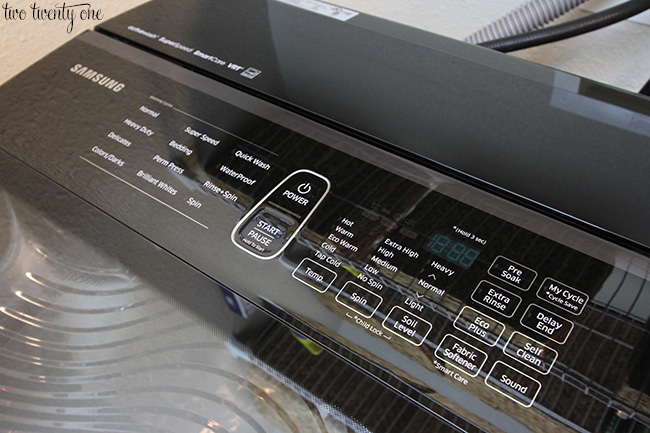 One of the things I love about the washer is the built-in sink for pre-treatment. It unlatches from the lid and drops down over the drum.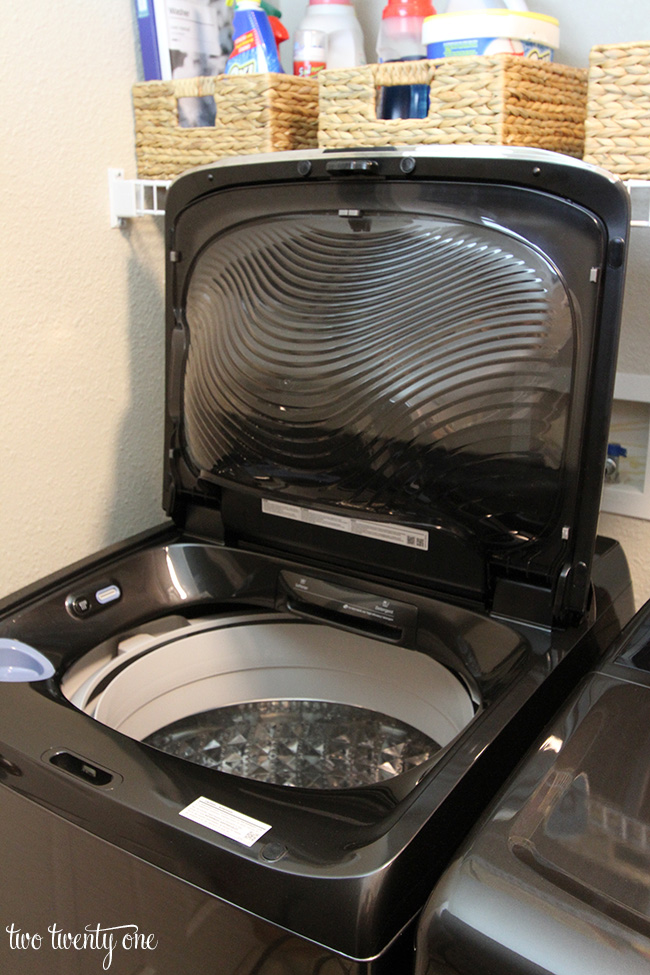 I've decided that the built-in sink is a must have if you have kids or are prone to spilling things on yourself. It's also great if you don't have a sink in your laundry room.
A few weeks ago Owen decided to partake in a little sidewalk chalk action with our neighbor kids. As you can see from the seat of his shorts, he had a grand ole time.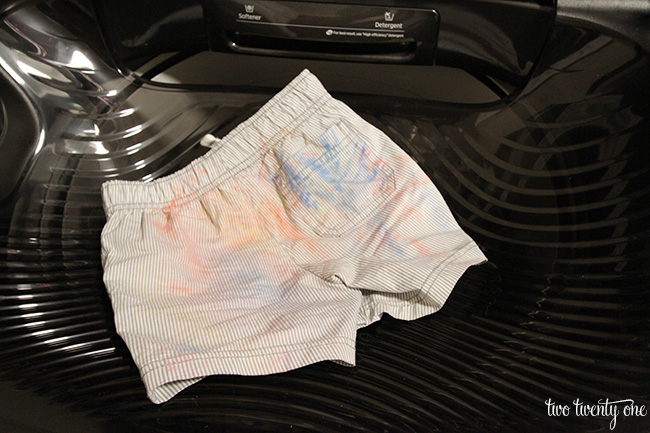 The photo below was taken the day before he wore the shorts in the photo above, but you get the idea of what I was working with.
How could I deny that face from rolling around in colorful chalk?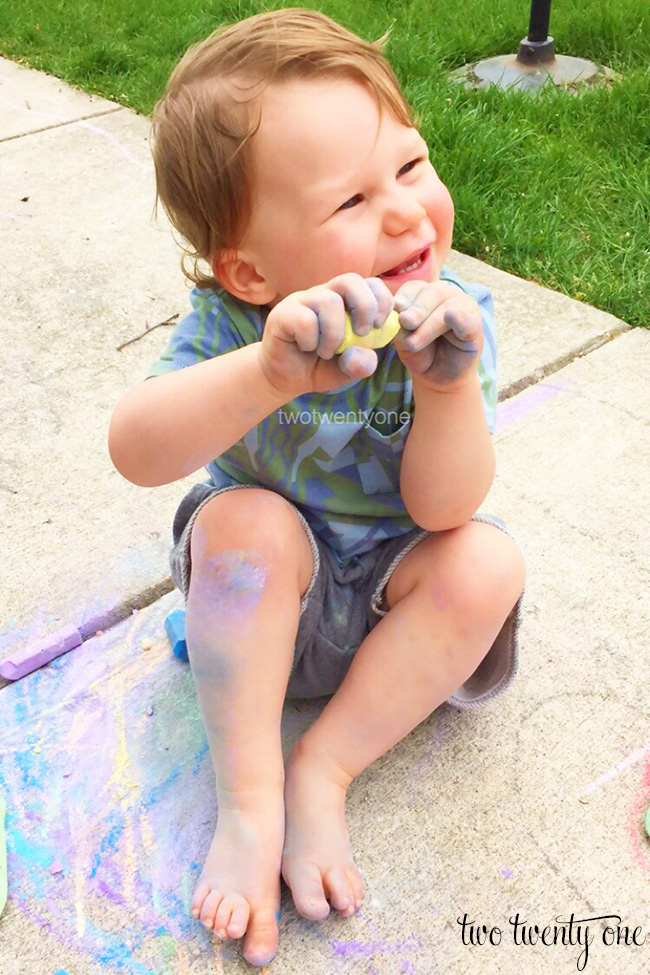 After bringing the sink down, I push the water jet button to fill the sink with water.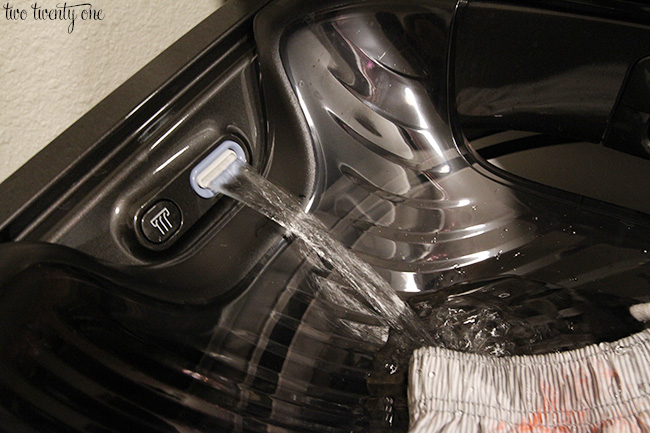 I usually soak the piece of clothing with detergent for a while.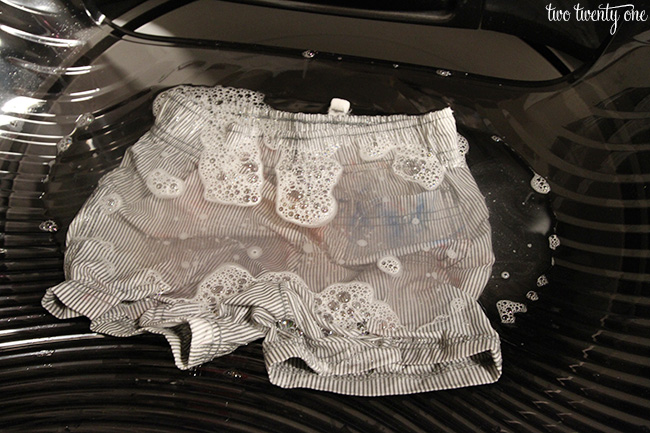 The sink has ridges like a washboard so I use it to scrub the stains out.
Works like a charm.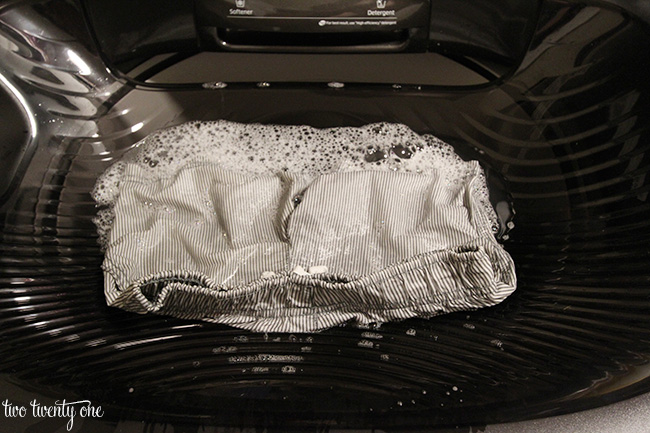 When I'm done, I lift the sink and the piece of clothing and water fall down into the drum through the opening below the detergent drawer dispenser. Cool, right?
Speaking of the drum, it's huge. And shiny.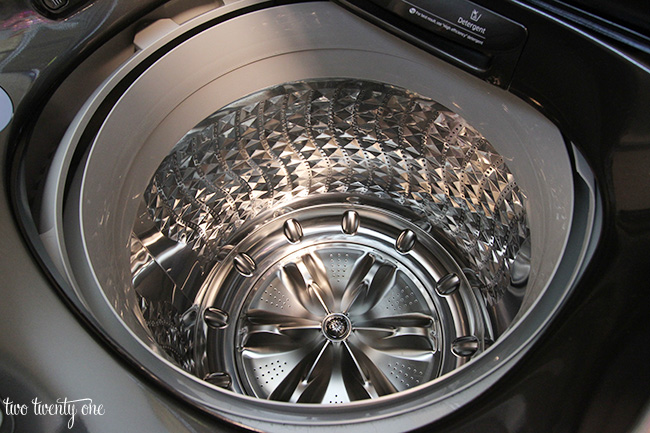 The dryer control panel is very similar to the washer. One thing I love about the dryer is all the functions, like refresh and wrinkle away.
I feel so fancy now.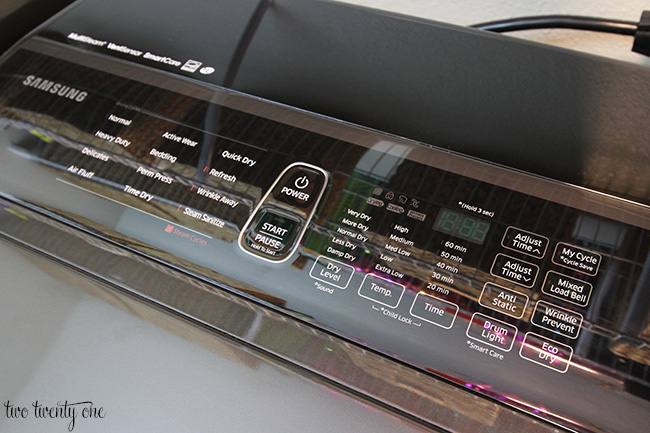 The dryer is 2016 ENERGY STAR certified, which means it's eco-friendly and energy-efficient.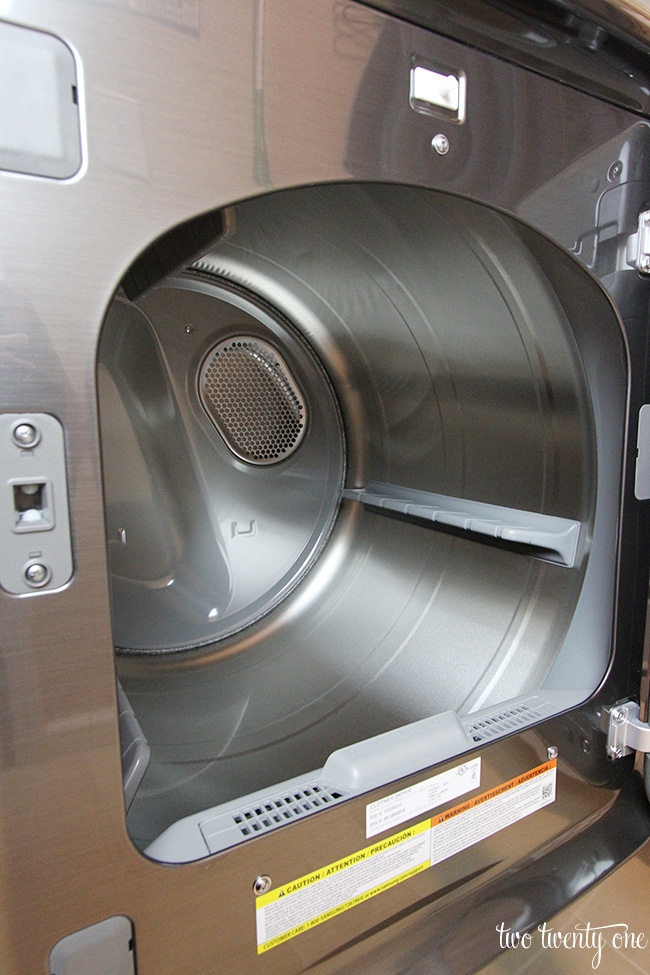 Another cool feature about the washer and dryer is the Samsung Smart Care app, which allows us to troubleshoot from our smartphone. I've used it once when I washing bedding. The washer kept dinging and flashing a code on the display. Instead of flipping through the manual, I pulled up the app and diagnosed the problem (too much of the bedding had shifted to one side of the drum, causing it to be imbalanced). We can also control the washer and dryer from our phones whether we're in the house or away.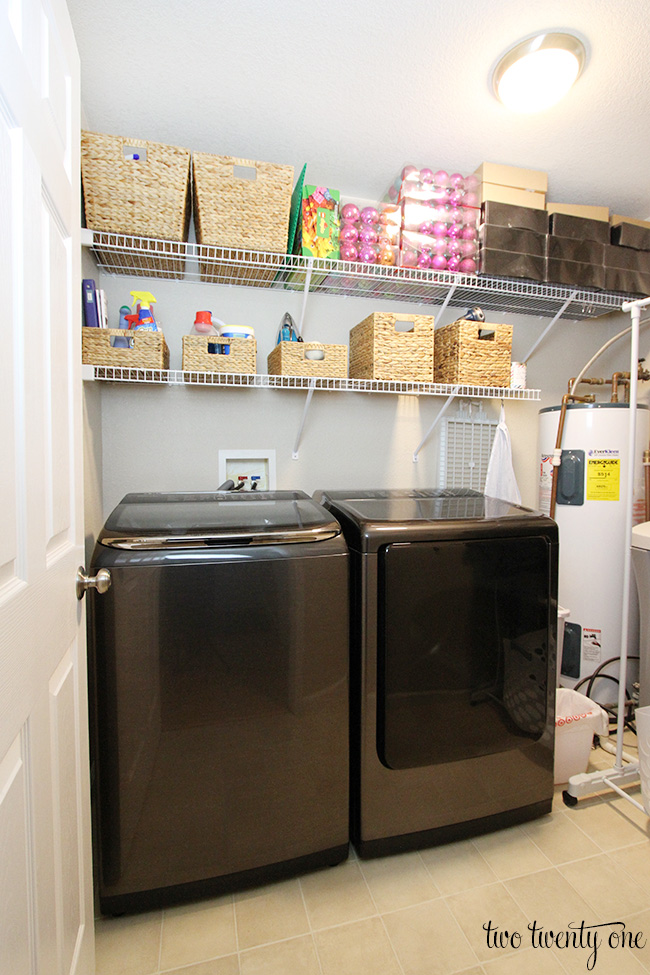 I'm all for having a functional (and fancy) washer and dryer pair.
This is a sponsored post written by me on behalf of hhgregg. All opinions are 100% mine.