Laundry Room Organization
In case you missed it, I shared our laundry room makeover. Today I'm showing how I organized everything that's on the shelves.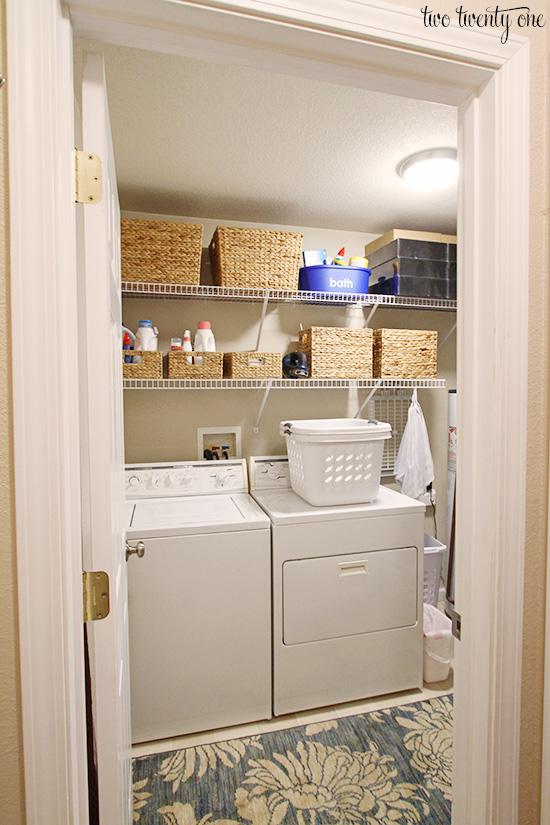 I went with woven baskets because I wanted to add some personality to the room and to hide the contents of the baskets so the room didn't end up looking too cluttered.
The two baskets closest to the wall on the bottom shelf house laundry stuff– bleach, detergent, and stain removers. Yes, we have five different stain removers. I was on a quest to find the perfect baby poop stain remover. The struggle is real.
I also put our iron in the back of the second basket.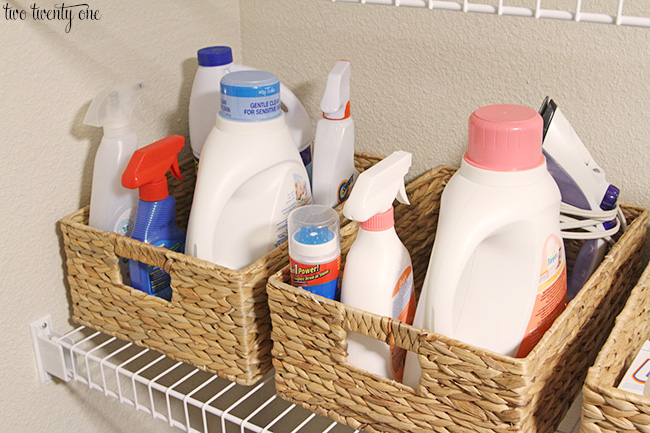 The third basket is where I'm storing our fabric softener sheets and wool dryer balls.
In case you're wondering, wool dryer balls are natural fabric softeners, and they help speed up drying time. As soon as we run out of dryer sheets I'll probably switch to using just the wool balls. They're also good for drying down comforters. I used to use tennis balls, but I think the wool balls are more efficient.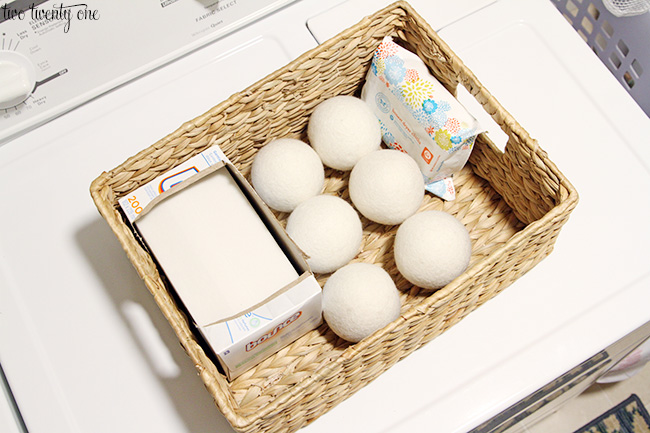 I love our RYOBI hand vacuum. We use it a lot so I wanted it in a spot where we can grab it and go so I set it on the bottom shelf.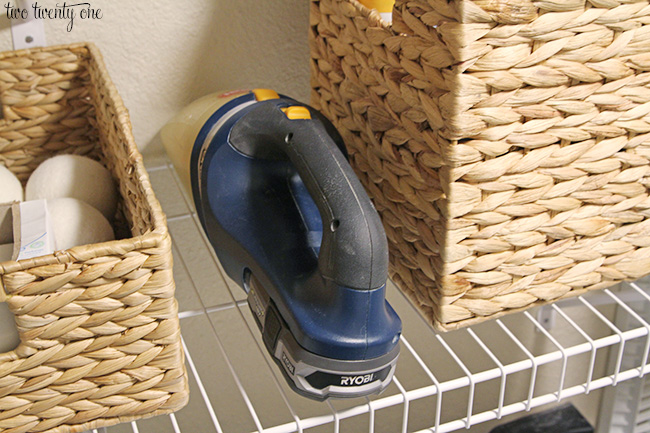 The first medium basket on the bottom shelf houses all of my dusting supplies– Swiffer dusters, Swiffer sweeper cloths, furniture polish, and dusting rags.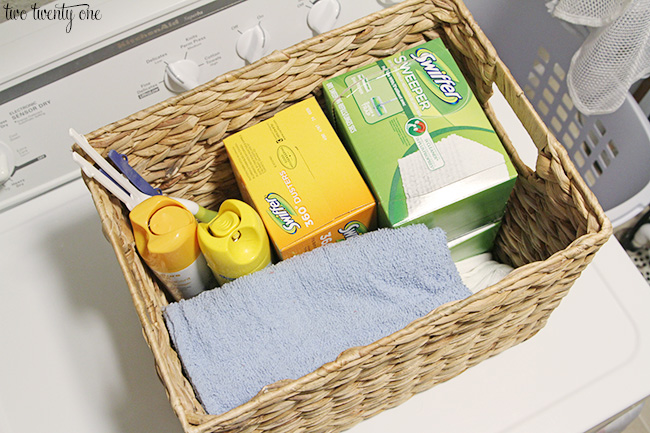 I store our steam mop pads and extra towels for miscellaneous purposes in the second medium basket.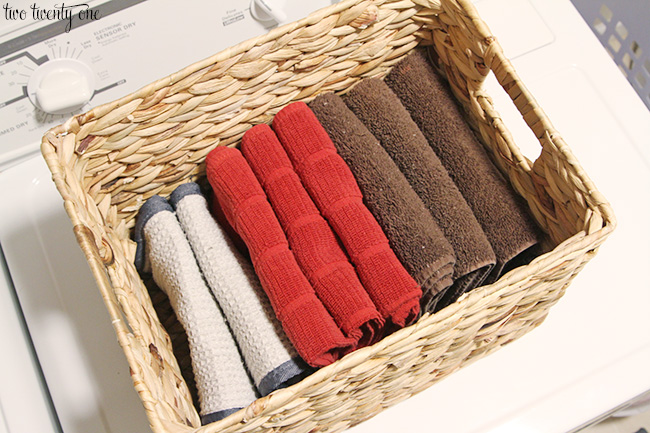 I put our bathroom cleaning caddy on the top shelf. Brad and I are both tall, so we can easily reach up and grab it off the top shelf.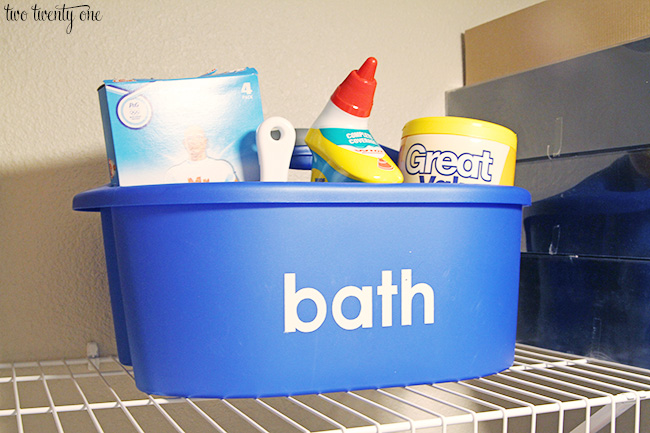 I was probably overly excited about adding the top shelf for the sole purpose of storing my glass Christmas ornaments. They had been living in our guest bedroom closet since we moved into this house. But I wanted to free up some space in that closet so now the ornaments will hang out in the laundry room. I would store them in our attic but it's not climate controlled, and I worry about the super cold temps or blazing hot temps doing something to the finish on the ornaments.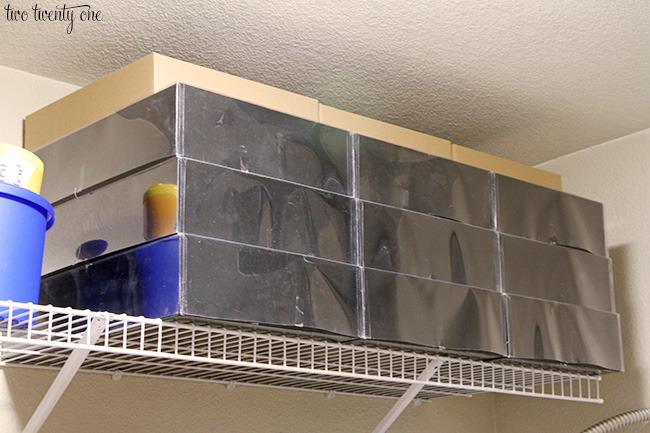 Our dryer comes with this handy rack for lay flat drying. I had it hanging on the wall before, but now it hangs from the bottom shelf with an S hook.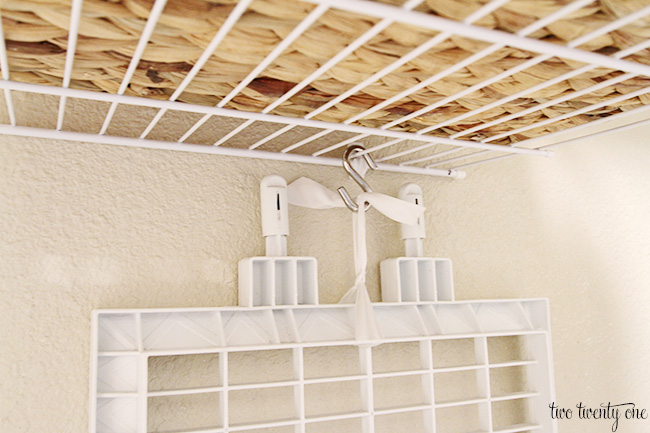 I'm a big fan of lingerie laundry bags. They're my secret laundry weapon (read more about them here). I hang all of the bags on a different hook from the bottom shelf.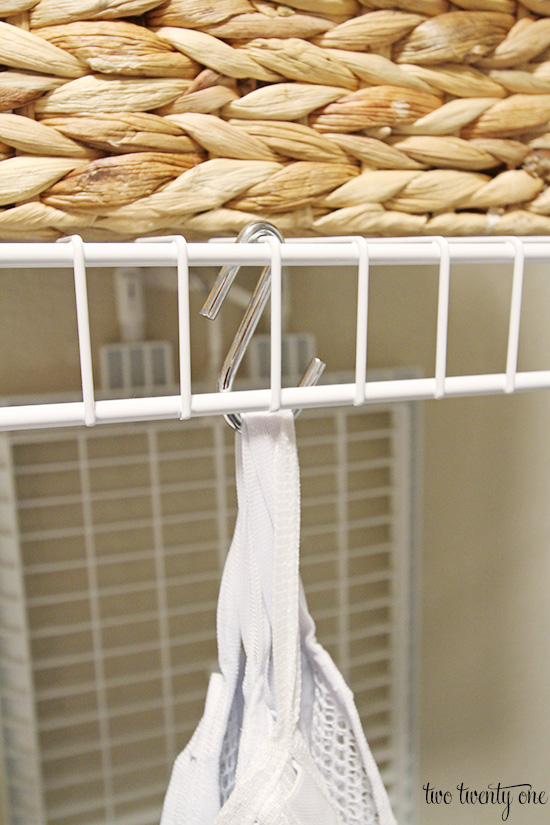 Now, to be completely honest, the two large baskets on the top shelf are currently empty. For once, I have more space than stuff to fill it with. I don't know what to do with myself. But I'm sure it won't take me long to fill the baskets with something that needs a better home.