Because a life changing event like bringing a human into the world can be overwhelming, I've found the following baby hacks to be quite helpful. These have made our lives a little easier so I thought I would share them with you. And be sure to follow along on Instagram (@twotwentyone) for more tips!
1. Layer crib bedding.
Owen isn't sleeping in the crib in his nursery yet, but when he does, I plan to layer his bedding. By that I mean a mattress pad, sheet, mattress pad, sheet. So if he happens to have an accident in the middle of the night, I can just strip a sheet and mattress pad layer off and there's another sheet and mattress pad underneath.
The yellow & white striped sheet found here and the alligator sheet found here. I recommend these waterproof mattress pads because it's a two-pack.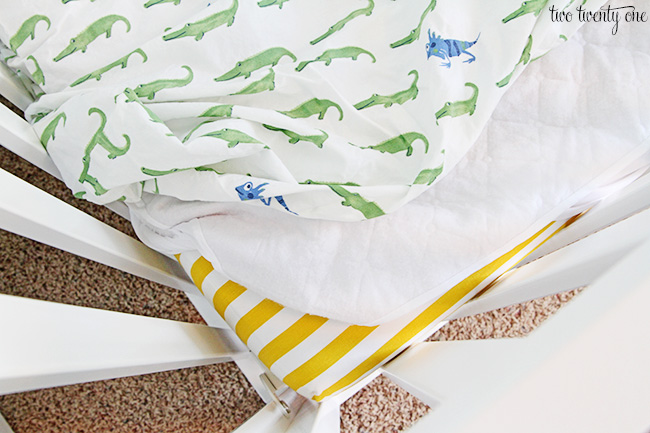 2. Use burp cloths. Everywhere.
This kind of goes along with the above. Whenever I lay Owen down anywhere I throw a burp cloth underneath his head. We always have a burp cloth in his angled sleeper, where he currently sleeps. (Did you know they now make a sleeper that rocks on its own? Amazing.) So if he spits up, I swap out the burp cloth instead of having to wash the sleeper cover.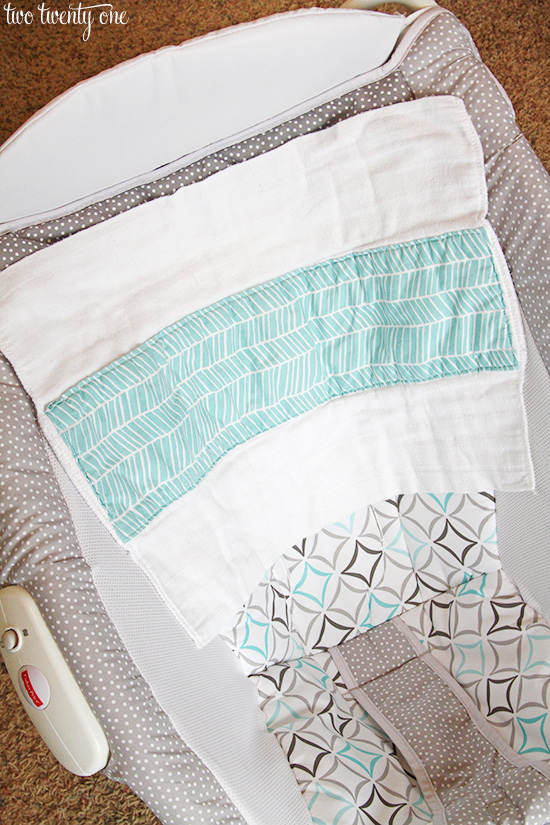 Oh, and while we're on the topic of the sleeper, remember to air yours out periodically. Moisture can get trapped between the cover and plastic piece, resulting in mold. And don't forget to wash the cover often, too.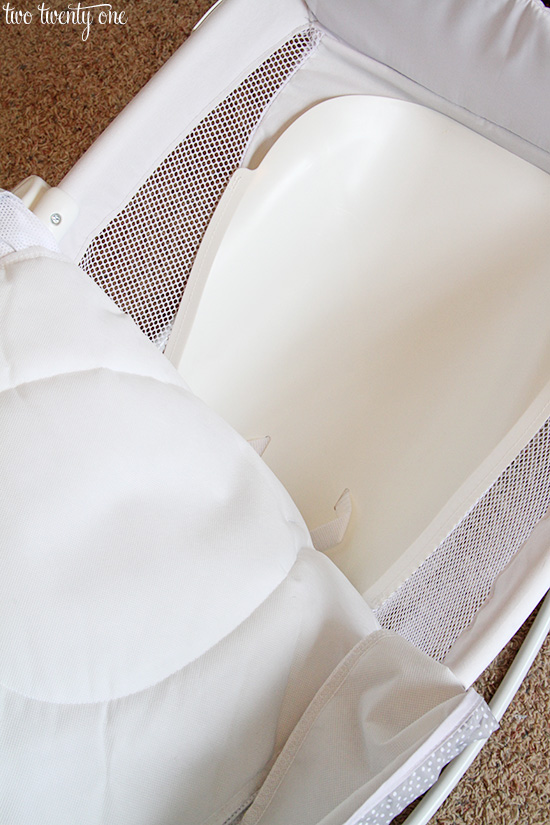 As you can see, I also do the burp cloth trick with Owen's activity mat.
In case you're wondering, the thing under the burp cloth is a support that helps babies' heads from getting flat spots. You can buy one here.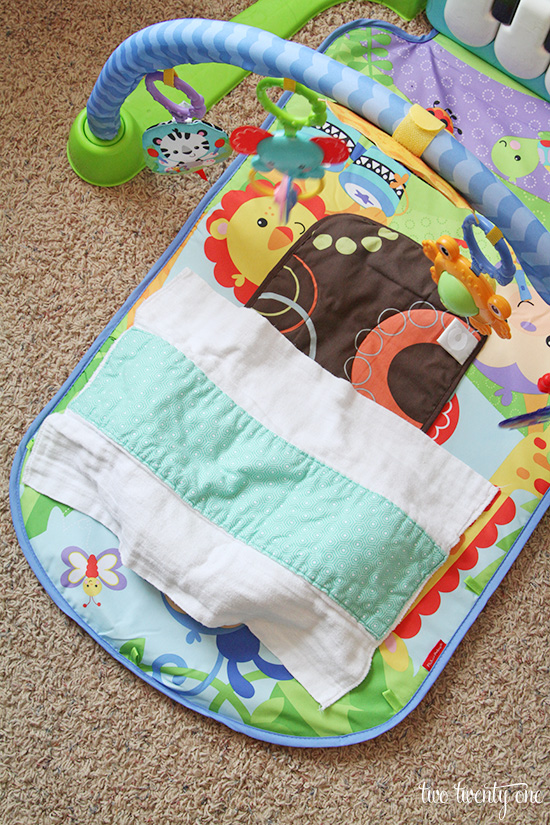 3. Keep a stocked baby basket in your common area.
To make our lives a little easier, we keep a basket filled with random baby stuff on our coffee table. It's stocked with hand sanitizer (first time parents– wee!), baby wipes, pacifier wipes (first time parents– wee again!), lotion, pacifiers, baby nail clippers, bibs, and burp cloths. I was going to invest in a fancier basket but I decided to go with one of my trusty organizers.
I found that the basket also helps when family members babysit Owen. That way they don't have to go searching for things in his nursery, and I'm not constantly answering "Where's ____?" texts.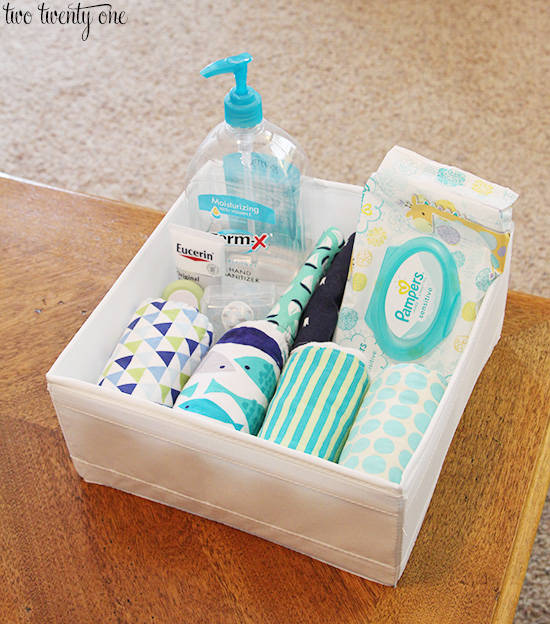 4. Keep a basket of baby toys in your common area.
Like with the baby basket above, we keep a basket of baby toys on the sofa table behind our couch. When we're hanging out on the couch with Owen we can easily grab a toy or book.
(The gray felt basket is from HomeGoods. But I found similar gray felt baskets here and here.)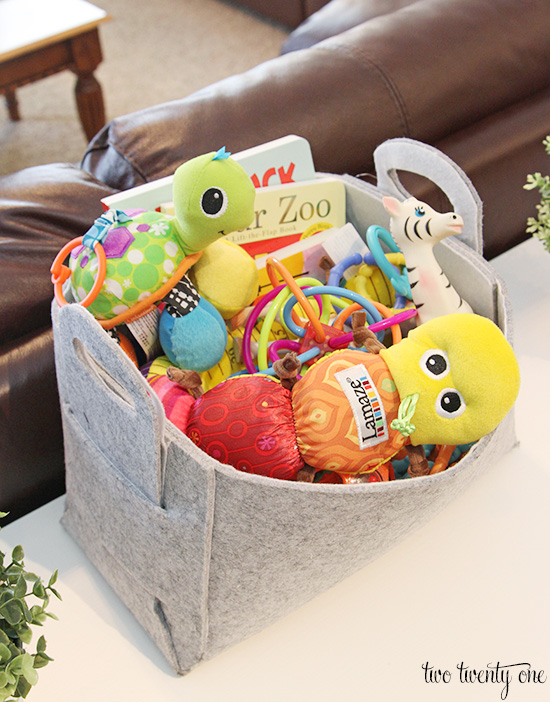 5. Prepare for blow outs.
Once upon a time, Owen had a ridiculous blow out in his car seat. Breastfed babies are the kings and queens of blowouts. AmIright? Needless to say, it wasn't fun. We had to take the car seat apart, wash the cover, and wait a day for it to air dry. In an effort to avoid this, my friend told me about this awesome tip. I took a changing pad liner, cut it in half, cut a slit in it for the car seat buckle, and put it in the car seat. Now if Owen has a blow out, the changing pad liner will protect the car seat, making clean up so much easier.
Note:  I checked with a CPS technician before using the pad liner in the car seat. He said the pad isn't impeding with the function of the straps and it's very thin, so it won't affect the efficiency of the carseat, assuming I have Owen properly buckled in. This is basically a DIY version of a manufacturer car seat protector. He said ultimately it's up to the parent, and using my 'mom gut', I feel okay with using it. And no need to tell me that I'm voiding the manufacturer warranty– I'm aware. Use your own discretion.
Oh, and in case you're wondering, I LOVE those orange hand things. They hold the buckles open while you place your baby into their car seat, and they help prevent twisted and tangled straps. You can buy them here.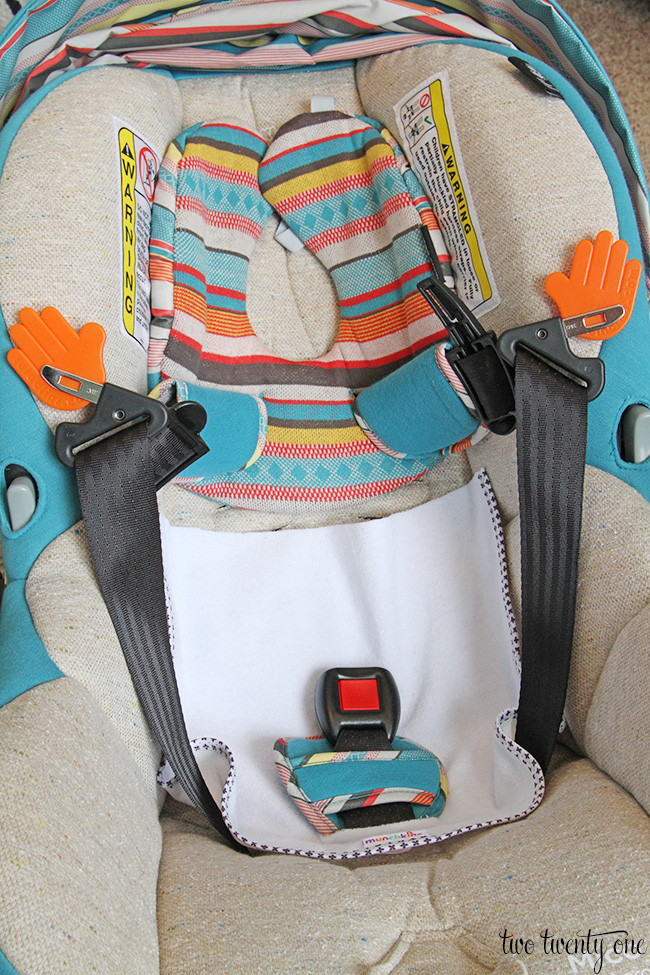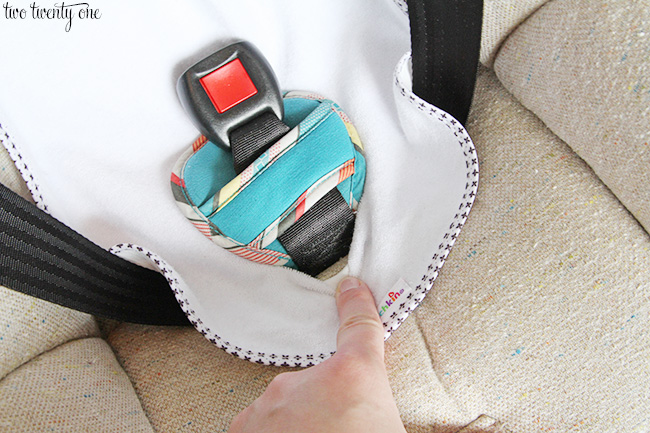 I put the other half of the changing pad liner in his bouncer.
I must add that when Owen did have a blow out (or three) in his bouncer before I used the changing pad cover, the material didn't stain at all.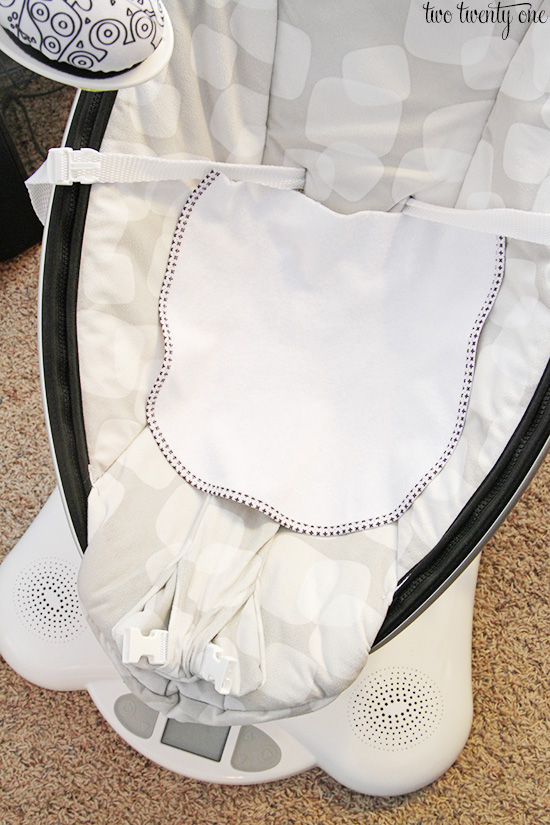 6. Invest in mesh laundry bags.
Ah, the elusive missing baby socks. Corral those socks by using these bags. I always keep 2-3 bags in Owen's hamper. One bag is for socks. The other bags are for bibs and his swaddles. The bibs and swaddles have velcro, so to keep them from sticking to other items, resulting in thread pulls, while being washed and dried, I put them in the mesh bags.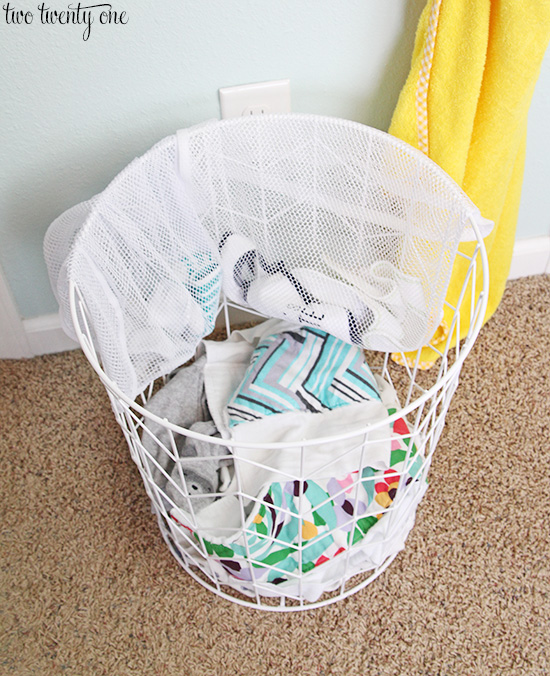 7. The diaper trick.
When I know Owen has a #1 diaper, I slide a fresh diaper underneath before opening the dirty diaper. This makes changing the diaper faster, and it also helps if he starts 'free peeing', as we call it. If he starts spraying, I can flip the diaper up and block him from peeing all over the wall. I'm sure this can also be helpful when changing girls.
You can also see the washcloth under his booty. This is helpful for when he has a #2. I really don't care if some poo gets on the cheapo washcloths I bought. It's so much easier to wash the washcloth than the changing pad. Plus, I don't care if the washcloth gets stained.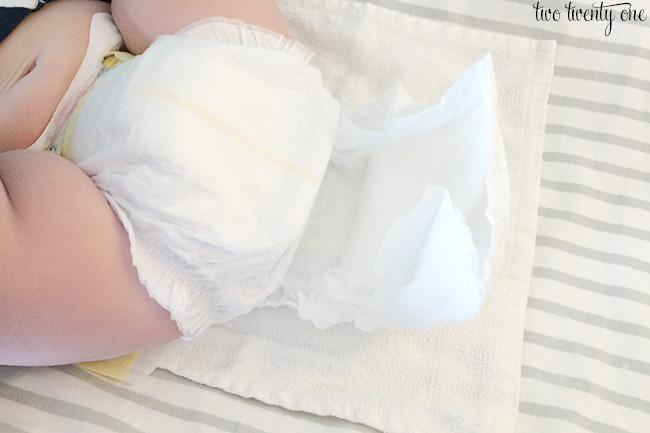 8. Use clothespins to hang baby pants.
More about that tip here!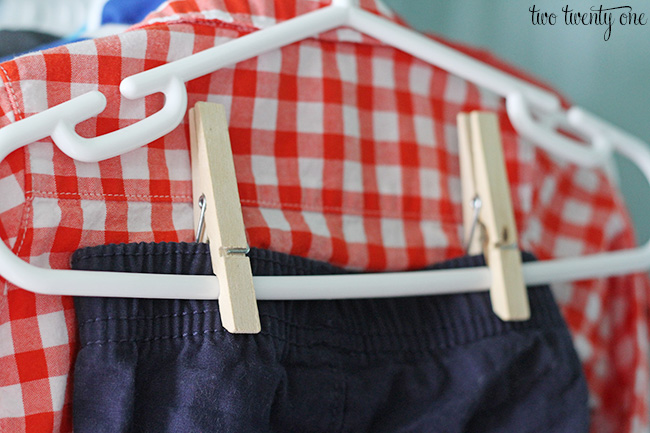 9. Baby car kit.
We have emergency baby car kits in both of our cars. To read more about the car kits and what's in them, click here.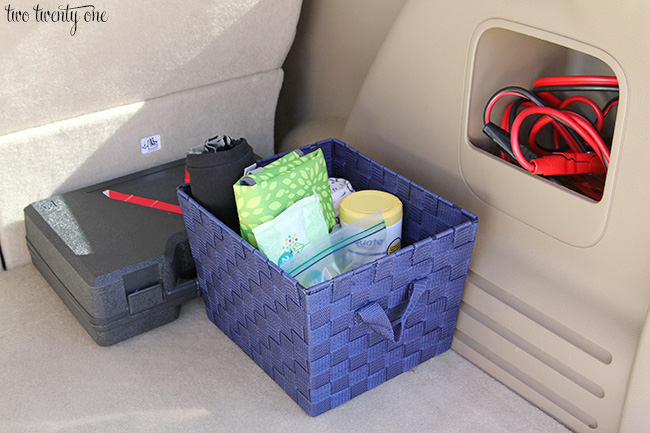 I recreated my baby registry HERE if you'd like to check it out!
PLEASE anchor your furniture and electronics! A child dies every two weeks as a result of a tip-over incident. I strongly encourage you to read my blog post on how to anchor furniture and electronics HERE. Let's keep our babies alive and well.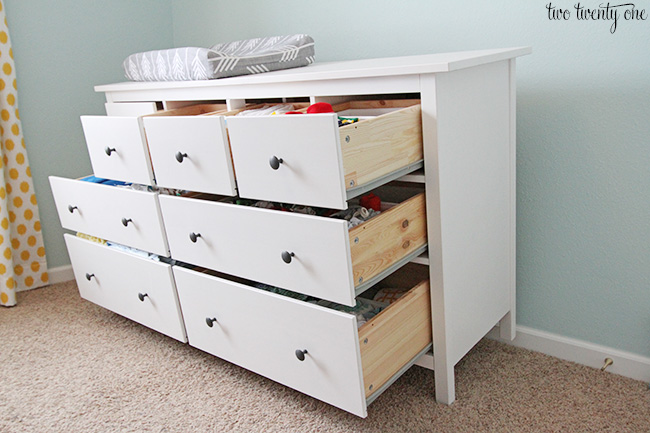 Be sure to check out my most popular baby-related posts below! There's tons of great stuff to pin to read later!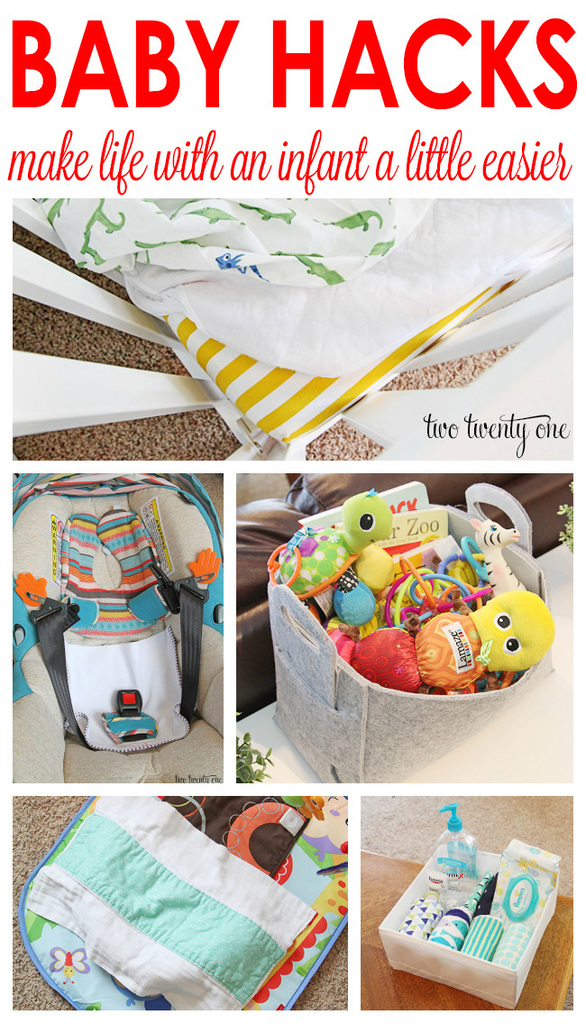 This post contains affiliate links.
Funds from affiliates help pay for web hosting, domain registration, email delivery, the occasional bottle of wine, and other fees to keep twotwentyone.net up and running. Thanks for your support! I appreciate it!